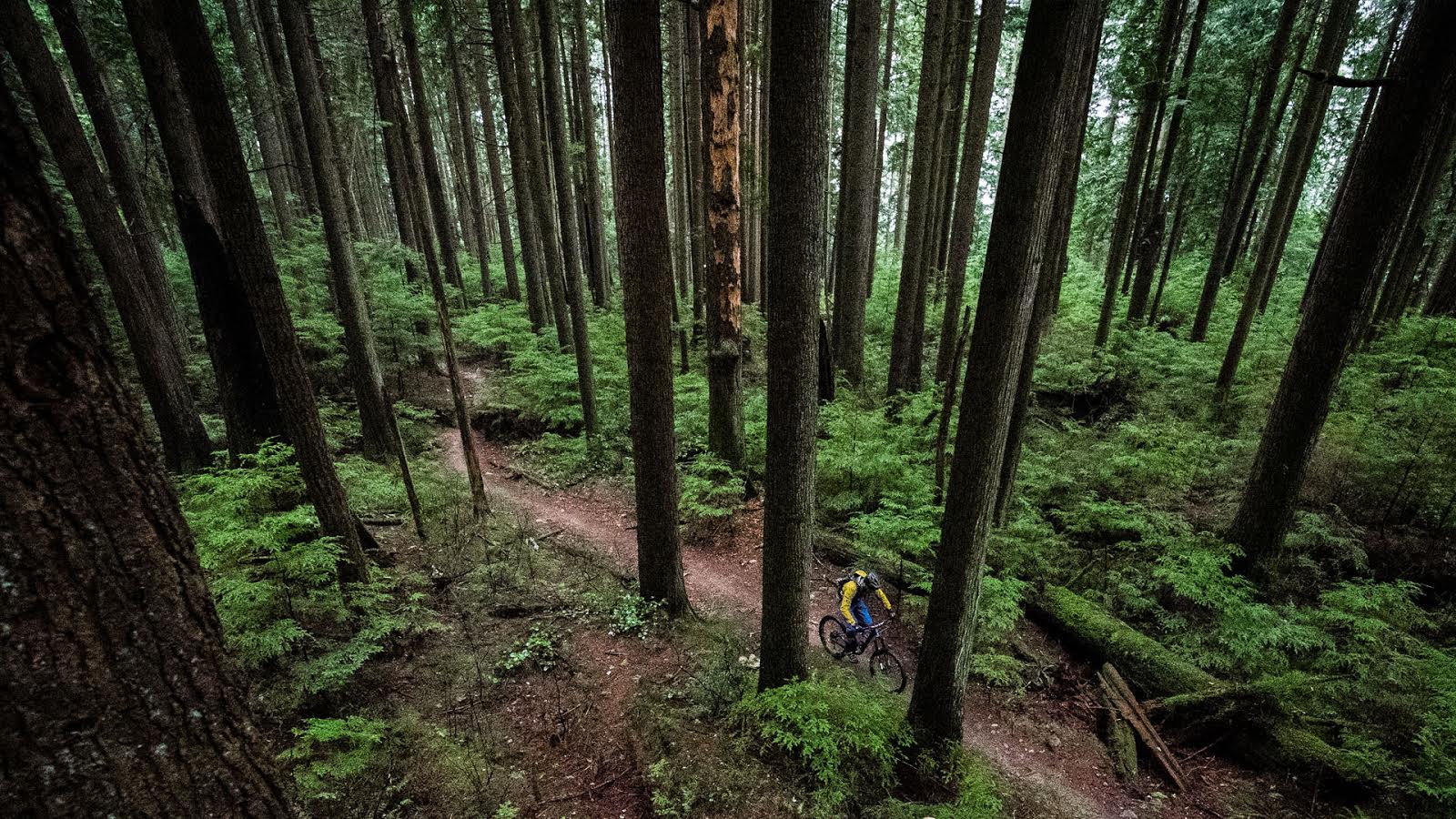 AIRprentice 2012 Wildcard Winner
Last week we announced a run-off for the 9th spot at this weekend's AIRprentice at Silver Star. The judging panel was having a hard time deciding between three riders for the final invite: they were all shredders with quality applications.

We put the call out to have Aiken Collinge, Denis Courchesne, and Garrett Thibault show us how they are resourceful, talented, connected and creative. Unfortunately Aiken bowed out due to injury and we were left with two. Denis and Garrett's submissions are below…
---
Denis Courchesne
Well, when I knew that I was playing wildcard for AIRprentice I was kind of pumped to do and to show more, because I'm not cut out yet I still have a chance to get in and compete at Silver Star to show what I'm capable of.

  Anthesis Suicide. Photo ~ Mike Gamble
After I got the email I chose to do a second video… Gambi and I went up on the mountain to show that I can do it better.
We got some nice shots in the downhill section, but I wanted to show another side of me. So I decided to go to the dirt jump park. Well it was a nice day to do so. No wind, not too warm or too cold, but I wasn't prepared because it was only the second session this season of dirt jumping.

  Railin' the sh*t out of it! Photo ~ Mike Gamble
But after few good jumps I realized I wasn't as rusty as I thought, so I started feeling kinda confident. I tried new tricks and got better every time I tried again. I wanted to push myself harder, to show that I definitely can do it.
I felt super good, because I tried hard to learn some new tricks, get better in jumps I wanted to land right and ride faster with more confidence.
After a good time of filming, photo shoots etc. I finally got to rest for my next race.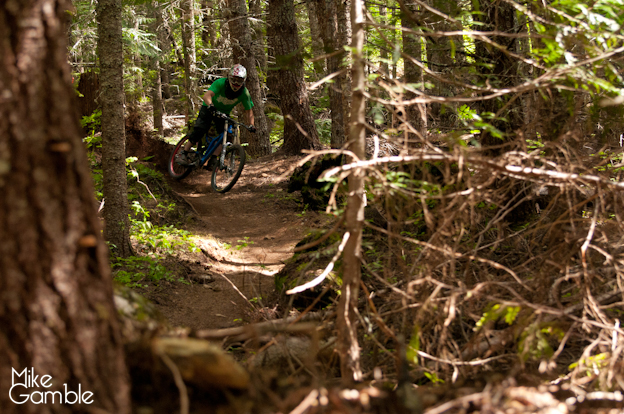 Roosting some sought after loam in the Whistler Bike Park. Photo ~ Mike Gamble
Full with new energy and the knowledge of the trails for the race, I was so stoked, because it was one of my favourite trails, Ninja Cougar, that I knew I would be able to get under the top 10. Good conditions and a sweet 6th place for me against over 100 people. That's what I call an amazing feeling. Seeing the finish line, being focused on it, and giving everything you have for the last few meters! My body was tired but I never felt better than after pushing myself to get what I want.
---
Garrett Thibault

Due to a very last minute emergency, my filmer was unable to make it out for the time we had scheduled and I do not have a fresh riding edit ready for the deadline as I would have liked. Fortunately I have written enough articles for NSMB to have a large quantity and variety of previous content available for me to prove I am a good choice for AIRprentice.

  Bike goes to the left. Photo ~ Brock Anderson
From writing these articles, I learned that I could stoke other people out on mountain biking without trying to kill myself. Because I enjoy riding my bike and don't like being injured, this worked perfectly for me. That being said, I do understand when I need to step it up and have learned many skills from pushing myself.

  Bike goes to the right. Photo ~ Logan Swayze
For example, the night before I had planned to film for the "Show Us Some Love" giveaway article, a foot of wet snow came down on the trails. I had to change my trail selection to something that would look good under a soggy white blanket and send every stunt on it without any traction. I was happy with the end result and became more comfortable riding in situations where I didn't have complete control.

  A Boy and His Bike: An Unstoppable Love
In order to collect content for my articles, I've jumped on every opportunity to have photos taken of my riding. Even if I don't feel completely ready to ride or am suffering a mechanical issue, I will take advantage of any time with a photographer and do my best to get the shot. The results are often fantastic.

  A fresh jump in the rain? Sure let's try to whip it. Photo ~ Morgan Taylor
Becoming a NSMB Team member would create more opportunities to go out and be the focal point of someone's lens. Because I think quickly on my feet and ride to the best of my ability no matter what situation I'm in, I know I will be able to make the video or photographer happy.

  Sometimes it's not about the stunt or even the rider, but the composition and the guy in the gondola watching him to make a good photo. Photo ~ Logan Swayze
Beyond the imagery portion of an article, my experience writing and submitting content to NSMB has familiarized me with what is expected in a submission. I am aware that photos must accompany all words and I'm accustomed using NSMB's style sheet. I've also experimented with a variety of article types and learned what receives the most positive feedback.

  I know how important the photos and captions are to an article, that's why this caption is hilarious. Photo ~ Morgan Taylor
The opportunities for a NSMB Team member to submit content seem endless. Putting my experiences into words is something I enjoy doing and I know I will be able to produce great results with any opportunities I am given.

  My downhill rig is single speed. It's good for the bike park and a few funny looks in the lift line. Though, maybe with the support of NSMB's golden sponsors I could have a normal bike… Photo ~ Morgan Taylor
I also understand that a good team rider goes on adventures. I always try to head out to different places when I have the time. As of Saturday I will have ridden three major bike parks – Silverstar, Sun Peaks and Whistler – within one week. Evidently I have the time to go exploring and always enjoy the trip. 

  I went up last week and made sure Silver Star was going to be good for AIRprentice. It definitely will be. Photo ~ Garrett Thibault
You've seen my ability to move a bike around in the air, blast my down the trail in any weather condition, and string a sentence together. I even submitted some promo for AIRprentice this week. It seems the people wanted me to compete, how about you?

  Pick Garrett Thibault for Airprentice 2012
---
So you've had a chance to check out the submissions and maybe you've formed some opinions of your own – but our judging committee has also formed their collective opinion and the decision is that we will be taking Garrett Thibault up to Silver Star to compete in AIRprentice.

Garrett's effort in the run off was noticed not only in the article itself, but in the ever-increasingly important social networking sphere. Denis is clearly a very capable rider and we hope he submits an application for AIRprentice again next year.
---
Any words for Garrett or Denis? Stay tuned this week for the announcements in our Money Shot photographer and videographer contest.