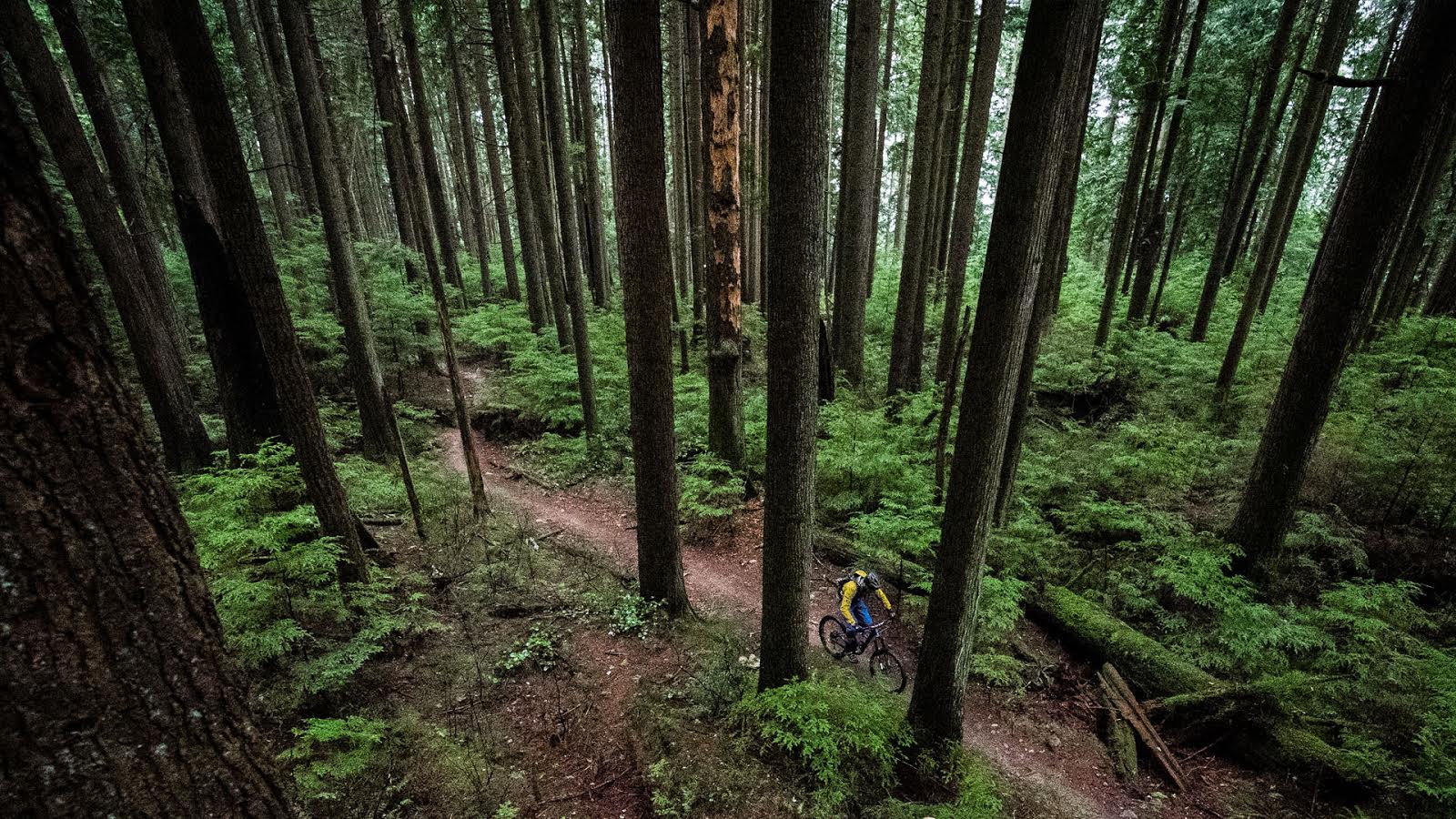 Party on Ladies
The party on Ladies Only this past weekend was not only a celebration of a trail and its builder, but of the experiences we share out there both in person and on these very interwebs. What started as a reserved-looking and mature group of riders at the base of Fromme – clad in mostly-modern garb with the occasional vintage piece – became a riotous gang of degenerates when they reconverged in the middle of the woods.
OK – maybe I'm exaggerating a bit. You see, the focus of this ride ended up being the camaraderie and shared experience at the infamous heron pond. Cascading pools of water stream as always fed by gravity, under the teeter totter that started teeter totters in these parts. And a crowd of fifty-plus.
The drink, the pond, the pool; call this masterpiece whatever you want. For the past two years, Digger has been working against entropy, leaving Ladies Only a showcase for its twentieth. Digger has been curating unique experiences in the forest that fights back so hard to destroy anything in its grasp. The party at the heron pond last Saturday honoured the beginnings of the Shore, and reminded us of the things that keep us together.
---

  My first attempt at video editing. I had to use The Builders and the Butchers while everybody else is doing it – thanks Mullany/Peacock. Open to criticism, suggestions, and jokes about my first moving pictures and sounds attempt.

I'll let my photos tell the remainder of this story… might wanna grab a coffee.

  If you thought the water towers at 10am was where the party was going to be, you were mistaken.

  Mountain Bike Mike. Ladies Only 20th Anniversary art by Nigel Quarless. Might there still be a few of these floating around?

  Will Craig, subject of our second Hey Neighbour!, was up for it on this morning that threatened rain but kept us all dry – except for those who went in the drink…

  Starting up the conversations of the climb. Kelly Barnes and Stephen Matthews. I am continuing to use the GoPro for some still shots. It's essentially a fisheye lens in a tiny waterproof box; now how to use it for interesting shots that augment my work… An odd predicament for a photographer but it's always good to expand horizons.

  Nigel Quarless is a bit late on the splash attempt on Mischa Greenwood. Mischa and his brother Richard are making a blockbuster film of the Ladies Day; Mischa is also the new NSMBA Grant Writer.

  Beauty mist at the 3rd.

  And a classic atmosphere at the trailhead. First to the top gets… nothing!

  NSMBA President Mathew Bond thought it would be quite appropriate to bring the bike he first rode Ladies on. I agree. But I don't think he's changed his saddle angle since the '90s.

  And he's still got the pads – for bike and rider – to accompany the DeKerf.

  I dropped in and tailed Andrew Shandro with the follow cam. The original sawblade Ladies sign.

  Bart's Bridge, one of the most challenging and natural old school lines on the trail. I would be willing to bet that more regular riders of Ladies walk this one than the heron pond teeter. Scott Robarts shooting from below. 

  Scott Robarts was out shooting photos, and nabbed this sweet shot of myself and Stephen Matthews coming off Bart's Bridge. Matthews, last year's NSMB AIRprentice, is now based in Vancouver, and exploring the Shore as a local for the first time. I was able to talk him into collecting some data on the Stumpy Evo twins… Photo ~ Scott Robarts

  Nigel Quarless, responsible for poster design and shredding. One of the first over the pond so he gets a photo that doesn't really indicate the landslide coming down behind him.

  But the crowd steadily grew. Hoping they'd see someone go in the drink.

  Jeremy and Pat from North Shore Bike Shop rolled up before the group even showed up at the water towers. The wanted to make sure there was a heckling section for every single rider down Ladies.


  You see, the spectacle of a rider going for a swim is something that will make Digger's day. With a crowd, even better. The chances were good on this day. Hug a tree…

  And our chances were given. Mathew Bond with an acrobatic save…

  But he was convinced to head back up and give it another go. And made it.

  A lineup of riders forms above the teeter. Prime time viewing folks. Spectacle: achieved.

  As riders passed through the gauntlet, the crowd at the bottom grew like sand through an hourglass.

  North Shore Heckle Fest imported just for the party.

  Another one avoids the drink. You're on candid camera!

  Digger arrived with glee and his lovely accompaniment, Leah Gantzen. The real party was going and Digs was into it bigtime.

  Mark's muscles with the golden beam of light resemble Renaissance painting. Even with the pressure of wearing just his underwear and knee pads, he made it through. Mark wrote up a recap with more photos from Scott Robarts HERE.

    Whether it was skill or sheer luck, we didn't see a single rider go into the drink until the crowd up top thinned and only a few riders remained. The heron must have been disappointed.

  If you tried to chicken out, you got heckled big time. This was a bloodthirsty crowd.

  I had the opportunity to witness Digger seeing a rider go in the drink on a random rainy day last year. His smile was just as big then, but his cheers were louder.


  If you've made it this far reading captions, hopefully you won't be offended if I slip the time lapse in where it actually belongs in the story. Little did I know, I was just a bit too early taking it down…

  A few minutes after I took down the time lapse camera, the event everyone had been hoping for finally happened. Pat's excitement was uncontrollable.

  And for good reason… the splash was spectacular.

  The crowd went wild with applause and cheering. You knew Digger was stoked.

  And just a few moments later, we had another swimmer, this time seemingly past the point of no return – don't get too cocky about that teeter. 

  And after the majority of people continued down hill, more succumbed to gravity on the log. Chest cam from Jeff Tran, who will henceforth be known as "Tranonball"…

  The mist once again arrived just in time for the last climb section. Stumpy Evo loving it.

  Stephen Matthews rode the optional rock face on the final slope sight unseen. I then made him go back up for another. Let's hope I can get him in front of my lens again soon.
---
Any words for Digger, the heron, or Tranonball?