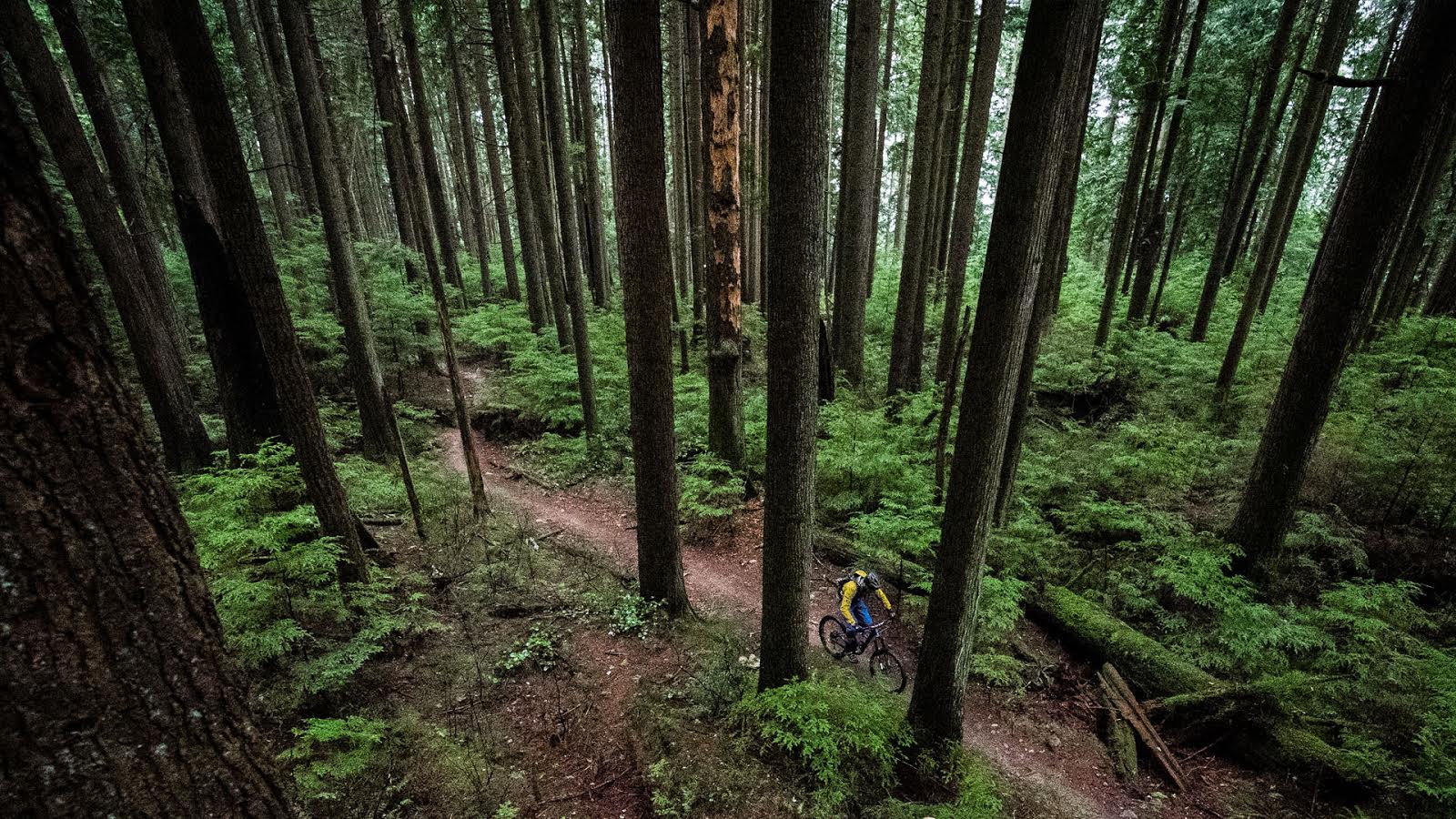 Searching for Blue Skies in Pemberton
Matthew Lee is an Ottawa-based writer and photographer currently wrapping up a degree in Journalism at Carleton University. He first got into mountain biking by way of the old TV series Drop In, and is now pursuing a career in MTB-related journalism. Matt can be found on the mountain year-round, ripping on his bike or board.
---
Summers in Pemberton are usually an exercise in dust and heat endurance, but as of recently, it's been raining quite a bit. Not enough to justify building an ark and gathering up the local wildlife, but I've considered investing in a canoe paddle, just in case.
It was during this grey period that wordsmith and shredder Seb Kemp gifted me his old Santa Cruz Butcher. The conditions were that I treat it well, and that I return the frame to him if he got nostalgic. "Fair enough," I thought, as I was riding a bike that was ideal for South-western Ontario, rather than the trails I now found myself living beside.

  Seb punished his Butcher all around the globe but it just wouldn't die. With sentimental attachment lingering, he wanted to see it go to a good home. Enter: Matt Lee.
With this solid foundation, I began to sort through the massive stack of catalogues at the Pemberton Bike Co. Almost immediately, a conflict arose in my head. Part of my brain lusted after every shiny and expensive part I needed, while my more sensible self droned on about how school wasn't going to pay for itself.
Over the course of two days, I assembled the Butcher with the best compromise of new and salvaged parts I could come up with. Once it was complete, it was time to take it for a shakedown ride and see what it was capable of.
The ride would be a leisurely 2-hour loop through the Mosquito Lake zone of Pemberton. Consisting of Happy Trail, Waco Connector, Radio Tower, and Moosejaw Connector, the ride was defined by switchback climbing and a mixture of rock, roots and loam on the way down. It was the perfect test to put the Butcher 2.0 through its paces. 

  It's always nice to have access to a good selection of tools when you're building up a frame from scratch.
The gods of mountain weather must have seen that the build was good. They decided to give their blessing, and cracks of blue sky began to peek through the woolly blanket that had covered the valley for most of the week.
Climbing had been a painful and frustrating event on my old whip, but thanks to the addition of a granny ring, I wasn't suffering as badly on the ups as I was previously. Mind you, it was a bit of a slog, and my fitness level still leaves lots to be desired, but it was no longer the torture fest that I've had to deal with for the last month and a half.
Ripping the downs is where the bike truly shines. Tires dig into the dark loam as the bike sails through corners and over chunder, as if on rails. A few little bobbles here and there left me punching a tree and sliding into some dirt at the very end of the ride, but the shakedown was successful, as the Butcher and I became more acquainted with one another.
After a day of recovery and work I set out again on the new ride, armed with my camera and the lofty goal of trying to capture the vast range of riding to be had in such a contained area. The mosquitos conspired to make my photo trip an exercise in ignoring irritations, but a few gems did emerge from the pile. 

  Stopping to smell the roses on the Waco Connector.
It was Monday that proved to be the greatest day yet for riding. I saddled up for a ride with my friend and co-worker Cookie Losee as we headed up into the One Mile Lake zone to ride a mix of classic and fresh cut trails. Once again, the weather gods permitted sunshine to peak through the clouds, and little patches of blue sky poked through from time to time.
The climb we took routed us up the recently cut Sea to Sky trail, which will connect Squamish with D'arcy when it is complete. After gaining some altitude, we turned onto Lumpy's Epic, a classic Pemberton trail filled with technical climbing, and endless rocky shale. Cleaning Lumpy's is a difficult challenge on the best of days, and to do so secures some quality bragging rights.
Once at the top of the hill, we sallied forth onto Pioneer. The story goes that it was built by one of the locals so he would have something to ride with his girlfriend. The trail is a perfect example of new school flow. Bermed corners and little jumps make the ride down an absolute joy to rip from top to bottom. 

  A triumphant view at the top of Lumpy's, no word on whether Matt cleaned the climb though…
The final section of our descent was Pickle Surprise. Originally built with large wooden stunts and slow technical features; the trail has been given a face-lift that brought it into the era of flow. Deep black soil pushed me to ride far outside my comfort zone, and for a minute it seemed that someone had grafted a small slice of Vancouver Island onto the hill.
One final dump into the bushes at the bottom of the trail has left me with a lovely purple and blue bruise on my back, but as I was pedaling home from the ride, the clouds were finally cleaved in two, and I saw a glorious stretch of bluebird sky for the first time in a long time.
---
Matthew's obviously quite stoked on his new wheels. Have you ever been bequeathed a bike that unlocked a new experience? Tell your tale below…