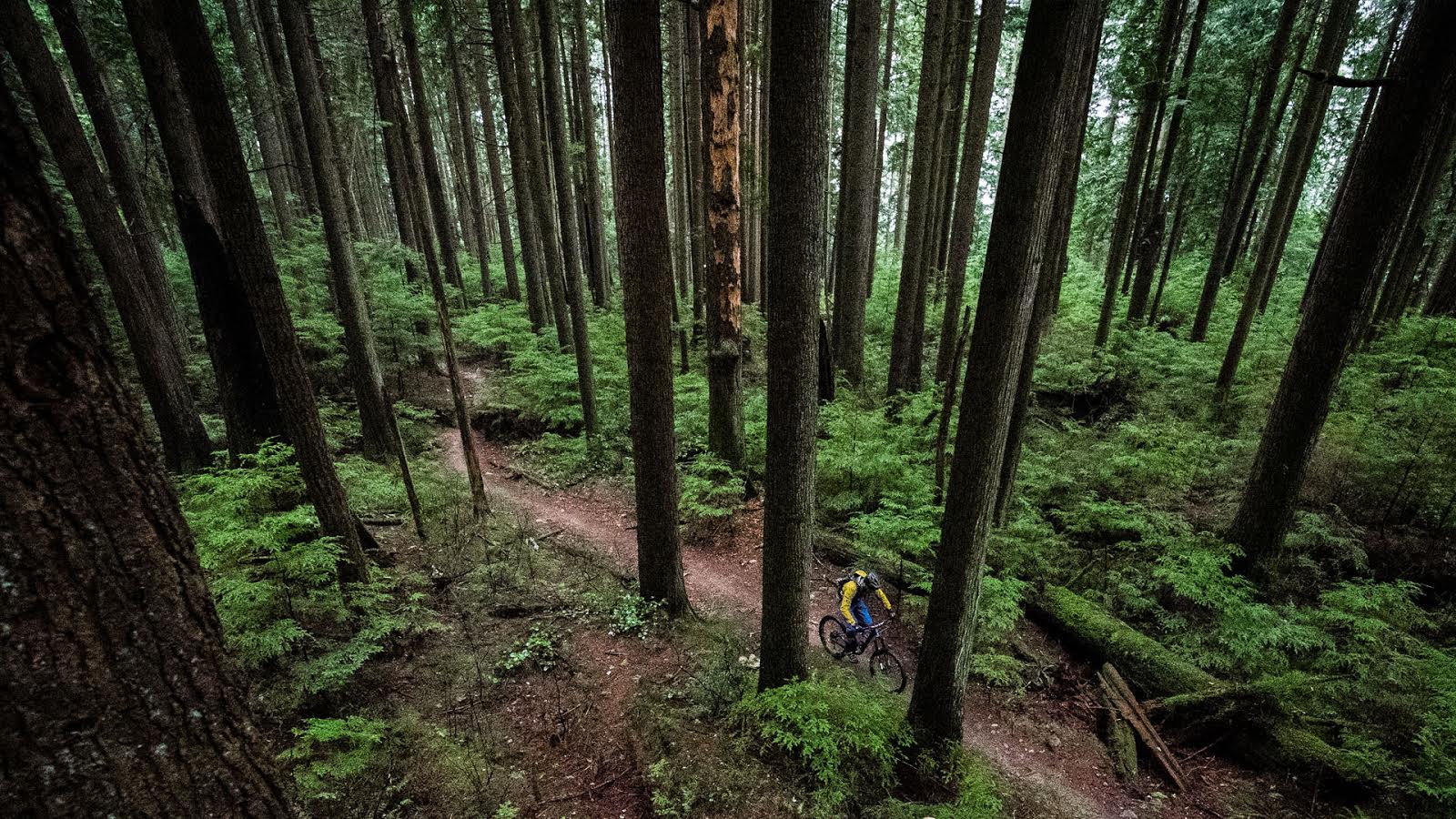 Brian Onofrichuk is… Mr. Stepdown

  Brian O showing that age is just a number, 23 x 23 foot drop, 2012.
Brian Onofrichuk was a mainstay in freeride movies beginning in the late '90s. Based in BC's lower mainland, Brian O has continued to ride and huck big. James Healey is a North Vancouver-based sports photographer and has been working with Brian for approximately 6 years now. He recently shot the following video of the above gap, and did up this interview with the stepdown king to accompany.
James: When did you start riding bikes and how did you get to mountain biking?
Brian O: I hit my first jump when I was 12 years old. That was 30 years ago! Oh my god, I'm getting old! Haha! I started on a BMX at 12 and started racing at around 14, raced expert level till about 18 then took a few years off because BMX kinda died all of a sudden. A few years went by and I started missing riding bikes so I got in touch with an old friend and got a cruiser off of him but by that time BMX racing had come back around a bit. He asked me to come out to a race and check it out, so I went to a race and won, then went to an other race and won again. Realized I didn't lose the touch so maybe I should do a few other races and that turned into 8 years! It was great but it was always the same thing, same people, the same tracks, the same towns. I wanted to ride a bike but I was kinda over racing BMX.

  Tucking it in on Bobsled, Mt. Fromme.
After talking to a buddy of mine who was trying to sell his DH bike to buy a truck so I traded him my old truck for his bike. Started riding and I'd only been out for a couple of rides and bumped into some people I knew from BMX that were crossing over into mountain bikes and were filming this movie. It was kinda weird, I'd just started riding mountain bikes. They said to me if I could do the big hucks, I'd get the opening shot in the movie. Thought it was pretty cool so I went out and had a look at it, think it was jumping off a school or something like that. Looked at it and just thought of it like a step-down. Probably 15 by 15, rolled off trying to be as smooth as I could be and stomped it and everybody took a shit! It was like the greatest thing that ever happened! That was about 1999 and that's how it all started.

  Brian rides one of his many treasures, this one in Hope, BC.
James: What was that first mountain bike?
Brian O: It was a blue and yellow Giant ATX with RST inverted forks and hope brakes. I liked it a lot!
James: If you had to think of one good memory during your biking career, what would it be?
Brian O: When I first started in the big ol' freeride scene, I got on a trip to California with Kranked. I was pretty excited, they were gonna fly me down and take care of everything. All I had to do was big step-downs again! They picked me up at the airport and drove me out to Mark Weir's house in Marin County. We got there at around 10 at night. There's a whole bunch of people there partying and hanging out, a bunch of crazy bikes and parts everywhere, it was pretty cool! I met Mark and met all his people and they were all pretty cool. The Superheroes team was responsible for bringing me down there, they're the ones that hooked me up with Kranked and a few of those guys were there. 

  Berm on Burke Mountain, BC.
I thought that maybe I'll be riding tomorrow so I asked if it was cool for me to use their tools and they said it was all good. I took my bike box out to build my bike up. Pulled my old ATX that was cracked. It was cracked in the headtube but I didn't want to tell anybody that it was cracked. I didn't want to ruin the whole trip because of it. So I started building it and all of a sudden, the room got quiet. I was almost scared to look up.
One of the guys from Superheroes then asks me "What the hell are you doing?" I was like "Sorry! I didn't mean to offend anybody, I asked if I could use the tools and I thought everything was cool, I thought maybe we were gonna ride tomorrow so I thought I'd build my bike tonight while everybody was hanging out." He says, "Didn't anybody tell you? You ride for Santa Cruz now! You see that shiny new bike hanging up on the wall there? That's your bike!!" I was like "WHAT!! You're shitting me?" He says "No man! Put that piece of crap away!!" Haha!

  Brian O launches off one of his Burke gems, a 20 foot gap and 12 foot step-down.
James: Who has been the most influential person for you over the years?
Brian O: It's interesting because I don't really look at it that way. I met a lot of people and I just take little bits and pieces from everybody. It doesn't matter to me if they are the fastest riders or the biggest jumper or the best at whatever. You always learn something from everybody you ride with. It's all the people together that have influenced me.
James: As a trailbuilder, how have the trails you've ridden and people you have met affected the way you build your own trails?
Brian O: I've helped on a lot of trails and all the different places have influenced me for sure. You kinda find the feel that you like and want out of a trail. To me there didn't seem to be a lot of what I wanted locally. There's a certain flavour around the North Shore and lower mainland but I was looking for a little different that made me feel like I was ridding Kamloops or Williams Lake. I want to go fast and I don't want to have to negotiate any weird stuff! Haha!

  Trail builder Brian takes his ladder back to its hiding spot.
James: How much do you ride these days and how do manage to ride as much as you do?
Brian O: I ride whenever I can, whenever I find spare time. I ride almost every week-end and 3-4 times a week sometimes! I try and squeeze in as much as I can. I've kind of designed my life around giving me the freedom to ride and do the things I want to do. I haven't really gone after the big office corporate job, just to give me that freedom. I don't even know if I'm employable anymore really… I've been working for myself for so long that I don't know if I can listen to anybody.
James: Anyone you'd like to thank?
Brian O: I'd like to thank everyone at Giant Canada, also like to thank Oneal/Azonic. And a special thanks to Karla and all the other great people who have supported me over the years. That means you too James.
James: Thanks Brian!
---
Brian O made his name known with big stepdowns over a decade ago, and he's still doing them to this day. How's that for not slowing down?