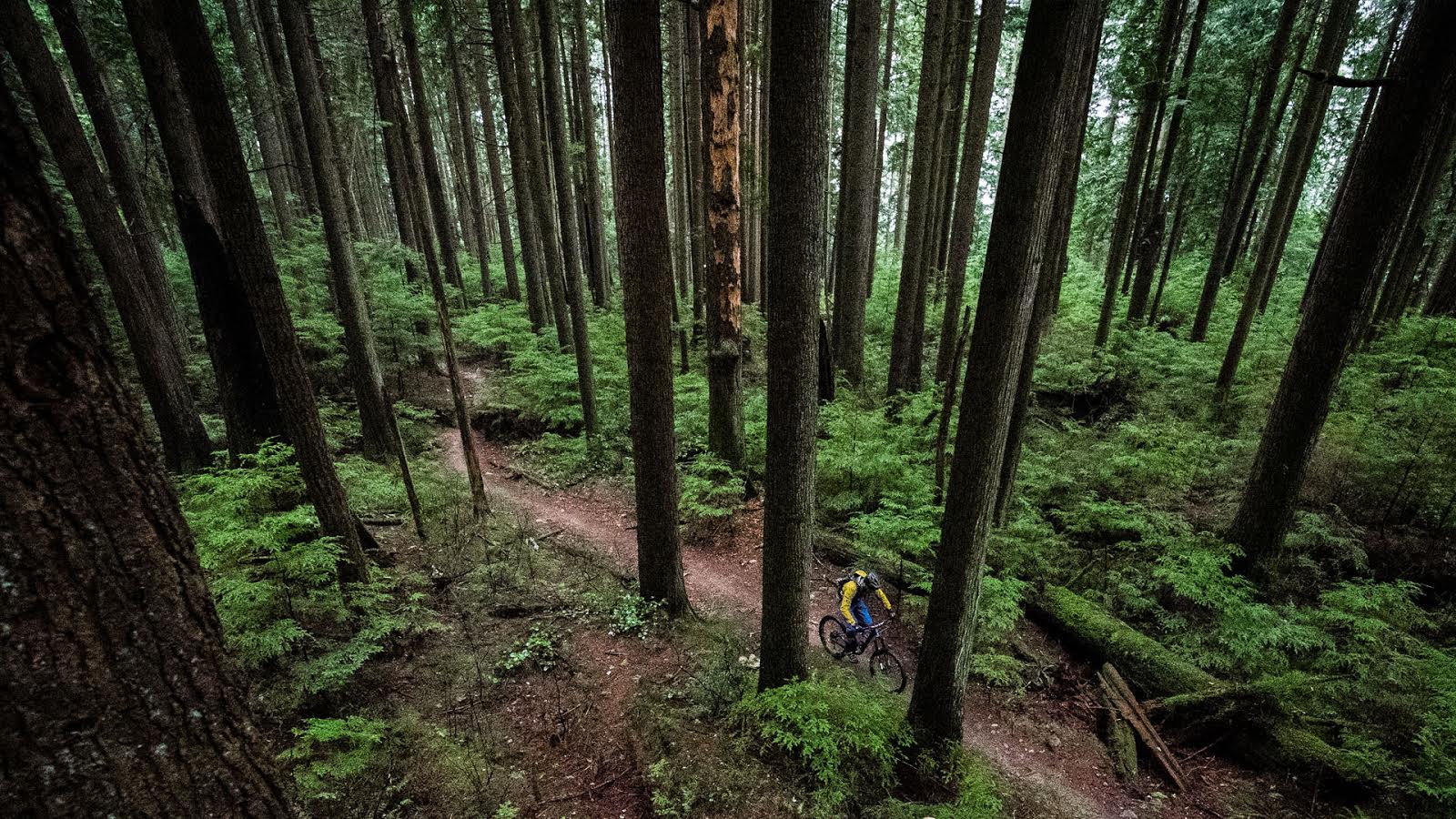 Father's Day: A Shredder's Story
Garrett Thibault worked on his AIRprentice application while finishing his final months of high school. In his application was this ready-made article for Fathers Day. The effort he put into this while completing university applications and final assignments is evident. Was this a carefully planned move to pull at the heartstrings of the judges or simply a well-timed good story? Garrett spent the day itself riding Whistler with his dad. Good luck Garrett; I'm not on the judging committee but I hope you make it up to Silver Star to shred with us.

– Morgan Taylor
---
"Riders ready, on your mark, Bam!" I was off, spinning my little cranks through the rhythm section, around a berm, down the final straight and across the glorious finish line. All the while my father ran behind me, making sure I wouldn't be trapped in my bike for too long if I crashed. It was half-track racing and I loved it. My dad took me out into his world of BMX racing every week so I could bump handle bars with the other four year olds. Once I was big enough for big wheels, our father son duo started traveling to dusty tracks all over B.C. to race our little bikes.

  "Big wheels" are relative to the size of the rider. Photo ~ Lu Thibault
Although there was a lot of support for my racing from my whole family, the career was short lived. Within four years of me starting BMX, my father's fancy turned from manmade loops to the natural trails that flow through our beautiful province. He bought himself a mountain bike, and immediately after he bought his then 9 year old son a mountain bike. Even though I was slow, my dad was patient and took me for easy rides on fire roads down to lakes or along hiking paths up to waterfalls; anything that kept a smile on my face and didn't push me too hard. I lost all interest in BMX pretty quickly and ended up selling my race bike so that I could spend all my spare time enjoying the bush with my old man.

  We made the switch from BMX to mountain bikes and never looked back. To this day I still enjoy spending my spare time in the bush with my dad. Photo – Logan Swayze
I was unaware of it at the time, but my father made sure never to make me prove myself on our early mountain bike rides. For that reason, I never formed egotistical goals to push myself that I would have likely been forming in BMX. On my mountain bike, it was all about enjoying myself. Even though it sometimes meant sacrificing his own enjoyment of a ride, my dad made sure I was smiling with every pedal stroke. To this day I still approach mountain biking with the same non-competitive attitude I unknowingly learned at the age of 10.
Once I moved on to actual freeride trail riding, my dad continued to keep the subtle learning going. By first buying me a hardtail, he made sure that I learned all the fundamental skills required to mountain bike that a full suspension bike would have permitted me to brush over. Being a bit of a handy man, my dad also kept my bike in tip-top shape so I could spend all my rides progressing and enjoying my time instead of walking down with a frustrating mechanical issue.

  I didn't like skinnies back then and I don't like them now, but I still rode them back then and I still do now. Some things never change." Photo ~ Lu Thibault
Progression came rather quickly for a kid with not a lot of natural talent or confidence. Because my father would take me out every weekend, drastic changes in my bike skills and general confidence – which improved a little every ride – became noticeable in shorter periods of time. When I wanted to go too frequently for my dad's busy schedule, my loving mother began driving me and my friends to the mountain. I thoroughly enjoyed every ride and am very grateful for all her support, but I always looked especially forward to the big ride with my dad and his friends each Sunday.

  Eventually I reached a speed where I took the lead, but every now and then I'll follow my dad's line. Photo ~ Logan Swayze
While I grew and progressed, my parents always made sure I had a bike that fit me. They also provided me with new parts as long as I only replaced bits that had worn out. It was only when I wanted something extravagant that I had to pay for it myself. This rule motivated me to start working and since I was only old enough to be a paper boy, I quickly learned that extravagant parts were not worth their high price. However, as soon as I turned 14 I was able to earn minimum wage and, within six months of getting a real job, I committed to building my dream list into a second bike. I bought each part separately and my dad showed me how to fit each one together. At the end of the build I had learned a lot about bikes and had something I could truly call my own. My first ride on the new bike, I felt freedom as I had never felt it before.

  There's something about being alone in the forest on a bike I built from the ground up that makes me giddy. Photo ~ Morgan Taylor
Since then my life has only become more committed to riding mountain bikes. I've made many new riding buddies, learned much more about the mechanics, and am able to drive myself to the mountain any time I want. However, not everything has changed. I still join my dad almost every Sunday for a ride, rely on his help for major mechanical issues, and sit in the passenger seat on our way to any bike park.

  Nowadays my world pretty much revolves around bikes. Photo ~ Brock Anderson
---
I'm sure we all have some dad stories and just after Fathers Day is a great time to share them; this article made me think back to my dad teaching me how to repack my threaded headset and telling his own stories about making chopper forks in the '70s… what memories did you dredge up this Fathers Day?