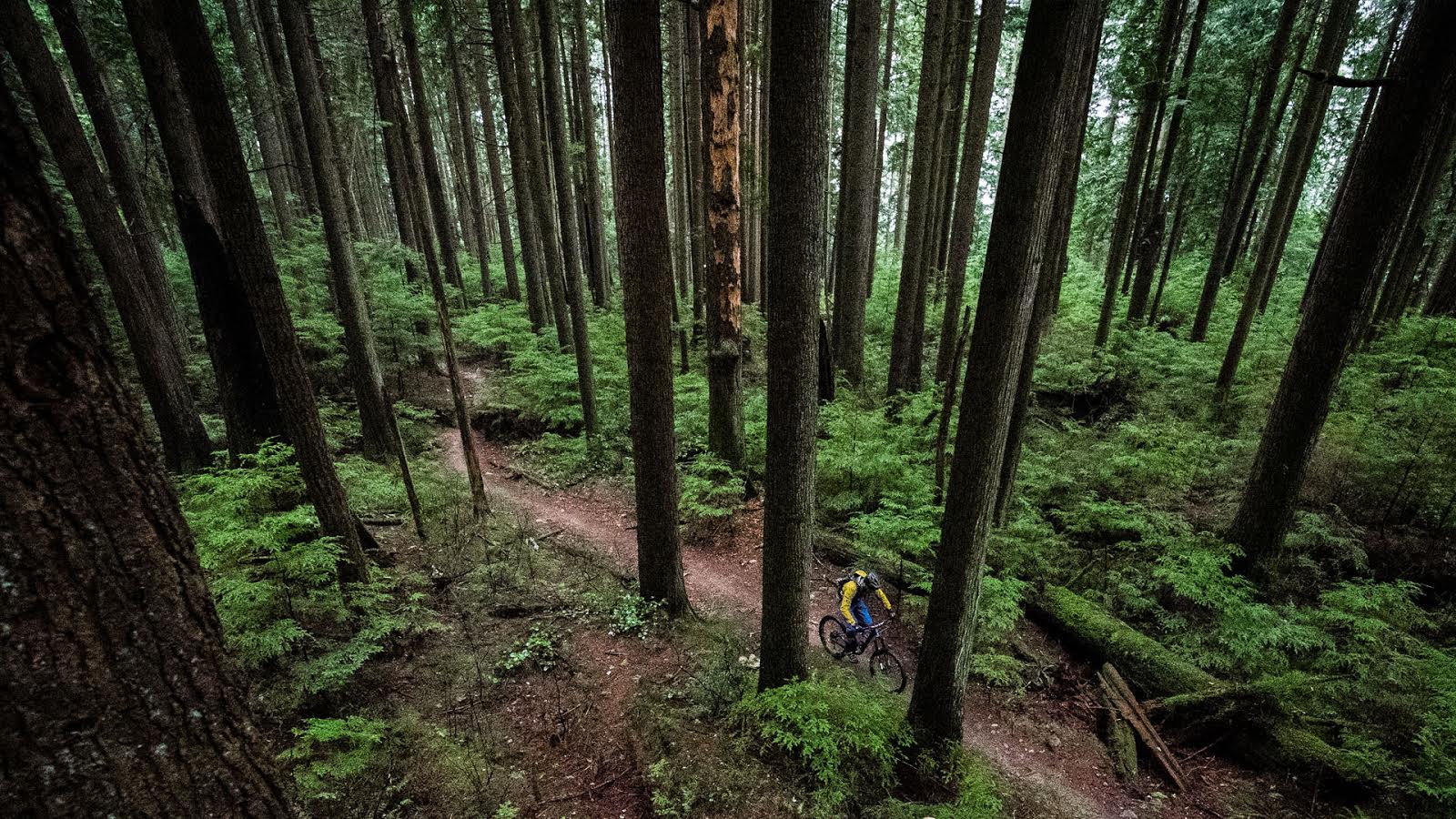 2013 Shimano Saint
2013 Shimano Saint M820

Shimano's redesigned 2013 Saint M820 group was revealed at Sea Otter back in April, but the samples were just that and we haven't had the chance to put the new parts to the test. With a few more refinements to the designs and a big push to get the production lines churning, Shimano was finally ready to release the new group dubbed Pure Gravity. This past week a giddy group of journalists was unleashed on the Whistler Bike Park with new Saint bits on a bike of their own preference.

  What better place to launch a new gravity group but Whistler Bike Park? Photo ~ Morgan Taylor

As a freeride and DH-specific group, Saint stands alone amongst the other options on the market. With M820, Shimano's intention was to further close the gap between the strength required by top freeriders and light weight desired by World Cup racers. Lighter, stronger, and faster are adjectives often used to describe new components, but with the new Saint group Shimano is looking to functional descriptors such as quieter and cooler.

  Most of the journos at the launch chose a full DH bike – the usual choice for the bike park and no doubt a smart one. I, however, chose a short travel freeride bike, the Scott Voltage FR with 160 Van up front and 150mm out back. Photo ~ Morgan Taylor
Those two words – quieter and cooler – sum up the highlights of what Shimano refers to as systems management with reference to the different parts of a component group. We are essentially looking at the systems that make a bike go and make it stop: the drivetrain and the brakes.

  The most significant improvements in the M820 group are in the brakes and the derailleur; both take cues from the most recent iteration of XTR. Photos ~ Morgan Taylor
Before we even had a chance to ride the new group, there was a Q&A with Shimano riders who have been on the product since just before Sea Otter. The overwhelming consensus was that the power and feel of the brakes as well as the lack of noise from the drivetrain were the highlights of the new kit.

  The panel of Shimano pro athletes, all from right here in BC: Geoff Gulevich, Darcy Turenne, Mike Hopkins, Matt Hunter, Thomas Vanderham, and Andrew Shandro. Gully looks to be the only one taking this question period seriously… Photo ~ Morgan Taylor
Saint M820 Brakes
For me, the brakes are the absolute highlight of the M820 group. Modulation is significantly better than the M810 generation, power is incredible, and noise is all but non-existent even in the wet. The past three days in the bike park were my first of the season, and I can happily report that I experienced little hand fatigue even on the short travel bike.

  A new caliper with four ceramic pistons and a longer banjo bolt, and fins for cooling on the brake pads themselves keeps the brake fluid (mineral oil in Shimano's case) much cooler than the previous design. When combined with the ICE Tech rotor, the result is a significant decrease in heat production and, as a result, better brake pad life. The new M820 finned rotor was not yet available for our test period. Photo ~ Morgan Taylor

  The new M820 brakes have the shorter Servo Wave lever seen already in the XTR and XT Trail series, and feature a textured surface for better grip wet or dry. The one-way bleed process has also been refined for ease of maintenance. Photo ~ Morgan Taylor

  The M820 brake was designed with heat management in mind. A longer 30mm banjo bolt allows greater heat dissipation and four ceramic pistons decrease heat transfer from pad to brake fluid. Photo ~ Morgan Taylor

  The M820 ICE Tech rotor will only be available in 203mm. Nerdy facts: the original ICE Tech rotor (seen here) decreased rotor temperatures on heavy braking by 23º fahrenheit, and the new finned version drops that by another 50º. Photo ~ Morgan Taylor
Saint M820 Derailleur and Shifter
Having a drivetrain that's absolutely silent as you bang your way through braking bumps is a very odd experience. In fact, the only noise you'll hear most of the time is your tires whizzing along. Shimano's integrated top out bumper and adjustable clutch eliminate chain slap, and may just bring the DH race crowd back from the land of using road derailleurs to save weight.

  This one goes to 10. Saint is officially a 10 speed group, with two modes which allow the ability to run either short ratio road cassettes or wide range XC cassettes with ideal shifting performance. Photo ~ Morgan Taylor

  A notable addition to the M820 shifting system is an adjustable clutch to maintain tension on the chain, denoted by the use of the term "Plus" in the model description. Also new is a rubber bumper which prevents the derailleur from topping out every time you go over a bump. On some frames in the test camp – mostly FSR bikes – the derailleur was knocking against the chainstay and had to be switched into wide ratio mode, which did not appear to affect shift performance on the 25 tooth cassettes. Photo ~ Morgan Taylor

  The textured two-way cable release lever will drop two gears with a thumb push or one gear with a trigger pull. The double release really allows you to dump a lot of gears fast, though when wanting just one gear I often found myself pushing for two. More time with the group would likely engrain an instinct to pull the trigger for just one gear. Photo ~ Morgan Taylor

  The big thumb paddle is longer than previous versions, textured for grip, and lets you push four gears at once. The paddle rides on bearings to ensure smooth and consistent feel. Even with the clutched Plus derailleur, shifting effort has been decreased from M810. Photo ~ Morgan Taylor
Saint M820 Cranks

Cranks are basically expected to be stiff these days, so I can report no problems with the Saint Hollowtech 2 arms. From a statistical standpoint, the M820's steel axle is claimed to be 250% stronger than an XTR Trail crank, while shaving about 100 grams off its M810 predecessor. Also part of the crank system is a new chain device and crank-mounted 1/4 bash, which was still in shipping during our test period.

  The new Saint cranks shave about 100 grams off their predecessor, while retaining the strength the group has always been known for. Photo ~ Morgan Taylor

  Hollowtech 2 arms are available in 165, 170, or 175mm lengths. Photo ~ Morgan Taylor

  Chainrings are available in 34, 36, and 38 (38 shown). Shimano now provides covers for the bolts when a bash guard is not in use. Photo ~ Morgan Taylor
Saint M820 Hubs
Shimano's new hubs remain quite similar to the previous version: still cup and cone, and centerlock only. A bit of weight has been shaved from the front hub which is only available in a 20mm axle, while the rear is now available in 142×12 to complement the 135×10, 135×12, and 150×12 options.

  Shimano has revamped the locknut assembly on the Saint hubs and lightened up the front, but they are quite similar to the previous versions and are now available in 142×12 out back. Photo ~ Morgan Taylor
Saint MX-80 Pedals
Joining the longstanding DX MX-30 flat pedal in Shimano's lineup is a new thin platform that rides on the same well-proven axle design. The MX-80 pedal is 8.5mm thinner than the old DX, and pin changes are made easier by way of torx bolts from the back side.

  The new Saint pedals are right in line with current industry standards for thickness, and offer a ton of grip. Pin length is adjustable by adding washers under the bolt heads, a modification that I might experiment with as there's almost too much grip with my Five Tens. Photo ~ Morgan Taylor

  A black and silver design and nice square platform make for a pedal that lives up to the expectations of Shimano pedal fans. The MX-30 pedal will still be available for those die-hards who prefer the older design. Photo ~ Morgan Taylor
The Ride
The bike park is a place where you can bang off more vertical than virtually any other form of access. As a testing ground for bikes and parts, it can be unreasonably harsh. Over three days of hard riding and pushing my own limits, the Saint group continues to be a joy to use. To my knowledge, nothing catastrophic occurred during the camp and only minor post-break in adjustments were made to the bikes between rides.

  Up for another on a sunny day at Whistler Bike Park. I set the GoPro to take a shot every 5 seconds for a couple runs and picked some of my favourites from the bunch. Photo ~ Morgan Taylor

  Darren Butler and Ruben Salzgeber of Endless Biking led the advanced group in a cornering session that quickly turned into a whips and scrubs session. Everyone in the group was super stoked on their newfound skills. Photo ~ Morgan Taylor

  Descending a bit of steep tech – not the most comfortable place for my short travel setup amongst a sea of 8″ bump-soakers, but a good test for the Saint brakes. Photo ~ Morgan Taylor

  We lined up a big train for a run on A-Line to Ninja Cougar to Fade to Black and back to A-Line – one of the most hooting and hollering runs of my stay. Photo ~ Morgan Taylor

  Endless Biking helped bring a lot of riders up to speed for the season – a necessary factor at Whistler Bike Park. Photo ~ Morgan Taylor

  Tommy McGrath was one of three Shimano mechanics working tirelessly to keep the fleet of test bikes rolling smoothly. Whistler is known to rattle just about everything on a bike loose; Tommy was nice enough to loctite my pivot bolts after a day's shakedown. Thanks guys! Photo ~ Morgan Taylor

  Sterling Lorence was on hand to shoot photos with the pros and hacks alike. We held out until the third day to shoot together and were treated with pissing rain for a little whip session on Heart of Darkness. Thanks for taking the time to shoot with me, Sterl! Photo ~ Sterling Lorence

  Geoff Gulevich was stoked to get sideways with us for the camera. The rain made for a well-rounded test of the Saint group, with no unwanted turkey gobbles or other odd noises to report. Photo ~ Morgan Taylor

  Mike Hopkins was scrubbing the shit out of Heart of Darkness on our little whip fest. Sterling said he could shoot this kind of stuff all day and with the smiles and high fives that were going around, I completely agree. Photo ~ Sterling Lorence

  What's that black lump?

  I got a little engrossed in shooting product photos when I realized I had a visitor. Shortly thereafter I chased a bear 30 feet down trail on Crank It Up!
The Saint M820 group will stick around for the long term; we will report back on its performance and hopefully get hold of the missing bits to complete the new noiseless and heatless package.
---
What do you think of the new Saint? Is a clutched derailleur worth switching to 10 speed for? Do the brakes stop you in your tracks? Been waiting for a new flat pedal from Shimano? Have your say below…