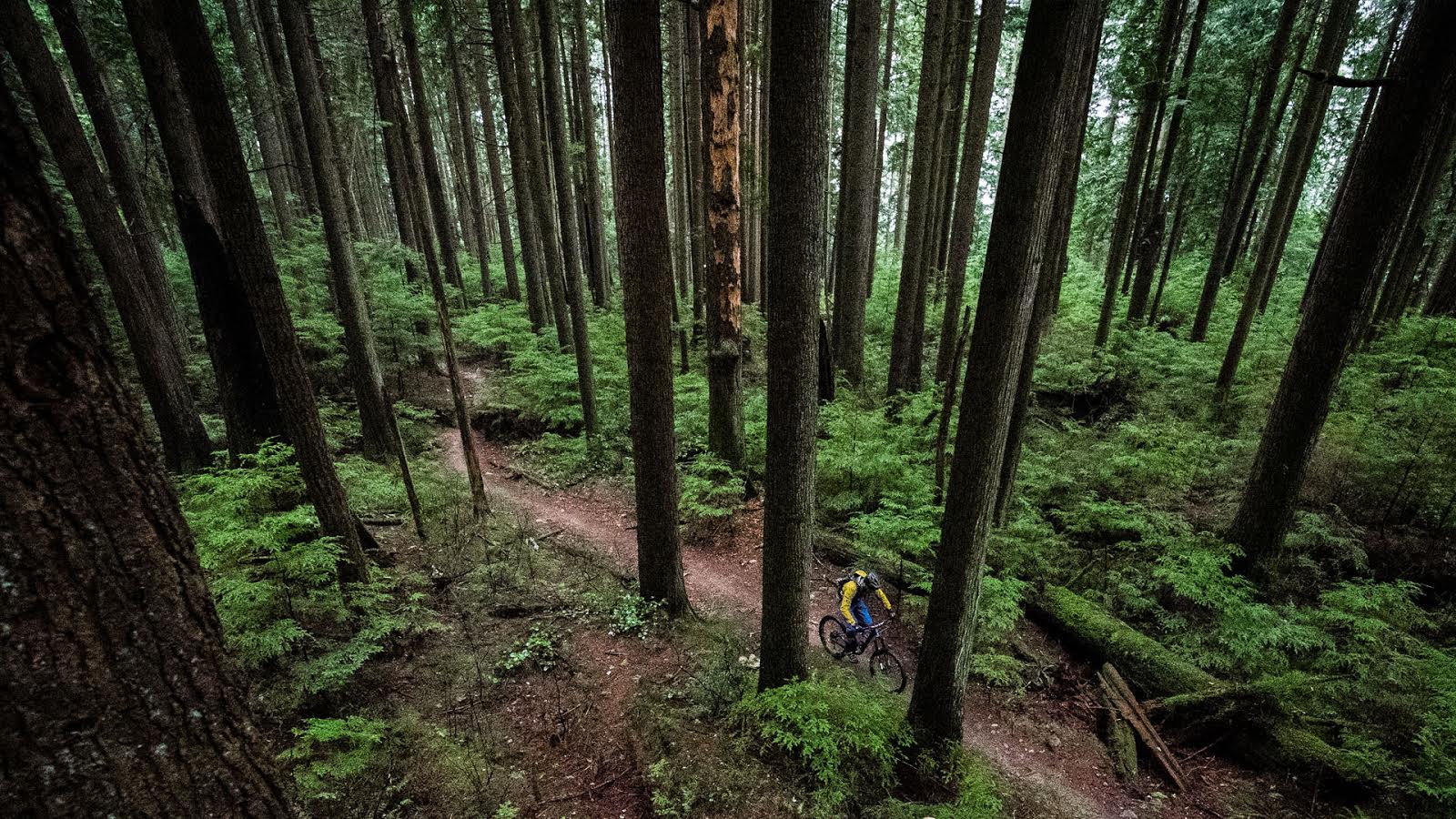 Seb's Fort William Commentary
I don't know how those racers do it. I don't mean covering ground as fast as they do, that's pretty obvious: a totally different mental outlook from us mortals that allows them to see potential for speed rather than potential for disaster. What I don't understand is how they spend their entire lives at the extreme poles of emotional torture and exhilaration. Surely for a racer at the sharp end of competition their life is either spent crushed by bitter disappointment or buoyed by temporary euphoria. Sure, the good times are good, but they are soon eclipsed by sorrow, failure, mishap and grief.
And it seems that Fort William deals out more than its fair share of misery and triumph and leaves little in between.

  There was very little crowd pleasing on the day but Cameron Cole put it nicely sideways for the soggy throng, standing in for the injured Cedric Gracia.
This was the eleventh year that Fort William has been a stop on the world circus of sadomasochists. Ten world cups and one World Championship have been held here since Chris Kovarik's still unbeaten 14 second winning margin on Fort William's debut. Each year the crowd gets bigger and more charged by the presence of their heroes and there seems no room for villains as the cheers and support are deafening. Just perhaps a little more unhinged if a British rider is within the guts of the Aonach Mor tapeworm.
Practice and qualifying had been held in glorious sunshine with the track running fast and loose as the imported hardcore that makes up the upper most third of the track turns to a narrow blue groove of hard pack bordered by ball bearing gravel that feasted on flesh and offered up bones to the rock. Aaron Gwin succombed to the skittish conditions and had uncharacteristically fallen in his qualifier. Twice. He put this down to untested tire choice (a 2.7" monster on the front) and set his focus on Sunday. However, the fight for the overall can come down to the wire as we have seen in the past so lost points even in qualifiers can spell danger. 

  Emmeling Ragot was the latest rider to break Rachel Atherton's heart in Fort William.

Another notable victim to the five minute beast was Steve Peat who badly tore his hamstring in the last practice lap before qualifying. He rolled out of the gate to ensure a place on Sunday but he said it was unlikely he would be physically capable of doing so. Sometimes it is best to keep your options open.
As Sunday morning dawned it was obvious that the preceding days of preparation had been for nothing as the skies opened and deposited heavy sheets of the Highland's wettest. This would make the track not just slick on the exposed bedrock of the upper sections, but greasy in the short, crucial and often overlooked Spooky Woods section and far slower running on the brand new jump riddled Motorway section. More so, the brutal wind and mist that accompanied the damp would make warming up and waiting for runs a much more difficult task. In those critical moments when racers try to focus themselves on the task at hand, having chills can't help to quiet the mind.

  This says it all for Rachel Atherton.

In the women's race it was pretty obvious who the ones to watch were. Rachel Atherton had qualified nearly ten seconds up on her next closest rival. However, Rachel has never won at Fort William. Five World Cups and five second place finishes. Could she satisfy herself and all 30,000 of the home crowd? Ragot had punctured and qualified badly (33rd) but was protected by her previous results. Sabrina Jonnier, recovering still from her big crash and subsequent injury at the first round in South Africa was not protected and a puncture in qualifiers saw her keeping a handkerchief damp and watching the finals from the sidelines. A string of misfortunes seems a cruel way to have the sun start to set on a great career.
Ragot left the gate and started tearing into the split times. Placing her in the lower ranks of female riders really made the gaping chasm between the ladies obvious. She blasted into the hot seat and would keep it very warm indeed. Ragot and a handful – a very small handful – of other female downhillers are so far ahead of the rest that it looks like they are competing at two different sports.
Atherton looked like she had a tidy run but heartache was to be the gift that Fort Bill gave her. Second place again and the hurt of her qualifying promise is further burden for the young lady to carry. She has already had a long career of misfortune and disappointment but she is resilient to keep parrying the blows of disappointment. Ragot got the champagne splash and retains the overall leader's jersey.
And then the chaps.
Peaty, unsurprisingly, was present for his race run. He pedaled out of the gate but with a little less steel than usual. I don't know how anyone can even consider riding a bike with a torn hamstring, let alone face the wrath of the Scottish Highlands. Steve Peat just won't back down. Not long into his run he took a detour over a berm and the camera (yes, for the men's racing there was a camera feed from up high) showed a very painful push back onto the track. After that the feed skipped from Peaty and it was expected he had DNF'd. 

  Gee gets on the gas on the new Motorway.
Gwin had an early start due to his qualifying mishap(s) and like Ragot he tore clear ahead of anyone to take the hot seat. Next was Hannah who put out the best whip on the jump formerly known as the Tissot Arch. Then as Hannah is congratulating Gwin, Peaty appears from nowhere. He had made it down and the crowd must have been going wild for the hometown legend's battle with adversity. Peaty must be crushed with disappointment for his injury but there was some victory in his bravery. Even if the victory was probably felt more by the crowd.
Brook MacDonald is another boxer of a rider and has been to the hospital too often this season. I believe his emergency room count is four this year. The way these racers put themselves through so much for so little is remarkable. These aren't six figure salaries they are fighting for. Well, not many of them. The money motive doesn't come into the equation. Something else. Anyway, the Bulldog came into view with mud on his shirt. Another tumble but soon there will be champagne.

  It's a shock to see Greg Minnaar off the podium.

Cameron Cole snapped his arm into two clear parts at last September's World Championship in Champery and has spent all of the winter (Kiwi summer) getting back to health. A great result at VDS last week put him on a roll and he scraped another top ten result at Fort Bill. However, Cole's path to the top highlights how long it can take for juniors to reach their potential. Cole was the junior World Champ in 2006 and although he has had some great results it has taken until last season that he started to get the results he should. More to come I feel.
Bryceland is another young gun with promise that is never quite fulfilled. However, at Fort William he crossed the line with a time that would hold him aloft for a fifth place and a well deserved podium. He must have worn himself out celebrating, not a victory but certainly a triumph of his own.

  With Aaron Gwin's consistency he rarely sits in the hot seat. When you ride last and then win there's no time to warm it up. Because of a poor qualifier Gwinny got to enjoy the view for much of the afternoon.
Sam Hill has tasted immeasurable success when he had his reign of terror but in recent years he has been plagued by bad luck and injuries. His rhubarb and custard kit (worn and auctioned off all for a breast cancer research charity, an honourable move) had him standing out in the misty gloom like a priest in a playground. He almost got taken out by an excited fan wearing nothing but a thong if you watch the footage carefully. Besides that he crossed the line with a time that would give him 4th place on the day and elevate him to 5th overall.
I fear we may never see the same kind of whips and chains domination that Hill used to hand out but I dearly hope this is a step towards him being back as a serious contender week in week out. Maybe he is more focused now that he doesn't have to watch the baby anymore. Troy Brosnan looks unlikely to be back anytime soon after a crash in the IXS Cup (World Champs warm up) race in Leogang two weeks ago has had him hospitalized with internal injuries up until just a few days ago.
  Sam Hill has been working hard on his breast cancer fundraiser and auctioning off one of the coolest Demos ever. Bid on the frame here and his race kit here.
Minnaar had it all to win but when he came into view of the Motorway section it was obvious that he had lost time somewhere in the broadcast black spot between the first and fourth minute, a section which includes all the wild rock of the Mor and Spooky Woods. As Fairclough pointed out, the race can't be won here but it can be lost. This section is where most of the trouble happens for riders and so it was a shame there was no camera coverage of any of it. Apparently, Minnaar said he had his "rhythm going" but a lost chain near the deer gate lost him the time that put him down to 7th place.
Smith, unwilling to get his finger injury x-rayed because it could only mean bad news that will affect his mental approach, battled through the discomfort and had qualified 4th, highest of the non-Brits. Unfortunately, 19th place was his allotted position on the day. What was the divine cause of this it wasn't clear from the coverage or commentary.

  Injuries be damned, Stevie Smith laid down a gutsy performance.

Chromed out Danny Hart (a Help For Heroes charity auction bike) was first at split one, the only rider to pip Gwin's first split. However, lost time somewhere in that giant void of the mid-track webcast Bermuda Triangle pushed him back 0.8 seconds behind Gwin. Now the British cavalry just had Gee Atherton and Marc Beaumont left to unseat the Yankee revolutionary.
Gee was 2nd at split one but then slipped to 4th at split two giving him 4 seconds to claw back in the last section. He certainly clawed some back but not enough. 3rd place. No chance of an all British top three now.
All eyes were on Marc Beaumont. The camera showed him going hard through the mist at the top but then Rob Warner announced that Beaumont was 80th at the first split. A crash that ended all hopes but Gwin's. The slippery wood work was his downfall perhaps? We know the pain of such a slip but not one with so much at stake. Poor Marc has been going hard and might know the secrets to success beyond simply being a good rider. I'm sure he will be troubled for now but I'm also sure he has the sort of mental fortitude to come back from the depths.

  Danny Hart appears to be rounding into form.
Gwin seems to be in charge of his mind more than any rider currently in the spotlight. He seems like a throughly good chap as well as a very good racer. Seven World Cup wins to his name already. Amazing considering how few starts he has had. Could this be the dominance of the sort we haven't seen since Nico V? The season is far from over and as we saw at Fort William, all hope and glory can be dashed on the rocks in the blink of an eye.
UCI Mountain Bike World Cup DHI3 results
Women:
1.Emmeline Ragot (FRA) 5:27.089
2.Rachel Atherton (GBR) +1.315
3.Myriam Nicole (FRA) +9.416
4.Floriane Pugin (FRA) +11.698
5.Tracy Moseley (GBR) +14.259
Men:
1.Aaron Gwin (USA) 4:48.210
2.Danny Hart (GBR) +0.834
3.Gee Atherton (GBR) +2.516
4.Samuel Hill (AUS) +3.532
5.Josh Bryceland (GBR) +5.056
Complete results here. If you missed the race life from Red Bull you can catch the replay here.
---
Let us know what you've got here…