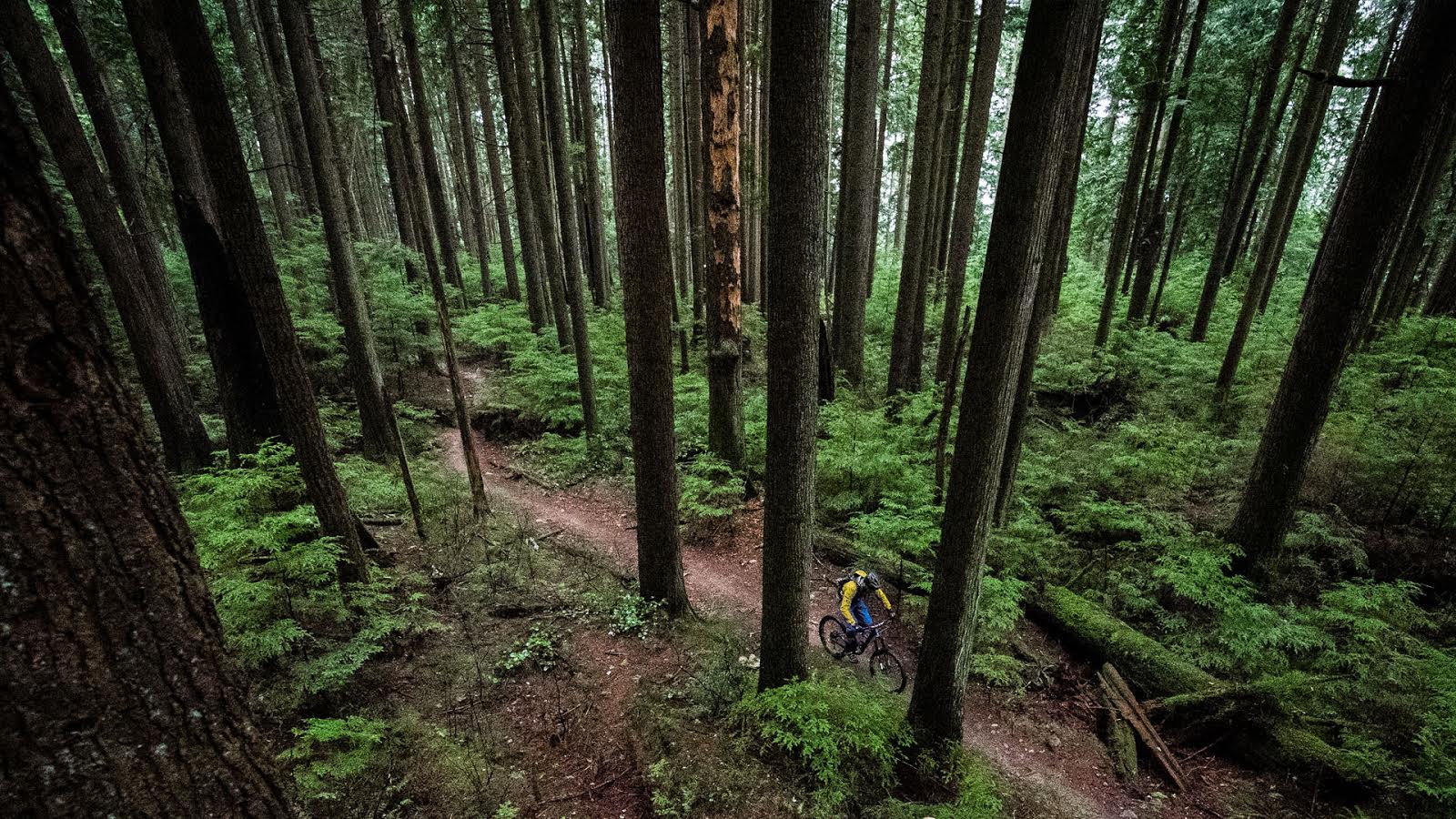 Push Industries Nomad Upper Link
Brian Brittain has been riding Santa Cruz Nomads since they first became available. When the second generation Nomad arrived, Brian was quick to pick one up. Unfortunately, he was disappointed with the rear suspension characteristics. Colorado-based Push Industries makes an aftermarket upper link intended to bring the Nomad 2's descending capability back in line with its predecessor. The following is Brian's experimentation and conclusions with the Push Nomad link.
---
My riding background is a combination of both XC and DH and I have been riding on the Shore since 1993. I enjoy a good pedal as much as a good descent and more and more prefer to combine both of them so when the Santa Cruz Nomad came out I knew it was the bike for me and the perfect "do it all" bike. 

  Good times on my original Nomad Mk1. Photo ~ Euan Forrester

I owned two Mk 1 Nomads and loved how they performed (sure, there was pedal feedback but that didn't bother me), so when the Mk2 carbon Nomad came out I jumped at the chance to buy one. Not only is the frame one of the best looking on the market, I heard that it out performed the old frame and I could save almost 2 pounds. I was stoked! Before acquiring the frame I was given some feedback from a friend who owned a Mk2 Nomad and was frustrated setting up the rear shock. Both of us owned Mk1 Nomads, loved them, and had them set up similarly, so I was all ears to his opinions.

  My second Mk1 in yellow with a Marzocchi 66 RC3, which I really miss – that bike could climb and descend anything. Photo ~ Euan Forrester
I rode the new Nomad initially with a Fox RP23 and it was snappier than the old bike (being 3 pounds lighter helped), but when descending rough sections of trail at speeds I was accustomed to the carbon Nomad did not feel comfortable at all. This meant I had to hold back on descents and pick my lines more carefully, which just isn't my style.

  This was like butter on the Mk1 but I would skip it on Mk2. Photo ~ Euan Forrester
I had a Fox DHX5 coil lying around from the previous frame so I put that on the bike thinking it might be better. The spring I used in the Mk1 was a 500 as specified for my weight (about 200lbs) so I dropped to 450 as I was told I would need to use a lighter spring. The bike lost a bit of the snap it had with the RP23, and while it was slightly better in the rough stuff, it still was nowhere near as good as the old Nomad.
I had to come up with a plan because I wasn't happy with the bike. I remembered reading about a link made by Push Industries for the Nomad so I did a little research. Could the Mk2 Nomad be made to descend as confidently as the MK1 Nomad? This is the description of the link from the Push website:
PUSH Industries Factory Nomad Upper Link
Designed specifically with DH performance in mind. New upper link assembly provides increased rising rate and initial leverage producing maximum small bump sensitivity, traction, and DH bump performance when used with a coil-over shock or PUSH tuned Monarch PLUS. If your definition of a good ride is shredding the descents, than look no further!
Fits all Aluminum and Carbon second generation Nomad frames that came equipped with a stock upper carbon fiber link
Upper link assembly includes high quality Enduro bearings and required hardware
CNC Machined from billet aluminum in Colorado by PUSH
Does not change the great handling and pedaling performance that comes from VPP2
Does not change bike geometry, ie. BB height/Head Angle
Link kit is a direct bolt-in with no frame modifications necessary.
Will NOT work with FOX FLOAT or DHX-Air units

  Complete Push link assembly and exploded view. Photos ~ Push Industries
The cost of the link kit is $214 and includes new bearings, but if you don't already have a coil shock you will be spending more until you recuperate some cash for selling your air shock. I decided that this was worth the price of admission because if this worked as well as what I have read this might be the fix for the frame.
Push was very fast at getting me the link from Colorado – only a few days from placing the order to my door in Burnaby. I was excited to install this on the bike and go for a ride so I set to work installing it. I had never had the stock link out before so it took an extra couple of minutes figuring out how to do it, but all said and done it took me 15 minutes to complete the swap. I now have a spare set of bearings too.

  The aftermarket link (installed in this photo) requires a longer shock, but is still covered under Santa Cruz's warranty.
The big difference between the stock link and the Push link is the extended shock length which is needed because the rear pivot is moved closer to the swing arm. Not easily seen is the position of the rear shock pivot which is slightly higher than that of the stock one. One thing to note is that this link will not void the warranty on your frame – thanks Santa Cruz!

  Push link installed with Fox DHX 5 coil.
I've had a couple of rides with the new setup and I can safely say there is a difference. Some of the harshness associated with the old link was gone but what surprised me was how well the bike still pedaled. The bike still needs some minor tuning but it is much better and more planted on the descents. I've read the bike doesn't ride as well in the granny gear but since my bike is a 1 x 9 setup I don't need to worry about that.

  Another detail shot.
The next step was to fine tune the suspension. With some help from my good friends at Marzocchi I was able to get my hands on a Roco TST coil shock. The reason I went with this version is because the shock has a "lockout" feature for those long steady fire road climbs. The shock was tuned in an effort to speed it up because one thing I noticed about the stock Fox shock was that it was not responding as quickly as I would have liked in certain situations. There was a marked improvement over the DHX5 but it still needed some improvement so the 450 spring was swapped out for a 400.

  Marzocchi Roco TST coil, ready for some test laps.
With the Push link and a tuned coil shock installed the bike is now working much better than it ever has. Technical descents are more fun and the bike doesn't seem to be hanging up anymore.

  Saying yes to sections like this is where the Push link pays for itself.
The answer to the question: Can the Mk2 Nomad be made to perform as well as the Mk1 Nomad?
To be blunt, the answer is no; what I can say is the bike is much better than it was with the RP23 and the stock link, but not the same as the old bike. In my mind an all mountain bike should be as close to a fusion of an XC bike and a DH bike as possible so it should climb and descend as well as it can. The fact that there was no loss in pedaling efficiency but a great improvement in descending ability this upgrade seems like a no brainer to me.
---
Have you ever gone beyond shock tuning to make your bike perform just the way you like? Do you agree with Brian's take on the Nomad 2? Discuss below…