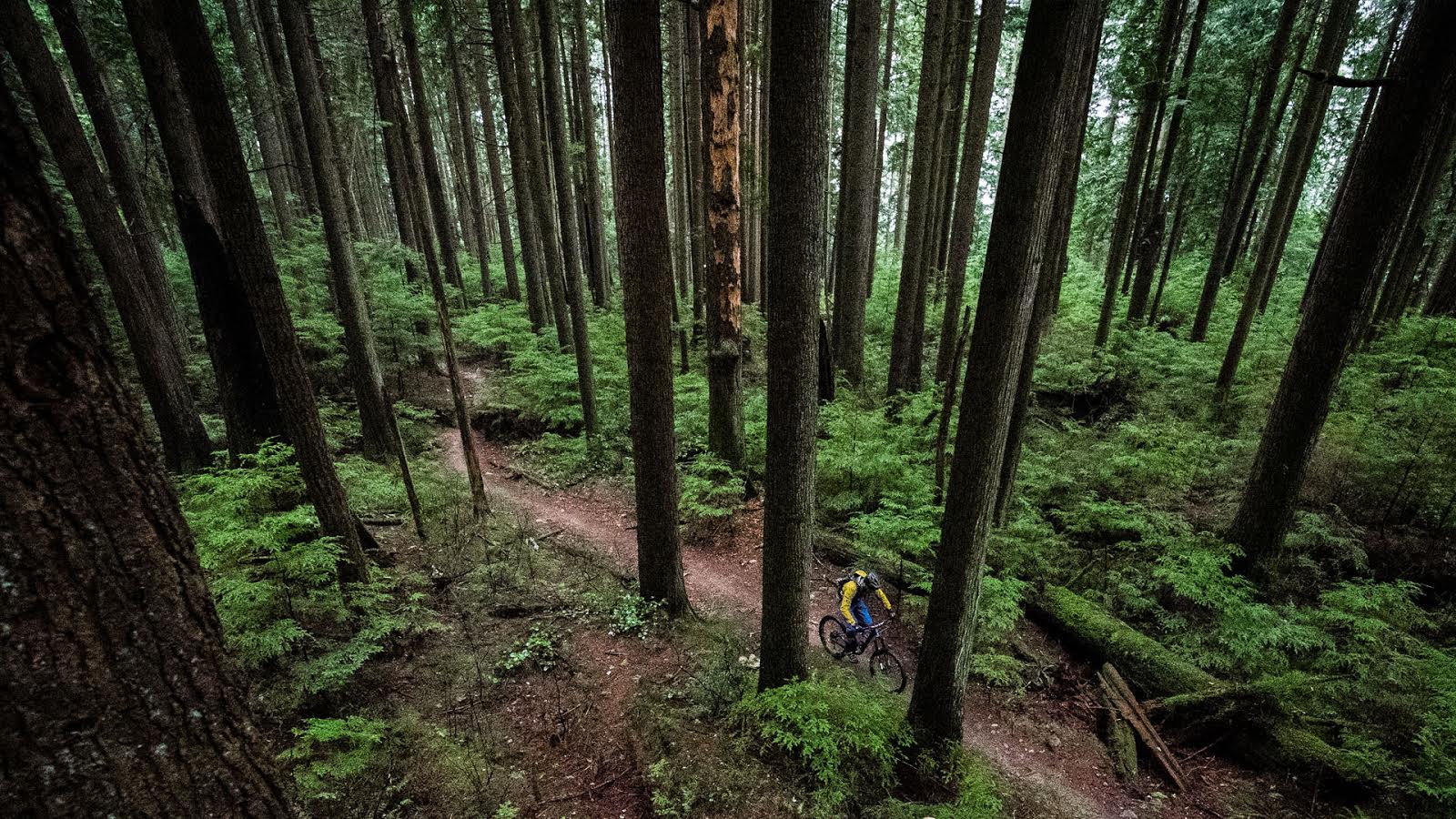 Hey Neighbour! Sterling Lorence
We originally ran this video and article back in May, just as the summer riding season was picking up. As fall is upon us and we have started filming for Hey Neighbour again, we decided to start with the one that should have been posted when it was dark and wet outside. So, here it is: Sterling's One Roll Thunder Storm. Hope you enjoy it the second time around.
---
Hey Neighbour: Sterling Lorence's One Roll Thunder Storm
Words by Seb Kemp. Photos and Captions by Sterling Lorence.
Sterling Lorence or the North Shore – which came first? The trails and riding were products of the environment, as was Sterling. But without someone unique on hand to document the essence of what was happening in these mountains, perhaps a different image of the Shore would have emerged.
Sterling Lorence grew up on the North Shore. He lived here, he was schooled here, he played here, and when mountain bikes came into his life, he rode here. Sterling was a good rider with race results and a list of conquered trails to prove it. However, it was his ability to to capture the fundamental spirit of the North Shore that set him apart.
Scott Grieve on Pre-Reaper, Cypress. My favourite 'first' shot where I was super stoked at the image I had created. Also learned some lessons about the timing of good weather for light… fresh snow on the log ride, and having riders to perform in my images that were really good.
We tracked Sterling down one snowy February morning. We wanted to understand more about how the North Shore went from underground movement to world famous circus, and what role Sterling played in the process. The morning turned into most of the day as we trundled around Cypress while Sterling passionately illuminated us on so many topics about the Shore. The knowledge, history and commentary that Sterling imparted on us that day could fill a book.
The course we walked that day wasn't just symbolic for being a quintessential North Shore line, but rather retracing a pivotal day in Sterling's career and life. A 36 exposure roll of 400 ASA Kodak Tri-X black and white film (pushed to 1600) shot on Pre-Reaper and Reaper gave Sterling his first keepers; images that served up his spectral vision of riding the Shore and the launch pad to becoming a professional photographer. Then on the next roll, taken a few days later, Sterl captured the Reaper log ride shot of Eric Vandrimmelen that became the Bike Magazine Photo Annual cover, as a gatefold spread. For a photographer this is like winning the Olympics and the lottery at the same time.
Another one of the shots off that first roll that gained 'traction' as I ventured into selling my shots into the media and commercially. Learning to shoot what is not always the obvious but what speaks out from the heart and soul. Wet roots like this strike us all that love to ride the Shore and probably freak us out too.
During this Pre-Reaper/Reaper photo shoot with my friend Eric VanDrimmelen, we knew we were on location in the most incredible light and we couldn't wait to get the film back from the lab. We were floored in stoke with how the log ride was portrayed by this silouette mood. I couldn't wait to ship the prints to photo editor Dave Reddick at Bike magazine. The results just a few months later is the holy grail for any photographic artist in mountain biking… Bike Magazine Photo Annual Cover. I consider it the best gift back to my riding buddies that helped me evolve as a shooter.
He had been shooting for a little while already, so this one roll wasn't just beginner's luck, but still, it is an extraordinary achievement. Sterl's lifelong friends Eric Vandrimmelen and Scott Grieve shared the same passion for riding and helped him experiment in those early days; "They are the two riders that gave me lots of chances to evolve my photography with them as subjects and they were the two on that first roll of B&W that I was trying to shoot 'keepers' on. I had explored with some test rolls prior to this to discover which stocks handles the Shore darkness best, and then this was the first roll that I was targeting specific moves and places on the Pre-Reaper and Reaper trails."
Riding lots and loving this sport through my youth has left my imagination full of ideas and emotions that I want to portray through photography. Experimenting with the camera and learning the craft was key to being able to express in strong visuals. This was from the first time I mounted my camera to my bike, and was already showing that I knew how we all love to see a nice piece of singletrack… I also can't believe that we actually thought a low rise long stem was helping us!
With the North Shore suddenly in vogue (not just because of Sterl's shots) everyone wanted a part of what the North Shore was putting down. The black and white images of riders doing unthinkable maneuvers in a backdrop of shrouded mystery amongst the pillars of a great forest were unlike anything anyone had ever seen. They were alien and evocative.
It was Joel Smith, then working at Answer Manitou, that gave Sterling his first paid commission job in 1998. Manitou was releasing the Millennium fork and they wanted an advert with the fork being ridden on the Shore. The images coming from Vancouver's mountainous backdrop were mesmerizing to an audience used to seeing blue skies and dusty trails. More so, what was happening on the Shore was manufacturing a whole new market.
This image to me embodies why the North Shore and mountain biking were meant to be together. All it took was for creative trail building mountain bikers to see the land for all its potential and get crafty like this. Thanks to rider Bryce Lamont for sharing this gem with me, and in trade, again, I was able to give him back a Bike Magazine cover. This image, by far, has been published more times across the globe than any other image of mine.
People thirsted for the style and look of the Shore. Even beyond mountain biking circles, big companies like Oakley want billboard images from these trails that might appear on a highway in Southern California. People continue to be spellbound by the drama of North Shore riding.
What made the North Shore famous wasn't the names of the riders, or even the riding, but rather the trails. These daunting lines through the forest forced our sport to evolve. Trail builders letting their imagination run wild in the wet, gnarled, steep, and cluttered mountainsides meant riding here was no walk in the park.
Wade Simmons in North Vancouver. I have been lucky over the years to have evolved my career path alongside some incredible pro riders. Really good riders have style and talent that adds the cherry on top to any shots and that style has always been important to me and my work. It is also quite rewarding when riders are also able to carve out niche careers with these merged efforts found in photos. This idea to build a photo out of photos was inspired by this piece of trail. Each section requires intense concentration and if you can dial them all in, you solve the puzzle…
Sterling remembers clearly what Pre-Reap and Reaper meant to him as a rider before he picked up a camera, "I was, on numerous occasions, left mentally exhausted by one of Dangerous Dan's trails. I remember being relieved and stoked when I finished Pre-Reaper, so much so that some days I would do just that one trail and be done for the day. I wouldn't need to keep riding so I'd peel out and ride down the road. It was so technically challenging that it required so much concentration and was just so scary."
I was lucky to grow up on the Shore. The sight of mist in the trees and wet conditions was the inspiration for me and my friends to get out and ride. It posed the greatest challenge to prove yourself as a good rider on the Shore. Fresh rains and muddy conditions are like a fresh huge swell arriving for surfers. Time for a real test. It also became my favorite time to shoot photos.
Sterling believes what was happening back then in the North Shore movement was akin to a Dog Town style and creativity which was fueled by "fun, danger, and not the media because there was no precedence. We weren't influenced by anything but nature and the possibilities we imagined."
Ladies and gentlemen, Sterling Lorence's one roll thunder storm.
---
Have Sterling's images influenced the way you see the trails and the forest?