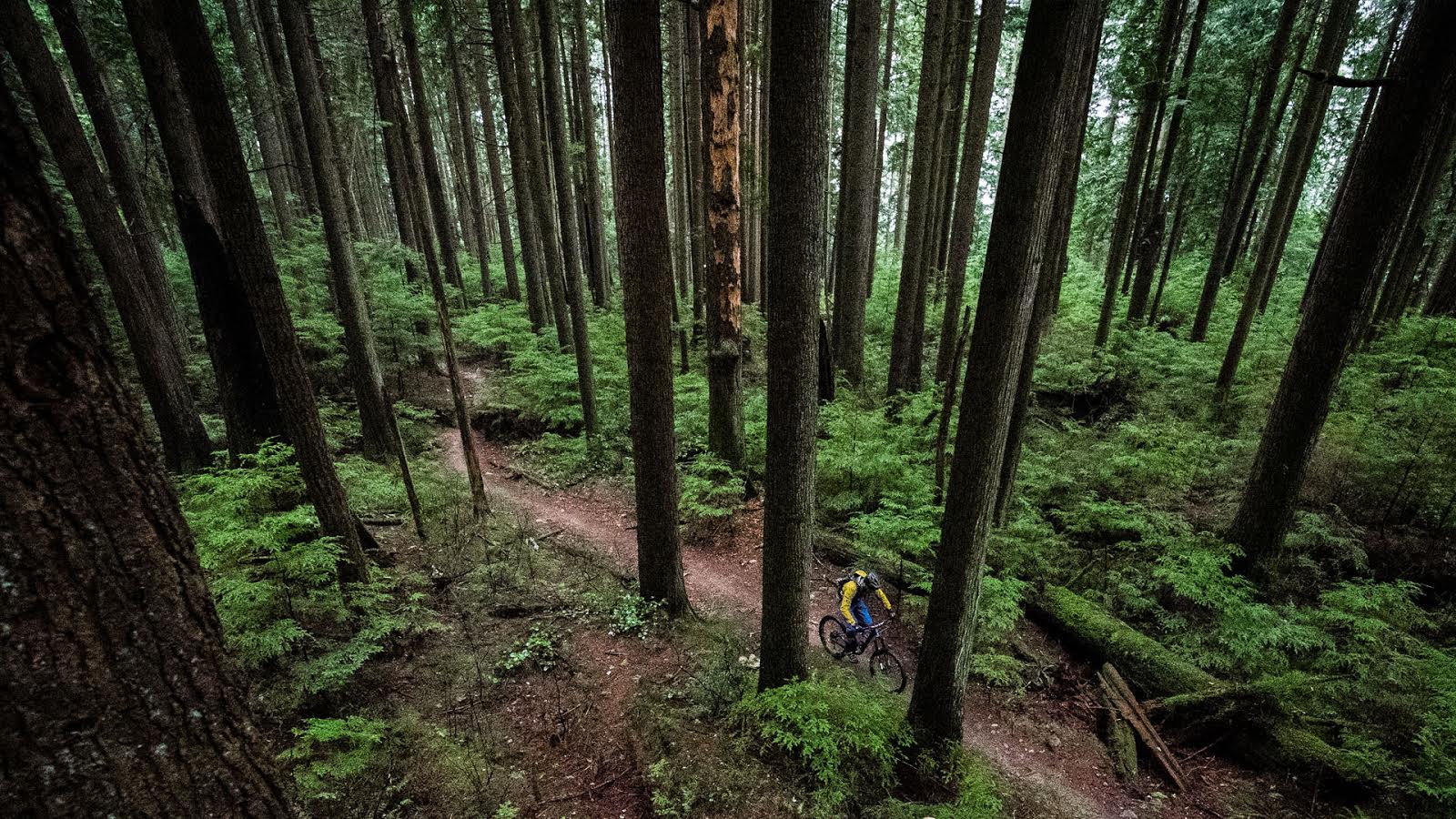 Burly Surly
Single speeds have interested me from the very beginning, or even before the beginning, back when I was a young liftie reading mountain bike magazines in the top shack. I was always part skeptic and part curious. I like simple things and for the vast majority of my mountain biking life I have ridden hardtails. As uncommon as they are in BC, I had still only seen a few single speeds and the obvious implications of only having one gear made me question the practical applications of these bikes.

  Just another day on the job.
At the end of a summer of guiding for Tyax Adventures in the South Chilcotins, I made my semi-yearly pilgrimage to Cumberland on Vancouver Island. Most of the riding I have done around the Comox Valley has left me physically shattered, wondering what sort of hell these trails were bred in, yet most locals seem to float over the unforgiving terrain. To see guys like Jeremy Grasby, owner of the Riding Fool Hostel, ride a single speed through this terrain was an eye opener.
The South Chilcotins are hard on drivetrains: creek crossings, mud, overgrown sections and long days on the trail can wreak havoc on a bike. During one of our rides, Martin Ready, owner of Island Mountain Rides, and former Tyax guide, cracked in his trademark dry humour that if I was only going to use three gears and that I should just buy a single speed…

  One F'king gear, home on the range.
Without thinking much more about the single speed crack and with the intention of simply getting a new drivetrain I sauntered into Dodge City Cycles and there hanging on the wall was an orange Surly 1×1 frame – it was like it was meant to be. I thought it over for the night and the next day I built it up on a spare stand in the shop and was on the trails by 2pm. I had no idea how long I was going to keep this bike and at times just looking at it was enough to put fear in my heart. I figured I could ride it through the fall and off it in the spring if I did not like it.

  Jordy and I left the car on the mainland and rode three days on the Sunshine Coast hardly touching pavement.
Weighing in around 30 pounds this is not a whippet build, though it is by far the lightest most XC style frame I have owned in a number of years. Some of the parts were pillaged off my 2007 Norco Manic. I added a Pike 454 air, FSA pig headset, Chromag handlebar, seat and seat collar to the XT crank arms, Mavic 721 rims, 70mm Raceface Evolve stem and Avid Juicy 3 brakes.

  A trip down Neds. Photo ~ Seth Oldham.
At first I ran a 32 x 18 gear ratio because that is what I had to work with at the time. I soon went to 34 x 20 which is just bit easier to turn. After a while a set of Elixir R brakes found their way onto the bike. It took me a long, long time to give into the longer stem this bike is designed for but once I mounted a 90mm stem the bike felt a whole lot more comfortable. Too bad my back won't forgive me for all those years with the short stem just yet. With this build the Surly has really settled into its skin. A true work horse build.

  Slack angles of The BC Surly bred: Adrian's bike on the left with Jeremy Grasby's bike on the right, in Lone Valley, South Chilcotins.
The frame was designed around an 80mm fork. The Pike's adjustable travel from 140mm to 110mm raked out the 1990's XC geometry. The head tube angle is on par with most modern bikes while the seat tube feels like you're behind the pedals and the top tube feels just plain weird while seated. To compensate for the slack seat tube I spend a lot of time with the fork dialled down to 125mm, and while it does lack some of the small bump absorption in this setting I seldom feel like I need the extra 15mm. However if I have a long descent in front of me I don't hesitate to crank it to the full 140mm.

  The 140mm Pike increases confidence on a bike designed aroun 80mm of travel.
Surly chain stays come stickered with "fatties fit fine" and the rear triangle can host up to 2.7 inches of rubber if you are so inclined. I've never paid much attention to tire weight and prefer to be on the beefier side; the single speed has taught me the meaning of the term rotational mass. While I don't have the coin for light and strong in the hoop department and have continued to ride the Mavic 721s, I have migrated towards lighter, faster rubber. Currently I have a set of Maxxis Ardents 2.4s. With their tight packed centre knobs and predictable side knobs these tires roll fast and corner well without a huge weight penalty.

  Long days in the South Chilcotin are hard on a bike, as evidenced by a tire so smooth it's ready for the World Cup DH circuit.
Water bottle holders are not used much in B.C. having fallen out of fad, but this bike has been equipped with one, and at times two, for most of its life. In the summer I pack bear spray and a bottle of sugar water as a backup thirst quencher. *Side note, if you pack bear spray be careful not to puncture the can, clients (or your buddies) don't like to be sprayed as I happened to find out.

  A ribbon of downhill singletrack is fun no matter what bike you're riding…
The saying goes that single speeds have three gears: sit, stand, and push. The transition to single speed was not an easy one… they are an inferior tool no matter how you look at it. The first ride out of Cumberland to Forbidden Plateau went well enough, though I found that my thumbs were hunting for gears on all the climbs. Then a dusty trip down Wild Bills in Pemberton had me questioning the reality of riding such a pinner hardtail.
It took me a dozen rides to stop thinking about gears. Once I did I stopped thinking about the tool and focused entirely on the ride. Having only one gear means you really have to know how to pedal your bike. From slow grunting climbs which use the upper body to power through obstacles, to high cadence spinning, single speeds force to you do it all, placing the onus of fitness and ability firmly on the rider. The only clear advantage to a single speed is knowing that no matter how rough the terrain is I am not going to drop my chain or ghost shift. Always knowing what gear I am in so that when it comes time to put power to the pedal I don't hesitate.

  Ding! That would have taken some fixing, I did not even notice this until I got home.
Riding the Surly I have found that I think more about my routes than when on a geared bike. Hike-a-Biking has its place in the world but I try to avoid it if I can. New bikes always make old trails fresh, but stripping all the gear options off a bike changes the way you look at riding. Momentum becomes a necessity, knowing when to be on the pedals, and when to rest, using your brakes sparingly, looking way up trail. Back yard climbs become like bouldering problems, I solve sections one problem at a time until I can link it together and clean the entire thing.
And then there is the silence. No chain slap. No deraileur smashing around on the ass end. No gears clicking. No mystery pings that you get with an aluminium frame. The 4130 chromoly frame has a great ride feel, being both forgiving and snappy.

  Guiding in the BC wilderness, the Surly 1×1's simplicity has let me focus on other things.
When I first got the bike I didn't know if I was going to be able to guide on it. I worried about being too slow on the flats and pushing way too much. I soon found the opposite problem: having only one gear means you end up hammering most climbs, if you don't you end up pushing making it hard to go slow. It is one thing to drop your friends, but most people hiring a guide don't like it when the guide leaves them in the dust. Leading rides in the 40 plus km range with people you have never met before, pacing becomes one of the hardest parts. Finding the flow of the ride, keeping the group reasonably well spaced without being strung out, these are things that are hard to do on a geared bike, let alone a single speed.
Sometimes my job takes me on multi-day rides. These are always the cherry on the cake that is summer. Out in the park, with good people, riding through stunning landscapes, these trips mean long and fulfilling work days.  Without having to deal with my own bike maintenance it's that much easier to help clients and get the rest I need for another long day.

  With a cherry on top! (A little bit of "spot the rider"…)
Then there are the days where random friends show up at the door on a day off, dangling the carrot of an interesting line. These are the times when I truly appreciate the reliability of a simple ride. Lube the chain, fill up the water bottle, and just go. Long rides are the norm in the South Chilcotin. Once you get away from Gun Creek, a six hour ride is a short day. While there's a lot of super buff single track, start poking around the less travelled parts of the park and the willow shrub, hidden rocks and long descents make you consider packing a spare derailleur, a couple hangers, a hand full of chain links and a set of brake pads – or you could simplify your ride.
---
Adrian's single speed conversion was swift and long-lasting. Have you ever swung to the dark side? Or do you leave that to endurance racing masochists from the four corners states?