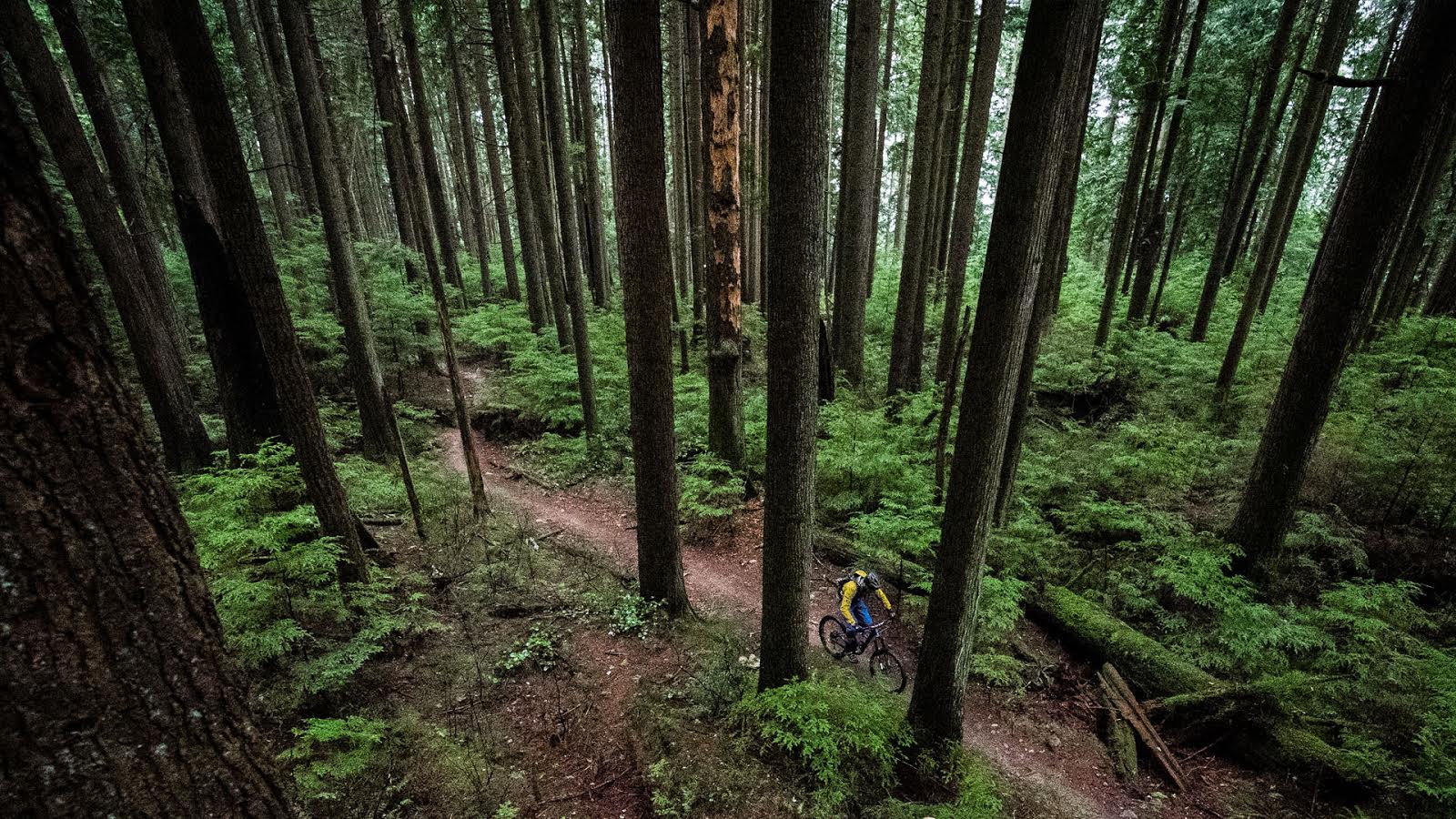 Maps Apps and Naps
As with most mountain bikers living in Vancouver, we here at MTBTrails are happy to welcome the arrival of spring. Last June, when we released Locals' Guide to North Shore Rides, we wanted to drag Cam McRae from NSMB.com out on one of our recommended rides. Not that he would be shown something new; quite the contrary. We wanted to showcase to him a nice tight route that would satisfy a new visitor to the Shore, the main focus of the book.

  Lush greens are the name of the game on the Bridle Path / Ridge Runner Rip.
So a week ago on a sunny Saturday, I was stoked to gather a small group of local legends to ride the Bridle Path/Ridge Runner Rip, a Mount Seymour "Quickie". Unfortunately, Cam couldn't make it out, but his sidekick Morgan Taylor was happy to ride and snap shots. Mark Wood from the NSMBA was stoked to tag along and observe how his TAP trails were holding up, and local legend Steve Sheldon was happy to supply comic relief. Sharon and I have been lucky enough to ride with Steve a couple times recently, tapping into his wealth of trail knowledge working on our second book, Locals' Guide to Fraser Valley Rides. But that's another story.

  One of the many bridges on Bridle Path. Mark Wood leads the man train.
On this ride, we were to follow turn-by-turn our suggested route, snap a few blurry action shots, and take in spring's burgeoning. The Bridle/Path Ridge Runner Rip is a good early-season ride – year-round for that matter – because it utilizes the mountain's lower trail network. A formidable effort at 11km distance and 450m elevation difference, but easy enough to garner a "Quickie" classification due to its shorter climbs and descents. The start of the Ridge Runner trail is a beautiful area to catch a breath and take in the lush temperate rain forest atop "Nuggies Bench". The trail serves as a great short loamy turn-around point to send riders back on this Seymour introductory ride.

  Nuggies Bench is a social hub on Mount Seymour, and a great place to stop for a banana. If anyone happens to know what happened to the TAP sign that was at this location, Mark Wood would love to know…
This ride alone wasn't the only motivator of this article. Midway on the trail I busted out my iPhone, tapped the screen a couple times like I knew what I was doing, then passed it to Morgan and said "check this out man!" They we were, right on the screen, our position denoted by an icon we had chosen; Morgan was the first on-trail eyes to glance at our new trail app.

  The MTBTrails app for the North Shore is expected to be available soon!
We were lucky to partner with Ryan Robertson of trailmapps to help develop the app. It was by chance really that it came together. Responding to a question on an NSMB.com thread, I suggested that if we were to develop an app, I would like to model it after the slick Squamish one that exists. Next day, I had a PM from Ryan wanting to meet and discuss the possibilities. This was 6 months ago. Ryan has now developed apps for such areas as Squamish, Whistler and Pemberton – check them out at trailmapps.com. We hope to launch the North Shore app as soon as next month; it will be available on iTunes and on the trailmapps site. Once released officially, we will give more details, and probably give a few away for free. Get your bikes and phones ready!

  Eagle Mountain local Steve Sheldon laying it down on Sticks 'N Stones.
Whilst compiling the Locals' Guide, MTBTrails had a chance to partner with many great North Vancouver businesses. It seems here that accommodation a short ride from the trails is hard to find. But, the Lynn Valley Bed and Breakfast is just the place. It's located less than a 5 minute pedal to the Fromme trails. So Sharon and I came up with a great give-away package. It was decided that we would pick a winner from the first 100 people to buy Locals' Guide from our website. We are happy to announce that Russ Campbell, from Victoria BC, has won two nights for two people at Lynn Valley B&B. Congratulations Russ, I hope you have a couple great days riding the Shore!
Get out and ride!
Wade Simmons

  Wade making the most of every little feature on the trail.
---
Congrats to Russ for winning the Lynn Valley B&B prize! Hope your Shore rides are awesome! As for the app, I can't wait to start exploring…