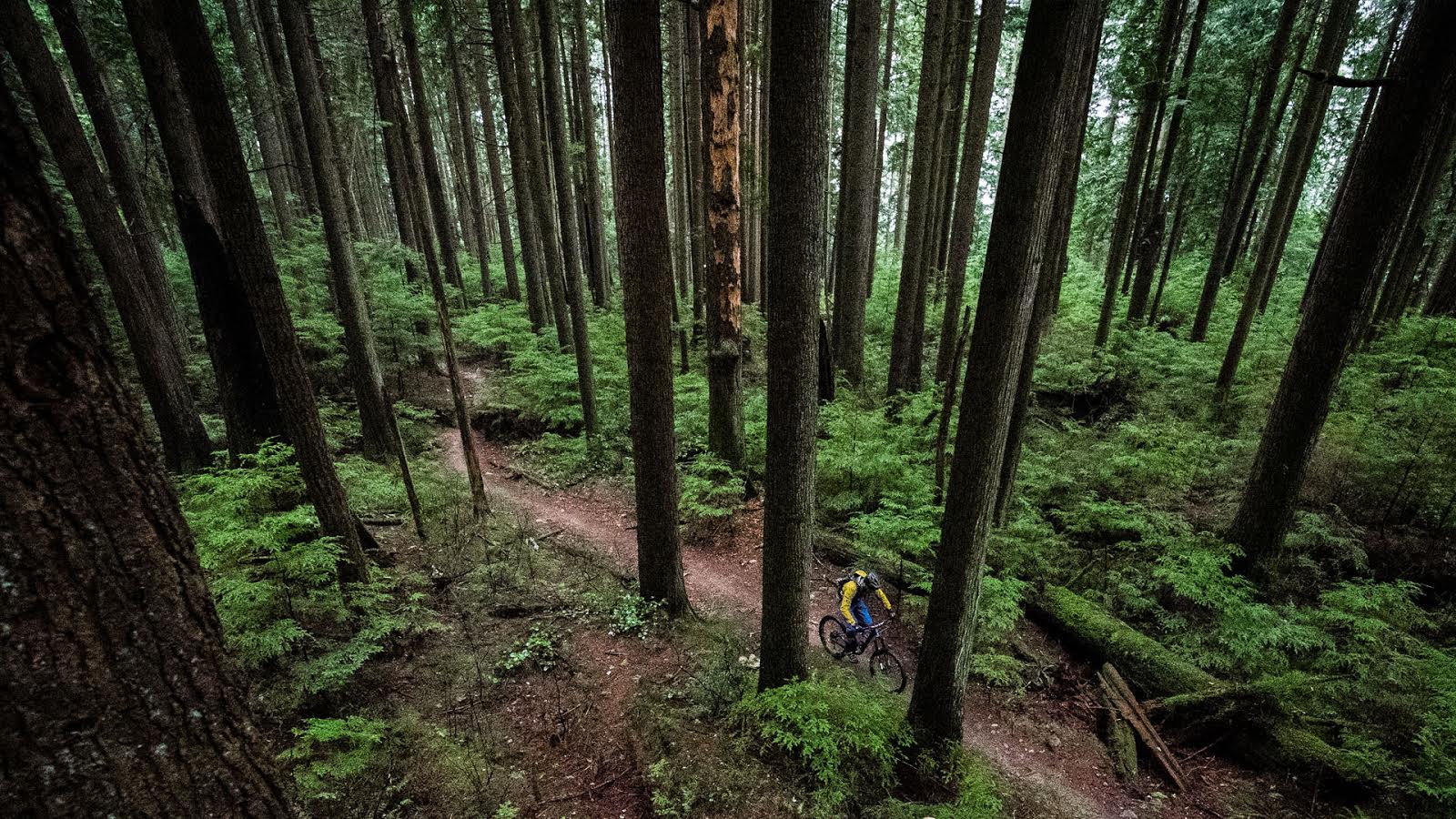 The Wheel Wars
It's here. The front line of the war of the wheels – yes, I'm quoting Vernon Felton's excellent wheel size expose that featured in the April issue of Bike Mag simply because you should read it – has reached us. Sort of.
While people still try to fight off the growing hordes of 29er evangelists, a secondary front of wheel size insurgents have snuck around the back and are kicking in your backdoors. Yep, the 650b is here.

  Look what's breaking in. The unnamed Norco 160mm 650b wheel prototype is an experiment but expect it and others of its ilk to be commonplace in catalogues soon.
Norco engineers have long since been keen to play with bigger wheels and experiment with hoops of controversy, so it was not a surprise that they have a 650b prototype hiding on the back of their booth. What's special is that they are trying out the 650b wheel size on a 6" travel all-mountain rig.
I spoke to Dustan Sept about the prototype bike. "We have wanted to do this for a while. We wanted to build a larger wheel bike with over 140mm travel but there are limitations with building 29ers on longer travel bikes. Those bikes have to have long chainstays, higher bottom brackets etc. All things that negatively affect the handling and ride characteristics. We've made some great bikes with 26" wheels at the end of the much longer travel spectrum but we wanted to incorporate some of the characteristics of the bigger wheels, such as rolling resistance. It was logical to try 650b wheels but we have just been waiting for product manufacturers to offer forks and wheels so we could try it out."
And now seems to be the time that manufacturers are making such components available. The Norco we saw had 650b Sun Ringle Equalizer rims and X-Fusion forks. However there are more products on show if you look closely: Fox has 650b forks; Suntour, who are building momentum, has a mid size fork; and, surprisingly, even Sram has forks and wheels to show.

  Custom built Nicolai with 650b SRAM Rise 140 wheels and Revelation 140mm forks. Also the Stealth Reverb which becomes available to all on May 1st.
SRAM announced their aluminum and carbon wheels last year, first in 26" and shortly after in 29", but the sudden turn around to release 650b wheels is remarkable. At Sea Otter they have 650b versions of the Rise 140 wheels and Revelation 140mm forks.
"We are the company of choice. We want to offer great product to our customers. We are not saying one wheel size is better than another but if our customers want it then we will offer it", said Tyler Morland of Sram in a very diplomatic manner. Of course, if the product managers and deal makers of the manufacturers (the "customers" Morland speaks of and not the cash register customer you might think) want to get to mid-size wheels SRAM would be foolish to turn their nose up. They have seen the orders and have very quickly turned around the development of the 650b wheels.

Here are the 650b stop gap Revelation forks but we think it is fair to say that SRAM have far more up their sleeve in terms of heavy hitting, long (is 140mm long again) travel forks.
Mavic on the other hand were proud to announce their new 29er wheels: big wheel remakes of their popular and high functioning Crossmax platform (more on these wheels in another post). A huge amount of engineering went into taking the features and details of their 26" wheels and pressing them into the larger wheels, mainly because of the technical difficulties of doing so: keeping weight down while maintaining inertia, reliability, and stiffness. To do so they have made some significant developments. It is obvious that the Crossmax SLR, ST, and Crossride wheels took some time to get right and are now ready to be unleashed. However, when asked how it feels to have to go back to the drawing board to build 650b wheels so soon after 'mastering' 29" wheels, the reception was cool. "[650b] has been an overnight sensation. All the hard work has been done at our end so there could, theoretically, be a quick turnaround to produce a 650b wheelset. However, we wont see anything in the 2013 range", said Zach Vestral, communication manager for Mavic.
Easton has been playing with building some nice wheels in recent years and the sudden need to produce a whole new rim size isn't necessarily met with enthusiasm. "We have no plans to produce 650b wheel yet", said Dain Zaffke of Easton. It is not that Easton are against the new size but that engineering a new rim would take away from other engineering imperatives. Easton has been dialing in their carbon and aluminum rims, including slowly working on downhill specific carbon rims ("at least another year away"), developing hubs, and of course, a new 35mm clamp bar-stem combo. Even a company like Easton doesn't have infinite human resources to push towards 650b wheel development. If they were to focus on this standard it would impact the development cycle of other products.
Sram have turned around their forks and rims very quickly but they are monsters of product, with large reserves of resources to throw at such developments. Not everyone has this buffer but it is inevitable that the revolution of 650b wheels is upon us.
Back at Norco, Dustan stressed that this was a totally specific 650b bike. This wasn't a 26" bike frame with big boy rounds pushed into it. The product on it is totally 650b specific, the geometry is built around the two medium size loops, and even the suspension kinematics was designed for the wheels and application. It takes more than a frame to build a bike. Product has to accompany and it seems that manufacturers have had to satisfy demand far faster than it took them to do so for 29er bikes.
The future of 650b isn't cast into stone yet but it's obvious that haters are just going to be wasting energy to resist it. Sure, it might not be for you, but for some people it will be whether you like it or not. The future is of choice. It might not be pure and we might not all want to have to choose, but that appears to be the only option we don't have.
Is it a case of Goldilocks porridge – too hot, too cold, but just right in the middle? 
---
Which side of the wheel war are you on? Excited for 650b? Comment below…