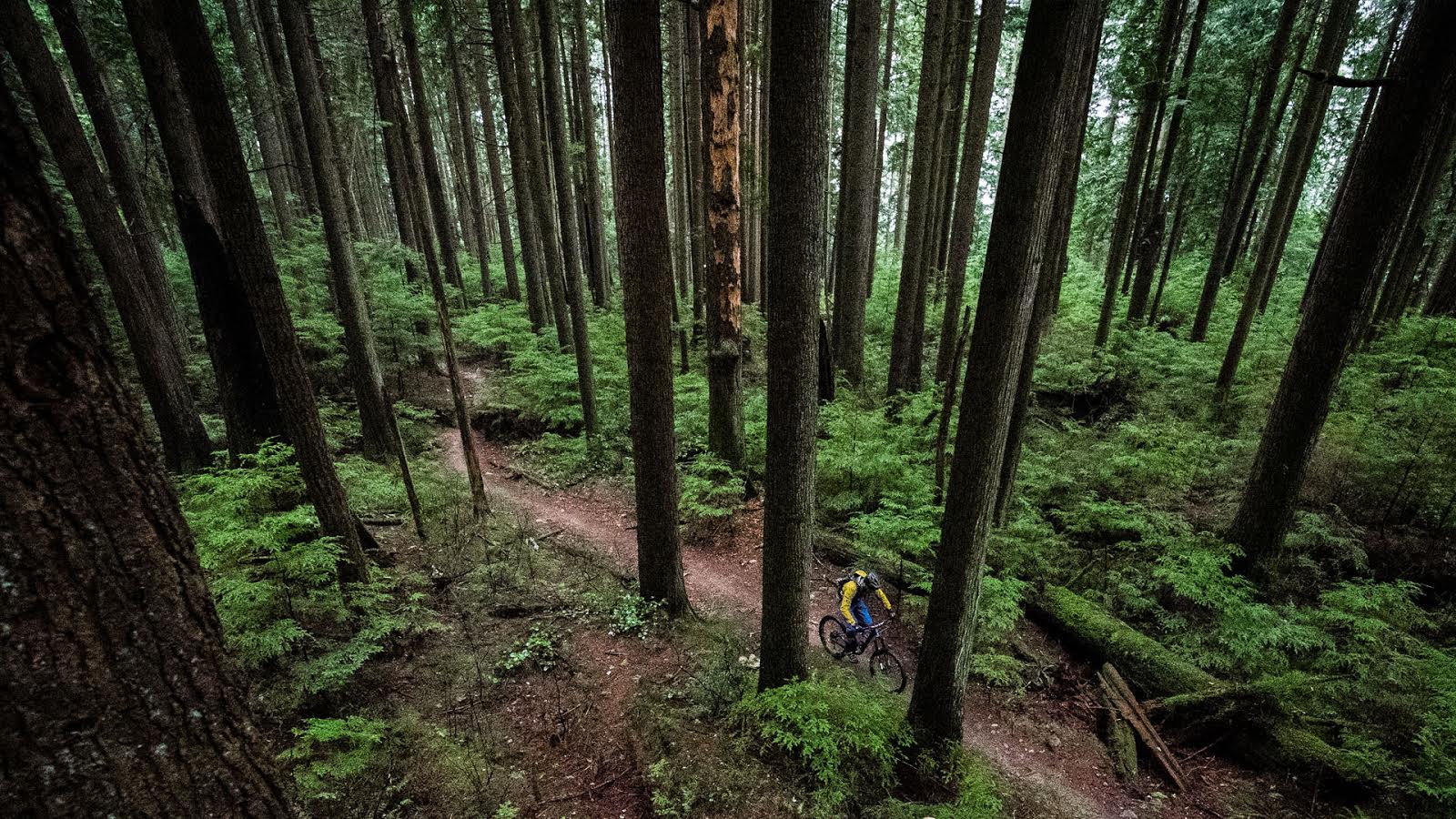 Long Term Review: 2012 Norco Aurum 1

  Still got that showroom shine after 4 months of Pacific Northwest winter riding.
This winter I conducted some long-term testing aboard Norco's latest DH offering – the Aurum. In December I shared my initial thoughts on the overall bike and build, all of which were impressive. The bright yellow Aurum gets attention wherever it goes; it's fresh, light and fast like a McDonald's salad or something.

  Traction was never a problem onboard the Aurum, thanks to a refined FSR suspension and 3C Minions.
It's evident that Norco designed this bike in conjunction with World Cup racers because they nailed all the essentials and then some. Furthermore, it's been proven in its first year of production, which is rarely accomplished. I was pleasantly surprised when I first saw the newly designed bike last year, even more impressed after my first ride, and sold after 3 months. The Aurum showed no weaknesses; however, I did find room for improvement with the build.

  Despite the Aurum's race geo it still pedals better than I expected even with the lackluster Vivid.
The Aurum fits and feels natural with no quirky features or marketing ploys. Everything serves a purpose and is seamlessly designed into the frame, from the integrated fork bumpers and seat collar to the clever breakaway hanger system. Cable routing is clean and simple, running straight back externally under the top tube and down the seat stay. Smart routing means your cables work and last longer and when the time comes time to replaceme them, it's only a five-minute job.

  The Aurum is incredibly well balanced making for a forgiving and predictable ride.
The Aurum is the ideal daily driver downhill bike. It has all the race inspired qualities in a well designed robust package, meaning you can shuttle it all winter and still have a functioning bike come race time. A lot of DH bikes today are designed 'for race only' or damn close to it, meaning that they require a lot of attention to keep performing. Luckily Norco avoided this pitfall. Although the Aurum is the replacement for the VPS series, it is the furthest thing from its predecessors. The Aurum, along with many other new Norco models, are an entirely new beast – all of which feature simple yet refined designs with a lot of ingenuity.

  The Aurum felt right at home on the "Shore", after all Norco is a local Company with a long history of building great mountain bikes.
The Aurum features Norco's tried and true FSR suspension with some welcome enhancements. The rear end seamlessly integrates a 157x12mm axle, super rigid post mount brake system and the Syntace Integrated Derailleur Hanger system. I never had the chance to test the breakaway system but it was nice knowing it was there. Frame rigidity is maintained via a one-piece Holloform link arm.
You know the Aurum's frame is extra stiff when you lay into a corner. The rigidity coupled with a low center of gravity and progressive suspension all add up to explosive cornering. You can essentially throw the Aurum into a corner and feel it pop out. The same characteristics apply to the "chunder" (nasty rocky sections); where some bikes get bounced around, the Aurum remains stable. Lastly is its ability to handle square-edged hits and while they cause some bikes to do weird things, the Aurum remains well-behaved.  Much of this is thanks to even weight distribution and balanced suspension. The Aurum always feels balanced and predictable with no wallows or dead spots.

  Tight technical lines can be cumbersome on a downhill bike, this is not the case with the Aurum.
All the nuts and bolts on the Aurum are as tight as day one, there is zero "play" in any area of the bike and no unwanted sounds have piped up. To me, these three simple checks determine a bike's future, and the future looks bright and yellow for the Aurum.
After years of DH racing in Canada I changed direction to focus on less cool things like school; however, after a few runs on the Aurum I feel ready to chase the rainbow again. You just feel incredibly comfortable on it thanks to spot on angles and a dialed suspension system. The Aurum is the ideal bike for privateers and independent racers, it's reliable, light and well engineered to keep you going at the races.

  Above: a typical feature most commonly found in Vancouver's surrounding "rain forest".
I was amazed at how well the Aurum handled a wide variety of terrain. Cypress Mountain is full of tight technical moves that can be sluggish on a DH bike, but the Aurum was agile and responsive. It comes alive when you break out into high speeds, as the suspension starts to work as the bike settles into the travel and starts to pick up speed – as much as you can handle. Did I mention this bike likes to go fast?

  The Aurum was a pleasure to jump, it was always stable and well balanced.
One of the best qualities of the Aurum is that it's quiet. Unlike its early predecessors that seemed more like a musical instrument than a bike, the Aurum lets the riding do all the talking. The Aurum's design creates virtually no chain slap nor is there any creaking or popping due to bushings or elaborate suspension designs on the verge. Thanks Norco for allowing to us to focus on riding again and not "name that sound".

  Definition: Aurum is the Latin name for the element gold. Go for Gold with the Aurum.
For the most part the build on the Aurum was great; however there was room for improvement.  Seeing that the top end Aurum comes in at $7,500 most will be looking at this model or even the entry level Aurum 2.  Braking performance is crucial in DH and I didn't feel the spec'd Avid Elixir 9's were up to par. Both brakes required a bleed during the test period and their performance was never 100% (granted this was winter conditions – rain, snow, mud). Regardless, there is no reason to have disc brake issues in 2012… that is so 2000.
Second was the Easton Havoc direct mount stem. Unfortunately Easton went too light on the material and after a very minor crash it was so badly bent it would not go back on. I have crashed with many direct mount stems and never experienced this. I know we live in a weight weenie world but I got 2 months of use out of it; furthermore if this happened in your 'race run' you would be finished as it was unsafe to ride.

  The original Chromag direct mount installed after a structural failure with the stock Easton stem. Stock Easton Havoc bar replaced with full length Answer Protaper.
It's hard to beat up manufacturers too much for spec'ing the 'wrong' handlebar because everyone has a preference. I believe a race bike should come with 31" bars giving you the option to cut down, if you're crazy. The Aurum comes with an Easton Havoc bar that measures 29.5" leaving me no option but to replace it with a 31" Answer Pro Taper. I don't need to dive into the wide bar rant, but once you try 31" you won't be going back.
Lastly was the Rock Shox Vivid coil RC2. This is not my first experience with this shock and my opinion remains the same – it is mediocre. This shock typically feels 'dead' and has minimal adjustments (rebound, compression) to fine-tune the ride. I know the Aurum would feel even better with a Fox DHX or even a simple Elka. Being able to quickly and easily adjust your suspension has become a major part of Downhill riding and racing and I definitely missed that with the Vivid. The Vivid always functioned as expected; it just never performed as I wanted it to.
The Aurum represents a revamped Norco vision and I am really excited to see where Norco is in five years. While the Aurum is not offered in plastic it is a very well designed bike with spot on geometry and proven suspension. I feel this bike is ideal for privateer racers or downhill enthusiasts looking to upgrade to a current design that will handle the rigors of current DH tracks. If you are in the market for a new downhill bike, make sure the Aurum is on the short list. 

  Beautiful welds, seamless integration and blue racing stripes, what more do you want?
---
The Long Term Review is our full test period, generally lasting 4 months plus or a full season of abuse. In this period the product has been through a variety of trail conditions in various weather. Our testers ride regularly and hard. In the test period they have put the product through the limits of what any product can fairly be expected to deal with in its lifetime. By this stage in the review process, the tester has a very clear idea not only of the product's performance, but of its long term reliability – and more so, has perhaps uncovered experiences with the product that some consumers may be faced with, such as servicing procedures and customer service standards in the event of warranty claims. There is no stone left unturned in the Long Term Review.
---
Connor's pretty happy with the Aurum's performance over the long haul. What are your thoughts on Norco's new DH sled? Think it might have a place in your stable?