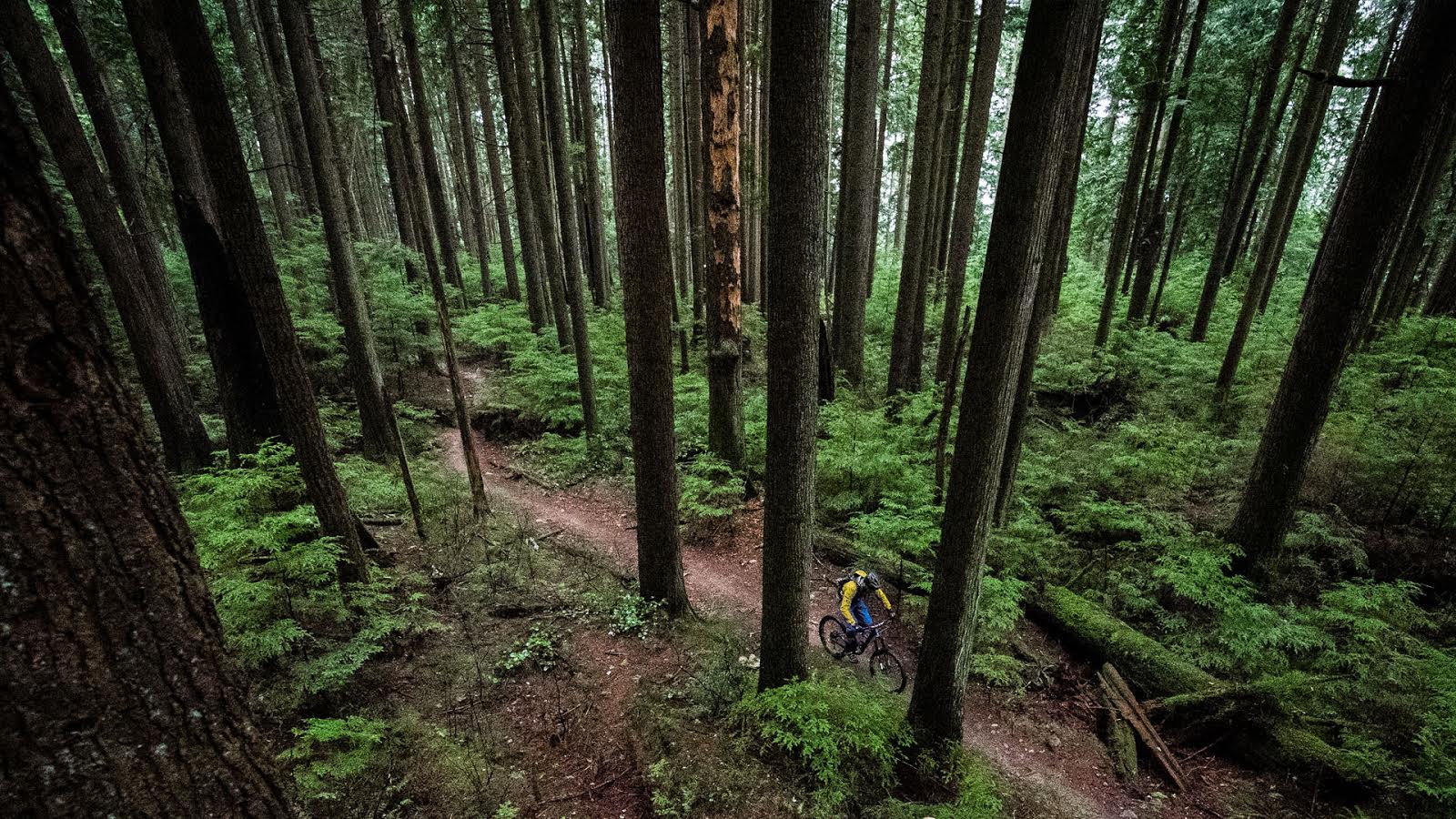 Interview: PeteSS Part II
If you missed part I of this interview click here.
Pete's not only high fives and smiles; he can be tough and serious when it's required (watch out if you write something critical about a Norco based on bad info!). Despite this there doesn't seem to be many burnt bridges in his draft.
Pete gets along with just about everybody it seems, including my friend Cory Leclerc. Pete has long facilitated Norco sponsoring Cory's DH race program, C4 Racing, highlighting his ability to get the best out of people. Cory usually gets the last word and I'll give it to him here:
"What can I say about a guy that to me represents all that is right in the bike business. Even at the height of his frustration with me, I was always met with fairness and honesty. In 2007 when a 15-yr. old Nick Geddes needed to find a sponsor that would allow him to concentrate on racing, I directed him to Norco and of course PeteSS. They have stuck by him through his battle with cancer, and are currently the title sponsor of my C4 Race team."

Pete has been riding a stock (ie. 26″ wheel frame) Norco Sight with 650b wheels squeezed in. Read on to get his opinion on mid-sized hoops. Photo ~ Morgan Taylor
"Pete is reliable, friendly, and professional in every regard. He is a dedicated family man, and employee of the year for like 700 years. I have learned a lot from him, and I am not alone. He has mentored the careers of many riders, and I'm sure colleagues. He rides like a mountain goat, and can still crank up the throttle if need be. I think the only thing that annoys me about Pete is understanding how the hell he does it all.
 Thanks Pete."
---
Cam McRae – I'd like to hear how the evolution of the equipment landed on your end, things that worked right away, others that didn't.
PeteSS – Well, pretty much everything (the good and the bad) came across the desk over the years. Evolutions and newer versions of the products that worked are still in use now. Suspension forks would be the biggest single change, but then came poor handling bikes after these longer forks were installed into a bike frame not designed for suspension. The result was a slacker head tube and a lousy handling taller bike. Norco was the first manufacturer to offer suspension-altered geometry on our production bikes, actually taking into consideration what a fork does to headtube angles, BB heights, wheelbase etc at normal ride height and throughout the compression action, and designing the frames around the forks to get the bike back to the best riding parameters.

  Pete in his natural environment flanked by Jay Hoots (left) and Dave Devlin. Photo ~ Marc Landry
On the flip side, some of the products and designs that may have been heavily promoted or marketed for a while, but went by the wayside would include: BioPace chainrings; 1" steer tube threaded forks; Bull Moose bar/stems; Girvin-AllSop Beam suspension frames and stems (think compress and launch); Slingshot (cable downtube) bikes; 4-splined BB axles/cranks; roller cam under chainstay mounted rear brakes; and raised chainstay bikes (Nishiki Alien). Oh, and did I mention neon or splatter paints? There were many…
God we all made some pretty ugly bikes over the years. I'll have to apologize for that folks. Haha.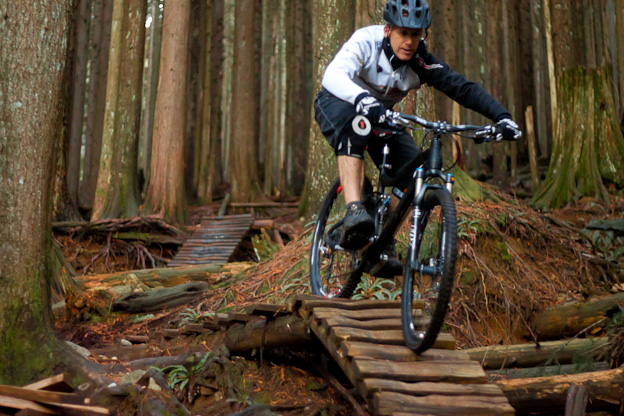 On the day of this shoot it was cold and wet, and the ladder bridges were unusually slick. Luckily Pete was happy to keep going until Morgan got the shot he was looking for. Photo ~ Morgan Taylor

As an enthusiast as well as someone working in the business was it like Christmas every day for you working at Norco and riding prototypes and trying out new stuff? 
Well you would think it would be that way, but after a while and after numerous lunch bag let downs you get a bit cautious and jaded. Every maker out there thought they had the best thing since sliced bread. Half the stuff didn't work outside hot, dry and dusty California (think early Halson or Manitou elastomer forks), but there were things that right away you would think "I'm not going to be able to ride a bike and have as much fun without this (insert product here) again". That still happens today, just not so often. I still get all excited when I see the latest bikes and gear rolling through – that never ends.
Where do you see the whole big wheel trend going? Are we going to see longer travel 29ers? What about DH bikes
?
I think big wheels are definitely here to stay. There will be pockets of high users in certain geographic areas, and probably more XC focused but I doubt we will see any 29'er with with more than 140mm of travel. I really can't see DH race rigs going over to 29's, certainly not front and back. You never know, there may be some advantage in using a 29 front, 26 rear – mimicking what the moto industry has evolved to over 25 years of big suspension development or you may see some 650b wheels sneaking into this category.

Steak Sauce showing off some Rigid skills of the pre-historic (and helmet-less) variety.
On our ride on Fromme you were trying out a Norco Sight with 650b wheels. Tell us about that?
Ahh, good eyes Cam. Yes, I've had the privilege of being on a 650b wheeled bike now for a couple of months. To be really honest I am super stoked on that size (which if you reader's don't know about it is 1/2 way between a 26″ wheel and a 29″ wheel). For me, I could immediately feel and appreciate the bigger wheel in many cases, but I didn't feel any of the negatives normally associated with a 9'er. In my opinion this mid size wheel is the best of both worlds – lots of positives, and no negatives. I'm looking forward to getting on a more final version as the bike I'm riding is a mule, a mishmash of parts, frame and suspension pieces, but honestly, it is one of the more fun bikes I've ridden in a long time – and yes, I could definitely see that as my go-to trail bike. Mark my words, we all will see a lot more of bikes rolling this size wheel in the very near future!

This old dog still pulls out some tricks. On this slippery day this was a sketchy move. Photo ~ Morgan Taylor.
When will we see a 650b in the Norco line? And how many models?  
As early as 2013 model year, but I'm not sure of exact numbers, models etc, that information hasn't been released as of yet.
Norco has made great strides in recent years distancing itself from an outdated image – the new DH bike being the latest example. Where will we see Norco going from here?
Cool, thanks for noticing. Many consumers are just now seeing or realizing the huge amount of effort, manpower (and $$) that we have poured into engineering, industrial design, opening new molds and custom tubes over the past 24 to 36 months. It has been fabulous and if you tally up the new models like Aurum, Sight, Range, Revolver, Shinobi, Truax etc – just to name a few, these have all been niche specific winners. I have to give our bike division team huge props on what they have accomplished and knowing what is still coming down the pipe into 2013 and beyond, they have not backed off the throttle one bit. Also, that's just in mountain bikes. These guys are just as active in road and urban bikes too.

Pete cleaning up 'The Filthy Ape' in the Whistler Bike Park. Photo ~ Alan Davis
What is it like being a Canadian company in such a competitive marketplace?
Well, to be honest, it is tough as we are 1/10th or 1/20th the size (and budgets) of some of the bigger USA players we all know well, but consumers expect us to play with the big boys who may have 10 to 20 times our marketing or engineering budgets. But, that said, we have a bunch of very passionate staff that love to ride bikes and every single one of them feels we can build bikes that will ride better or certainly as well as anything currently available from any maker. Being located where we are has allowed us to be on the forefront of some new niches, developing and releasing product quicker than many of these larger competitors too. Shameless plug here, but as more Canadians figure out they can get a wicked bike from a 100% Canadian owned and operated company, rather than sending their hard earned $$ south of the border, it will only get better.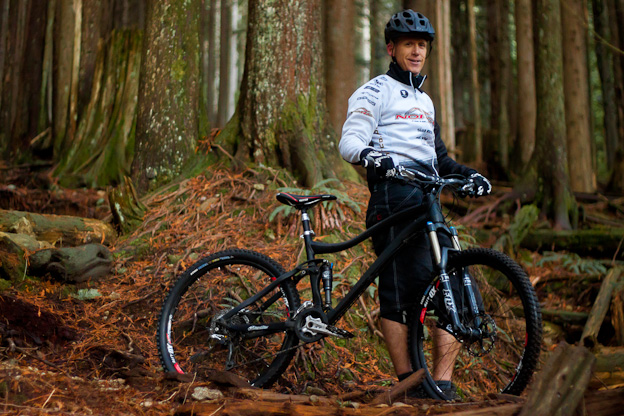 Maybe you'd be smiling too if you had a stable of prototypes at your disposal. Photo ~ Morgan Taylor
Did you see the revolution coming, the way mountain biking exploded with the general public back in the day? 
Well, in a way yes. Things tend to go in cycles (no pun intended) and the French style 10-speeds had come and gone by then, as had BMX bikes… the riding enthusiast was just waiting for bikes like these to come along. For many years Norco just couldn't keep up with the demand; bring them in, and they would sell. Everyone had to have a mountain bike. Of course that type of explosion in any industry or sport is just not sustainable. That same excitement (and drain on disposable recreation dollars) was found in snowboarding, and now more recently with electronics. Yes, Wii/PS-2, Phones, tablets/iPads and flat screen TVs. I swear the average person now spends more on communication than what a really good bike upgrade would cost every year. Sadly, flat screen TVss are probably a bigger competitor to Norco than some bike brands are.

Always up for a challenge – particularly when there is slickrock involved. Photo ~ Marc Landry
Can you tell me about some of your proudest moments working at Norco? Or maybe projects you worked on that turned out really well? I'm thinking of moments you'll look back on and say "I (or perhaps we) nailed that!"
Actually I've had many proud moments here.  Probably the first high end Rampage suspension bike is still way up there as that was pretty much my baby and it jump started Norco's efforts to high end mountain-bikes more than 20 years ago… but even before that designing and building top notch race BMX bikes and putting a team together that went through to many National and Provincial titles. And in the last 10 years, watching riders from our Factory Team program go on to bigger and better things, and more recently signing some very high performance athletes that are using our latest bikes to race competitively at a World Cup level…  there has been many. My proudest times still include working with and knowing some very talented riders and coworkers. I have valued every opportunity.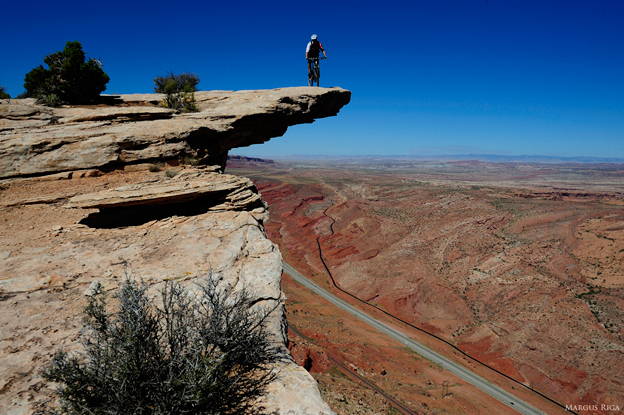 Ubiquitous Moab shot. One day this will fall, but Pete had a feeling this wasn't the day. Photo ~ Margus Riga
What's it like going to work every day, to the same office for all these years?
As I've told many people over the years, I can't imagine living in another part of the world… and I really can't imagine working in another industry, so… working here in the Vancouver BC area now think of all the "cycling related companies" and Norco will come up as the largest and the one with the most opportunity for growth or changes – and it has been a fantastic company to work for. So in a nutshell I can't imagine working for another company either. It has been a very good match for all these years.
If you had to do another job or work in another industry what would it be?
I don't know man, that is a tough question…  I commercial fished for 3 summers early on and enjoyed the hard work and good money that you could make, although that industry has taken a beating over the years. If I had to change it up, I would probably go back into retail as I've always enjoyed helping people out, getting them excited about riding and solving problems, but it would be hard to compare with the opportunities I've had and the "family" I work with here.

How challenging is it doing business with PeteSS? This shot should give you an idea. Photo ~ Morgan Taylor.
What has kept you working in the bike business for all this time?
Well, as I've probably said somewhere else within this Q&A, I really like bikes!  Can I say that without it sounding lame and sucky? Haha… I've managed to keep the fun and enjoyment side of bikes alive despite living and breathing bikes for so long, but I still really like riding, so when you can combine fun and passion, I feel truly blessed. Here it is before 8:00 on a Monday morning and I've already been for my ride today, and I spent more than 10 hours on my bikes over the past 2 days this last weekend. I'm one lucky guy!
---
Dave Overgaard, VP of Norco's bike division might know Pete as well as anyone at Norco, having worked with him closely since 1983, and his perspective pretty much summed up what I suspected all along: "Pete has a hand in everything we do here from marketing to product design, and testing. His passion for the sport, the product, and the brand is truly something special. Norco would not be what it is today without him."
---
Add your comments below, and if there is someone in the bike industry you'd like to know more about suggest them for future Trade Titans pieces.