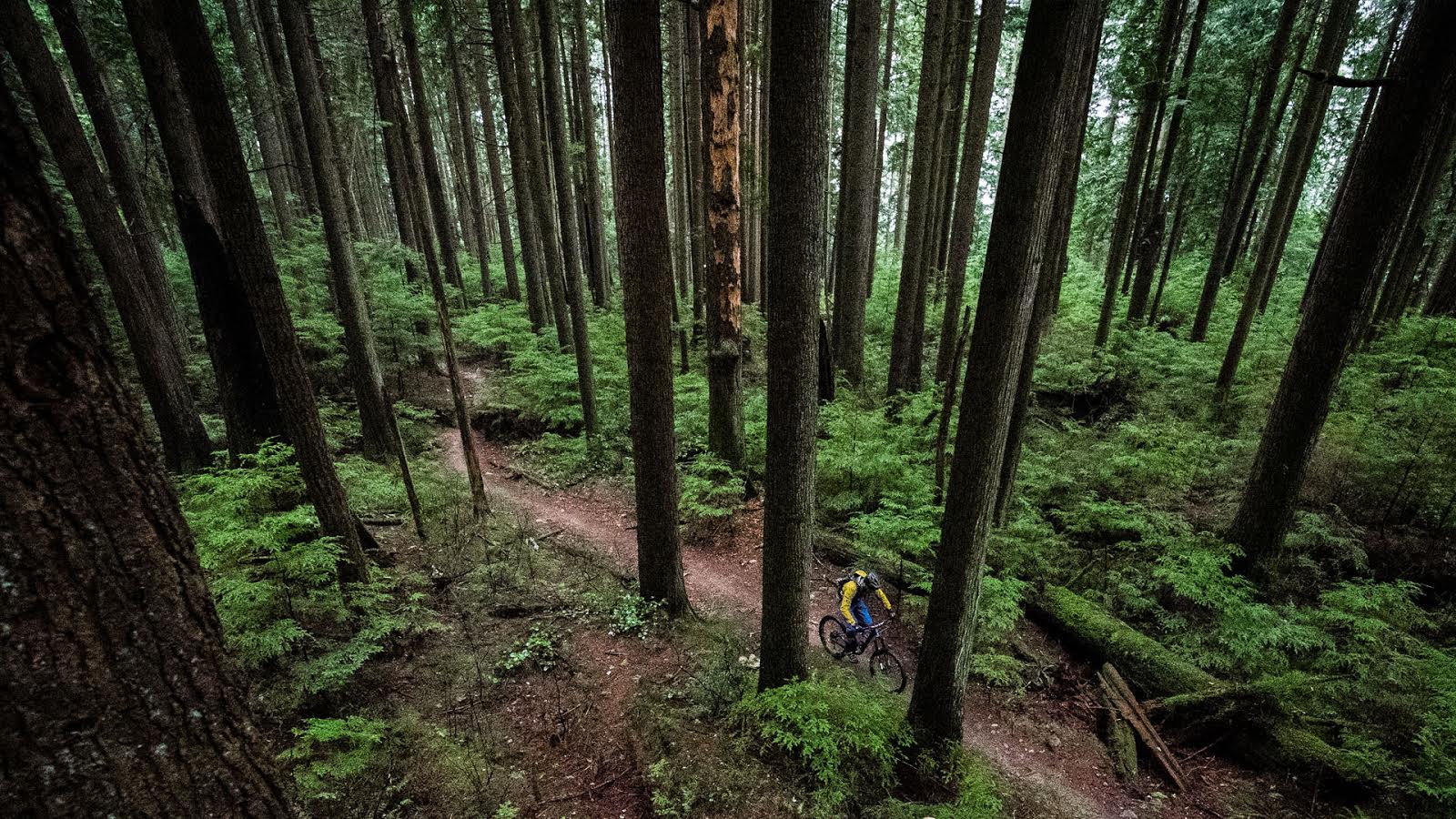 First Date: Santa Cruz Tallboy LT
People love to decide how a bike will ride strictly based on key numbers like head angle, travel amount, and wheel size. Here on the Shore, the traditional approach is a slack bike with a bit more travel than you might want elsewhere. Occasionally, a bike throws a wrench in the gears of that type of logic: the Santa Cruz Tallboy, with 100mm of rear wheel travel and a 71º head tube angle, turned out to be a very capable bike even on the steep and slippery slopes of the North Shore.

  Seb Kemp shreds the shit out of the Tallboy LTc. Having spent a good amount of time on a pre-production aluminum model, Seb was stoked to swing a leg over the carbon version. Check out his thoughts on testing the Tallboy LT HERE. Photo ~ Morgan Taylor

The 2012 Santa Cruz Tallboy LT is a logical evolution of that successful 29er platform and, on paper, could very well be an ideal 'Shore XC' bike. With the new-for-2012 Fox 34 29er fork chassis available in lengths up to 140mm, we knew we'd start seeing companies producing this type of Shore-killing big wheeler. Examples that have been floating around as of late are the Banshee Prime and Transition Bandit 29. There are a number of design constraints that arise with long-travel 29ers, such as limited clearance for rear wheel travel, and unavoidably high front end heights. The designers at Santa Cruz believe they have found the perfect balance of these constraints – let's see how that shakes out on the trail…

  135mm of VPP travel out back, 140mm up front, and a hell of a lot of fun. Photo ~ Dan Barham
If there is one description that continues to be applied to these long travel 29ers, it's that they ride like a DH bike downhill but then pedal back up like a Trail bike. While the TBLT's 69.5º head tube angle may have the peanut gallery claiming "too steep", I'd recommend they ride before they claim. Just like the original Tallboy, the LT feels more capable than its numbers would indicate. This says something about Santa Cruz's VPP2 system, and something about armchair engineering a bike you've never ridden (a habit I have myself). This bike is a super fun smashy descender, but can also handle slow tech.

  The Fox 34, a welcome addition to the 29er arsenal. The Tallboy LT will ship with a 140mm fork, but it can be run with anything from 130mm to 150mm (when available). Our test bikes were equipped with UST tires, and while the WTB rims are tubeless compatible, production models will ship with the lighter weight non-UST Ardents. Photo ~ Dan Barham
But if the way down is so good, we've been conditioned to feel like there's going to be a compromise. With the Tallboy LT, that's not really the case. This is pretty much the best advance that has happened in mountain bike suspension (both in frame designs and in shock technology) in recent years: capable downhill, while retaining pedalability.
I had no problems keeping on top of the front end to climb up the many grunty, steep, rocky climbs on our rides in Sedona. While you probably wouldn't choose this platform for XC racing, it would do very well with Enduro or Super D courses – or if you're not into racing, the all day epic. This is the type of bike that will inspire a downhill-oriented rider to get out and pedal.

  Constantly improving upon past designs, Santa Cruz has determined that placing the upright between the chain stay and seat stay as close as possible to the pivots results a significant boost in stiffness. Another welcome addition to the TBLT is ISCG 05 tabs, a necessary feature for the single ring crowd. Photo ~ Dan Barham
With 135mm of travel out back, controlled by a 7.875″ x 2″ shock, the rear end of the Tallboy is very forgiving. Our test samples were equipped with the Fox's new Adaptive Logic technology, which moves the function of the propedal 1-2-3 switch to the open side, resulting in three different damper settings. This is a much more useful adjustment, and makes the new shocks a joy to use.
Santa Cruz equipped all of the test bikes at this press launch with Maxxis UST Ardents in 2.25″ width (no doubt saving a lot of time fixing flats). The production models will get non-UST tires which will be slightly lighter, but will have tubes. The standard WTB Frequency i23 rims are tubeless-compatible, however.

  The Tallboy LTc is the first Santa Cruz bike to see a 142 x 12 through axle; the LTa has a standard 10mm QR – which doesn't have as much of a negative effect on stiffness due to the unified rear triangle of the VPP design. Hesitant to make changes too quickly, Santa Cruz also continues to use threaded bottom brackets instead of jumping on the press fit wagon. That chainstay protector is actually textured leather; it just happens to look like more carbon. Photo ~ Dan Barham
As far as those design constraints go? Well, Santa Cruz does not make the Tallboy LT in anything smaller than a Medium frame size. While they probably could have built a bike with a shorter seat tube and lower standover, handlebar height becomes a bigger restriction – even a flat bar and a negative rise stem won't bring the bars low enough for smaller riders. If you're after a Santa Cruz 29er in a smaller size, check out the Superlight 29.

  2012 Santa Cruz Tallboy LT geometry with 140mm fork. Note the sizes start at Medium and go up.


  Upon jumping on the TBLT, the wheels did not have a noticeable heaviness to them. This could be my own experience as a rider adapting to the feel of 29″ wheels. Santa Cruz would tell us it's the result of the very specifically-chosen 69.5º head tube angle. Seb Kemp on Hangover trail. Photo ~ Morgan Taylor
The next constraint is rear wheel travel. A 29″ wheel is has a radius 1.25″ larger than a 26″ wheel. In order to accommodate 135mm of travel with enough room for larger tires, we already see a bent seat tube. 135mm is already pretty big for a big wheeler, so this is a moot point until someone else produces a design that goes bigger – whether we need it or not.

  The aluminum Tallboy LT shares most of the carbon version's features, though it does use a standard 135mm QR on the rear wheel. Photo ~ Dan Barham
Santa Cruz may be holding fast with the 135mm QR on the LTa and the threaded bottom bracket shells, but they believe this is in the best interest of the customer. We do see a tapered head tube on both models, with hydroformed top and down tubes on the LTa and one-piece carbon layup on the LTc. Trusted – and serviceable – technology across the board is Santa Cruz's prerogative.

  Collet axle pivots are now the standard in the Santa Cruz line. This is a very interesting design that we will have a look at in more detail fairly soon. Photo ~ Dan Barham

Both aluminum and carbon models sport grease ports in the lower link, and easily serviced collet axles with angular contact bearings. The axles have a lifetime warranty, and Santa Cruz has a full complement of service procedures on their website HERE.

  Shimano is in the process of shifting production to allow all of their derailleurs to be compatible with their new direct-mount standard, while still working with a standard hangers. Photo ~ Morgan Taylor
Another embargoed point on the Tallboy carbon was a new Shimano direct-mount derailleur standard. Rather than mounting to a hanger which then goes to another bolt on which the derailleur pivots, the derailleur will bolt to the direct mount hanger using the existing pivot bolt. This should in theory increase shifting efficiency through derailleur stiffness, though it is yet another standard for us to wrap our heads around.

  One of Santa Cruz's marketing slogans this year is "Putting the Metal in Carbon". By this they refer to the process of forming the pivot axle threads directly in with the carbon layup, saving weight and complexity in the final product. Photos ~ Morgan Taylor
Having ridden the Transition Bandit 29 on the Shore and feeling like its 68º head angle was pretty spot-on, I was surprised by how good the LT's 69.5º head angle felt on the steeper stuff in Sedona. At no point was I really concerned about the bike's capabilities – only my own willingness to ride highly exposed lines. This fuels my desire to continue to try out these long travel 29ers, as I do see them as an evolution of XC bikes here on the Shore.
The Tallboy LTc with XTR kit weighs in at less than 27 pounds in black – slightly more with gloss paint – while the LTa with XT comes in at less than 30 pounds. The Tallboy LTa can be had in R/AM spec for $3199 USD or SPX/AM spec for $4299 USD. The LTc will run you a bit more: R/AM spec for $4399 USD or SPX/AM spec for $5299 USD.
---
Bonus Photos
Since this release was to be kept under wraps for five weeks after the press camp, I've been sitting on a pile of shots from Sedona. Sit back and enjoy some of my favourites of the Santa Cruz crew shralping the big wheel Tallboys – take note of a few mouseovers for bonus images.

  Josh Kissner tests Santa Cruz's prototypes as soon as they're off the presses. Here he is dropping off Chicken Point under the Nuns. MOUSEOVER for the next shot in the sequence. Photos ~ Morgan Taylor

  And since I love a good full squish shot, here's a tighter crop of that second shot. Mmm, squish. Photo ~ Morgan Taylor

  Ariel Lindsley rides down the back side of Hangover, on a (not so obvious in this shot) precariously thin section of rideable trail – with his rear wheel in the air. MOUSEOVER for a shot of Seb at the same spot. Photos ~ Morgan Taylor

  Abby Hippely launches a sweet natural stepdown on Pigtail, while Dan Barham adheres to Step 3 of his Ten Steps to Better Mountain Bike Photos. Photo ~ Morgan Taylor

  This photo is really an outtake, but it makes me laugh. Just that huge, off the trail jump, about to slam the rear wheel down, and then a super serious face. Good times on the trails with Seb Kemp. Photo ~ Morgan Taylor

  Ariel taking the LTc bigtime airborne. He was hipping things that hardly looked jumpable. Photo ~ Morgan Taylor

  Seb was full on shralping the LTc on Pigtail, Sedona's jumps and berms bonanza. MOUSEOVER for the next shot of Ariel following behind. Photos ~ Morgan Taylor

  This was the high-exposure move at the beginning of Hangover that I spoke of in my Sedona editorial story, Lost in the Desert. As a happy ending to the unfinished business I left on this trail at the time of writing that story, moments after shooting this photo I hiked up and committed to the line on the Tallboy LTa – XC shoes and all. Thanks to Ariel, Abby, and Seb for the encouragement – it felt really good to get over it. Photo ~ Morgan Taylor

  Have you ever tried to nosebonk and crush a beer can? Seb has, and successfully at that. I caught a fairly good moment, but check out Gary Perkin's promo edit of the LTc below for video of this entertaining feat. Photo ~ Morgan Taylor

  This article has been more about the bikes, but the scenery in Sedona is mind blowing. Photo ~ Morgan Taylor

  Approaching Hangover trail at high elevation in Sedona. Photo ~ Morgan Taylor

  Josh Kissner with another steep line, this time off Submarine Rock. Photo ~ Morgan Taylor

  It's legal to ride in the back of a pickup truck in Arizona, so I took this opportunity to get a snap of the Tallboys with a couple of Highballs as we passed by Bell Rock. Photo ~ Morgan Taylor
And, finally, a video from Gary Perkin of Ariel, Abby, and Seb shredding the Tallboy LTc's in Sedona:
---
The Tallboy LT looks like just the kind of bike we'd like to see more of here on the Shore. Does it fit your requirements for a pedalable descender? All day adventurer? Enduro racer?