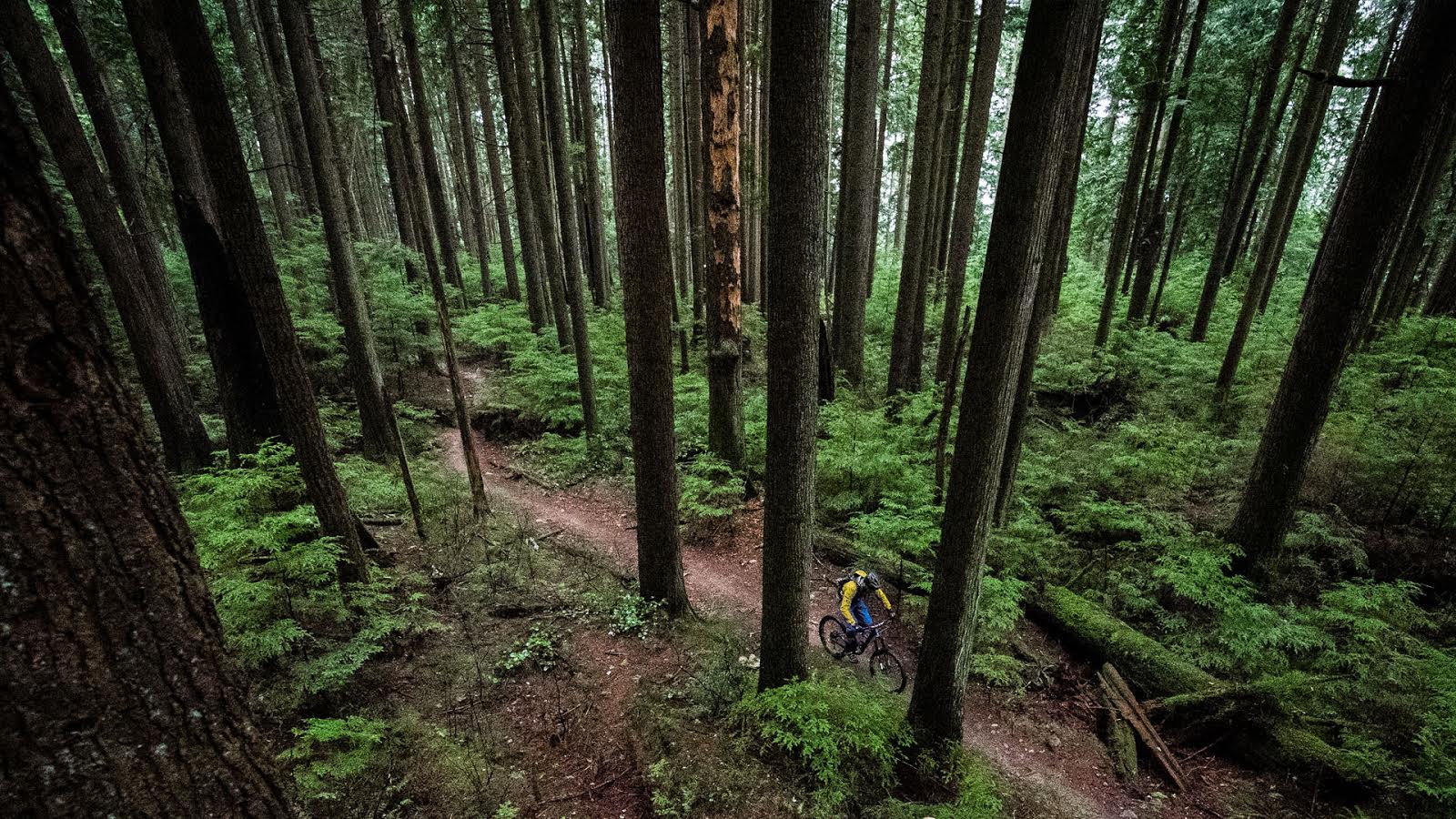 Tallboy LT on the Shore
The Shore has always pushed new ideas and product innovation. It started in the 80s and 90s when local riders-turned-designers came out with tougher frames that introduced new ideas like longer, sloping top tubes and frames that could withstand a beating. There was local product too, like Damage Control bash rings, a slew of armour and body protection, cranks, bars, and later, whole bikes. Then when the Shore blew up lots of companies used the Shore as testing grounds. Shimano, Rocky Mountain, Norco, Specialized to name a few.

A boy and his big-wheeled, long-travelling, proto-bike. Photo ~ Morgan Taylor
And this tradition continues. Late last year myself and local fast chap and details man Arthur Gaillot were given the chance to test out Santa Cruz's Tallboy LT (LT standing for Long Travel).
Santa Cruz had blown the roof off preconceptions of the handling characteristics of 29ers with their Tallboy several years before. That bike had something very special in its numbers and make-up. Riders who had tried one were left giggling like schoolgirls, but nothing is ever everything to everyman. People (read: the internet forums) had been begging for a longer travel, tougher version for some time but Santa Cruz, like several other brands, had been waiting for the products to catch up (particularly forks) before committing to such a project. We knew this bike would come, but when was the question.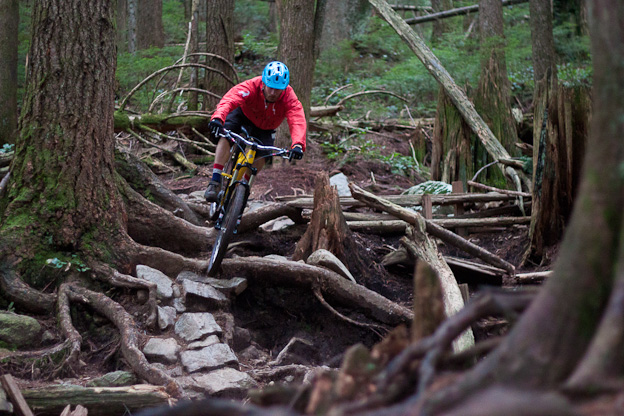 If you have ridden Ladies Only you'll recognize these roots that follow Bart's Bridge. Seb is the first person I have ever seen air this move. Photo ~ Matt Dennison
Then one day an email came from Santa Cruz's Joe Graney. He wanted to give the bike some time on the Shore and wanted to let a couple of pre-production frames escape the proximity testing they had being doing. He wanted some riders to thrash them around a bit and giving some feedback, particularly riders riding on the sorts of technical and demanding terrain that the bike was intended for.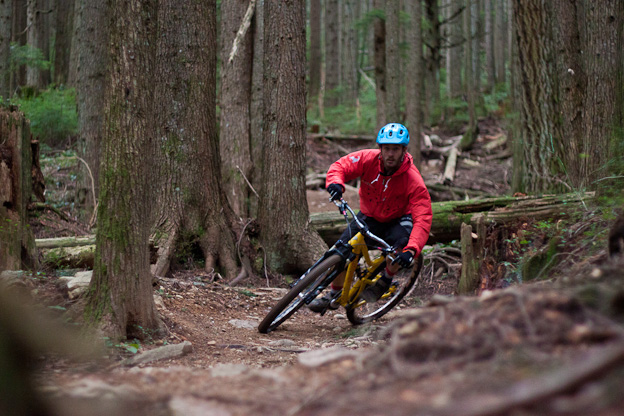 Seb proving that 29ers can't corner worth a damn. Photo ~ Matt Dennison
Upon receiving the bikes it was plain to see that Santa Cruz were a long way down the development path already. This wasn't some raw mule but in fact looked good enough to be called finished. I assume Joe and the clever boys at Santa Cruz had done the grunt work and just wanted to see if a couple of boys outside of the factory were in agreement that the bike was good to go.

I also believe Joe and Santa Cruz see the benefit in having a bike ridden aggressively, in a variety of terrain, and also by riders with different outlooks and set-up needs. The Shore is pretty unique, but the demands riders have on bikes here still crosses over to different areas and markets. More so, Arthur and I prefer different set-ups and want our bikes to do slightly different things. Arthur is a light guy with long levers whereas I ride like a fat guy in a small chap's body.

This move can only be ridden on 29″ wheels. Seb Kemp on Digger's rebuilt Lower Ladies. Photo ~ Morgan Taylor
After some time aboard the bikes we both agreed that this bike was more than ready for public consumption. In fact, we didn't really have much feedback to give Joe besides a shrug and a grin. I felt as useful as a chocolate teapot but I was enjoying giving the TBLT some grief. Even Arthur, who is very meticulous about bike set-up, didn't have much feedback for Santa Cruz, "I think they just wanted to have us give the thumbs up or thumbs down."

Now, the science…
I've gone this far and not actually defined what the TBLT is, well that is because we didn't know until recently. When Arthur and I took possession of the frames we didn't ask for the geometry and details because we wanted to ride the bike and give our feedback on what we felt on the trail, not what are feelings were based on the numbers. I wasn't even sure what travel it was. I prefer having a good few rides on a bike first to gauge my feelings on it, then I will go and look at the numbers to see whether what I feel can be backed up by the stats or whether I'm barking up the moon. Numbers are facts, but they aren't the truth of bikes. Riding a bike tells you the only information that matters and the only reality that is accurate.

135 QR on the aluminum and 142×12 on the carbon. Although they have found marginal stiffness gains using 142×12 rear ends (they are stiff enough as they are) they do allow a lighter rear triangle. But why not 142×12 on the aluminum version? Well, Santa Cruz believe some who opts for an aluminum version is looking for a bargain and say there are not many affordable and reliable budget 142×12 wheelsets, whereas someone going for the all-singing, all-dancing carbon version will probably have the coin for some radical wheels.. Photo ~ Seb Kemp
Anyway, I looked at the frame and saw that it had the VPP2 (Virtual Pivot Point) suspension, with burly tubing around a few vital areas but without being chunky. It had an ISCG 05 mount, continuous cable routing (a change from the TallboyC), threaded BB (industry standards are a bitch and SCB know this), and 135mm rear wheel spacing with QR. That was all I knew, so I took it out on a first date to get to know it.

Santa Cruz love their acronyms. NOT. With a tongue pressed firmly into his cheek Mike Ferrentino announced this to be Santa Cruz's Mega Upright Technology at the launch in Arizona. Compare this to some other Santa Cruz models and you can see the upright comes right into the pivot area now, allowing for a really stiff rear end. Even stiffer than previous.

After a few rides I decided I had a good grasp on the bike and a reasonable idea of what I thought the numbers were so I went and compared my guessimates with the facts. The TBLT has 135mm travel, can run 130-150mm forks, runs a 69.5° HA, 72.6° SA, 13.4" BB height, and my medium size had a 23.1" TT with 17.9" chainstays. Some of these numbers surprised me a little, others seem right. For example, I 'felt' the HA to be a tad slacker than the numbers. I am happy with the HA exactly as it rode, but perhaps someone looking at the charts would think this to be too steep for a 'long travel' bike. This is the 29er effect which e-engineers often overlook, more so that head angle is only one of the numbers in the complex matrix of algorithms which affect how steep a bike feels.

ISCG 05 mounts. Hurrah for 1×10 and chain guide options. I'm not a fan of front derailleurs and much prefer the simplicity of 1×10 on all my bikes. I'm running a 34 tooth chain ring at the moment but as the summer wears on and rides get hotter and longer then I may opt to go to a 32 tooth. Neal Kindree, Nimby Fifty winner swears by 1×10 even on his XC bike. If you aren't strong enough for 1×10 yet then try it and you soon will be. Photo ~ Seb Kemp
Arthur and I rode the aluminum versions. By now, you are probably aware that there are carbon versions as well. As well as being really, really tough they are fricking light – 5.3lbs for the frame, with shock included. It should be noted that the carbon versions are Santa Cruz's first foray into 142×12 rear axle territory. A tidy touch is a leather seatstay, chainstay and downtube protector.
I don't want to get into the whole big wheels debate and whether they are viable for rough, burly and technical riding, I'll just let the pictures do the talking and if anyone wants to come ride mine then feel free to give me a call anytime. I also don't want to get into review territory here but all I'll say is that the TBLT's Arthur and I had have stood up to some heavy beatings and there was nothing we weren't happy to ride or send, within reason. Which reminds me, while chatting with Digger recently we got onto the topic of product development on the Shore he had an interesting observation to make.

The pivots have been significantly bulked up on the TBLT resulting in a stiff and tough frame. Photo ~ Seb Kemp
"We used to be what you would now consider cross-country riders. Then the downhill bike came out. As soon as that came out I said to my friends, 'they aren't going to last'. It was sort of an evolution of biking, we had to explore different ideas to get to where they actually worked."
I think what he is referring to is what Mark Wood and others call Shore XTC but I can't be sure. I don't think Digger has ever read the internet. Anyway, I don't know what y'all are used to riding but I think there's something to what Digger said.
——
Disclaimer
Seb prides himself on objective reviews of bicycles and componentry. However, he would like it to be known that when on his own time he chooses to ride Santa Cruz bicycles. He knows there are many good bikes out there from many different manufacturers, and has been fortunate to ride a lot of them. He just relates to Santa Cruz as a brand above all others. The above is not supposed to be a review in any sense, just an overview of an interesting new bike and an insight into one area of the development cycle of a bicycle. Morgan Taylor does not have any affiliations with Santa Cruz and has a full write-up of his time aboard the TBLT (both aluminum and carbon) HERE.
---
Opinions wanted below.