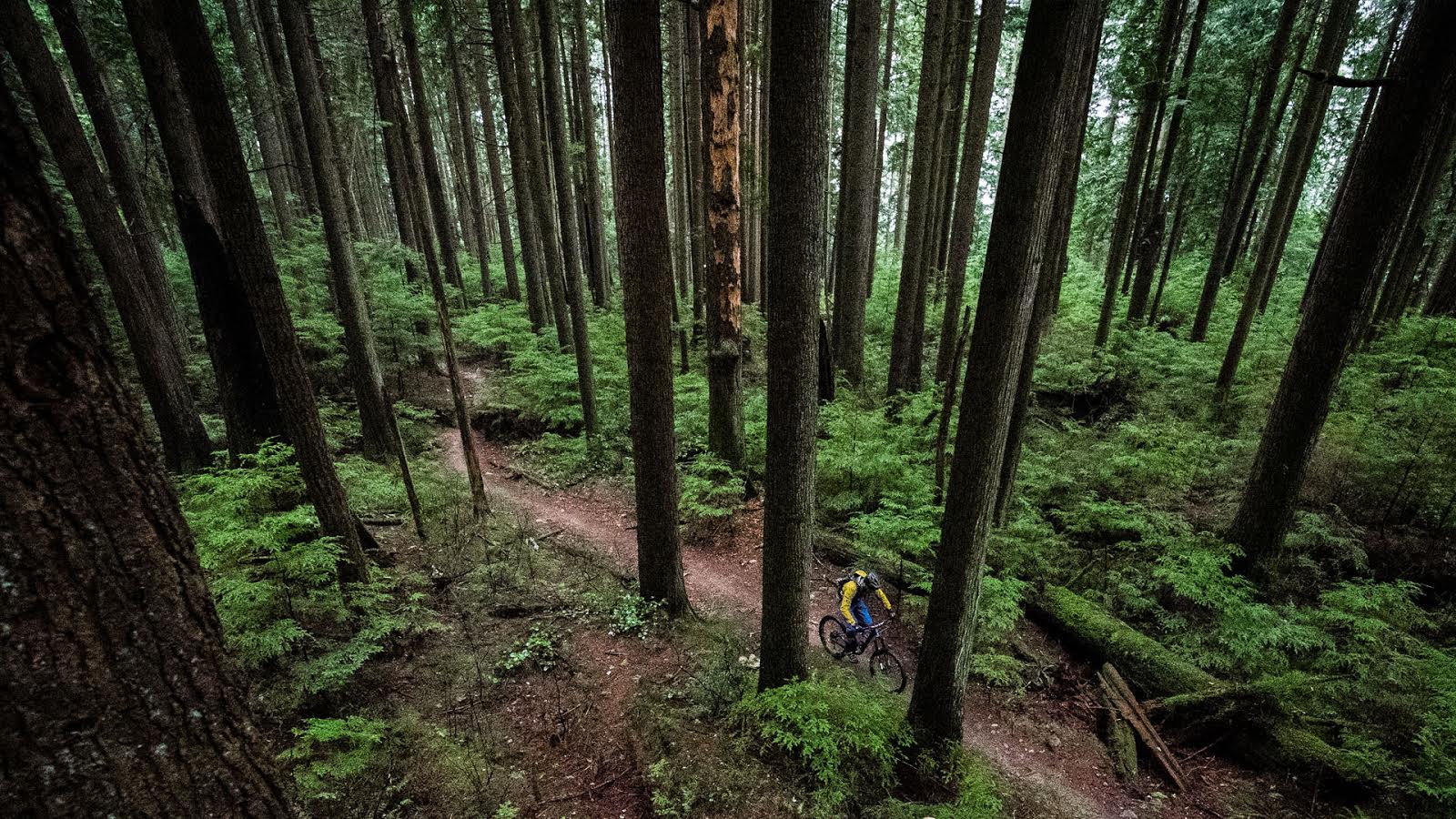 Ultramontane No. 06
Before we get into anything with this release… here's the kicker. We're done – for the time being. This release saw some great ends of the spectrum weather wise with a low elevation snowfall followed by a beach worthy weekend. Spring seems close enough for people to be out riding without the words of encouragement, and if you're residing in the southern hemisphere hopefully this has you all geared up for what's to come.
We've got everything wrapped up this time in one neat little package of one video, and one giant parcel of photographs. We worked alongside two '& Company' friends: Dangerous Dan Cowan, and Ross Measures. Connor and myself have known both since we got into riding.
Dan and his Flow Show were always an inspiration for us when we first got into riding; seeing the wood structures he would put on his trails really helped push peoples' concept of what North Shore meant. It also pushed us toward the construction of Overflow when Connor and I were in our youth. Since then riding styles have evolved and there's far less of the high and skinny trails that Dan is well known for – but if you spend some time poking around the woods on Bowen Island I'm sure you can find plenty evidence that he's still riding just as hard, and if not harder than when he was at the top of his game in the media.
Ross Measures is a long time friend of both Connor and I. He's grown up in Deep Cove as the self proclaimed "Myrtle Manager" and got his first shine in the spotlight back when Back In the Saddle was rolling hard with the 'Young Guns' section. He still maintains a strong presence within the industry both as a rider with Knolly Bikes and as a videographer turning out edits for this and that and other things. He also is exceptional at trail building, with a ton of short video lines under his belt with some very interesting features still to be shot – so stay on the lookout for that content.
Ross, Connor and I took the plunge for this release to spend some time over on Bowen Island with our childhood hero Dangerous Dan acting as mayor of the trails and ambassador to the island. We camped up on a bluff on Mt. Gardner, the view of Vancouver was amazing, and the proximity to all of the trails was even better.
We kicked off the trip to Bowen Island with hopes of an early morning start and landed ourselves on the 9am ferry, which was a bit later than expected after some delays and re-packing Ross' truck. Long story short we met up with Dangerous Dan and ate probably the best breakfast wraps of all time at this place called Snug. Highly recommend it… oh ya we also got to the summit of Mt. Gardner at around noon.
Dan is definitely a character, and he lives up to his moniker of "Dangerous". His overall identity can be a bit romanticized: this burly guy living off on an island with a giant diesel 4×4 van, who builds these massive structures in the woods that demand a huge skill level to navigate. He also has this dog named Polly who would follow him down every line he rode, and chase his van up the service road to the top all while attacking the tires.
In reality though he's one of the easiest guys I've ever had a conversation with, and is just open to having a really good time and refuses to let something he's so passionate about die off.
After hiking for about an hour without seeing any footprints in the snow, we were floored to see a full work-crew on the summit of Mt. Gardner, who were working on fixing the towers and waiting around on a chopper to land with some fuel. That was some cool stuff to see it come in with the barrels hanging, the view at the top was also exceptional.
Great vantage point of the lower mainland. All that needs to be said.
So after some fairly epic descending we set up camp. The story here is honestly about the descents though. Dan's been living on Bowen for a hot minute now, and he has the trail network to show for it. The best part of this situation is that the number of people who ride there is so minimal it leaves all the trails in pristine condition… if they're even recognizable at all.
There's a huge amount of big boy lines that Dan has built ranging from jumps, drops, rock rolls to just technical loamy steeps. Dan had no problem on any of them even with a foot of fresh snow on the trails. To be completely honest though, the three of us walked a few sections with our packs.
We finished our descent after a few hours, and were still only half way down the mountain at Dan's van ready to get a lift back up to where we were camping. Dan parted ways with us to head home to his family for the time being but the dog didn't clue into the situation and appeared out of the woods while we were hiking into where we planned to set up camp. It was clear that we would get to spend some more quality time with Dan before the day was through.
Once we set up camp and cooked up dinner the liquor began to flow while we waited for Dan to arrive again. Once he got to our camp he spent some quality time with us over some drinks. It was awesome to just have a sit down chat with the guy for a while. He definitely brought a good atmosphere to the camp fire.
The whole feeling of being around the fire with drinks in hand just sharing stories old and new about where riding had taken us in life was great. I haven't really had camp fire with a vibe like that in ages and there were definitely some gems that were shared.
The next day kicked off swiftly after the night was a bit on the cold side and some loud ravens on the bluff at dawn, we were all up early.
Dan took us on another round of great trails and focused the area on a different side of the mountain. The goal for the day was to find more open trails in hopes of beating out the sun spots and the locations delivered.
By the end of the day Ross, Connor and myself were left clueless as to what fuels Dan. We were wrapping up final shots near where we started the single shuttle lap and none of us could barely stand up our legs were so tired… somehow Dan was still getting dangerous – even after pedaling his downhill bike around all day he was still loaded with energy as we parted ways.
Sad to say Ross also had to part ways for that night due to prior commitments. This is where things get interesting. Given that we came over in Ross' truck, there was a bit of a mentality by some that we were partaking in some sort of a 'car camp'… with Ross hightailing it out of there that night Connor and I were left trying to consolidate camera and camping gear between my camping bag and Connor's camera bag.
— There are some clips in the video of us descending with these bags if you're interested to see what that looked like.
After a weekend of sun and solid weather that Sunday, Connor and I packed up what remained of our gear and began our descent on a new trail that Dan had told us about and that we hadn't have the chance to ride until that morning.
We wrapped our final shot list of the trip and by 14:00 (2pm for hour-hand folk), we were exhausted, but as fortune would have it on a small island the pedal to the ferry isn't too long. We scarfed down another meal at our new favorite spot (Snug– if you're actually reading all this) and it really hit home after living on the camp diet for the last two days.
Just a quick little bit of info in here… mainly because I'm attempting to break up the massive number of photos. The following shots are from a solid day on Cypress had by Ross and I. Connor couldn't make it out on this one and it's part of why the Bowen trip happened to get us all in one place focused on shooting.
In the shot below Ross had a solid biff on this tech section of trail and landed himself a great charlie horse. There's a shot of his leg up in one of the collages way above. That's all.
This next round of shots comes from an adventure Connor and I dove head first into on Tuesday.
We set out to find some epic descents in Howe Sound, our adventure delivered with ample moss on steep bluffs with somewhat great vista views. There were plenty of steeps and plenty of trail work needed. This is going to become a future project for sure breathing life back into this line.
For now take in the photos and speculate where this could be. There's some sneaky hints…
That concludes Ultramontane No. 06 – Our next release will still be decided on, but expect something very interesting to come and with more of a spring and summer feel. We're also lining up some more amazing new people to work along side with.
We are going to be giving away a framed print. The frame is hand milled by Chris Fisher of Ultramontane & Co. – Chris Fisher. Once we hit 1000 Likes on Trusty 'Ol Facebook we will pick a winner at random, so be sure to like and share.
Thanks to these guys for all the support:

Mountain Equipment Co-op | Spicebox Whiskey | Sombrio | Smith Optic
If you do the social media thing don't be a stranger:

ultramontane.ca | Twitter | Facebook | Vimeo | Tumblr
---
You knew they had to choose a special guest for the final episode of Ultramontane – and Dan most definitely fits that bill. We're sad to see this series coming to a close, but as mentioned, the weather is turning for the better and it's easier to get out for rides without motivation. Whatever Connor and Derek get up to, we're looking forward to seeing what they produce. Do you have any words for the Ultramontane boys? Lay it down below…