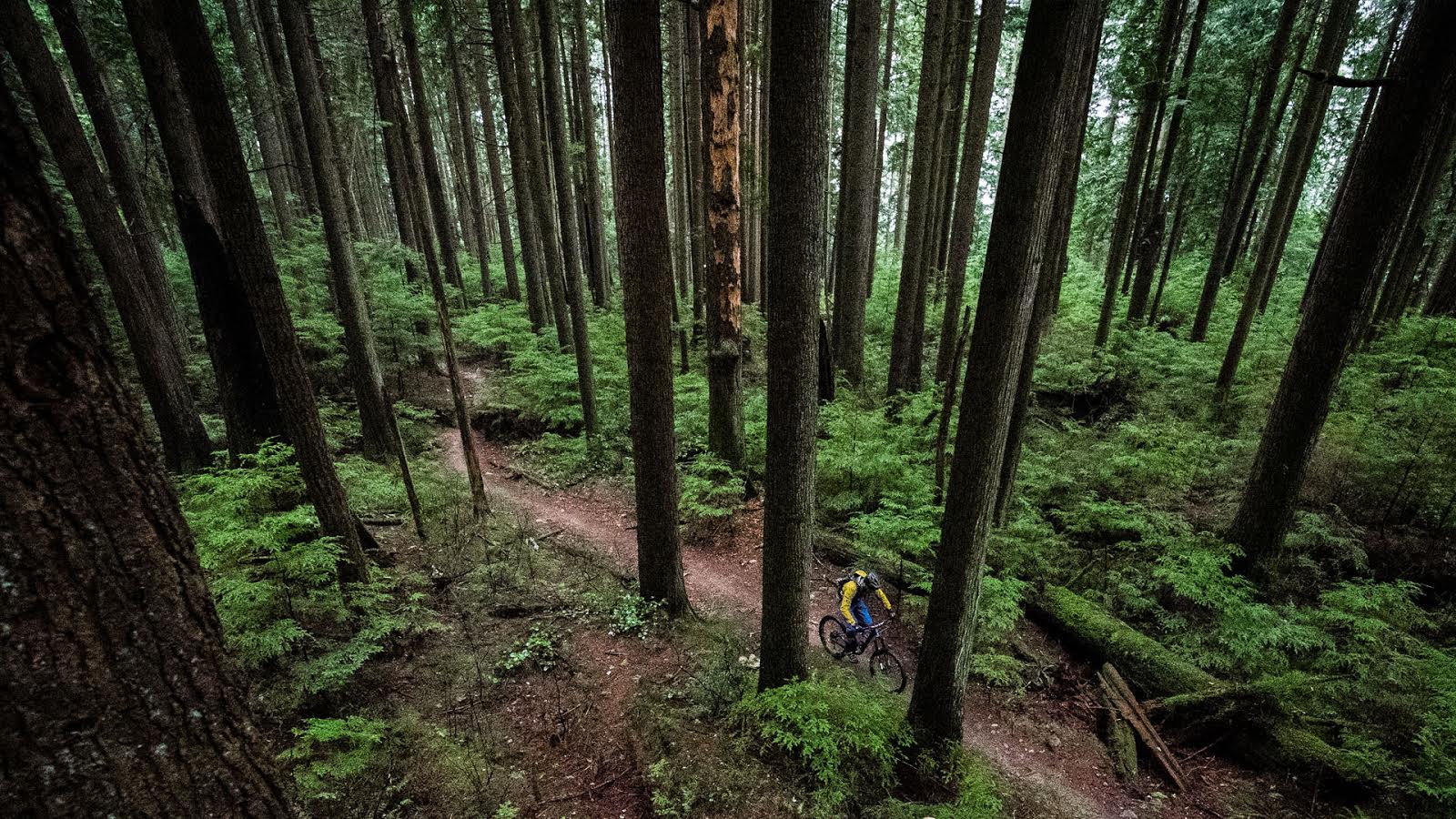 Trade Titans: Pete Stace-Smith
The bike business is filled with characters. Those hungry for a fat paycheque, or an easy one, quickly move on and you are left with a rare and splendid selection of individuals. Many started out wrenching in shops and then graduated to schlepping on the road as sales reps, or at a desk selling to far off shops – and they are all full of tall tales and history. Trade Titans, introduced with the help of the venerable Pete Stace-Smith, will be our effort to introduce you to some of the masochistic bike zealots who shape the industry.
---
When I think of Norco I think of Pete Stace-Smith. It's that simple. Despite Norco's high profile athletes and their mountain biking innovations, PeteSS would be my response playing word association; within the bike industry he is the face of the brand. Riders outside the bike industry may not have heard of Pete, but if you've ridden a Norco or if you've been entertained by a Norco athlete like Ryan Leech, you've felt the influence of the man they call Steak Sauce.
Pete's title is Marketing and PR Manager but I've always felt he means more to Norco than any label could relate. To get a little perspective on that I tracked down Skip Swain, Norco's VP of sales, who put it this way: "Pete is known by his coworkers, riders and media from around the world as Norco's ultimate ambassador. Our marketing plan would be complete if we could bottle Pete and ship it to all corners of the world."

Pete doing some product testing on Leppard trail on Fromme. Photo ~ Morgan Taylor
Pete's deep involvement with Norco's team led me to talk to Ryan Leech. "To this day it's a stretch to keep pace with Pete, both on and off the trail. The pace isn't just about quantity though, but how he does it; there's a pride and passion weaved in, and it's contagious. As a mentor and a friend, his walk-the-talk example called forth my potential in so many areas of life, and I know I'm not the only one. I've seen Pete's qualities sowed throughout the bike industry with co-workers, business partners, and athletes alike."

Shaums March no longer rides for Norco so there was no reason for him to blow sunshine, but it all came up rainbows anyway; "Pete's an older guy in the industry who's doing some new and creative stuff but I think the best part is in the last couple of years he's let the younger generation help lead that." I've noticed that Pete's riding and fitness seem to improve with age so I asked Shaums about that. "Pete still has the stuff – he can still go out and play with the boys and keep up."

Pete (right) getting rad in the Whistler Bike Park in 2009. Following is Ivan Harms. Photo ~ Alan Davis
Don't let Pete's youthful attitude and appearance fool you, he's been in the business – and riding – since long before there were mountain bikes. And Pete was one of the people tinkering and working out how to take adult bikes off road in the beginning, which is one of the many reasons I wanted to talk to him.
I'll let him tell it from here.
---
Cam McRae – Tell me how you got your start in the bike business… 
Pete Stace-Smith – I got my foot in the door working part time at the original Varsity Cycles bike shop on West 10th Ave in Vancouver (on the way out to UBC) in 1974. I continued to work there through '75 and '76.  In 1977 one of the founding partners left and I was given the opportunity to buy in as a 1/2 owner.
What led you to the bike shop?
I had already realized that a bike = fun and freedom, and as team sports weren't really my gig, I rode everywhere. I used my bike to really explore our beautiful country in a 9000 km cross Canada tour ending in St John's Newfoundland, and the following year a 5000 km tour of the British Isles. This was long before Mountain Bikes even existed, however you will all laugh if you knew how many hours I rode around the Pacific Spirit Park trails on a simplified old 3 spd. bike – my first off road or mountain bike as such.

Pete and friends in Moab before helmets became fashionable (early 80s).
I know you have been with Norco for a very long time – when did you make the move?
I made the move over to Norco Bicycles in 1979 when my partner's dad offered to buy my half of the shop out at the same time an opening came at  Norco.
What was your position to start and how did you get to where you are now?
I started on our counter sales desk, then quickly jumped to a purchasing position. From there I moved into the bike division and headed that up, overseeing all bike design, specifications, suppliers etc. for bike purchasing for about a 12 year period – right through the start of Mountain Biking.
Around 2000 I started up Norco's Marketing Department and I've been doing that ever since.

Pete on the top (that's right on top) of Black Tusk in Garibalidi Park with an early Norco mountain bike in the early 80s.

So I guess your first mountain bike was a Norco. Can you tell me about it?  
Yes, very early on we got our first sample – a prototype Norco mountain bike out of Japan. It was a TIG welded using Tange chro-moly and came equipped with bullmoose handlebars, full Suntour gearing, Sugino triple crank, Dia-Compe canti brakes, Suntour Beartrap pedals, Araya rims, Suzue hubs, Panaracer Tires. It was still a year or two ahead of when Norco (or anyone really) started bringing in the first production mountain bikes into Canada. I still have a picture of that bike in my office here on the top of Black Tusk up in Garibaldi Park.
How did getting on a mountain bike change the sport for you?
Interestingly enough, without knowing it I'd gone the same route that some of the Marin County guys had gone long before my first true mountain bike. While in California in fall of 1978, I'd bought a Kos-Cruiser at Palo Alto Bike shop. This was basically a one speed Chro-Moly framed 26" racing cruiser, but I had plans for it. Once back in Vancouver I had the rear stays widened to 130mm so that a rear hub with a freewheel would fit in, and I had a drop-out hanger and some cable stops welded on by my friends at Carleton Cycle. That was my first fat tire 26" multi-geared bike that I started to hit the trails on. Obviously, as my off-road escapades progressed, I quickly met some limitations on that bike (side pull brakes, racing frame angles and shorter wheelbase etc), so a few years later when I finally jumped onto my first true mountain-bike, it was like a light switch turning on. I was hooked! Finally there was a bike built for exactly what I wanted to do.

Steak Sauce was in charge of all the early graphics and paint including splatter, speckles and of course black and pink (I kid). Once again in Moab, pre-cranial protection with toeclips, Tomaselli brake levers and Suntour components. Check out the crazy centre pull cam brakes (rear mounted behind the BB)!
And then it was game on?
Once I had a true mountain bike under me it just seemed to open up the world. A friend of mine told me about this place called Moab down in Utah where he had been 4-wheeling. The next spring I was down there with my riding all sorts of stuff – even this big rock playground called Slickrock (actually a trail designed and put in by guys for Moto's). I even rode my bike right up and into Delicate Arch (now that is illegal to do). The park ranger I met up there mentioned that was the first time he had seen a mountain-bike up there. That was in May 1984.
Side note, I have been back to Moab every year but one, and in the last 10 years or so quite often two trips per year (quick math that adds up to about 35 plus trips down there). Between '82 and '86 pretty much every trail in Pacific Spirit Park, Eagle Ridge, Belcarra, Seymour, Grouse (Fromme), Burke, Sunshine Coast, Williams Lake, was explored. Keep in mind, all of this riding so far had been on full rigid bikes. Heck, of course we never even wore helmets back then either! I shake my head thinking back on some of the stuff we rode… glad to be here.
You were in a great position to lead the mtb charge.
Well, around Norco anyway, I was certainly stoked with riding a bike where no bike had ever been!  Over the years I worked closely with a lot of makers and they took Norco's feedback very seriously as we were keen riders. Many other importers or distributors at that time didn't really know what worked and what didn't, and certainly couldn't talk knowledgeably to an engineer or designer about it.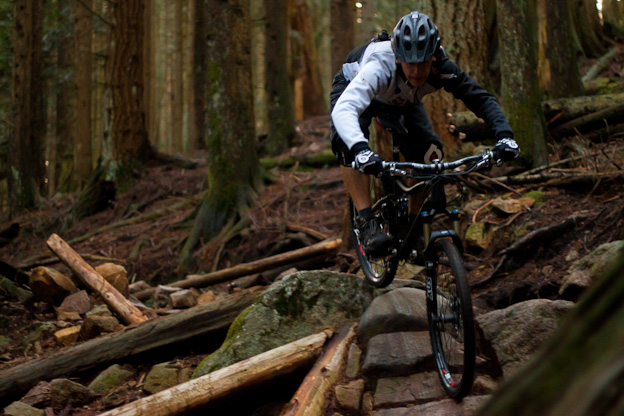 And back in 2012, Pete gets rowdy on Krinkem Krankem on Fromme. Photo ~ Morgan Taylor.
You would have been on suspension and other innovations before just about anybody. 
For sure. As the parts makers developed new product for this new sport samples would be sent to us for testing, evaluation and hopefully to be spec'd on the bikes. As bike division product manager, I would be one of the first to give anything a thumbs up or down and to get it on a bike for actual testing. I still have one of only 4 original RockShox Mag 20 gold leg forks ever made! I also have a Tri-Pulley Suntour rear changer, a Dia Compe disk brake and a bunch of other weird stuff that never even went to market.
Can you remember your first suspension fork?
Absolutely ! I remember bolting an early fork on my bike and after my first rip immediately thinking "wow…  I can either go 20% faster down this same rough trail at the same exposure level, or go the same speed as before but with 20% more control and safety". Of course I always chose faster… haha. It was wonderful.

You start to wonder if Pete has spent more time in B.C. or in Utah. Photo ~ Margus Riga
Disc brakes?
Again, these were major changes in performance and safety in mountain biking. Rim brakes were one of the biggest draw-backs to mountain-biking on say the North Shore between about Oct and April. Your rims would be covered with muck or slush, and braking was, well, non-existent sometimes – at least for the first 3-5 seconds after applying full power especially if the steep pitch was right after a puddle or snow patch. To be able to have functional brakes in the wet or dry was mind boggling, and once again allowed us to go faster and safer AND not wear out a pair of brake pads every ride, which was the case sometimes.

That's what they call him. Photo ~ Marc Landry
How about your first duallie?
Yes. Interestingly enough, one of the first bikes I spent quite a bit of time on was an AMP Research bike, built by Horst Leitner – the first 4 bar Horst Link design I also rode. That bike rode so well, but suffered miserably from frame flex/slop, bearing durability and a bunch of other little issues – BUT pretty quickly we could tell what worked and what didn't in dual suspension designs and that 4-bar Horst platform became the benchmark bike to beat. Every single prototype or bike that we designed, built and tested after that we would always ask ourselves, does it work as well? Same with all our competitors' versions.
We came to an agreement with Horst to license and use his "low pivot" designs on our bikes very early on – long before he ended up selling that patent to Specialized, who renamed it FSR. And after integrating the Horst Pivot into our early full suspension bikes – then built with less flex and more durable pivots – we once again confirmed that suspension design really worked well for a wide variety of bikes, conditions and rider types. Note: The original Horst design has now been even further improved upon with the more recent ART suspension designs used across our 2011 and 2012 bike line.
---
If you have any PeteSS stories serve 'em up below.