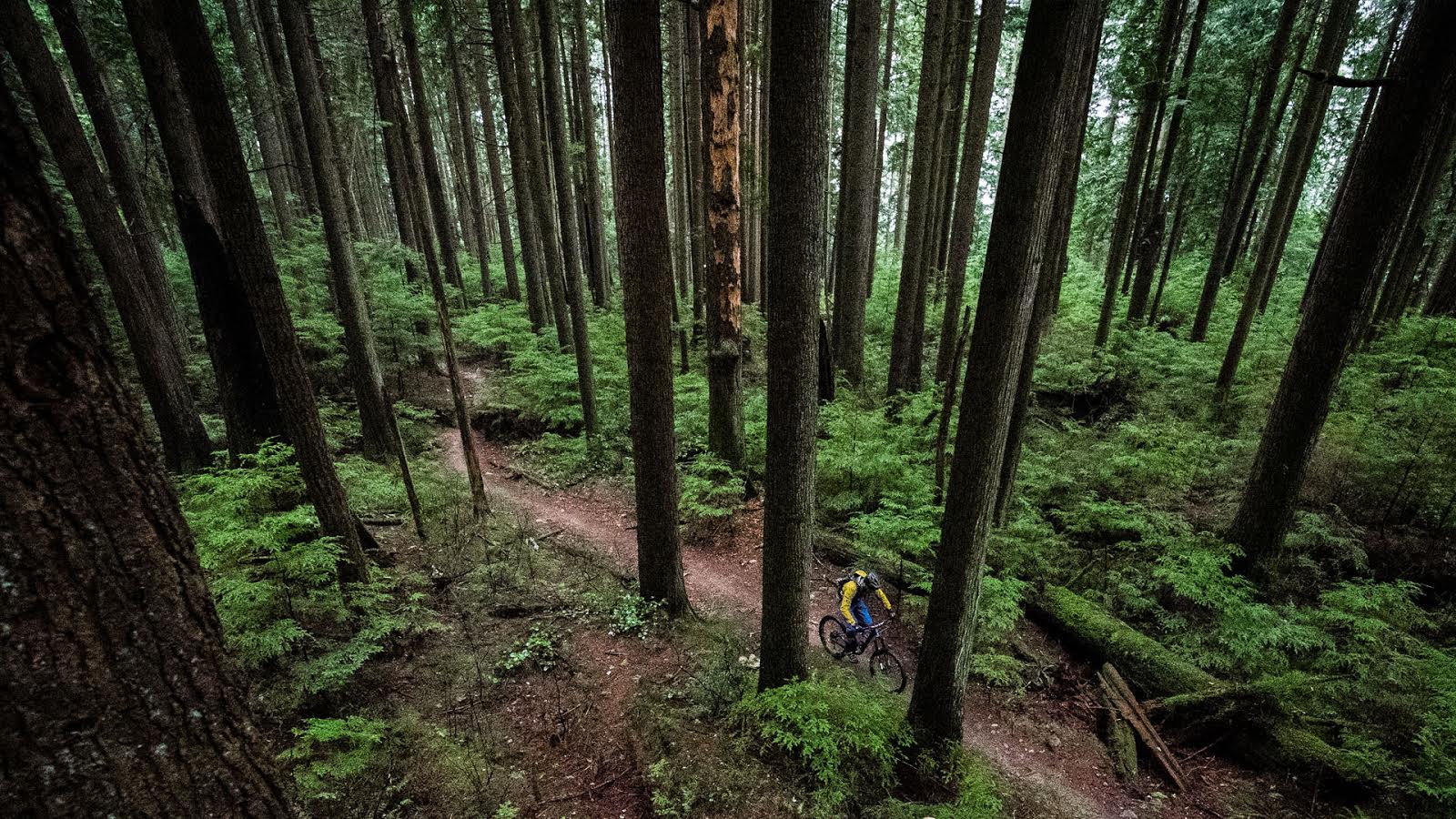 Grip Shift is Back!
The SRAM Grip Shift has a long heritage but the newly unveiled version is a one hundred percent brand new product. It has been utterly redesigned and is no longer plastic on plastic; it is now three rows of ball bearings – 120 in total – with full metal shift indexing. It may look the same on the outside but, mark my words, it is entirely different on the inside.

  Looks the same on the outside doesn't it?
The Grip Shift was the original Sram product. Stanley R. Day, the founder of SRAM hated fumbling for gears while training for triathlons. Most shifters at the time required the rider to momentarily move one hand away from the handlebars to change gears. He met design engineer Sam Patterson in 1987 and the two of them went about designing a new shifter that wrapped around the handlebars. Although not entirely new, this design was indexed, meaning it was easily clicked to numbered positions corresponding with specific gears.
By 1988 they had a product available on the market: originally called the DB shifter, it was packaged as an aftermarket accessory kit. It later evolved to be called the Grip Shift. It was first embraced by triathletes and cyclocross racers. In 1989 Cannondale specced it on their mountain bikes and in 1990 Greg Herbold used it to win the first ever UCI World Downhill Championship. As XC and DH racing grew in global popularity, elite racers grew to embrace Grip Shift. XC legends John Tomac, Ned Overend and Thomas Frischknecht swore by it. Downhill stars like Anne-Caroline Chausson used it too.
The bike component business was then dominated by Shimano, but eventually Grip Shift appeared as standard equipment on certain markets of bikes. This was due to SRAM significantly hounding major manufacturers like Specialized and Trek – and a lawsuit in 1991 whereby SRAM accused Shimano of unfair business practices, which Sram won and were rewarded between $3 million to $5 million.

  Not friction-based any more. Sram had a clear plastic sample so we could better see the inside goods.
By 1994 two million shifters a year were being produced; the next year that number rose to five million. By the mid-1990s, Grip Shifts were specified on half of the bicycles sold in independent bike shops in the U.S. and dominated the U.S. cross-country racing circuit. In the spring of 1995 SRAM began selling its own derailleur, intensifying the competition with Shimano in the upper end of the market.
These days SRAM has become a one-stop shop for manufacturers wishing to spec their bikes with components. After significant acquisition – Sachs in 1997, RockShox in 2002, Avid in 2004, Truvativ in 2005 and Zipp in 2007 – SRAM has become a huge company with over 100 different product lines. The only thing SRAM doesn't produce is frames.

  This is a clear plastic sample and not a production model.
Anyway, somewhere along the lines the Grip Shift started to take a back seat – perhaps due to the introduction of trigger shifters which were so precise and ergonomically pleasing. This became the dominant system and started to make Grip Shift obsolete to the upper end of the market. The Grip Shift design hadn't been developed much since its inception, a testament to the longevity of the original design – but ultimately the trigger was king.
Grip Shift is still used as an affordable, light, easy to use option for budget bikes – even last year nearly 2 million units were being produced for department store level and hybrid bikes – but long gone were the lofty days of champagne and trophies. Now it was kids bikes and townies that were being left to rust in the rain.

  This is Jaws™. The interlocking system between shifter and grip. Plus all the fancy mechanism that stops you from getting RSI when shifting.
There was still a very passionate core of riders who loved them some Grip Shift but when SRAM introduced 10-speed it was decided that unless the shifter could be redesigned to be as precise and lightweight as the trigger shifters then it would sit on the shelf. The trigger shifter was doing very well, consumers understood it and enjoyed it. There were a few options floated about for a new Grip Shift but nothing fit into the basic design brief. The thought was that if someone came up with an idea then they would explore the potential but SRAM did not throw a team of people at the problem, that is until…
In the German SRAM development facility there were several engineers and riders who were passionate about Grip Shift. Although no mandate had been set these techno-boffins began fettling and fiddling with ideas until the eureka moment occurred. The idea of using ball-bearings and metal indexing came about, was seen as a viable option and the redesigned Grip Shift went into SRAM's standard development phase.
Last September Jaroslav Kulhavy used prototype 2X10 Grip Shift units to win the XC World Championships in Switzerland. He was so confident in the new design that the first time he used them was for the big race.
This year SRAM is celebrating their 25th anniversary. Although more coincidence than plan, the original SRAM product is back. As Tom Zurawski, brand communications officer at SRAM puts it, "This is a big deal for SRAM. We said that if we were going to do a new generation [of Grip Shift] then we weren't going to do just a tweak. It means so much to us, it is such a great product, and it not about what it used to be about – which was cheap and light – it has to live up to the rest of the kinds of bikes we see this featuring on, which is super light and super high performance."
The new Grip Shift is 10-speed, works on three rows of ball bearings, has full metal indexing and features integrated lock-on grips. X0 Grip Shift weighs 207g (including clamps and cables), while the X0 Triggers weigh 255g (including clamps and cables). It will be available in XX and X0 guises, with both being essentially the same but the XX comes with Ride-On Sealed Low Friction Cable System and a carbon cover as opposed to an aluminum cover on the X0. XX sells for $295 while X0 goes for $225. SRAM tells us the new Grip Shift should be available as of April 30, 2012.

  This is Speed Metal™. Full metal indexing as opposed to the curly spring of yesteryear.

Inside there has been a total redesign. In typical SRAM style there are radical names to go along with the technical features. Speed Metal™ means full metal indexing as opposed to the curly spring of yesteryear. Rolling Thunder™ relates to the 120 ball bearings which are placed in three rows inside the body. These require less force for shifting, less friction, less play, and are designed to provide long-term performance under all weather conditions. Jaws™ (I have no idea how that name isn't already trademarked) is the lock-on system whereby the shifter and grip connect into a single unit, are easy assembled and removed, and can convert to work with any grip.
The new Grip Shift is still less expensive than an equivalent SRAM trigger set and is lighter, but the performance is what we are really interested in. Fortunately, during the SRAM Trail House gathering in February I had a chance to test out the new units.

  This was our set-up for the ride. Note that the reach adjuster on Avid brakes does not work with Grip Shift.
I'll get straight to it: I found the shifts to be very clean and quick. The short, tight indents make it fast and precise. I would say the shifting is snappy even, perhaps more than triggers. I never once missed a gear, slipped between indents or failed to find the right gear, even when grabbing handfuls of gears at once.
The ability to dump lots of gears is something which is a huge advantage over both SRAM and Shimano trigger shifters. Rather than the tick-tick-tick-tick-tick-tick of dropping a pile of gears on SRAM shifters, or half as much on Shimano Rapidfire triggers (double down shifting), in one twist you can go from cruising to hammer fest. This proved to be invaluable when following Curtis Keene, who had a propensity to suddenly engage his afterburners and start stomping on his pedals without prior warning. I can see this being a huge asset to racers – downhill and Enduro as well as XC. Of course, this works well in reverse, like when you find yourself caught out by a tight corner or climb and needing to get the pedals turning. Triggers almost do it in this direction as well, but they just don't come close to the speed at which you can change a lot of gears at once. 

  You can see the interface for the Jaws™ system here.
On some corners I did want to be able to thumb shift out of them and I did have to move my hands subtly to shift. However, there were plenty of places that I felt more confident with all fingers on the bars shifting. The thing with Grip Shift, which all the internet engineers forget, is that you don't grasp the whole unit, in fact you barely have the cup of your index and thumb finger on the unit because the shifting is so light and precise now. Unlike back in the day when you had to wring the neck of your crude filled, worn out Grip Shift goose to get some gears. The throw of the shifts is very small so you don't find yourself radically readjusting your grip either.
Likewise, anyone concerned about gripping a bunch of gears as they land a drop needn't worry. If you are going to heavy land such a drop then you need to rethink your limits as a rider and learn to land better. Even when pulling back for manuals there was no chance of accidental shifting. The indents are strong and very crisp so there was not once incident of accidental shifting the whole time.

  Tight in there. Can you see your dropper fitting?
The ergonomics are good. With my average-sized hands that prefer the thinnest of grips I felt instantly at home and snug. I believe there are different grips sizes available for fat hands and comfort riders. One thing I did notice was that it makes having a Reverb more of an issue. Because of the shape and bulk of the Grip Shift unit, you can't have the Reverb shifter right where you might like it. More so, I can see that some height adjust post triggers will simply not work with this system unless mounted in a troublesome position. Have a look at a test cockpit before buying. Personally, I'd run 1X10 with a right side Reverb trigger mounted with a Matchmaker to the left side brake – so this wouldn't be a problem – but if you are thinking you still need all twenty or thirty gears and a dropper then look closely at your set-up. I'd like to see SRAM work this problem a little more and perhaps provide some integration because racers and the more cockpit control obsessed riders who have droppers and/or fork lock-outs will have a really clumsy handlebar.
Overall, it isn't better or worse. It is just preference. Grip Shift will suit a lot of riders. I have to admit to being utterly sold on trigger shifters and expected the Grip Shift to be more suited to lighter riding cross-country riders. I had done my time on Grip Shift units back in the nineties when we had to pull them apart and grease them like a pig every other ride. However, after my (admittedly short) time on the new Grip Shift I would seriously consider putting on a set on my favourite bike.
---
Is Sram's new twisty shifter the piece you've been waiting for? It does look like an improvement on the original design in a number of ways. Have your say below…