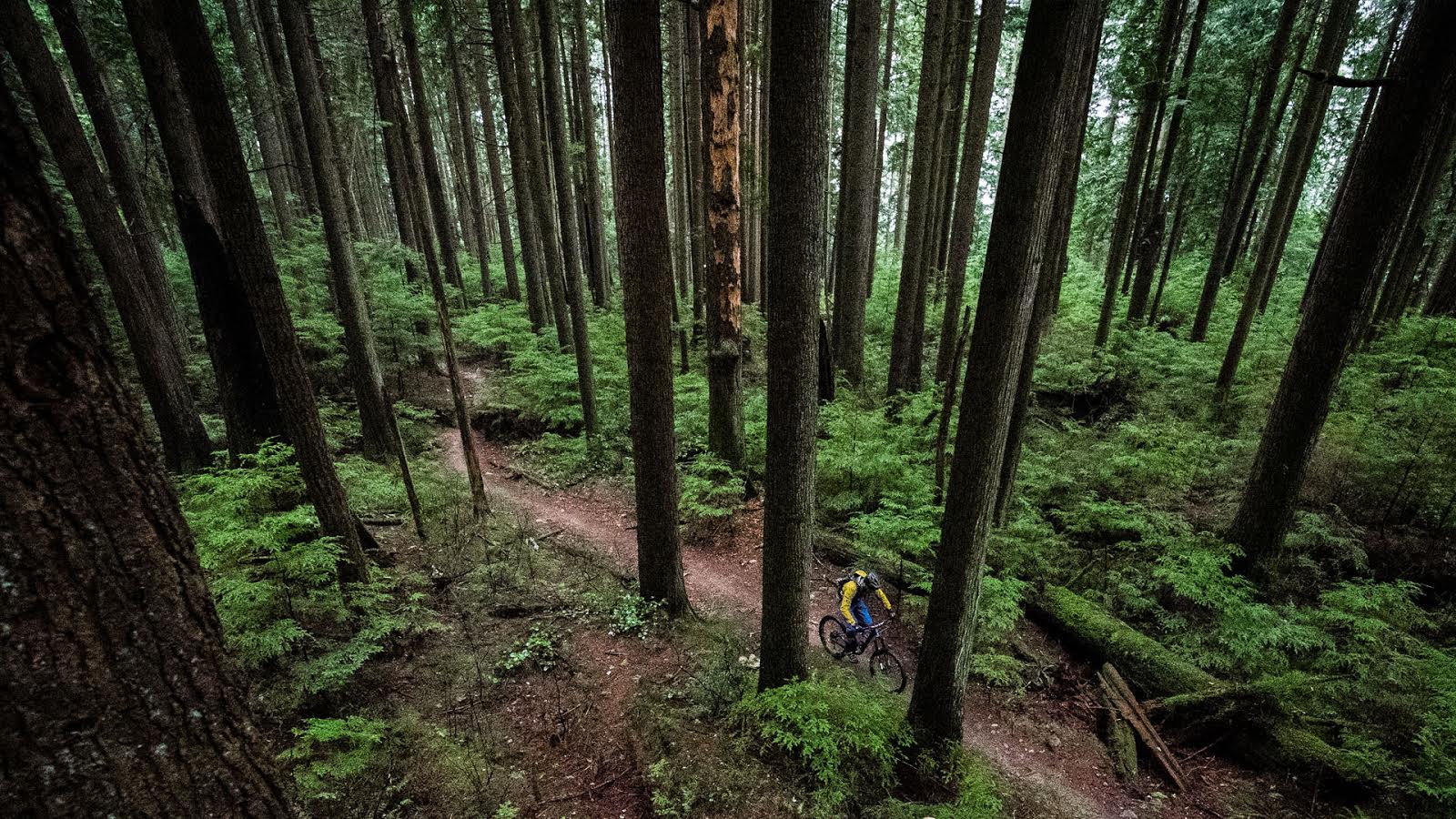 Core Shop
Lynn Valley Bikes opened on March 1st, 2010. You could be forgiven for thinking this is a simple story of another tidy, independent local bike shop at the base of the Fromme Mountain on the North Shore of Vancouver that opened up to capitalize on the captive mountain biking population. I thought things were that simple until I started to hear stories of the shop's owner, Ken Maude. Intrigued and seeing that the store's second birthday celebration was taking place, I figured it might be an ideal time to sit down with Ken to find out more of the story.
It turns out Ken Maude is as involved in the story of North Shore riding as clever paper folding is to pop-up books. He grew up there and he began riding there before wheels and trails were leaving the ground. He started out racing XC bikes all over North America until he started lofting himself onto and off the insane stunts and was featured in the very first North Shore Extreme movie. For a while he was a fully sponsored free-rider. He has amassed a ridiculously long resume working for almost every major bike shop that is or was present on the Shore. He was part of the original crew to establish the NSMBA. He helped set up Endless Biking as the premium coaching and guiding organization on the Shore. He worked for Race Face before the implosion and then left it all behind to get a real job. That stage didn't last for long and it was the experience he needed to set him on the right course to starting his own shop.
Ken Maude is a big chap, built more like a hockey player than an XC racer. I can't imagine him lined up against racing whippets back in the day. Wade and a few others back in the big days of stunting used to call him the Lumberjack for his ability to knock down trees rather than stay on line. However, he isn't just brawn – inside his head is a brain. He is well educated and in his twenties he went back to school to get a degree in commerce. He also worked in the big boy world of banking for a time too so you know he knows his way around complex accounting and management. Coupled with his extensive bike shop experience he is perhaps a step ahead of just your usual bike geek who wants to start his own bike shop. He knows the trade and he knows the business. He has seen it all, learned from the best and experienced the worst. In doing so it has given him an invaluable training into how to run a business correctly.
---

  Ken Maude, Lynn Valley Bikes.
NSMB: Why open a shop?
KEN: I have been in the industry since my late teens and mountain biking is my passion. I was in retail for 15 years, started Endless Biking, worked as director of marketing at Race Face, then I took a little time out to get a "real" job and I hated it.
NSMB: What did you do in the break?
KEN: I worked in commercial banking – lending businesses money – after I completed a degree in commerce.
NSMB: OK, let's go back and chart your work history?
KEN: I worked at John Henry's for six or seven years and I worked at a lot of other stores around the area too. Then I got hurt riding so I decided to go to school and get educated. I was 27 years old and when I finished I was 31 years old but I had a degree. After college I worked at Steed Bikes a little bit until a job at Race Face came up. That was 2006/7 and it was invaluable to see the other side of the industry. However, it wasn't all good and I had to leave there. Race Face was innovative and creative at the start when they had established the component brand and become a strong entity on their own away from Rocky Mountain. However, that seemed a long way in the past considering how things were being run when I was there. My education in accounting and commerce showed me what to look out for and the danger signs. I could see the end was nigh. I left. I worked at Adidas for two months before getting out of there too and I moved into banking.

  Sales, service, and hangin' out.
NSMB: Why the move to banking after all that time?
KEN: I felt like I had hit a dead end in the industry. I had nowhere to go. I had done most things already and I couldn't go backwards. I did put CVs out to big US companies in the industry and for a while it looked like I'd move South, but then I went into banking.
After about one year I had had enough of banking already. I wanted to be working in biking; that was where my passion was. I started thinking about starting my own shop and I wrote the business plan in two nights. It was pretty straight forward because I knew what I wanted to do and how to do it after seeing so much good and bad things while working in the trenches at so many other shops over the years.
NSMB: How did Lynn Valley come to be?
KEN: Around that time the economy was tanking and I saw the location I wanted here in Lynn Valley. I spoke to suppliers and they all gave their backing based on the location and my previous relationships with them. The location has had two previous bike shops in the same spot – The Great Bicycle Company and Bicycle Sports Pacific had being in there but when BSP closed the place had been empty for 4-5 years. It's funny, on the first day we opened here we had people come in thinking it was just the old store reopening. 

  Ruben Salzgeber, probably reading NSMB.com.
NSMB: You seem to have had a huge experience in retail and your are well educated, but what is more important, the education or the experience?
KEN: I have seen and worked in enough bike shops that have done well and others that have fallen down. For example, I worked at Robson Cycles – "the mountain bike specialist" – but I had seen that go from four stores to collapsing completely. There was also the Bike Celler that went pop too. All around '94-'97 there were a lot of shops that collapsed, but there were also shops that bloomed. In the same time the Cove got bigger, John Henry got big, and On Top picked up.
NSMB: Why did so many shops go down at this time while others grew?
KEN: It was all due to mismanagement. Back then we were seeing stores with very heavy management structures. They would have three or four owners/managers who would sit in offices and take big salaries but they didn't get onto the floor, see what was happening in the market, they didn't control inventory and put no effort into sales. Eventually they got into troubles with suppliers and that spelled the end for them.
NSMB: Who has done it right?
KEN: Kim Steed has done it right. I graduated with Kim from high school and have been buddies all this time. We used to compete for jobs in the shops back then; we both went for the same jobs but I got the one at Robson Cycles while he got the one at Bike Seller. I even worked at Steed for four or five months after graduating. His is a good example of the way to do it: slow, stable growth, inventory control and shrewd management.
NSMB: How does it feel to be back in retail?
KEN: Awesome… stressful but it is what I love. 

  Andy Wardman in the service zone.
NSMB: How can bike shops excel? What has been your model?
KEN: Service comes first and we have tried to be open to all customer types. Everyone here has a wide experience of bicycles so we try to relate to everyone of our customers, whether they are mountain bikers, road riders, commuters, BMXers, whatever, we don't discriminate. We also try to have great product selection and stock brands that are in favor of independent bike stores. Sometimes with products that are a little different than other shops; perhaps a little niche.
NSMB: What about your staff?
KEN: All our staff were referred to us. Ruben went to Cap College and was referred to us, Max was referred to us from Orange, etc. We know that staff is the most important thing. We find the best staff we can – staff that are recommended by others – and then treat them well. It is very important to value your staff. I've worked at places where they actually said that staff didn't matter because everyone was replaceable. That's wrong, all wrong.
NSMB: So what about Rick?
KEN: Rick is my business partner. We worked at a lot of shops together in the past and he has been a mechanic since he was 13 years old. He has three degrees (Kinesiology, teaching and 18th Century English literature) which makes him one of the smartest guys I know. He is also legally blind, which is what makes him so good as a mechanic because he feels things out so carefully. He also relies on bicycles as his mode of transport.
We had worked together in the past so when I was thinking about starting the shop I called him asked him whether he wanted to join me. At the time I was hating my job so I phoned him up and said 'if you want in then tell me because it will be me and you 50% partners'. Then while I waited for his answer I got another job and the day I said yes to that new job he called me and said yes to the bike shop. So I was stuck in that crappy job for a few more months till I could leave. 

  Ken's partner in business, Rick Loader.
NSMB: What is the future for Lynn Valley Bikes?
KEN: Keep it small… for now. We are happy with Lynn Valley as our territory but perhaps one day we will branch out. We want to rely on the word of mouth for our business growth. We want a good reputation.
NSMB: What are your Management mantras?
KEN: You have to have the management on the front line seeing what is going on. You have to be in touch with what is happening, speak to customers and speak with staff for their idea of what is going on.
NSMB: I notice you talk about having a good relationship between other shop owners?
KEN: Yes, we have a good relationship with Kim at Steed and James at Obsession. I'm on the same hockey team as James and we just won our league championship. Dean Payne (founder and CEO of BCBR) and Darren Butler (Endless Biking) are also on our team. Myself, Kim and Willy from John Henry are all 40 years old this year. All of us were born in the later half of the year. Perhaps there is something in that.
NSMB: Let's go back to when you started to get into biking?
KEN: In 1989 I heard a lot about mountain biking and once saw a race on TV. I remember thinking, "Wow! people race mountain bikes?" Then in 1990 I competed in my first race at Cypress and knew I had to get into it. The Burnaby Classic at SFU was my first race. I walked 90% of it because I wasn't bike fit.
I began traveling a lot to the races, touring for three or four years. Every year we would go to the Cactus Cup at the start of the year. Then in 1994 I got back into hockey and got injured. I sat out and lost a lot of fitness. I saw a lot of younger riders coming up and killing it. I had traveled a lot, spent a lot of money following the racing and had nothing to show for it. Back then it was all XC racing but in 93/94 you could see the DH start to creep in. You would go to races and there would be XC race, DH race and maybe Dual Slalom event at the same event.

  Max Mackay.
NSMB: How did you get into the more extreme side of mountain biking?
KEN: Around the same time I realized I loved riding and not racing. Wade met Digger who wanted to film for his movie. Then Wade invited me along and Digger asked me to shoot. All of a sudden it exploded. The coverage that riders got was huge compared to what they would get for going to a race. A video back then would come out and people would watch the VHS tape for a whole year until the new one came out. There wasn't any internet so the videos lasted and meant something. Sponsors loved it because of the exposure freeriders were getting.
NSMB: You were backed by some companies and became a figure didn't you?
KEN: I got more sponsors freeriding than I ever did racing. In the summer I would work just two or three days a week because I wanted to be out scoping and filming. I got tonnes of equipment but I watched Wade start to get paid. He was among the first to get paid. Companies and riders figured out that one minute of video was worth X amount of dollars. In the last year of riding hard I got paid. Then I crashed.
NSMB: Tell us about the crash…
KEN: I was filming for The Ride Guide and crashed. I landed on my hand and pushed my own elbow into my stomach. I didn't realize it at the time and kept going but later I stopped at the shop I was working at to use the toilet and all that came out was blood. All blood. I lost a kidney effectively.
I stopped pursuing freeriding and saw more of the young guys coming through. I also knew I wanted to go to school and then start my own business. And so there it is.

  Ken and Rick, proudly serving Lynn Valley since 2010.
---
Ken is one among a group of people who have supported the North Shore scene since its beginnings. These people form the Core Shops. Do you have any stories about Ken or Lynn Valley Bikes? Tell it below…