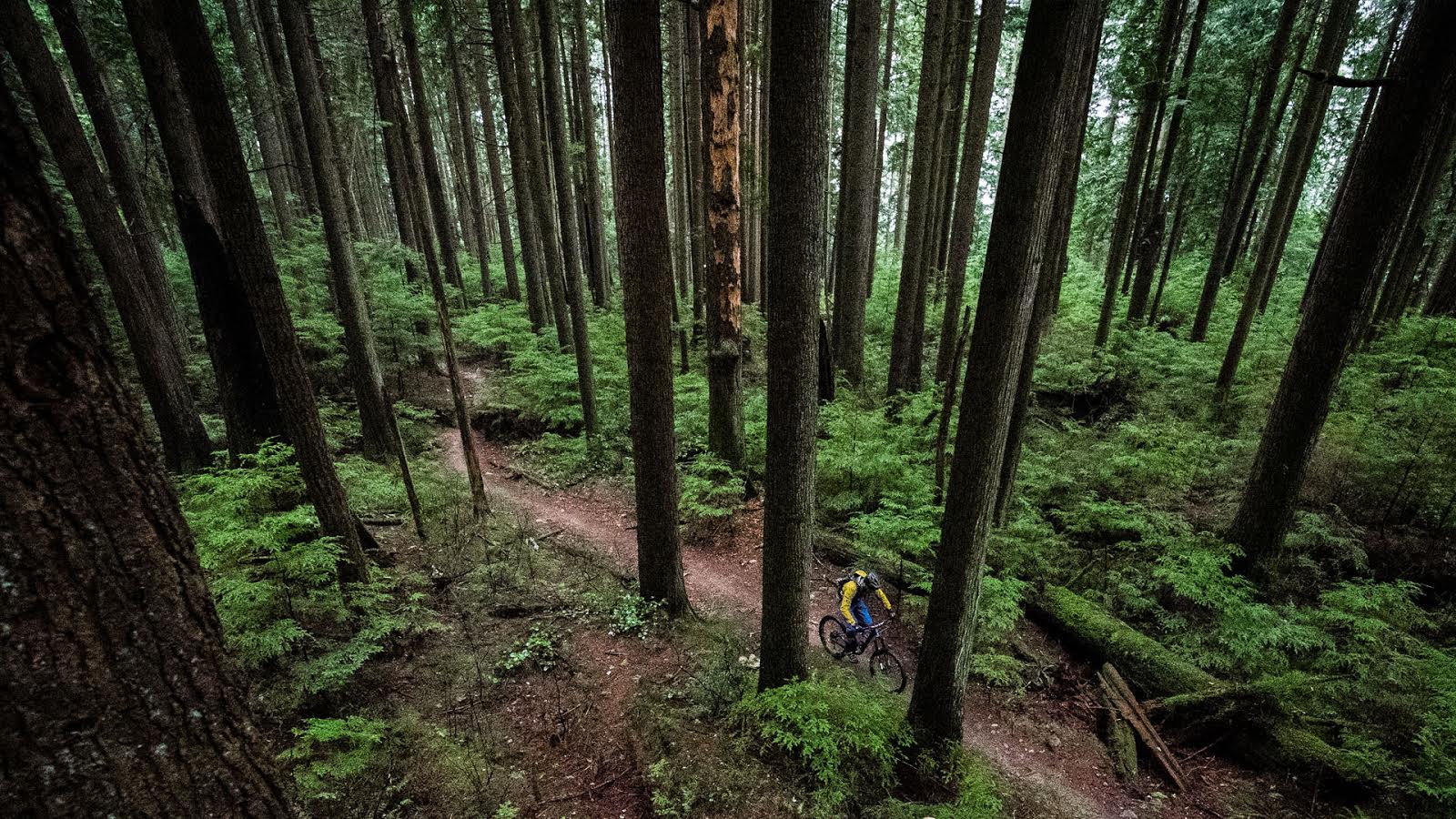 Avid XO Trail 4 Piston Brakes
These days we are riding lighter and shorter travel bikes harder and pushing them into terrain previously thought off-limits. Manufacturers are coming out with wonder bikes whose numbers add up to more than the sum of their parts, suspension has progressed to the stage where we can ask, 'what is too much travel?', and components don't have to built from ship yard refuse in order to be resilient enough for the battering we try to hand out.
Downhill duties on XC bikes is now possible. Like a return to the mountain bike roots of the 90s we can ride one bike almost everywhere. With amazing product, the real weak link might be us riders. As we expect our trail bikes to descend as well as a DH bike it put more demands on parts like brakes. Avid identified this and have developed the X0 Trail, a brake for the guys whose trail bikes are pretty much miniature downhill bikes.
WHAT?
The X0 Trail is a 4-piston dual-diameter (meaning the pairs of pistons are 16mm and 14mm) caliper with a lever that has all the features of the Elixir 9 brake (tool-free contact and reach adjust, MatchMaker compatible) but also includes a lever pivot bearing.

  The new lever pivot bearing.
In many ways you could say it is like a scaled down Avid Code brake. Very scaled down because at 340 grams the X0 Trail is only 7 grams heavier than the previous X0 2-piston brake (not the revised one we spoke about previously). This makes it the most powerful brake in its class, according to Avid stats.

  See, science and numbers. However, power is nothing without control…
This brake is intended for XC/Trail/AM use but I expect we will see some weight weenie downhillers applying this brake to their bikes. The brake is available in May, will retail for $310 US, and will be available in polished silver or black.
I wanted to know a little bit more about the development behind a brake like this so I spoke with Braden Snead, design engineer at Avid.
WHY AND WHERE?
The idea for the brake came from Paul Kantor who is the category product manager for Avid. He approached Braden about doing a miniature four piston caliper brake – the ultimate trail brake. Braden continues the story, "Paul approached me quite some time ago so I did a rough concept design of how it might go together and how we might be able to get in the range of doing the design brief. There were a number of other products being developed at the time so this brake got put on the back burner."

  It wasn't a huge jump in technology or expertise for Avid engineers to create the X0 Trail but it was a logical progression once other elements of brake design were solved.
The products Braden is taking about was the Elixir 9 and Elixir 7 brake, whose main purpose was to get a good stable product performance and quality (see our previous article about Avid's refinements to the Elixir series).
The design brief for this project was quite simple: more power but keep it light. "The idea is to take that Code performance and feel and to bring it into a more lightweight Trail/All-Mountain product; something that can span the gamut of all the categories. Which is where the pivot and bearing arrangement came from."

  Looks aren't everything but the polished silver finish of the X0 Trail got me thinking…
WHEN?
"I think the caliper came up maybe a year and half ago. Maybe longer than that, but we didn't kick off really developing it till June 2011. It has been on a fairly compressed schedule but the scope wasn't so broad that we were starting from scratch. We were taking all the good stuff that we already have and building upon it."
WHY FOUR POT?
"It creates a nice compact, sleek package – and you get a longer pad that has more pad surface area, which gives better wear characteristics, and reduced noise issues. We know Formula do oval pistons and we considered options like that but there are some interesting manufacturing challenges when you do pistons that aren't round. We stayed within processes we know and can control well; this seemed the best way to go forward.

  Designers being illusionists: The Sleek design gives them not only reduced weight but the appearance of being even lighter.
"Having four pistons means we could make the caliper more compact, streamline it and not only actually make it weigh less but make it look light too. Sometimes, depending how things are laid out make them look heavier than they are actually. In the end the look is part of the ID."
DUAL DIAMETER?
"The front piston is 16mm and the rear is 14mm. Codes have 16mm and 15mm diameter pistons. Really what it comes down to is getting power at the level we want. Our goal wasn't to match or exceed Code in terms of power. Codes are great for the people that want sheer power. XO is great for people that are equally comfortable on XC bikes and DH bikes. We wanted to split the difference of the two calipers.

  16mm and 14mm pistons as seen from the split caliper body. Pistons removed on the right hand half.
HOW DO YOU DESIGN MODULATION?
"Some of it comes into the difference in piston size between the master cylinder and caliper. There is also the leverage, or linkage, of the blade and the push rod system that is pushing on that cylinder in the lever.
On all our brakes we have stuck to the same 9.5mm master piston. We tend to use caliper pistons to play with our power. If we want more power we tend to up the piston size. For modulation we tend to focus on mainly the linkage structure in the blade."

  Modulation is primarily designed into the lever and linkage. Post-Juicy we are seeing Avid brakes with more progressive power stroke.
"Going back to the Juicy brakes, one of the complaints we had was that they tended to have a falling rate – if you pulled on them they would hit hard and you'd have good power at the start, but as you got deeper into the stroke the power would plateau a bit. When we moved onto Elixir we wanted to move to more progressive rates so the deeper you get into the stroke the more power you have.
Some of that plays into the location of the pivot and the shape of the blade so you are using the natural strength of your hand. We changed the cross delf and moved it forward so leverage was less at the start but ramped up more as you pulled."
ON THE TRAIL
I spent two rides on the X0 Trail brake while riding in Santa Cruz in February. This was enough time to assure myself that the brake still has all the things I love about Avid brakes: ergonomics, feel at the lever, and modulation. The Avid blades have always fit just perfect in the crease of my index finger and line up perfect on a cockpit which is getting as busy as it gets simple.
The trails we rode on were fast and flowy, the type of terrain that required modulation to assist with power. On these kinds of trails you can't just have the wheels locking up or feeling like you are dropping an anchor from a speed boat going full tap. Here the X0 Trails passed with flying colours. With a feather light feeling and with easily intuitive power modulation I felt very comfortable with them right away. The X0 Trails retain that wonderful dimmer switch power delivery that makes the Elixir series so very good. Some brakes out there may feel more powerful, but the way in which they deliver that the power is so blocky or abrupt that they become tiring and awkward.
As for power, there was plenty. I don't want to say more until we really get a chance to have them on some horrible, snotty, rough, and very long downhills. The descents we rode were short and stunted and required brake moderation rather than brake power. This is not to say that I was underwhelmed by the brakes, not at all, I would just rather reserve judgement for later once we really put these brakes on the line.
On the face of it, these could very well be the brakes for people who like to get out and away from it all but like to get rowdy on the way back down.
---
With more power, the feel we love, and only scant bit more weight, Avid's XO Trail brakes look to be a winning combination. Think they'll be making their way on to your AM rig this year?