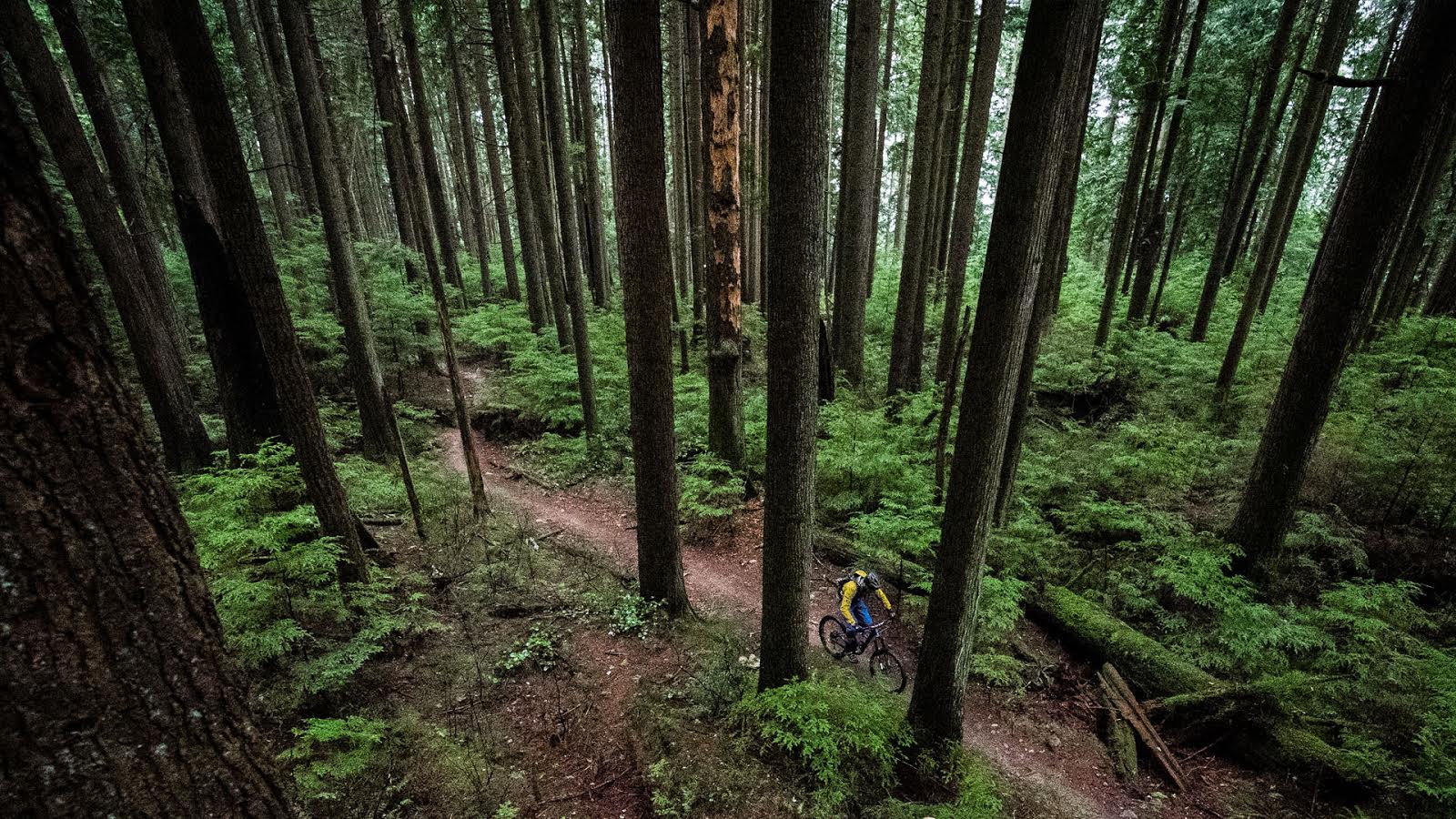 Best of Best Shot
For the past month we've been running a contest on the NSMB Facebook page asking our fans to Hit Us With Your Best Shot for the chance to win a brand new Norco One25. The final tallies are being made for the deadline this Friday, March 16, and there are some real banger shots in the contest album. Here is a selection of some of our favourites; if you want to vote for your friends' photos, head over to the our Facebook page, "Like" the page, and then "Like" the photos you think should win.
---
We're going to start this little collection with some shots that capture the experience of riding: getting to the trailhead, the destination, whatever that may be. Getting out on the trails with your buds and having a good time.

  Kurt de Freitas starts us off with a timeless hike to the trailhead with ominous fog.

  Tyler Reid caught Ray Robb in the late fall along the Bow River in Calgary, two days before the winds picked up and took most of the leaves off the trees.
And once you're out there, you might want to sit back and enjoy the view. Our bikes are wonderful machines, capable of taking us to some far-reaching points. A bunch of readers sent in photos from the BC Chilcotins, as well as other alpine destinations.

  Craig Hunt getting into the backcountry with Jim Campbell and Ina Hunt.

  Something you won't see every day – enjoy it when you can. Photo ~ Kyle Funke

  Ben Crook-Hanna snapped this alpine shot of Tyler Lelacheur, Kevin Glavas, Thomas Thacker, and Jinya Nishiwaki in the Chilcotins.

  Piotr Zdanecki with a ridgeline drop in over an inversion layer.
But once you get to the top, you can start going down… and that most exciting part of the ride happens to show up in almost everyone's photo collections. We received a bunch of shots from the Sea to Sky corridor, where rocks and moss rule the descents.

  Justa Jeskova snapped this one of Dom Wrapson in Whistler.

  Ben Shaw riding some interesting woodwork in Pemberton BC, shot by Corrie Mullin.

  James Healey submitted this shot of Kevin Landry on a rock drop in Squamish last summer.

  Toby Cowley caught NSMB Team rider Stephen Matthews getting rad way up high…

  Mike Kirk shot this one of Ben Reasbeck in Kelowna BC.

  Brett Tippie followed by Andrew Baker on Seymour, shot by James Healey.

  Christine Lynch shot by Coast Mountain Photos.
And, of course, the airtime. Big airs are always entertaining, and it's no surprise that lots of people chose to submit photos of themselves or their riding buddies getting rad.

  Paul Hodgson with a great Coast shot of Derek Tryon.

  Stephane Pellitier whipping it for Chris Pilling's lens.

  Justin Segall by Long Nguyen.
  Possibly the biggest air in the contest? Honza Volf going large, shot by David Domanský.

  An amazing silhouette of Kurt Sorge by Mitch Creek.
This is just a selection, and there are a ton of rad shots that haven't been included here. Hit up the NSMB Facebook page to see all the shots, vote for your favourites, or to upload your own photo. The contest runs until this Friday, March 16th. Thanks to all who have submitted so far, and good luck!
---
Do these shots get you pumped to get out there? Think you've got a better shot? Hit us up!