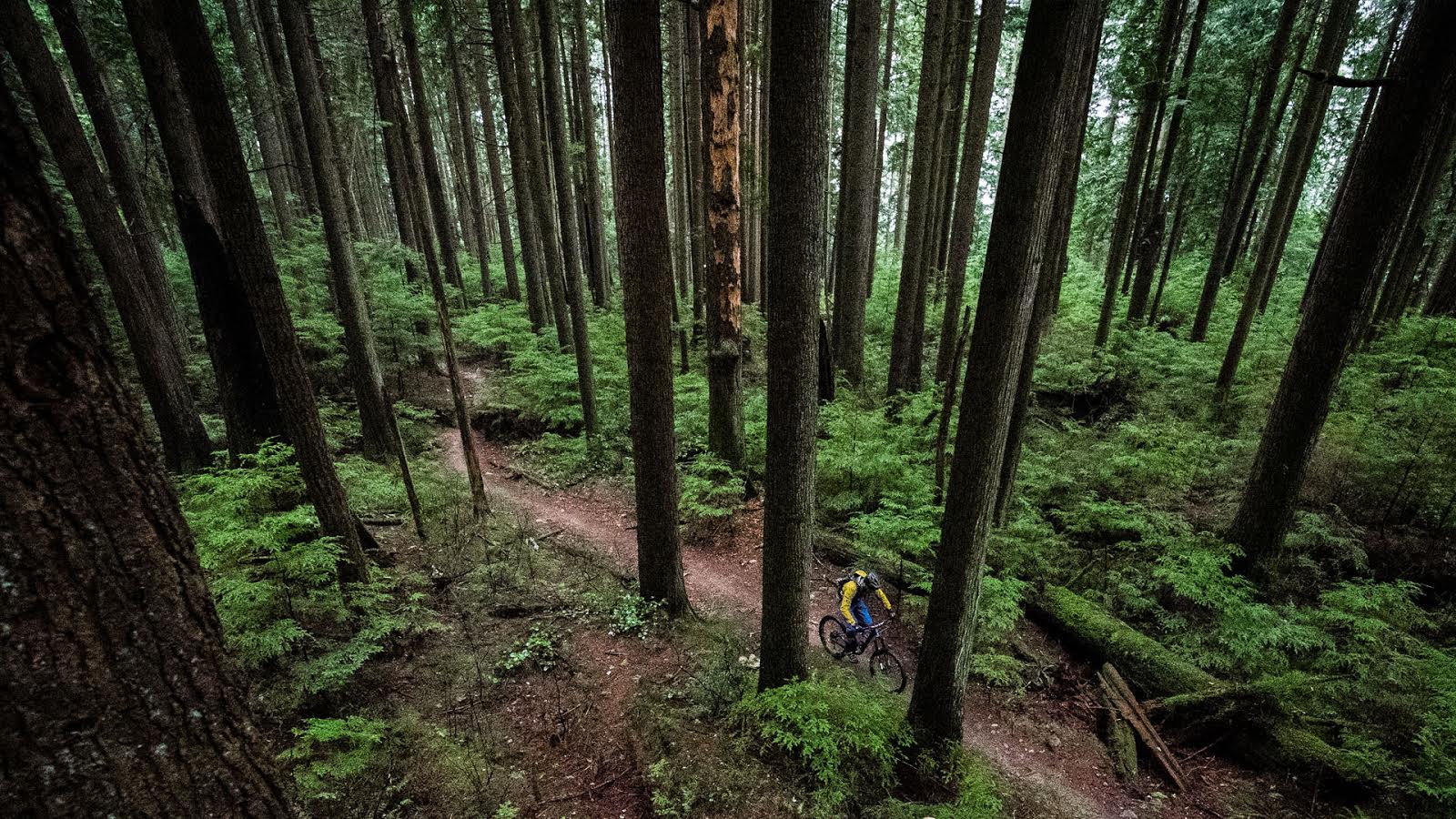 First Date: 2012 Devinci Dixon SL
Devinci's 2012 Dixon shares the same platform as the 2011 edition, but features some refinements that help bring it up a notch. Using the same Split Pivot technology as Devinci's other full suspension frames, the Dixon runs 145mm out back and a 150mm up front and a 67º head angle – numbers that look pretty Shore-friendly as the idea of a bike for these parts continues to become more uphill-oriented.

  The 145mm travel Dixon frame boasts a Dave Weagle-designed Split Pivot suspension and adjustable 67º or 67.5º head angle. The Dixon is welded in Canada and has a lifetime warranty on the frame. The SL is the top end model with Easton Haven and XO drive, coming in at $5799 CDN.
When I was armchair engineering the Dixon, I wondered if the relatively high bottom bracket would make the bike less of a descender than I'd like. After a few rides, I can report that this unfounded assumption was way off base. While the Dixon is a capable climber, it's really at home on the descents.
After the bike arrived, I was stoked to see a nicely spec'd bike with complementary component choices. Monochrome colour schemes don't often excite me these days but the combination of gold and bronze with the metallic grey frame does look quite nice. It looks like a desaturated version of what could be a gaudy colour scheme. Smatterings of Easton Haven prevent the Dixon SL from receiving any unbranded or house-branded parts—a nice touch.

  A bike that should be capable of the climbs here on the Shore – but still good for the descent. Photo ~ Garrett Thibault

Upon jumping on the bike for parking lot tests, I immediately felt the stem was too long – that feeling where the bars flop back and forth due to a slack head angle and relatively long fork. Since the Dixon's intended purpose is Trail or in the local case Shore XC, I was willing to give the 85mm stem a try. I did so for two and a half rides, but eventually gave in to the 70mm I was carrying and that turned out to be a good choice.

  Pointed downhill, the Dixon eats up bumpy trail better than one might expect. Photo ~ Garrett Thibault

In the cockpit, a 711mm Easton Haven carbon bar holds the Matchmaker clamp with Elixir 9 brakes and XO shifters. Some riders may prefer a wider bar, but the 28″ Haven is a good happy medium. On the second ride I took a good gouge out of one grip, making me question their longevity – though that could have been a coincidence. While the bike is not spec'd with a dropper post, a Reverb would integrate nicely with the existing components and cable routing on the frame. The Selle Itala SL saddle is a stiff and light XC number, but turns out to be comfortable under me.

  The top-end Dixon SL gets Haven wheels, seatpost, stem, and carbon bar, as well as Fox Kashima at both ends. Elixir 9 brakes mount with XO shifters to round out the cockpit. Check out our detailed look at the Haven and Havoc wheelsets HERE.

The Easton Haven wheelset matches the Kashima Fox Float 150 FIT nicely – but more importantly, they perform well. The Havens come in at 1650 grams, helping keep weight down, and are hand-built to ensure long-term durability. Tires are a personal matter that comes down to riding style and local conditions, so take this with a grain of salt: single ply Nevegals aren't exactly my favourite tire.

  Carbon Sram 2×10 cranks in a climbing-friendly 38/24 combination and the XO front changer. The 2012 Dixon frame is equipped with ISCG tabs if you choose to go that route.
Helping with the climb is a 38/24 2×10 with carbon arms. Under that crankset hides the new-for-2012 ISCG tabs – a good addition to a bike in this category. I've heard a lot of comments lately saying "I'd consider this bike if it had ISCG tabs…" – the Dixon will no longer have that criticism. As the aggressive XC market evolves, we should see more bikes coming with tabs and 2-by guides. The longevity of a frame in your stable has to do with its adaptability over the years.

  Here we get our first look at the axle-concentric split pivot and internally routed rear deralleur cable.
Along that line of adaptability is the 142×12 rear through-axle, which hosts an 11-34 SLX cogset and XO changer. Devinci provides a neoprene chainstay protector with the frame, and chainslap is all but unnoticeable.
| | |
| --- | --- |
| Frame | Aluminum Optimum G04, 145mm travel |
| Rear Shock | Fox Float RP23 XV Adaptive Logic Boost Valve |
| Fork | Fox Float 32 RLC FIT 150mm Kashima |
| Headset | Cane Creek 40 Series Zero Stack |
| Rear Der. | Sram XO 10-speed |
| Shifters | Sram XO Matchmaker |
| Levers | Avid Elixir 9, tool free reach and pad contact adjust |
| Brakes | Avid Elixir 9, hydraulic disc, metallic pad, HS-1 rotor, 180mm F / 160mm R |
| Cranks | Sram Carbon S2210 38/24 |
| BB | Sram GXP |
| Chainguide | ISCG tabs on frame |
| Bar | Easton Haven Carbon riser, 711mm |
| Stem | Easton Haven, 85mm |
| Pedals | Not Included |
| Post | Easton Haven 31.6mm |
| Saddle | Selle Italia SL XC |
| Front Wheel | Easton Haven 15mm through axle |
| Rear Wheel | Easton Haven 142 x 12mm |
| Chain | Shimano SLX HG74 10-speed |
| Cassette | Shimano SLX 11-34 10-speed |
| Rims | Easton Haven tubeless compatible |
| Tires | Kenda Nevegal 2.35″ single ply |

  The Dixon's geometry is adjustable via the oval chip on the seat stay bolt. 67º with a 13.7″ BB or 67.5º with a 13.9″ BB. Don't let those numbers lead you astray – the Dixon doesn't feel as high as it might seem, and likes to use its travel without you even being aware of it.
Moving to the linkage, you can see the adjustable geometry option at the seatstay bolt. Switching this chip gives both 67º and 67.5º head angles with 13.7″ and 13.9″ bottom bracket heights respectively. The Float RP23 Boost Valve shock is Kashima coated just like the fork. Our test bike shipped with a non-Adaptive Logic shock – likely an early spec change on the demo model.

  The main pivot is a simple single unit with large bearings.
The business side of the main pivot. The size of the hollow axle is a good indication of the size of the bearings. The concentric axle pivot means the Dixon doesn't act like your usual single pivot in terms of braking and suspension relations.

  Elixir 9 brakes with 180mm front rotor and 160mm rear, plus the new direct post mount.
Nicely fitting forged pieces and clean welds. Another view of the concentric axle pivot out back, and direct post mount on the seat stay. I'm still at a loss for criticisms of direct post mounts; you've got to be pretty ham-fisted to strip out something like this.

  I have only ridden the Dixon in the Lo setting so far, and it's likely that's where it'll stay for Shore duties.

  The Dixon likes to go downhill, but I preferred a 70mm stem to the 85mm unit provided. Photo ~ Garrett Thibault
I was pleasantly surprised with how well the Dixon descends. I've found that it likes to be opened up and allowed to plow chunky sections with speed. The suspension soaks up bumps effectively, even when pointed at rock gardens and other chunder, and when you want to get airborne the bike remains balanced and stable. Many bikes in this category don't like to pop and manual, but the Dixon retains that fun quality I look for.

  The bike looks tiny in this shot but I assure you it's just the lens… the large Dixon has a 24″ top tube and is padded on both sides by small, medium, and x-large sizes in fairly standard 22″, 23″, and 25″ top tubes respectively. The XL is new for 2012, indicating Devinci's commitment to the platform. Photo ~ Garrett Thibault
Our Large test subject comes in at a hair over 28 pounds with pedals. During the test period this bike will likely see a change of tires, a dropper post, and more stem swappage – so that weight will probably go up a bit. MSRP for the 2012 Dixon SL is $5799 CDN.
---
The NSMB.com First Date is a brief overview of a product's specifications, as well as our initial impressions both on paper and in-field. It also covers how the marketers and engineers have pitched the product and how they intend to see it used – plus how we intend to test it, where it is being tested, and how long we expect to be testing it for. This is not a full review of the product yet but provides the background for a forthcoming review and allows reader feedback – perhaps there is something specific that readers want to find out about this product and the further review stages can address that.
---
Do the Dixon's understated looks turn your crank? Is your Shore bike getting smaller with time? Your impressions below…