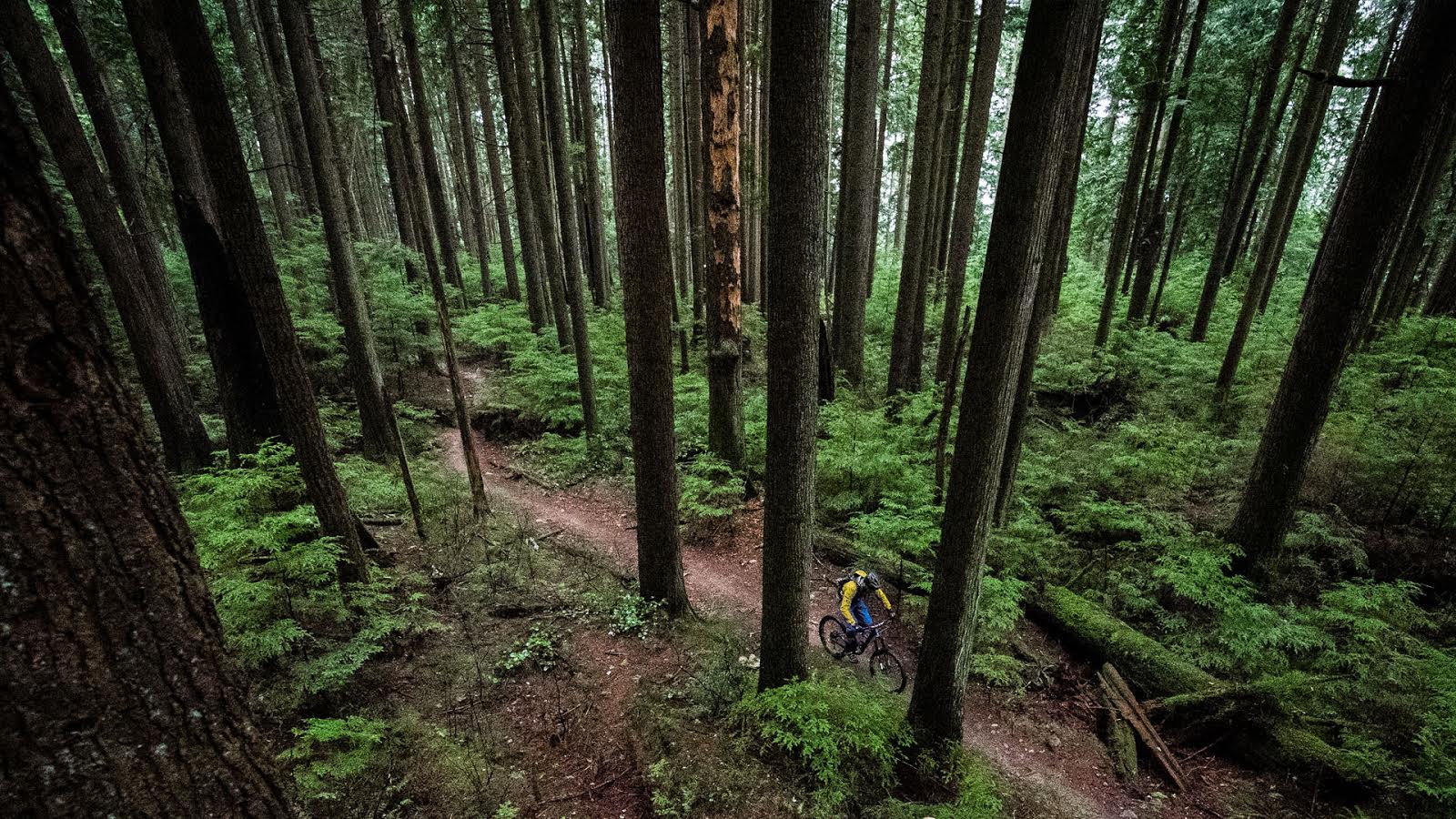 Northern Exposure #2
A couple weeks back we did a feature called Up and Coming with local photographer and videographer Brock Anderson. The response from other shooters who were interested in being part of the project indicated we could easily broaden its scope. As such, the title didn't seem to fit any more. We've renamed the feature Northern Exposure, but the intention is the same: quality photo and video, and good stories.

NSMB.com's Northern Exposure is intended to highlight photographers and videographers who don't necessarily work in the field professionally, but have high standards for their artistic output and produce on a regular basis. Every photographer has a unique view of their riding environment, and we hope to bring you into their world and see what makes riding and shooting important – and interesting – to them.
---
Northern Exposure #2: Jeremy Saunders


  Self Portrait on the teeter on a North Shore classic, Ladies Only.

NSMB: What came first for you: mountain biking, or photography?
Definitely mountain biking. I used to be into motocross and a friend was always trying to get me to come out mountain biking – but I couldn't understand why you would want to pedal a bike when you could have an engine. He finally convinced me to go for a ride at Burke and I was instantly hooked. I left the mountain, drove directly to a shop and bought a bike. As for photography, I was always interested in getting pictures and video to show friends and family what we were up to, but the quality of my point and shoot camera pictures was never great.

  Neil rolling a technical moss line on the Shore.
NSMB: What camera do you use, and what are your favourite lenses?
I shoot with a Nikon D7000, which is an upgrade from my first digital SLR, a Nikon D90. As far as favorite lenses, it really depends on the conditions and what I am trying to capture. If there's a lot of light, I will use the 14-24, 24-70 or the 70-200. Most of the time in BC, especially on the Shore in the winter, there is very limited available light – so a f/1.8 lens, like my 35 or 50mm, makes it possible to capture something good without having to boost the ISO too high.

  Self Portrait riding one of Digger's latest creations on Upper Skull, aka Big Stupid.
NSMB: Do you ride with your camera gear, or do you like to keep the proverbial church and state separate?
The biggest problem I have is trying to balance my desire to take photos with my addiction to riding! Many times I bring the gear, but the group is having such a blast riding that no one wants to stop for a photo session. If we're shuttling, we will leave the gear in the truck and then do a photo run at the end of the day. Lately I have been trying to minimize the amount of gear in my bag so I can take the camera with me more often. I find that with just the body and a 35mm lens, I can do a decent job of capturing some of the hidden gems that happen on a ride.

  Jimmi enjoying the new features on the trails in Squamish.
NSMB: What is it about mountain bike photography that keeps you coming back?
The desire to capture the good times I spend with my friends. Even though most of them don't always want to stop for photos they all really enjoy them when they see them afterwards. I also see it as a way to continue to grow as a photographer and learn more techniques and tricks to capturing stunning images.

  Neil dropping into a technical rock line.

NSMB: Do you regularly shoot things that aren't riding?
Mountain biking is definitely what made me buy my first cameras, but photography has grown into something I enjoy when I can't ride. I take pictures of anything and everything lately, including headshots, technical trickery and some commercial work for friends. I'm a couple of months into a 365 challenge, where I have to take and post a picture a day for a year. I have days I wonder what I have gotten myself into! It is definitely making me pay attention and look at the world around me with a different perspective.

  An alternate way of capturing an image of the trusty shuttle truck.
NSMB: Is there anything about your approach to shooting that you feel sets your shots apart?
Mainly that a lot of my photos are of me riding and I take them myself. As I said, I sometimes find it difficult to get my friends to stop riding long enough to set up for a photo, so I often go by myself. I decide what I want to shoot, set up the camera on a tripod and remote trigger it from a button on my handle bars. It works well, but takes a lot longer as there is a lot of back and forth between the camera and riding.

  Self Portrait taking advantage of some new cedar work on the roller coaster on Crippler on Fromme.
I found out the hard way last summer that it's a bad idea to try and photograph big tricks this way as you get so focused on the picture that you forget to ride! I went over the bars on the Pile Driver drop on Seymour, but I lived and actually got a decent shot of myself crashing.

  Self Portrait – learning the hard way what happens if you are too focused on getting the shot and not on riding!
NSMB: What kind of bike do you ride, and what's your favourite trail or ride?
Last year I rode a Santa Cruz Driver 8, which was a decent all round bike for climbing places like Fromme, but also still fun at Whistler. This year I have abandoned my "one bike fits all" strategy and gone with dedicated DH and All Mountain bikes. For DH I am riding an Intense M9 and for those days when I have to earn my descents I have a Trek Slash 8. I have been able to put a few days on each of them and am very happy with the results. It sure makes a difference to have the right tool for the job!

  Neil feeling the flow of the trails at Roberts Creek on the Sunshine Coast.
The work Digger has been doing on Fromme is amazing and makes me smile from ear to ear every time I ride it. If you are ever riding and see him working you should stop and buy a video as he builds all of that awesomeness out of his own pocket! Other places I frequent as often as possible are Roberts Creek, Squamish and Pemberton. We really live in one of the best places on earth to ride.

  Self portrait on a foggy North Shore day on Upper Skull
NSMB: Where can we find your photos outside of NSMB's Northern Exposure?
I have an account on Flickr HERE. If you want to see what I have done so far on my 365 you can see them HERE.
---
Jeremy's self-portraits are a unique way to get the shot you want. Have you ever considered it? Thoughts, comments, criticisms welcome below. Interested in being featured on Northern Exposure? Shoot an email to Morgan Taylor at [email protected]