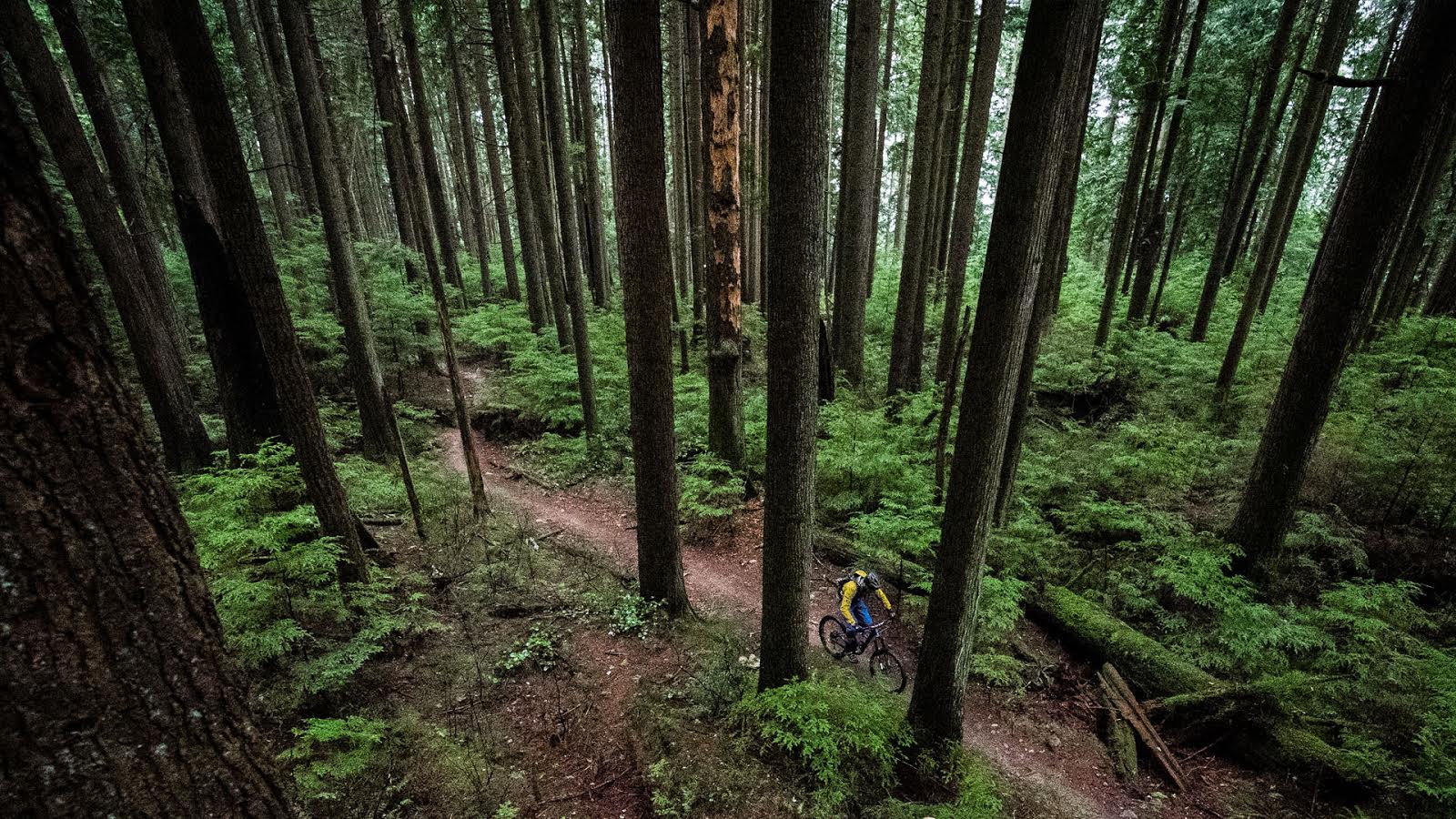 The Ultramontane Interview
Here we are at the end of 2012 – time to look back on the good stuff. Who can't but fondly remember the Ultramontane series? This one pokes a little fun at their format while getting to know the dudes.
---
A few months ago, Connor Macleod and Derek Dix set out on a project that even they weren't aware of the scope of. Ultramontane is a way of life, and for these two creative young guys it has enveloped their lives.
I joined the boys on a recent shoot on the Shore with Wade Simmons. The photos and captions tell the story of our day on the trails, and the interview tells the story of Ultramontane.

  Connor shoots video and Derek shoots stills. Connor in the black jacket and Derek in the red – and a tiny bottle of possibly my new favourite pick-me-up, Spicebox Whisky.
NSMB: Ultramontane. Ultramontann? All-montane? [Laughter…]
Connor and Derek. The Dudes.
So, this aesthetic that you guys are going for, it's sort of this old-timey, canvas rucksack, knife in your belt type thing – where did that come from? What's the inspiration? Is it a period thing?
Derek Dix: We just want to get mountainous.
Connor Macleod: This is just what Derek and I have been doing since day one, since we were 12 years old and we started building, like Overflow – we'd just grab our tools from our parents' shed and start hiking up the mountain and you know, we embellish it a bit for the video to get the feel, but it's what we do pretty much.
DD: Yeah, the whole aesthetic too, just comes from Paul Bunyan maybe. Work shirts and rucksacks, and that's that. Nice handmade goods that are durable.
CM: Yeah we like the handmade stuff… [laughter]
NSMB: OK, so we're in this digital age, and we feel like right now we're at a peak in terms of our ability to produce and everything, but obviously we're still on the upward slope. Would you say that your self-produced work – riding, shooting, doing it all – harks back to the earlier days of mountain bike shooting? Where riding and shooting was just a more everyday thing?
CM: Rather than a big production?
NSMB: Yeah, exactly.
DD: Everybody goes out and they have their personal connection with the ride; since we've been filming, riding, and building together for so long, we knew we'd be able to have that organically create its own feel.

  Mouseover for another shot… Connor and Derek always get a different take of a scene, even if it's from the same angle… here they had Wade high speed blasting a rooty downhill for a long lens shot.
NSMB: How long have you guys been riding together?
DD: Since we were in Grade 7? Grade 6?
NSMB: How old are you now?
DD: 24
CM: 26, yeah it's been a while…
DD: Like 12, 13 years…
NSMB: And have you both been doing photo and video for that whole time, or when did that start up?
DD: I got into photo before I even got into riding. My mom gave me her old Pentax 35mm SLR and I was like "whoa, I can do whatever I want with all the buttons…" and it kinda took off from there.
CM: And me, I would always shoot with Derek – as the rider – and then I was always interested but I was sort of trying to chase the mountain bike racing dream at the same time and going to school, so I never was able to get into it myself. And then, after I graduated, I realized I don't want to be in an office doing marketing and that kind of stuff – I want to be doing something creative. So I bought a cheap micro 4/3 and shot all the panorama race footage and after that I was hooked on it, and then I went hard with it after that. So I've only been shooting for about two years.
NSMB: But you just jumped on, figured it out, and enjoy it.
CM: Yeah. Learn lots from Derek for sure.

  Wade was adamant that the boys shoot him climbing on his Element – and climb he did, impressively cleaning one hairy section of trail after another.
NSMB: OK, so about equipment. Anybody can go out and buy themselves a capable camera and a computer and get to work. Derek, has that changed your approach to the way you produce?
DD: Not really, the majority of the stuff I'm publishing right now is just shot with a 28mm prime lens on my 7D and that's it.
CM: [to Derek] You just walk around with that setup… He never even breaks out the lights.
DD: Yeah, I'll walk around with my backpack with 3 lights and light stands and my 70-200 and pocket wizards, and then I just walk around with my 28 on and snap.
NSMB: Keepin' er simple. I was having the same conversation with Brock Anderson – he usually just shoots with his Nikon D300 and a 50mm prime and that's it, and my setup is a Canon T1i and the cheap 50. Cheap and simple, right?
DD: I can get technical too, I've got all my lights, but sometimes riders are too impatient for me to break them out, set up, and all that…
NSMB: So, in doing this project, are you guys doing a lot of photo shoots, video shoots, that kind of thing where it takes a long time to set up, or…
CM: No, we hustle. Just break it out, get it done.
DD: Out every day, here's a spot, the light's good here, let's shoot it. We've definitely trained our eye to pick up anything natural. Like, oh, there's where ferns are growing 'cause light breaks through, or snow's falling there 'cause it's open and there's light. We'll just whip out the cameras and start shooting.

  Making riders go back and forth across the montane…
NSMB: Has that improved, even in the time you've been doing this project, since you're so focused on it?
CM: Yeah, we're getting pretty efficient at just getting the shot, packing up, and keeping going. Especially when you shoot with the guest riders, they don't necessarily have the patience to hang around for how long it sometimes takes to get a shot so you just want to keep the flow going.
NSMB: Yeah I find that a lot with riders. Pros, a lot of the time they know what they're going for, but then if you can take the approach to just keep the ride going it keeps the feel going too.
DD: You're coming out with us today, right? [Yeah] So you'll get a full feeling of it. Shooting with Wade, he's oh-so-patient.
CM: The most gentleman man in mountain biking.
NSMB: So, you guys are pretty committed to this project right now – how much time are you spending doing it?
DD: It's more than a full time job – consistent 12 to 16 hour days.

  Mouseover for another shot. With each release the boys do a section covering what they get up to, and a section with a guest, Ultramontane & Co… here Connor gets his turn in front of the lens.
NSMB: And does that mean you're not really working on anything else right now?
DD: Because of this project, I've started working with Banshee as their new contract photographer, helping them roll out their 29er and all that. I've also done a shoot for Chromag somewhere in between and I still do design work on the side to cover bills.
NSMB: Graphic design, web work?
DD: No mostly print, branding, identity, that sort of stuff.
CM: He did all the Ultramontane stuff.
NSMB: You are the aesthetician.
[Laughter…]
CM: I've been trying to make a go at this as my full time thing and since starting up Ultramontane I've picked up other contracts and jobs so I'm working on those on the side – busy just with film.
NSMB: Fruitful. Nice. I guess if you commit yourself to something…
DD: People see it and think "a two week turnaround for 3 months? These guys are working hard."
CM: I wouldn't be doing any of this if it wasn't for the support from my mom. She saw that I had this passion and she's definitely supported me all the way through.

  Derek sends it on a natural gap on the Shore while Wade looks on.
NSMB: So what is the point of camping up Mt. Fromme in the middle of winter?
DD: That was fun!
CM: Margus Riga's always down for an adventure and he had this idea that we'd go up and slay this trail at the crack of dawn.
NSMB: And there was snow…
DD: There was a lot, we slogged for about 4 hours. We got up to 7th Secret and that's where the snow line was. And then we still…
CM: … Slogged for another two hours or something.
NSMB: You still went? 'Cause 7th Secret's at just under 800 metres.
DD: We were like "well, we've come this far, why give up?" So we just kept going up.
NSMB: Did you have snowshoes?
DD: No we didn't have snowshoes. I was actually in my Shimano riding shoes but I brought spare socks and boots for when I was at the top. It was nice hiking with a 130 pound backpack of camping and camera gear. Then we decided just to stash the bikes in the woods, and hiked for another hour after stashing the bikes.
NSMB: So were you hiking in the dark?
DD: Yeah, we got to the gate in the dark, it was that muggy dark foresty thing for 10 minutes and then it was pitch black.
NSMB: Anything beyond that then? What's coming out of it?
DD: The whole goal was to get some early morning fog and we woke up to sun, so we're going to have to do another trip I think… we got a few good shots of night time and the fog and mist…
CM: It was a good lifestyle shoot for sure, like we got a few bangers that made it worthwhile, and a chance to test out all the camping gear – first winter camp of the season.
DD: We're working with MEC and they're providing our camping gear, so stoves, tent, all that.
CM: You should have seen Derek's backpack.
DD: It was to the nines.

  From top to bottom: Wade launches his 120mm travel Rocky Element. Did you get the shot? How'd that feel Wade? OK, I'll hit it again. Good to go! Blastoff!
NSMB: What about your backpack, Connor?
CM: Mine was pretty big but I just had a camera bag that I strapped the tent and everything to so it was manageable but Derek took a trekking backpack…
DD: … I had all the pots and pans in my backpacking sack and then we rode down Executioner the next morning. With the bag. Sleeping bag, thermarest, pots and pans, full change of dry clothes, boots, and my camera gear on top of that. Tripod, bowsaw, hatchet…
NSMB: You like riding with all your stuff like that?
DD: I'm actually more comfortable riding with my camping backpack than it is with my camera bag, it's actually designed properly. I didn't have any back pain with that, whereas I do with a normal day and my 60 pound camera bag. If the bag's made properly it really helps out.
CM: In our next release, on Friday, we have a shot where we show everything that we carry in our bags on a daily basis. It'll give people an idea of what's in there… to make this happen, you've got to slog away.
NSMB: Of course, even though we talk about simplicity, you've still got to carry all that stuff even if you're not always using it. And Connor, what do you shoot with?
CM: I shoot with a Canon T3i… I've got nice lenses but a shitty camera.
DD: It's already had to go back for warranty 'cause it got too wet. [Laughing]
CM: It's funny, 'cause on Pinkbike, there was a comment, like "I'm tired of all the pros getting all the VODs, they just have all the nice gear so it's easy to make it look nice…" Dude, I shoot on a $500 body.
NSMB: Right, that's basically the same camera as mine but slightly newer. I think that's good to hear, from the perspective of that guy who says "the pros have all the nice gear…" get yourself a $500 body and a $130 lens and you can do a lot with it.
DD: Yeah I have friends who shoot on $50 garage sale cameras… it's content, and how you're able to communicate with an image is what makes it good.

  "Good times biking" was the phrase of the day – getting out on the trails with Ultramontane is just my kind of ride. Thanks to Connor and Derek for letting me tag along, and Wade for brapping up all those scratchy climbs – a true master of his craft… stay tuned for the next Ultramontane release to see the footage.
NSMB: Which I guess is a lot of what you guys are accomplishing right now, is setting out to do it and doing it well.
DD: Thanks… that's what we're trying to do.
CM: Yeah, thanks…
NSMB: Alright, let's ride then!
---
Connor and Derek have shaped Ultramontane into something that has enveloped their entire lives – and that dedication comes through in the end product. Have you enjoyed the series so far? Any words for the boys? Go tell it on the montane below…