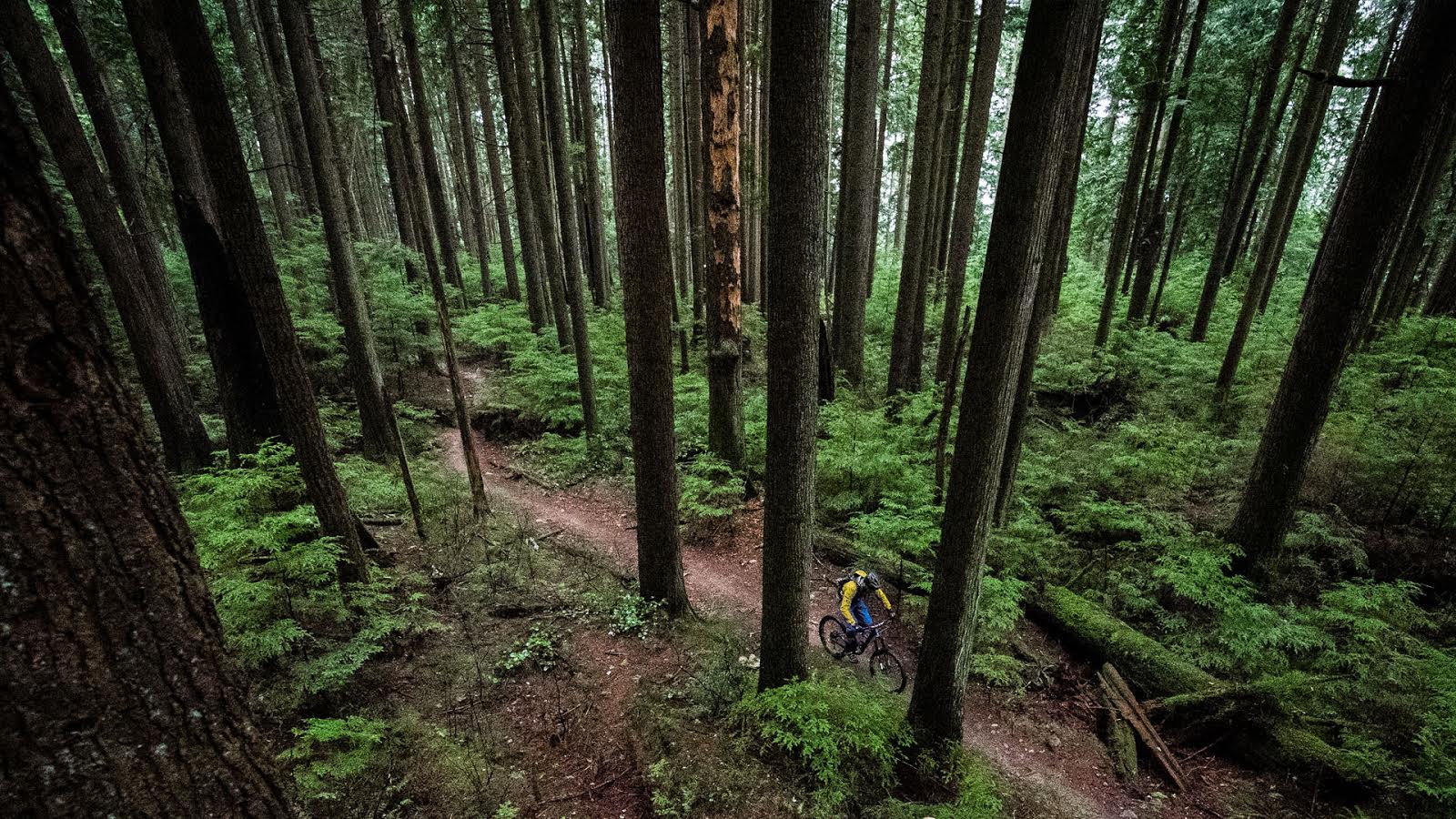 A Long Overdue Recon Mission
Have you ever lost something special? Or been at the end of pointing fingers to a devastating mistake? April 2nd, 2011 marked the day I lost Joe Schwartz' hand pump. A tool he had bought 15 years ago, before the days of Kranked, New World Disorder, and a successful mountain bike career.
The trip last year was a kickoff road trip to the Sunshine Coast, where we would have the pace for 2011 set for us by The Coastal Crew on their home tracks. After an unbelievable day of shuttles, a jump jam in The Backyard, and a beach bonfire, it wouldn't be until we reached Horseshoe Bay that Joe realized we were missing his pump, the one I had last used to inflate a tire in Dunkerton's yard.

  Photographer Reuben Krabbe looks like he has his dukes up and ready to rumble with Joe. Maybe Reuben wanted to check out a camera Joe bought 20 years ago…
A few somber weeks passed, until one day was brightened with positive news from Dylan. The pump was there, perched safely outside the Dunkerton workshop. Immediately we began talk of a recon trip… as if we really needed an excuse to go back. Our schedules conflicted, and planning fell through, but it would be in February of this year, that our entire group managed to board the ferry for Langdale again, with Sunshine in the forecast.

  Keith White and Joe Schwartz showing me that moss covered stunts doesn't rule them out.

  Seb Kemp and I watched the sun set and the waves roll in over speciality coffees from Park Royal, oh his lovely girlfriend was there too.

  My first real time riding Cypress, Cam McRae showed me what Mystery DH was all about. Nice weather for February, thanks the tour Cam!
The Sunshine Coast came at the latter half of a spur of the moment road trip for me. I boarded a plane Sunday morning and managed to fit in rides in Port Moody, SFU, Seymour, Cypress, and a night in Whistler before we boarded the ferry Tuesday morning at 9:30am. Busy schedule to say the least, but that's how to make the most of life. Once over on the Coast, we found ourselves with perfect riding conditions, a great group riders, and cozy accommodation. I thought to myself, is this place always this awesome?

  Up the Creek Hostel in Roberts Creek is a mountain bikers paradise. The owner, Martin loves riders, and his more than willing to accommodate to our breed of derelicts.

  Paul Stevens gives thumbs up to some shuttle engineering and a shining sun.
By day 2, we had completely forgot about the recon mission for Joe's pump. With countless laps out of the Roberts Creek area under our belt, and catching up with our Coastal friends, we were distracted and completely ok with it. As we loaded up for another lap of loam explosion, the calm quiet air was broken with the roaring sound from a motor. With a crack and a bang, Dylan Dunkerton came flying out of the bushes, mounted on his bright yellow steed. The valiant ginger knight had determination in his eyes, and was in pursuit of the completion of our quest. He promptly pulled up to the group and nobly presented Joe with a gift. It was his prized pump.

  Here's the magical moment.
The joyous occasion was celebrated with Cariboo beers and reflections of this weeks trail rides. As we de-constructed our bikes to fit inside vehicles, Joe lent me a set of allen keys to remove my front wheel. The set was all loose, and the Giant Bicycles logo was nearly worn away. As I turned the Boxxer maxle, he boasted about owning this particular set for over 10 years. Can you believe this guy? I returned them immediately.

  Everyone loves the last gap to berm. I could shuttle this trail all day.
Well that's it for my west coast escape this February. Check out some videos below. Thank you NSMB and all my friends who made the logistics of the trip happen, it was incredible!

  Last year we had an incredible session in The Backyard with The Coastal Crew, Mike Hopkins, Joe Schwartz, Peter Matthews, and myself. Video ~ David Peacock

  Absolutely getting slayed by a hiding tree stump. Thank you Contour for sponsoring NSMB in our embarrassing moments!

  Here's Paulo capturing some of the moments with myself and my brother Peter Matthews through his Contour Cam!
---
Stephen's a humble man for putting his crash vid in at the end there. What even happened? Speculation, thoughts about lending tools and pumps, or any other words for Stephen below…