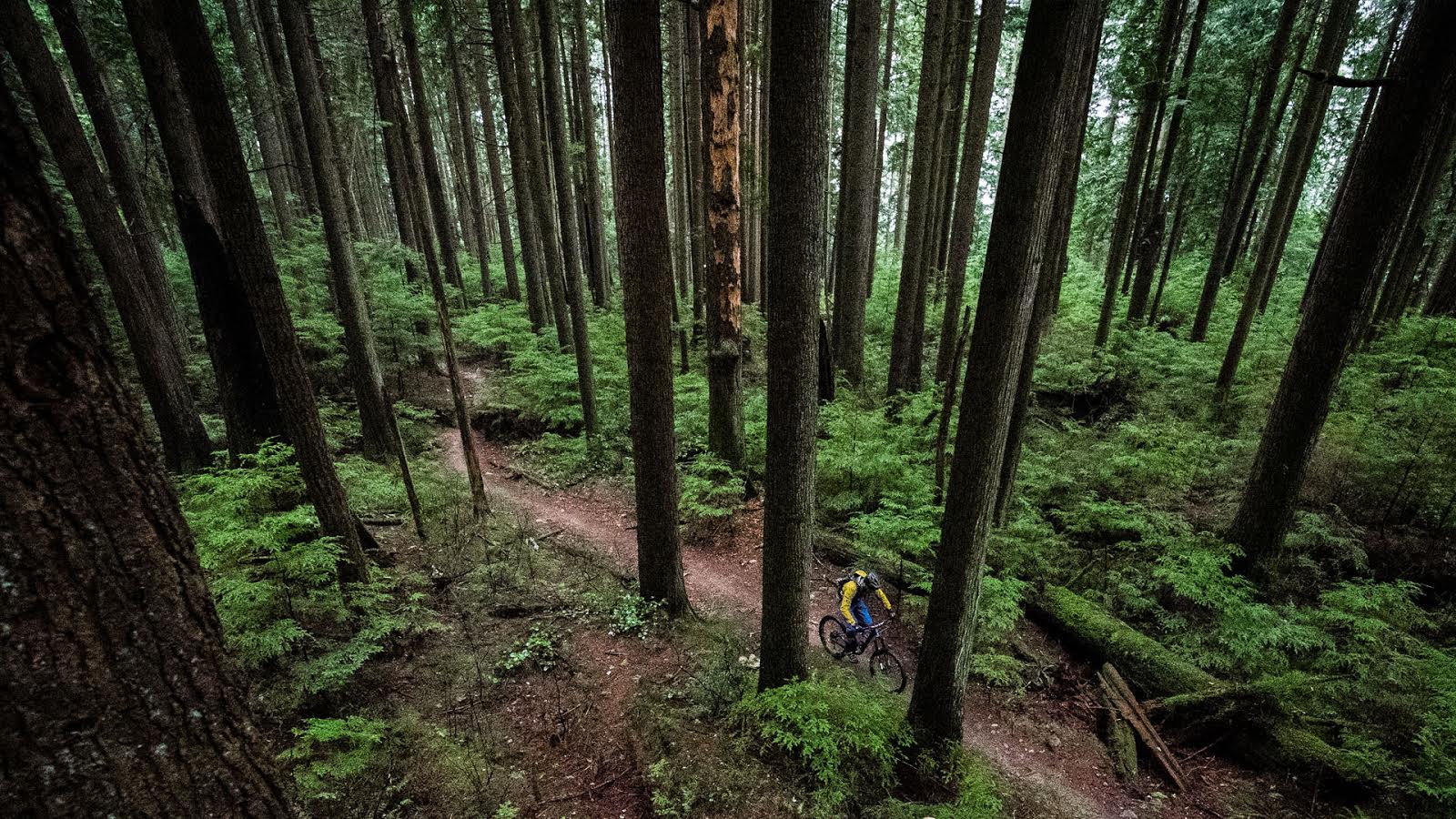 NSMB.com Presents: Up and Coming
Up and Coming is a new feature on NSMB.com intended to expose photographers and videographers who don't necessarily work in the field professionally, but have high standards for their artistic output and produce on a regular basis. Every photographer has a unique view of their riding environment, and we hope to bring you into their world and see what makes riding and shooting important – and interesting – to them.

While some artists work solely with stills and others only do video, many cross over. Blurring the lines between photographer and videographer, Brock Anderson is a 20 year old rider-shooter from Mission, BC. He shoots downhill, freeride, and dirt jumping and has been a part of the Vancouver International Mountain Film Festival since 2009. This year's Festival runs this Friday, February 17th, where Brock will be presenting his film Mountain Highs and Bro-Yos.
---
NSMB.com Up and Coming #1: Brock Anderson

   John Rempel, Bear Mountain DH Course.
NSMB: What is it about mountain bike photo/video that keeps you coming back?
Brock: Definitely all the standard elements of mountain biking are a huge factor: traveling, scenery, cool people, and so on. It's a very visual sport, so why not try to capture it? The other factor is the idea of having a creative outlet, whether it comes from photo / video or trail building, it lets my mind wander into what would otherwise be unused and restricted zones. Most importantly though, it's being able to give back to people who enjoy what they do. Seeing riders' reactions and getting their approval is like the cherry on top of a good shot. If they're happy, I've earned my beers for the night.
Do you regularly shoot things that aren't riding?
Not really, I'll shoot some landscape when I'm out building or hiking for my film photography courses, and I've shot some stuff for other people as a favour – grad / prom photos, family photos etc. – but my main enjoyment in shooting is MTB.
  Composition wise this is probably one of the most interesting shots I've taken, I love pushing the distortion of the fisheye. Rider is Dylan Sherrard and this is from a half hour photo-shoot before my voyage home from Kamloops.
Is there anything about your approach to shooting that you feel sets your shots apart?
I'm not into the "World Cup series" kind of shots, big telephoto lenses cropping just the rider into frame, and colors edited to as natural and life like as possible. I like to call them 'checklist photos' as they are so consistent with one another it's like they're all following a specific criterion. Diversity is good, and you can obtain perfect with imperfections.
I like to shoot real documentary style: find something, shoot it once or twice, and move on. I don't have a set idea of "the perfect photo", so my angles are always a result of 'what can I work with', as opposed to 'what can I create'. That being said, there are 3 elements I do consciously try and capture: riding, craftsmanship or terrain, and surroundings.   
I choose to shoot 100% natural light (I don't own any flashes), and because of that the perfect settings for one scenery or stunt may look like a disaster if I tried to replicate it at another zone or time of day. Keeps things interesting because you're always readjusting to the conditions.
Also being a rider definitely has its advantages for choosing angles, as you have a greater sense of where a certain trick or style will look better from; and being a trail builder I think the stunt/trail is just as significant as the riding, so I try and be aware of how I'm portraying both in the photo.
Ultimately I take photos for my own enjoyment, and if others like my work that's just a bonus. I know too many people that base their photographic styles around trends in an attempt to try and please others. In the end I want to have a fat collection of photos that I can show my grandkids one day so they don't have to listen to me for hours trying to explain my stories.

  Mike Kirk riding the famous postil wallride has become one of the classics among my photos.
What kind of bike do you ride, and what's your favourite place to ride?
I just bought an 06 or 07 Norco Shore frame off a buddy middle of the last season so I could hop on a big bike again after a 2 or 3 year hiatus. It's spec'd with a hand-me-down Z1 freeride, and parts from previous builds. Just got a fresh pair of Schwalbe Big Betty's, they're the only thing on the bike that's newer than 07.
As for favourite trail, trail riding was a pretty foreign concept to me before my new bike. Obviously I had ridden trails before but I suffered at cornering and could never fully capture the potential flow of trails – I used to be all about the hucks and one hit wonders. My trail riding has improved drastically though, and because of that I'm thoroughly enjoying my local trails Lorax and Bigguns, they are fun as f….
Big shout out of appreciation to the guys and gals out there building and maintaining legal trails!

  This shot was taken just as daylight was fading on a fresh track that Chris (featured) & Conner Tennant had built. Loam, lighting and roots make for a pretty crispy shot.
What came first for you: mountain biking, or shooting?
Mountain biking definitely came first! I started biking when I was young, and got into mountain biking from my buddy Shea Bourquin, who was a couple years older than me. He used to take me to all the dirt jump spots near Ledgeview and I'd watch him send and attempt all this (at the time) crazy shit. Photo and video was just a natural progression for wanting to record all the fun stuff once I started attempting that crazy shit as well.
I made my first full length mountain bike video when I was 14, in 2006, with Garry Race titled Forever Epic, which can surprisingly still be viewed here if interested. (If anyone reading this still has a copy of the DVD, I'd love to get my hands on it so I can copy it to my hard drive!) I made my first appearance at the Vancouver International Mountain Film Festival with Brocation in 2009.

  I love the berm explosion of this one, Oliver Warner riding KBR.
You've submitting to the Vancouver International Mountain Film Festival since you were 17… has that been a good experience?
I made my first appearance at the VIMFF with "Brocation" in 2009. The festival is great, very welcoming and good spirited people. My movie "Bro vs. Mtn" played in the 2010 Festival. The staff and organizers have been amazing, from film submission, to regular updates and invites to other festivals, to introducing me on stage, I'm treated very well by them!
The first year I got up to introduce my film – I think it was after Dan Barham's slideshow – I was so nervous I made Wylie Easton come on stage with me, hoping his red hair would distract the sea of faces before me. It was a pretty basic intro… "Hello my name is, the movie was filmed near, I hope you enjoy…"
The second year I remember a woman from the staff giving me a pep talk in the theatre as we dealt with some DVD issue. She could tell that I was extremely nervous and gave me a free beer stub saying the liquid courage would alleviate my anxiety. I had hastily scribbled a page of what I wanted to say at the KFC across the street before the movies started playing, which I brought up on stage with me after Jay Hoots kindly welcomed me up.
I was slightly buzzed thanks to the generous staff member and started reading what I had written, getting to a huge section of crossed out notes, I proceeded to tell the audience that I had done so which got a huge applause. My speech had reached climax and I decided to end things there on a good note. I look forward to seeing what else will be playing this year and hopefully meet some people who can pass on some wisdom to a young gun like myself. I'm just not looking forward to getting on that damn stage again.

  The result of myself goofing around with my dads old Minolta x-700 35mm camera – before I started processing my own film. One of my favorite shots to date! Rider is Nathan Kuyek.
Do you ride with your camera gear, or do you like to the proverbial keep church and state separate?
I do both. I have a Dakine Sequence pack which can fit 2 tripods, my Panny HVX200, Nikon D300, both lenses, batteries, mic, lens cleaning kit, water, snacks, phone, jacket(s), avalanche blanket, and any other crap people pawn off on me when it comes time to film. But it depends on the situation whether I bike or walk. For more serious stuff, especially filming, I like to walk because I will normally have a crane and/or my dolly I will need to lug around as well.
For riding with a camera bag, my craziest experience has to be riding down Rio in Kamloops with a full pack, bucket lid, riding a Specialized P3, slick tires, and one brake. There was a particular part of steep trail with lots of loose rock where I feared for my life; foot-dabbing in every corner to try and slow me down, and getting pulled in every direction by the force of my bag. I somehow managed to make it through that unharmed… after having a short break once I caught up with everyone at the bottom of this section – and filling them in on my near death experience – I managed to clip a pedal and face-plant on the straight section directly after that gnarly section. I now have a nice ball of scar tissue in the middle of my bottom lip from where my tooth pierced through!

  The aftermath of a straight line pedal clip after riding one of the scariest sections of my life with all my camera gear and only a rear brake.
My most intense experience walking with gear was with Wylie, taking photos at Bear Mtn during the winter. Normally this wouldn't be a big deal, but I had recently succumbed to a knee injury playing football – the real non-American kind where you actually use your feet – and needed the aid of a cane to walk around. I crept along the barely frozen surface of the pond while Wylie biked circles around me, as he insisted, "it's not that slippery". We got to the rock drop around the bottom that leads into the two lower gaps, got the shots needed, and decided to depart.
On my way down from the rock, on the walking path to the west of it, I lost my footing. All my weight went forward, the cane was lost, and I started hopping on my good leg trying desperately to regain balance; all the while with my camera wrapped around my neck. I might have biffed, I can't even remember. So I'm assuming I ate it, because I never remember stuff when I crash. Either way the camera was unharmed so all was good.
What camera do you use, and what are your favourite lenses?
Nikon D300, I have a 50mm and I sold a SX trail frame a few years ago for a fisheye, which left me without a big bike for 2 years. Just because of that, I'd say I appreciate my fisheye more. My 35mm set up is as follows: Minolta X-570, 50mm f2, 28mm f2.5, 28-75mm f4.5, and 2 telephotos. I use a Panasonic HVX200 for filming right now, and I'm still finding out new stuff about it every time I shoot.

  This dates back to my D80 body, and was the only riding shot taken during my Arduum film session with Wylie Easton.

Where can we find your photos outside of NSMB's Up and Coming?
facebook.com/brockandersonmedia
flickr.com/photos/brockanderson
vimeo.com/brockanderson/videos
Thanks Brock, any final words?
My friend Isaac used one of my shots to enter a frame giveaway with Norco, and is now one of five finalists. It would be really helpful if you could head over to the voting page and put in a vote for photo #2!
Head over to Vimeo to see this film in HD.
Head over to Vimeo to see this film in HD.
Head over to Vimeo to see this film in HD.
---
Brock's made a name for himself as a recognized photographer and videographer at a young age, with no signs of slowing down. He's presenting a film at the Vancouver International Mountain Film Festival's Mountain Bike Night at the Centennial Theatre in North Vancouver this Friday, February 17th.
---
What did you think of our first Up and Coming feature? Do you have any crazy stories like Brock from shooting on the trails? Thoughts, comments, criticisms welcome below. Interested in being featured on Up and Coming? Shoot an email to Morgan Taylor at morgant@nsmb.com