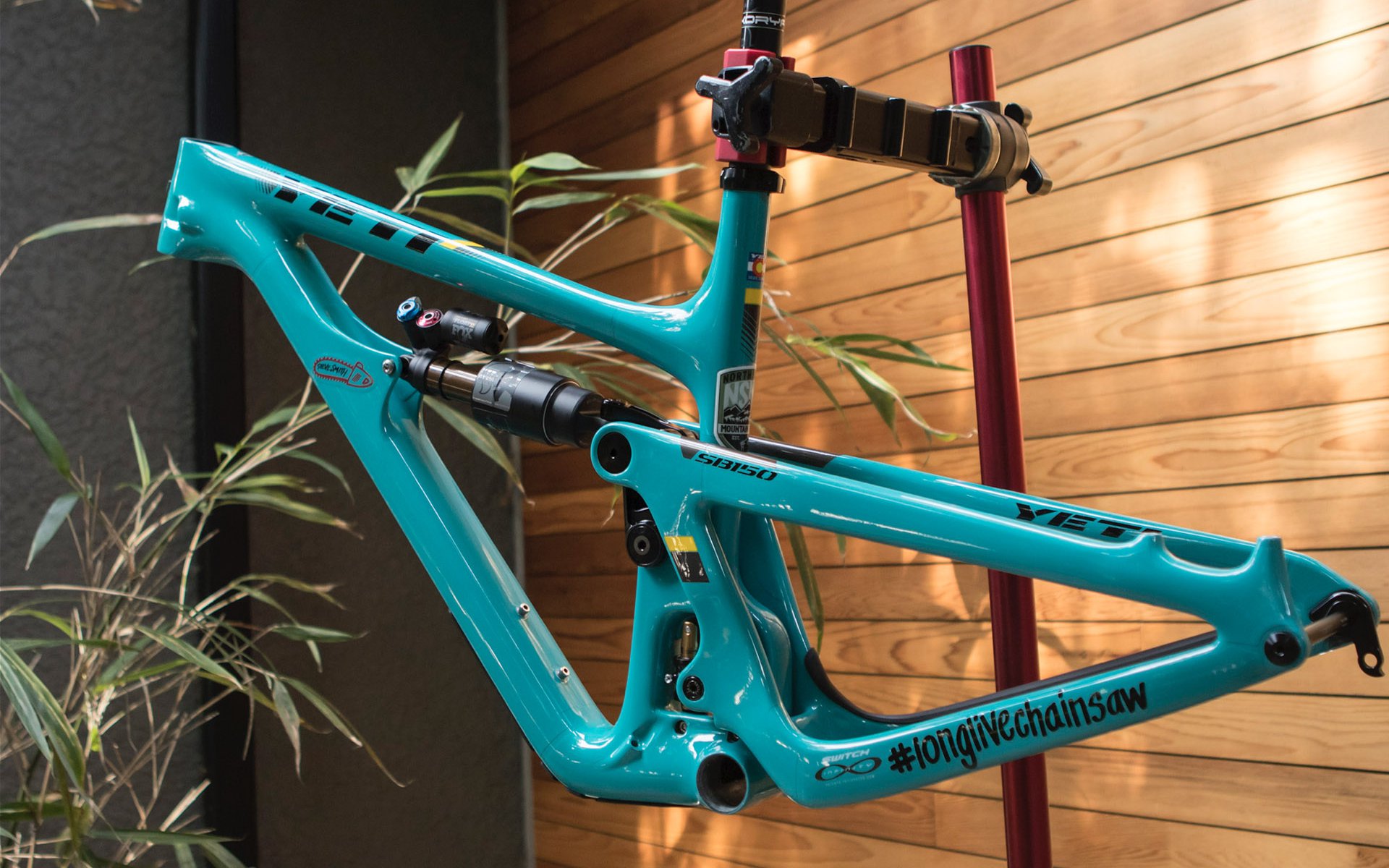 Don't Worry - There's A lot to be Done
5 Ways to Pamper your Bike during a Pandemic
Not everyone is stuck at home, and I'd like to say thank you to those of you who work in an essential service or are having to show up for work for some reason. This is particularly true of healthcare providers, who we are all relying upon right now, but it also extends to law enforcement, those in grocery stores, bike shops(!), and even those in media who are busier than ever. Thank you all, whatever your vocation, for your service. If you are working overtime during this wee bit of bother, I'm afraid there isn't much I can suggest aside from riding to work to avoid public transit or close quarters in a car. Please know we are with you and we hope you'll be back on the dirt soon.
The rest of you, who may be able to ride occasionally but not head to work, or maybe not ride at all, may need something to keep your mind off the terribly inconvenient global pandemic we're in the midst of. If, for whatever combination of reasons, you have a little extra time on your hands, it's time to give your bike some long overdue TLC. And I've got a few ideas for you. Some projects are bigger than others, and more complex, but based on what I know about our audience, most will be in your wheelhouse.
It's possible this won't be much use to you, if are in the minority; that one smug rider we all know who does everything ahead of schedule and never has any surprises out on the trail, or in the parking lot before the ride. You're that person we want to buy a bike from, and to borrow tools from. You can however, comment below and share some of your wisdom because, while I'm getting better, I'm not that sort of meticulous guy.
When I work on my bike the goals are performance, longevity and malfunction prevention, in that order and those will be my priorities here. Beauty takes a supporting role for one of the tasks as well. I will roughly put these jobs in increasing order of commitment and difficulty, so you can work your way up if this drags on long enough to delay a new axle standard.
My idea here is to push things far enough that special tools are kept to a minimum.
Replace Sealant/Clean Valves
I've pushed my sealant so far recently that I could feel something large and solid banging around inside my tire. When I finally ripped it open, I found a tentacled beast with a body as large as my fist. For most of us we only perform this task when it becomes essential, or when we change a tire, and by that time it's too late. There are devices that allow you to suck out old fluid and pump in fresh juice, but in my experience they are more trouble than they are worth.
How long does sealant last? It depends on many factors. Warm temps cause sealant to evaporate more quickly and using a CO² cartridge can speed cyrstalization. The best answer is that it lasts 1-6 months in good shape and we should be checking it monthly, by either popping the tire and peering inside, or sloshing it around to listen to the state of the goop.
If things have gotten really dry, you may want to remove the tire and clean things thoroughly. Scotchbrite may come in handy here as well. Or you can just dump in some new gunk and hope for the best. In a perfect world, your sealant will still be flowing and you can just pour it out,* but that rarely happens to me. Once you are ready to dump in new gunk, you should check your valves because they regularly get clogged with spooge. I use a sharpened spoke to clean things out, and some rubbing alcohol or WD40 may help if things are real mess.
*I generally pour sealant into an old rag and then dispose of that in the garbage, but there are likely better practices
Remove, inspect, clean, lubricate and reinstall all axles and bolts etc.
This is one of those jobs you can take as far as you like. It's best tackled methodically, from bow to stern, starting with your front axle. If you've ever had an axle corroded in place, I don't have to tell you why this is worth doing. Remove it and clean it, possibly using a Scotchbrite pad or something mildly abrasive if there is any corrosion. You may need to clean the fork and the inside of the hub as well. Once that is done, lube up the axle and slide it back in place, greasing the threads in the fork and axle as well. If your fork has pinch bolts, repeat the process with each bolt. While you are down there do your brake caliber bolts and have a look at your brake pads.
If you have six bolt rotors you should certainly check them, and probably do the pull/inspect/lube process to prevent future heartache. Centrelock rotors can have the same treatment.
Your stem bolts should get a similar treatment, and if you are really conscientious you can do the same to the bolt that holds your front brake line in place. The bolts for your brake/shifter/dropper lever clamps are optional as well, but they will stay tight with less torque if they are freshly greased. Keeners can do the same to lock on grip pinch bolts.
Your shock is particularly important here. Pull it out, disassemble as necessary, and then clean/lube/reassemble to the manufacturer's specifications. A torque wrench isn't a bad idea here if you are either heavy handed or you find things come loose regularly.
After that it's suspension hardware, seat clamp, rear axle (same process as the front), rear caliber, rear rotor, derailleur, and saddle clamp bolts which are all pretty straightforward. When it comes to your pedals, if you ride flats you should check all your pins and replace, tighten and locktite as necessary, but don't reef on your axles with your 8 mill. Pedals have reverse thread right to left so that rotation keeps them tight, and it's possible (likely?) you over tighten them. Pull them off, lube generously, and then cinch down with the force of your 10-year-old self; snug but without anger. You'll thank me the next time they have to come off. Check each fastener on your clipless pedals and the mechanism sometimes needs a little lube, but check the recommendations from your manufacturer. Finally, remove your cassette, clean, lube threads and re-install. And voilà!
Apply Frame Protection
For my last bike, I bought some 3M automotive vinyl protection and hacked and carved it to fit the curves of my frame. That stuff is thick so the protection was excellent, but the finished product didn't approach the precision RideWrap treatment I had done by Andy at Wheelthing here in North Van. Those results were spectacular.
After riding the wrapped frame for nearly a year, and preventing countless dings, I'm convinced it's an incredible investment and worth it for peace of mind alone. My frame still looks new and when I'm washing it after a ride, I don't have to worry at all about abrasion.
If your bike is already built, this is a pretty big job, but you don't need to pull everything apart. Application is the tricky part, if you are at all OCD about these kinds of things. Luckily, following the instructions provided by RideWrap or Invisiframe etc. makes it relatively forgiving. This task rates a 9 on the satisfaction scale.
Inspect, Clean and Repack Frame and Bearings/Service Bushings
My recent experience with my SB150 made it clear that replacing all the cartridge bearings in a complex full suspension frame can be a big job, and often one that often requires specialized tools and plenty of MacGyvering. If you stay on top of things however, it's possible your bearings will last as long as you own your frame without removal. If there are bushings in your frame, consult the web for manufacturer info on service.
Some disassebly will be required here, and depending on your frame and your level of experience, you may want to look for some information from your manufacturer or on Youtube. Generally though, you are just pulling nuts and bolts, and sometimes axles or collet axles.
Once you have exposed your bearings, it's time to inspect and then look inside. The first check is to simply put your finger into the inner race and see how freely and smoothly the bearing rotates. Put some pressure at different angles and wiggle it some to see if there is any play. If there is, it's time to replace that bearing.
Even if it feels perfect, it's worth looking inside. It may be that the lube is still functional, but on its last legs. Popping open a cartridge bearing can be a finicky task, and it's nerve wracking when you haven't done it for awhile. There are several techniques, but recently I used the exacto knife method with quite a lot of success. My technique is to push the tip of the blade along the bearing cover and toward the lip of the outer race. Once you've reached a stop, lift the knife will keeping the pressure forward so the blade can get under the edge of the cover. This may take a couple of attempts, but be gentle to preserve the rubber coating on the bearing shields.
Once you reveal the bearing there isn't much to do aside from cram it full of grease. If you aren't in a hurry you could clean it by spraying in a gentle solvent (WD40 might be a nice choice here because it won't damage paint), but you should probably let it dry or spray it out with a compressor before you slather in the lube. Once that's done, push on the cover and move on to the next one.
The meticulous among you may want to make note of the condition of the bearings and the interval since new, replacement, or last clean and lube, while taking seasonal difference into consideration, determine the schedule for the next service and put a reminder in your phone.
Overhaul Pedals
Some manufacturers, like Crankbrothers, provide pedal overhaul kits to make the job easy, while others, like Shimano contain loose bearings that can be replaced if necessary. Generally you can find instructions from your manufacturer or on Youtube, like the video below on SPD pedals from Park Tool. Some older SPD pedals require a proprietary tool to remove the axle, but newer models only require a 17mm spanner. (That's British for wrench!).
Most pedals are pretty simple inside, and they are a nice first overhaul if you haven't tackled one before. Generally only standard tools are required but there are a few exceptions, like the Shimano cassette tool used to open OneUp pedals. My Mano a Mano piece comparing OneUp pedals and Crankbrothers Stamp 7s went into the process some.
There you have a few suggestions. I have to take my own advice for several of these tasks, but a tall can and a good podcast makes it a real pleasure. Once any of these are finished however, the satisfaction jolt returns every time I see my bike, and it multiplies when I saddle up. There's more helpful info to be found searching all of the teardown articles we've published, most by Andrew Major and Jeff Bryson.
I've got several more ideas to follow up with, depending on how long this goes on, and feel free to offer some suggestions below. And don't be shy about providing some alternate, corrected, professional advice below. I appreciate the contribution.
Hang in there everyone, and locals, join in on the 7 pm cheer for healthcare workers every evening. It'll cheer you up as well.