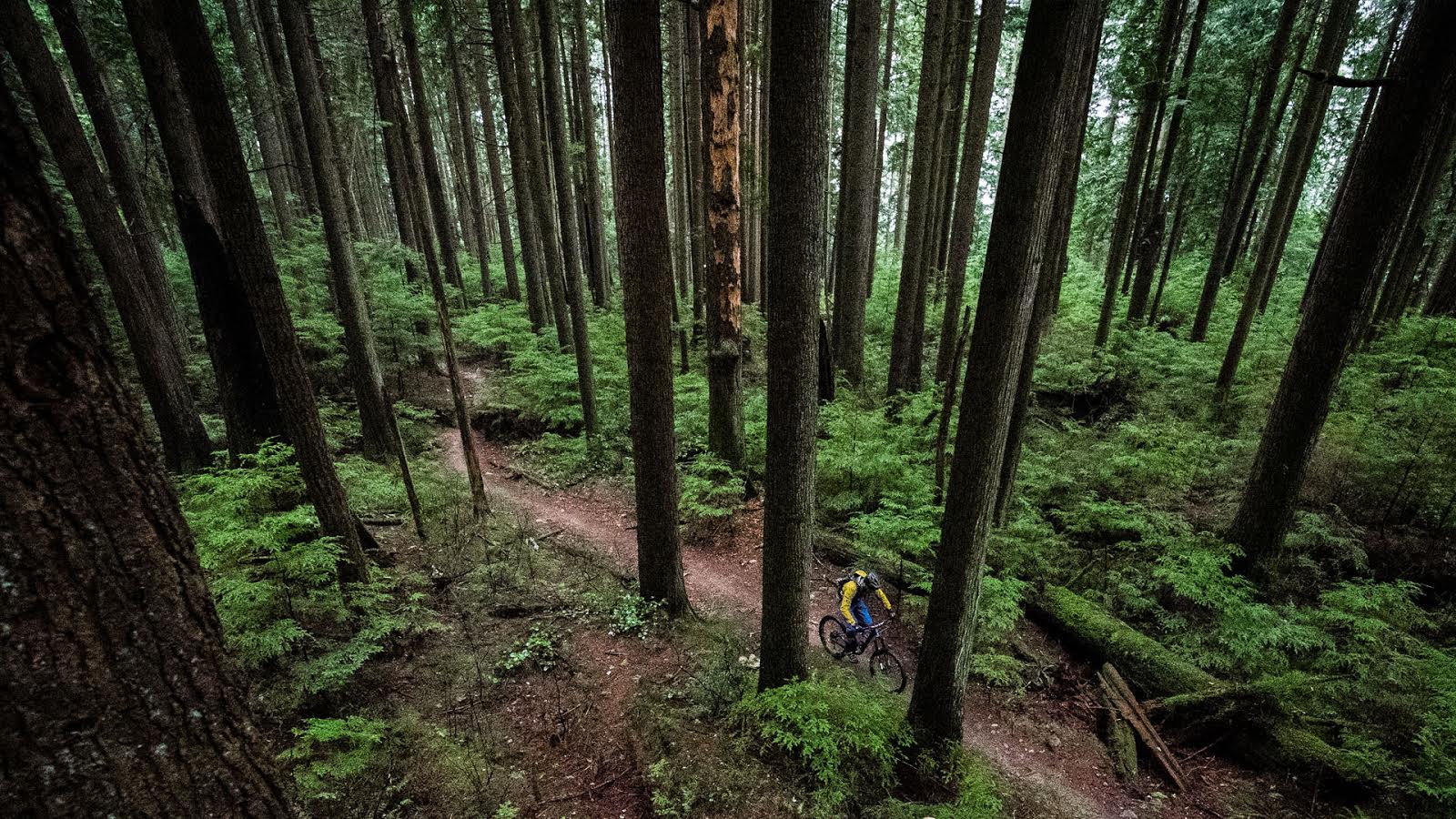 Hey Neighbour! Will Craig
Hey Neighbour #2: Will Craig

  Will Craig – Happy Hard Liner
Awkward is one word that I think would describe the trail experience on the Shore. The trails here have a unique flow that is much slower than is typical to most mountain biking experiences. Every inch of trail seems to be made of square turns, square edged roots, and square landings. Throughout each trail there are moves that require the rider to come to a standstill, micro adjust and then lunge, lurch, or leap. Big moves that require power and finesse in equal measure or millions of little moves that require composed balletic grace and disgraceful aggressive brutality seem to be the norm. Abnormally dirty shapes and tricky lines are the norm on the Shore.
Simply put, the Shore is an unstoppable ass-kicking machine.

  A cockpit with signs of wear… Will's right hand controls both brakes, his dropper post and shifting.

I've tried to find out why the trails are so unnaturally hideous and yet so naturally beautiful. Some people say it is because of the terrain, some say the weather, some say because of the bikes, some say because of the history of the sport here, but Will Craig gave the most honest answer to this. "We want the trails to be hard. I want risk, I want challenge."
The people of the Shore relish the test and trial of the trails. Most riders here aren't content with just a fun romp and would rather get rocked once in a while, if only to justify and define the outlay of blood the trails require. A ride in the woods here is no gay little jaunt, but rather a gauntlet to be run.

  Sliding down rock faces and through the ferns and salal of Cypress.
Will rides four or five times a week and started mountain biking here 22 years ago. You could say he knows his way around the place and must feel comfortable on the trails, but that's not what he looks for or expects. "The trails are always hard. With the weather we have you can never be sure what the trails are going to be like – they are always changing."

  Will makes quick work of the steep stuff.
Riding some of the trails on the Shore sometimes feels like tightrope walking with no safety net. Sure it takes skill, but often the line between cleaning something and serious injury is very thin. The North Shore trails test a riders skills but also his nerves. This deliciously scary and nerve-racking sensation is something that Will looks for in his riding.

  Seb following Will through the mossy greens on the Shore.
Thankfully we met Will on a beautifully sunny and unseasonably warm February afternoon. Unfamiliar with the trails Will had selected and knowing that Matt Dennison was going to be praying I take another fall or wuss out on camera I was anxious, but at least the dry trail conditions gave me one less thing to worry about. We rode Wild Cherry, SOB, NFL and S&M trails, all of which are, to put it bluntly, right bastards. Sure, there might be bigger hucks, higher stunts and scarier moves out there, but the trails we rode required my full attention that is for certain. Will was in his element. Which is remarkable, as you will see.
If things were different for Will I wonder whether he would still push his riding and challenge himself, or would he, like me, be content to ride the easier line and save the scares for the fair?
---
The North Shore has always intrigued me. Why is it that this one place has had a huge influence on mountain biking? The need to explore this question led me to move to the North Shore recently. Hey Neighbour! is about discovering the people and places that characterize the North Shore. Each episode we meet someone who will take us on a literal adventure of the trails, whilst allowing us to explore and fathom why the North Shore is the way it is. –Seb Kemp
---
Will's story is astounding to say the least – feeling inspired?