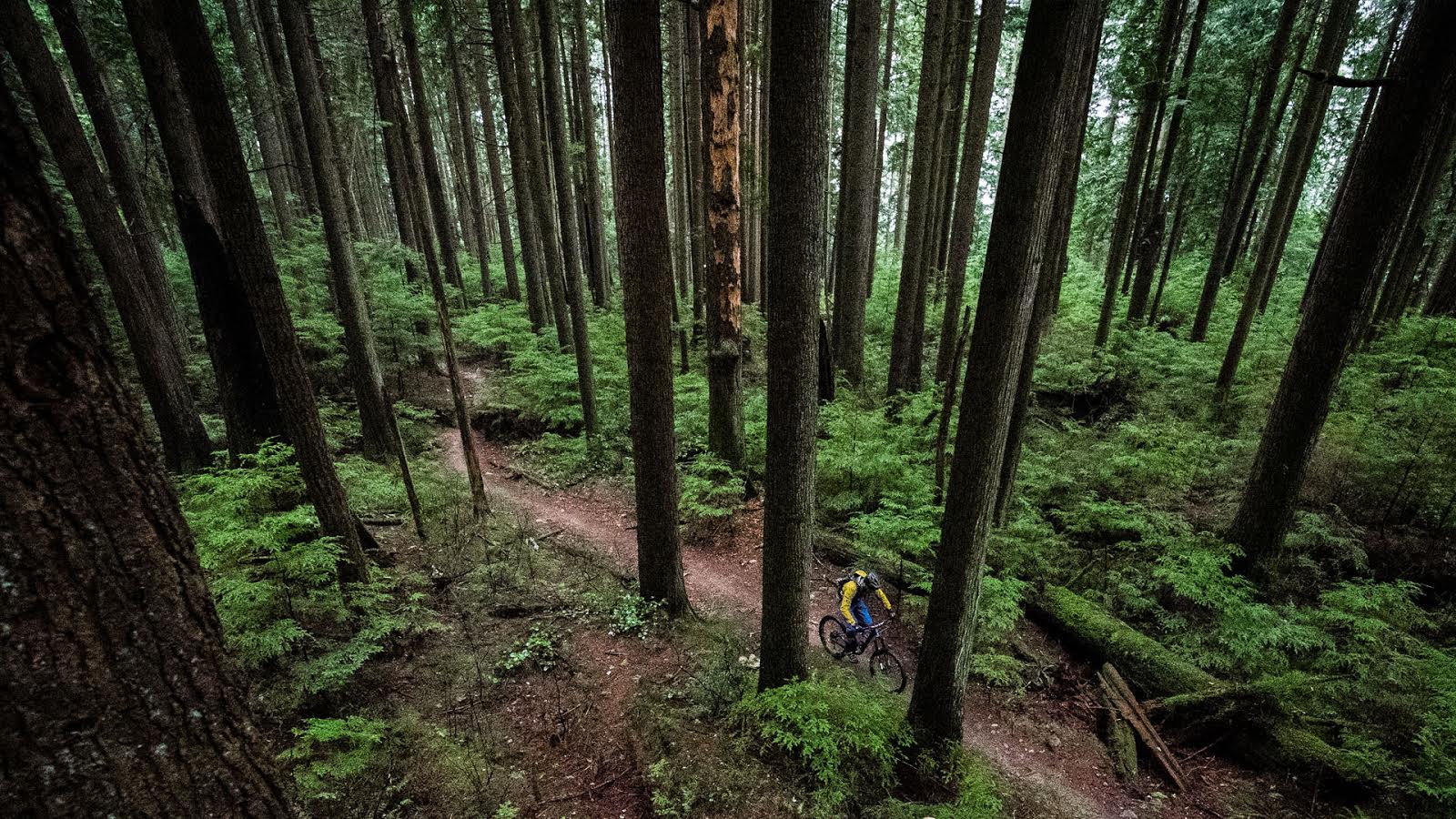 2012 FVMBA Spring AM Race Series
2012 FVMBA Spring Race Series: Are You Ready to Hammer?
The days are warming up and the snow has begun to melt. The drainage has been dug and the smell of fresh cedar is in the air. Get your legs warmed up, because it's time for the FVMBA All Mountain Spring Series.
All Mountain is what riding in the Fraser Valley is all about. It's about getting out and rippin' it on the 4" – 6" travel bike. It doesn't matter if that bike is a 26" or 29er. It doesn't matter if that bike is leaning to the XC or DH side of things. It's about being on a bike that's going to allow you to climb, to descend, to fight it out with your buddies, pushing each other's limits no matter which way the trail is pointing. It's a style of riding that's going to let you get out and have fun!
To me, the FVMBA's All Mountain Spring Series really represents riding in the Fraser Valley. I choose trails and venues that are both demanding and appealing to a broad range of riders and their skill sets. There are two XC races, but this is definitely not a series for the run of the mill XC racer. And there are two Super D's and AM race, but this isn't for the big bike racer either. It's a series for the guys and gals that know how to handle themselves on all types of terrain and any given mountain. You're going to need legs and fitness for a bit of climbing but you'd better have the skills for when the trails start to point down if you want to see the podium.
But most importantly, the reason I choose to have a race series on this network of trails is because they are the trails that the FVMBA has been building and maintaining for almost ten years now. Through FVMBA's hard work and partnership with government and various land managers, the Fraser Valley now has legalized trails on Sumas and is in the process of legalizing the trails on two other mountains.
This race series showcases the work FVMBA has been doing, to expose riders to trails they may have never ridden before, and to give back to the riders that have supported us through their membership in our organization.
In order to continue supporting our local builders and give some love back to the trails, we are charging $10 per race. However, a deeply discounted pre-registration package – 5 races for $30 – is available at ccnbikes.com. Pre-reg is open until February 19th.
Previews of All 5 Courses

Feb 26th – Race #1 Heritage Park XC, Mission – Mass Start
Heritage Park was chosen first and foremost because of the abundance of technical single track in the area. Apart from a short gravel pathway that will be used to separate the racers, this 12 km race course is pretty much made up entirely of single track. It's a figure eight loop that uses a portion of the same climb for both laps but different descents will bring you back to the start/finish area. The trails are continuously moving, up and down. Twisting and turning. Technical bike handling will be a strong asset for this race.

  Off the line at last year's season kickoff Heritage Park XC. This winding course has more elevation gain than you might anticipate. Times between 45 and 90 minutes. Pre-register by Feb 19 and get 5 races for the price of three! Photo ~ Matt Scott

March 4th – Race #2 Bear Super D, Mission – 1 Minute Interval Starts
The Bear DH has been known over the past 16 years as the Fraser Valley's premier DH race. The course is well established and respected amongst the local riders. With the proper big bike set up, guys can rip the DH course in less than 5 min. I wanted to build on that and add something that would challenge and appeal to the rider on a bike with a little less travel. We've incorporated another gravity trail, Sorcerer's Apprentice, to link up to the DH course. Sorcerer's Apprentice has a steep run in at the top, taking you down through some loamy high canopy forest. Mid course has a pedally traverse that connects the two trails. Do you choose a big bike, small bike or 29er? A small bike is going to have a huge disadvantage over the big bike on the DH course. But will the guy on the big bike be able to have the fitness to pedal the traverse? This is still going to be a gravity course. A rider should know his strengths and use them to his advantage. Winning times last year were in the 9 minute range.

  Hardtails are fast at Heritage Park. Jean-Ann Berkenpas was fast all season last year. You don't have to be Jean-Ann to win, though – the series sponsors have provided lots of draw prizes. Photo ~ Mike Siemens
March 18th – Race #3 Vedder Super D, Chilliwack – 1 Minute Interval Starts
Vedder Mountain has a lot of trails that suit the bigger bikes. With its steeps and some occasional gap jumps, it was a natural fit for a Super D. We listened to rider feedback from last year and have removed the 1.5k traverse off the start. If the weather cooperates and the snow line keeps receding, we will be starting higher up the mountain at The Den. But if things don't work out weather-wise, we will still be using the original singletrack course from last year: 2 Cents to Skidder and finishing off of Dilemma. This race will be one for the big bike rider to take some points in the Overall Series.

  2 Cents on a recon run prior to last year's race. This Super D won't have a lot of pedaling; in terms of average speed, the fastest course by far. Photo ~ Morgan Taylor

April 1st – Race #4 Red Mountain XC, Mission – Mass Start
I wanted to keep this race a little different from format used with the Red Mountain XC Challenge that's held in conjunction with the Bear Mountain DH race. Red Mountain has so many good trails. If I could have all of them in this race if I would. But I can't, so I choose the ones that really are on the top of my list. Using the traditional start, the race heads up a fire road and around to the back side where it enters the Valley View trail. If you have time to lookie-loo you can see Stave Falls and Hayward Lake from here. Riders will then make their way back around to the front side of Red where they enter Crazy 8's. This trail is old school technical. So much so that a skilled rider will definitely pull back any time they lost on the climb to the XC racer boy. After exiting Crazy 8's, a quick loop brings you back to the where it's all downhill to the finish.

  This flowy traverse on Red reminds me of a longer version of Mel's on Burnaby. Super fun to roll along on. Photo ~ Morgan Taylor.
April 15th – Race #5 Sumas Mountain AM, Abbotsford – 1 Minute Interval Starts
We are keeping our series final course under wraps for now. But I assure you it's going to be a lot of fun. The start will be near the top of Sumas and finishing up at the bottom parking lot. We have again listened to the rider feedback from last year as well. Riders will now be sent off in 1 minute intervals. Trail congestion should not be an issue on this fast and flowy course. Finishing times should be near the 18 minute mark.

  Dave Mackie's photos from the Sumas Super-D last year really pop. He set up at the top of the course's main climb, which led straight into this rock-and-root-shoot just to catch the wayward Aussie. Photo ~ Dave Mackie

I look forward to another year of racing. From the course design to the draw prizes, this is a race series that makes me want to race. Who knows, you may actually see me line up at the start of one or two of them.
Till then, keep pedaling.
Matt Scott – FVMBA Race Director
---
With a successful 2011 season under their belt, FVMBA's Spring AM Series is a well-oiled machine. Race one or race them all, this is a great way to get to know some singletrack outside your usual routes. What's your One Bike to Rule Them All? *Hint: last year, it was a Tallboy*