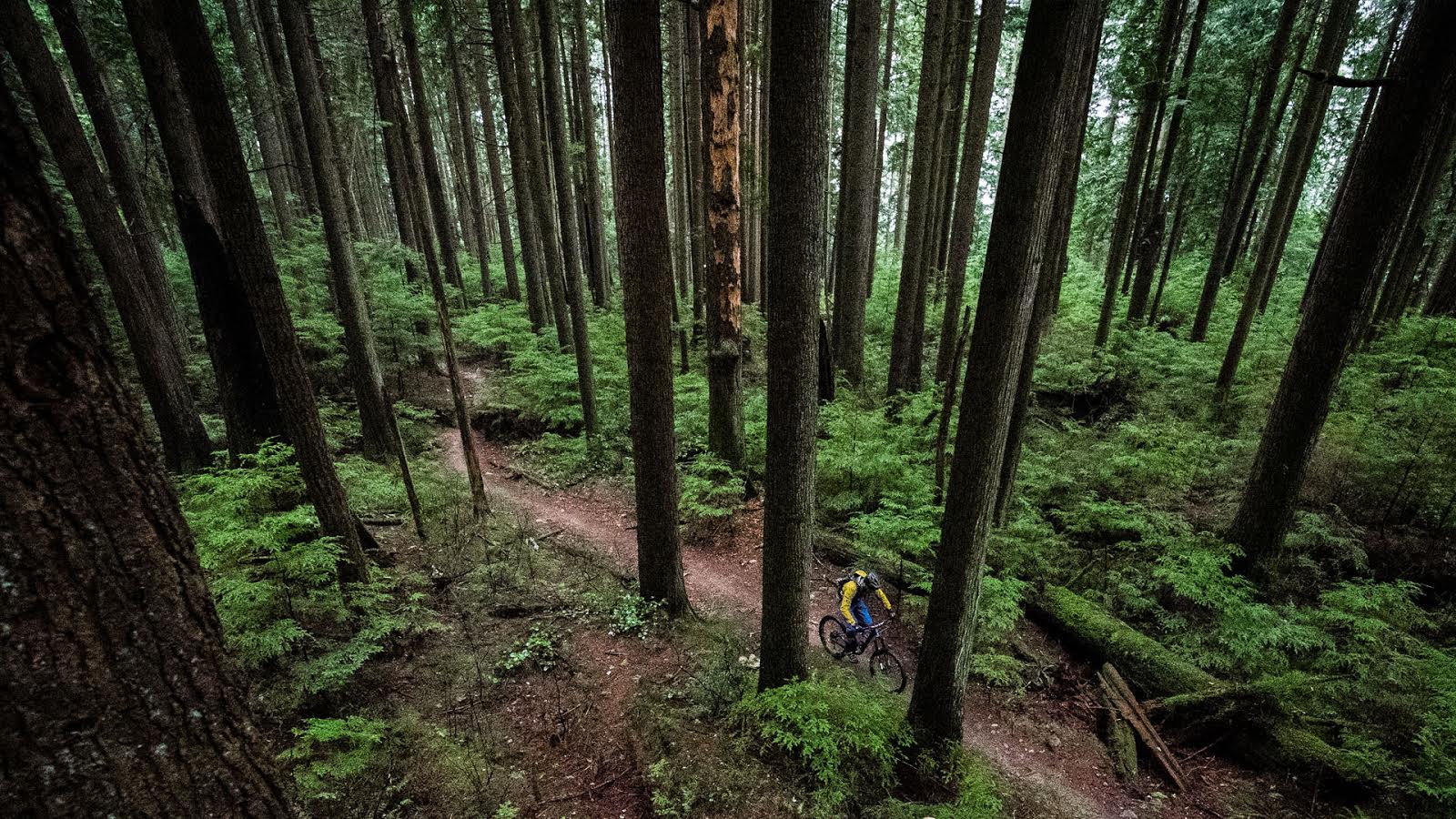 Snapshot: A New NSMB Series
To find out what is really happening sometimes we have to ignore the marketeers, the media hacks, or the trend setters and just experience it for ourselves. Intrigued by the Shore and what has, is and is going to happen I decided to step outside my knowledge, my circle of friends, and mediated wisdom to speak to the people of the trails.
Living right on the doorstep of the trails gives me a great experience but I want to understand more about the people who call these trails home, where they ride, why they ride where they do, what they think about the riding here and what their opinion is on the hot topics in mountain biking. Hopefully each week I'll be able to drag myself out to chat with strangers and over time perhaps we can accumulate a series of snapshots that present what the public think.
This week I kept the topic pretty simple: what trails are you riding today, where do you normally ride and why? Perhaps next week I'll ask the public's opinion of 650b revolution, but whatever the questions this is not a politically motivated feature. This is just a glimpse into peoples' own opinions and experiences of the trail. There are no right or wrong answers to these questions and I would please stress that no one should take issue or offense to any answers given – they are just a glimpse at the opinion of the people who ride the trails here.
Last Sunday was a beautifully sunny day and there were a lot of riders out making the most of it. I took a stroll up the yellow gate on Mountain Highway at midday and stuck my nose in a few Fromme riders' business. Everyone was very friendly, receptive and well informed about what is happening on their trails. Here are the conversations:
---

Yuri and Chris
I came across my first victims at the exit of the Baden Powell fixing a flat tire. I took this opportunity to corner them and ask them all about their ride and experience of the trails.
Seb: Where have you guys ridden today and where are you going?
Chris: Started at Dempsey-Braemer, climbed to the Baden Powell, then I picked up the puncture coming down the last part here.
Yuri: Afterwards we are heading up the road to ride Executioner and Dreamweaver.
Seb: Is this a pretty typical lap for you?
Chris: Yeah, pretty regular but haven't ridden this particular loop in a month or so.
Seb: How often do you ride?
Chris: Over a year period it probably averages out to be once a week.
Yuri: Couple times a week in summer but it is sporadic in winter because I'm usually skiing.
Seb: Where else do you ride?
Chris: Lower Seymour area and sometimes Burke because the trails are good but it is a long drive to get there what with all the traffic around the malls on the way.
Seb: Where do you guys live in Vancouver?
Yuri: We both live in East Vancouver so the trails here are close. Just a quick drive over the Second Narrows Bridge and you are here.
Seb: When did you start riding on the Shore?
Chris: 1992.
Yuri: 2002.
Seb: What would you say are the differences between then and now?
Chris: There are a lot more people on the trails and there are more trail signs. I don't like the trail signs to be honest. I like the feeling of getting away from it all and would rather feel like I am escaping the city and getting into the wilderness. There is a lot of work going into the trails too. Before that wasn't happening, it was just Digger scraping around but now there are more people involved.
Seb: I see you are both on what could be described as XC or AM bikes, have you always ridden bikes that could pedal or did you have big freeride bikes before?
Yuri: I've always ridden XC bikes and this is Chris's first full suspension bike.
Chris: Yep, I have never ridden big bikes. It took a long time to convert but I'm loving the suspension now.
---

Eric, Katie, Mark, and Tyler.
I spied the next group hanging around by the yellow gates and it appeared to be made up of a mixed group of riders so I approached. Turns out Mark has been riding here since 1985 when he and Digger used to rally four-wheelers around up here illegally. Mark is Tyler's dad and started him riding here in 1998. Katie and Eric started riding on Vancouver Island but have been riding here since 2002 and 2000 respectively.
Seb: Where are you guys riding today?
Tyler: Oh, we will just make it up as we go along.
Mark: We might ride Pipeline or Ladies Only. We will just decide when we get there.
Seb: How often do you ride up here?
Tyler: Once a week.
Katie: Twice a month.
Seb: Where else do you ride?
Katie: The Demo forest, Lower Seymour.
Seb: I see everyone is on pedal bikes today, is this always the case?
Tyler: We all have big bikes we don't ride them so much these days.
Seb: When you started riding here what was it like compared to nowadays?
Tyler: It was harder, now the trails have been smoothed out a bit with dirt filling the holes and roots.
Seb: What were you riding back then?

Tyler: Well this is when I started and my dad was getting me into it but it would have been Griffin, Krinkum Krankum and Pipeline.
Mark: Yeah, we were up here in 1985. We used to ride our four-wheelers all over the place even though we weren't supposed to. We would ride up creeks and up the Warden's trail. Just making a nuissance.
Tyler: Yeah, and people say mountain bikes damage the area. Look at all the old lines that my dad would have rode his four-wheeler up and they rejuvenated now that the forest has claimed them again.
---

Dan, Nancy, Andy and Corinne
I rode up to the exit of Bobsled to speak to my next subjects. Bobsled seemed to be the busiest trail. In the fifteen minutes I stood there I saw perhaps 35 people exit it, all with grins on their faces.
Seb: What are you riding today?
Dan: Bobsled!
Seb: Is that is for the day or are you going up again?
Andy: Yeah, we will ride back up and do Floppy Bunny and King of the Shore.
Seb: How often do you ride?
Dan: This is my first ride of the year.
Andy: I ride three times a week. Sundays then Tuesday and Thursday nights.
Seb: What else do you ride around here?
Andy: Lower Seymour, Demo Forest, Woodlot, SFU.
Seb: How long have you been riding on the Shore?
Andy: I started in 1992/93.
Corinne: I dabbled then started ten years ago.
Nancy: I rode off and on because I had kids but I'd say pretty consistent since 2004.
Dan: I started in the early 90s and even though I live in Vernon these days I still get in 10-15 days on the Shore as well as riding lots of other places.
Seb: What is the difference between when you started and now?
Dan: The quality of trails for sure. Now there is some fun and flowy trails out there.
Nancy: Yeah, the flow is a good thing.
Dan: I just want to enjoy myself when I ride. I don't care about it being the hardest or toughest trail. I want to have fun. That is why I love Bobsled.
Seb: Many of the trails are quite square I find. Square corners, square drops and square edges everywhere.
Corinne: I think the trails are square because of the amount of people riding them. They weren't always like that and they got this way because they weren't designed for the amount of riders that have ridden them.
Nancy: Bike parks have introduced people to what flow is like and now it is changing peoples views of what is enjoyable.
Seb: I see you are all on pedaling bikes, is this always the case?
Andy: I've always ridden bikes I can pedal. The bike Dan is on today is actually mine too. It is a 7" bike and it is the most I've ever owned.
Seb: I thought the North Shore was all about big bikes and hucking?
Andy: I have been always reluctant to have a bike like that. The trails are tight and these days bikes are so capable that there is no need to have a big bike.
---

John and Leanne
In the time I was speaking with Dan, Nancy, Andy and Corinne I had seen a chap and his lady cruise past me and then pop out of Bobsled. I decided this were good people to harass next.
Seb: Where are you riding today?
John: I'm with the fiancee today so we just did a Bobsled to warm up. We are going up to Floppy Bunny now. It is a fun and flowy loop that she can enjoy. Tomorrow is my day to get a big ride in.
Seb: Do you ride Fromme mostly?
John: I don't ride Fromme much. I ride the headwaters and Lower Seymour area. I can make a good sized loop that I feel like I have traveled somewhere and ridden a lot of trail. It is often hard to feel that here.
Seb: How often do you ride?
John: I'm a firefighter so I have good days to ride. In the summer I'll ride four times, at least two rides of about two hours each here on the Shore then one really good, longer ride up in Squamish. I have met some people over the last few years and now I really enjoy riding up there with them. There is so much riding and it is easier to link up big rides with lots of trail than it is on the Shore.
Seb: What do you look for in your chosen rides?
John: I had several head injuries so I don't want to hurt myself. I have a job I have to think about and I can't turn up injured. I feel like I am a competent rider who is more biased towards the downhill side of riding but these days my wheels don't come off the ground and instead I try to link up bigger laps that have technical challenge. I can relate to Andreas Hestler and the riding he does. I want to enjoy my riding but it is also a chance to have a good workout so I don't have to sit in the gym.
Seb: When did you start riding and what was it like back then compared to now?
John: I've been riding for about 17 years and in that time some trails have deteriorated but overall they have got better as more work has gone into them. I would prefer to see more emphasis on all-mountain or xc trails. I'd like to be able to link up existing trails into big rides if there was some connectors and thought about how to make big loops happen on the Shore.
Leanne: I'd like to see some more easy trails get built.
John: Yeah, it is so hard to bring someone out mountain biking for the first time. They want to start biking but the trails are intimidating. The freeride thing is cool, whatever, but I want pure mountain biking where you use your legs to get you there and then you need some amount of endurance and skill.
---
The main thing I took away from it all was that most people I spoke to prefer pedaling a bike and have no real time for the big bike stunting that characterized the Shore in the eyes of the media for some time last decade. Granted that I was talking to riders in an area that has no shuttle access but still it surprised me that the sample of riders I spoke to were never really into the big bike thing. Also, I found that while some people would prefer to see more fun and flowy trails, other people still like the challenge.
Most riders I spoke to (selected completely at random) have been riding for a long time and have spent more time riding the Shore than many areas have even had biking. This was just a sample of a sunny Sunday on Fromme. I'll try investigate more areas and explore different topics throughout the course of the Spring. If you have any suggestions for questions or want to bring out some nice baked goods so I can sit in the sun with a handful of dough then please feel free to engage below…