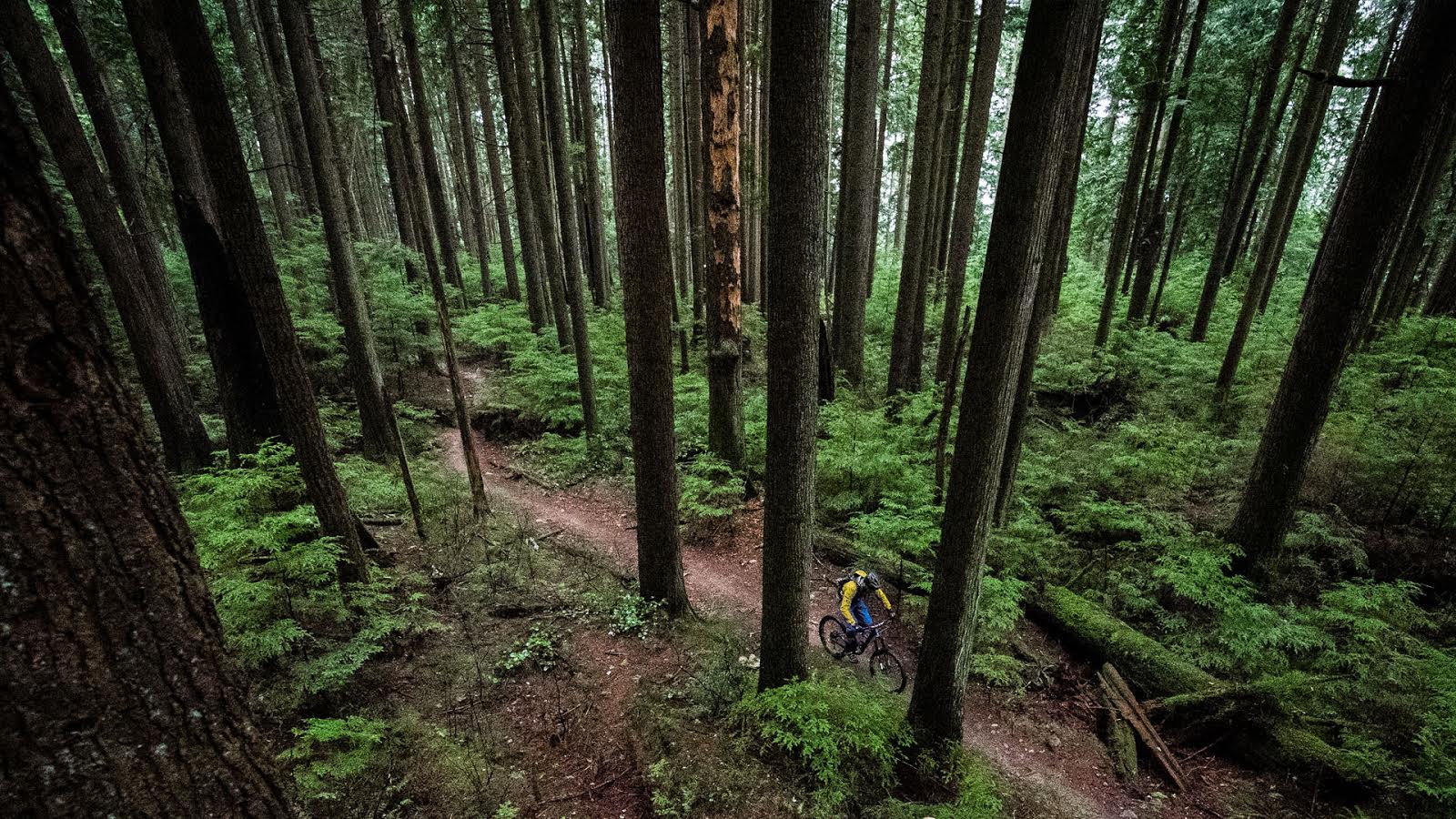 Long Term Review: 2012 Norco Truax Two
I have to preface this review with an admission: I'm a bit of a gear snob. Acutely and perhaps irrationally critical of brand and image with a seriously skewed preference for the esoteric. It's a weakness. My perception of Norco as a brand was forged many years ago by a succession of aesthetically and sometimes technically challenged bikes. I had always recognized the good value and homegrown attributes of the company, but they never coalesced into desirability for me. When I was offered an opportunity to try the new Truax I was, at first, a bit hesitant. A quick search of the pre-production press releases piqued my curiosity – it looked solid on paper and in pictures. On that cautiously optimistic note, I decided to give it a go, trying to keep an open mind.

  Colour scheme cuts through the rainforest atmospheric density nicely. Photo ~ Morgan Taylor

So give it a go I did. The Truax spent a good bit of the summer on Vancouver's North Shore mountains, performing 'self-access gravity riding' (Norco's term) duties, as well as punching out Whistler bikepark laps. The 'freeride' label fits the bike, though that moniker seems to be of fading relevance. Perhaps 'big hit trailbike with bike park inclinations' is an effective descriptor, if a bit cumbersome. Regardless, this is a long travel bike of burly build, with perfectly capable climbing abilities despite its not so svelte girth. Speaking of which, listed weight is 36.3lbs; my scale indicates 37.5lbs for my medium example. Unfortunately, optimistic weight claims are not unexpected in this industry, but I like to be pleasantly surprised by accuracy occasionally.
The renamed for 2012 Truax Two is the least expensive of three bikes now in the lineup, with an MSRP of $3550. Part of the cost reduction program entails using a scattering of Norco branded components. These are generally good – a nicely shaped low rise 30" bar, decent ODI-esque lock on grips, and a perfectly functional two bolt zero offset post. The pedals however are junk: heavy, small platform, high profile, no axle seals (the ball bearings are actually visible) & terrifyingly and unnecessarily long shin shredding pins; I'd rather see them left off the bike.

  Off for a classic North Shore ride in the dampness. Photo ~ Morgan Taylor
Other mid level components performed generally well. Though not flashy, the SRAM X7 drivetrain shifted smoothly and reliably; no complaints. The Black Spire Stinger dual ring guide did it's job without fail. I was impressed that a dual ring setup could perform as unerringly as a single ring dh guide. A problem free drivetrain. My only minor quibble would be that the front derailleur cable clamp uses a hex head bolt due to limited frame clearance rather than a socket head – something I noticed in the middle of a race when the cable slipped, and whilst pulling out my allen keys realized I couldn't fix. Yes, not an issue with a bit of foresight and/or a more comprehensive multitool.
Similarly the Avid Elixir R brakes offered trouble free braking services with good power and modulation. The tool free lever reach adjustment is nice too. 180 mm rear / 205mm front rotor combo works well and saves a few grams (though my inner weight weenie was aghast at the amount of steel left on the new Avid rotors – needs more machining!).
The wheels, comprised of Sun Equalizer hoops with 14g spokes on Formula hubs, were solid; good uniform tension, and they stayed straight and required no tweaking. The single ply Kenda Nevegals, though good for reducing advertised weight, are too light for a big hit bike like this. I had to run pressures near 40psi to keep from them from folding and bouncing off the rim, but still ended up flatting with alarming frequency. The bike needs to ship with more substantial rubber. I soon swapped them for more appropriate tires.

  Picture cropped to protect the identity of the author. Photo ~ Morgan Taylor
Out of the box the Totem RS fork was sticky. I assumed it needed a bit of break-in, but several rides saw no improvement. I pulled the fork apart and discovered low lubricating oil and nearly dry seals & upper bushings. A shop shouldn't have to pull forks apart prior to throwing a bike on the floor, but it seems a bit of preemptive diligence is necessary to avoid a disappointing initial experience on the part of the customer. A quick lube had things happily squishing. Though the fork was a little oversprung for my tastes (I'm spot on between stock spring rates), it turned out to be a solid, easily adjusted fork, requiring no further maintenance for the season. I really like the stout, deflection free Totem chassis: dual crown rigidity.
Moving to the frame – construction quality looks great – with the exception of a poorly honed seat tube that made seatpost insertion tight. Cable guides are well placed, and there's provision for a remote seatpost line. The hardware looks great; the machined aluminum washers are a nice touch. Overall there seems to be a new level of refinement for Norco. I even like the color. The multiple acronyms scattered about the frame (HF, ART, THT, HC) are superfluous and unnecessary however. I'd preferred if some of the time developing the graphics could have been applied to providing a nicely integrated chainstay protector. The rebel that I am left the stay uncovered as it appears Norco intended it to be. For a time. Tormented by the rattling I eventually capitulated and pulled out the roll of velcro.

  The Truax is quite at home in this environment. Photo ~ Morgan Taylor
The Syntace X12 dropout / axle design proved to work quite nicely; built in dropout axle slots align the wheel for effortless wheel installation – a feature much appreciated with the stock flat-o-matic tires. A neat feature that I never had a chance to use was the spare frame mounted dropout hanger bolt. I was tempted to take a hammer to the derailleur to test the 'fusible link' breakaway bolt concept in the name of journalistic thoroughness, but never succumbed to the siren song of the BFH.
On to the ride. Climbing ergonomics are decent, though I'd prefer a bit more length of toptube for the medium size. Another half an inch would be perfection. The seatube, while uninterrupted unlike the elder Shore, is kinked, limiting the range of seatpost drop to about 3" from maximum extension with the supplied post. Not really enough for the intent of this bike. A telescopic seatpost is definitely in order if you plan to climb this on a regular basis.
Though the bike is a bit portly to be dragging up hills, it carries it's weight reasonably well. The low gearing definitely helps. The Specialized licenced FSR suspension is quite active, and makes for a good technical climber. I was surprised at it's ability to grind up rooty / rocky walls. On the flip side, it does bob a bit when putting the power down. I missed not having a compression knob on the Fox Van R shock – it'd be great to be able to crank it up for the climbs.

  Rolling over Digger's fine handiwork. Photo ~ Morgan Taylor
On that note, in preparation for an enduro race I swapped the stock shock for a Roco WC air to take advantage of the lock out for climbing. The Roco was 1/4″ shorter in stroke and free length, lowering and raking out the angles a bit; despite a slight reduction in travel I preferred the slammed geometry overall. I'd love to see a second lower / slacker shock mount point for pinned DH days. If I owned the bike, I'd most likely keep running the short shock or go offset headset or shock bushings – though I've a fetish for lazy low riders. Personal tastes may differ.
As FSR propaganda claims, suspension is effectively isolated from braking forces; the chassis remains fairly neutral and the suspension stays reasonably active when the binders are slammed on. Coming from bikes with more rearward arcing wheel paths, this bike did hang up slightly more on square edged hits, but the reduced effective chain stay extension made this bike a good bit easier to manual and bunny hop – a more playful ride, and a reasonable tradeoff.

  Surprise Whistler A-Line snap c/o Coast Mountain Photography shooter lurking in the woods.

I was impressed with my experience at Whistler bike park; I haven't ridden anything but dedicated dh bikes up there for a few years and I was a bit hesitant to leave the big sled at home. The 7″ travel Truax turned out to be surprisingly capable and an all round fun ride. The reduction in travel and steeper geometry limits 10/10ths riding in the knarliest of knarl to a degree, but that's not the realm most of us recreational riders inhabit most of the time. The bike was nimble in the tight stuff, fun in the air and decently planted in the rough. Fairly confidence inspiring with a short acclimatization period.
So. What are my general thoughts on the bike? It's a well sorted, fun, versatile & good looking chassis. My criticisms are relatively few: lack of seatpost extension and crap tires and pedals. A ride that could serve as a one bike quiver for the more gravity oriented rider – from trail (if you don't mind pushing a bit of weight) to park, to moderate dh. I was pleasantly surprised, and my perception of the Norco brand has been shifted in a positive direction. Well done.

The 2012 Truax Two is the evolution of Norco's 180mm bike that was born here on the Shore. Photo ~ Morgan Taylor
---
Perry got on well with the Truax over his test period, but still had a couple of quibbles. What are your thoughts on the Truax? Is the 180mm Freeride bike a dying breed or is there still a place in your stable between AM and DH? Your thoughts below…
The Long Term Review is our full test period, generally lasting 4 months plus or a full season of abuse. In this period the product has been through a variety of trail conditions in various weather. Our testers ride regularly and hard. In the test period they have put the product through the limits of what any product can fairly be expected to deal with in its lifetime. By this stage in the review process, the tester has a very clear idea not only of the product's performance, but of its long term reliability – and more so, has perhaps uncovered experiences with the product that some consumers may be faced with, such as servicing procedures and customer service standards in the event of warranty claims. There is no stone left unturned in the Long Term Review.