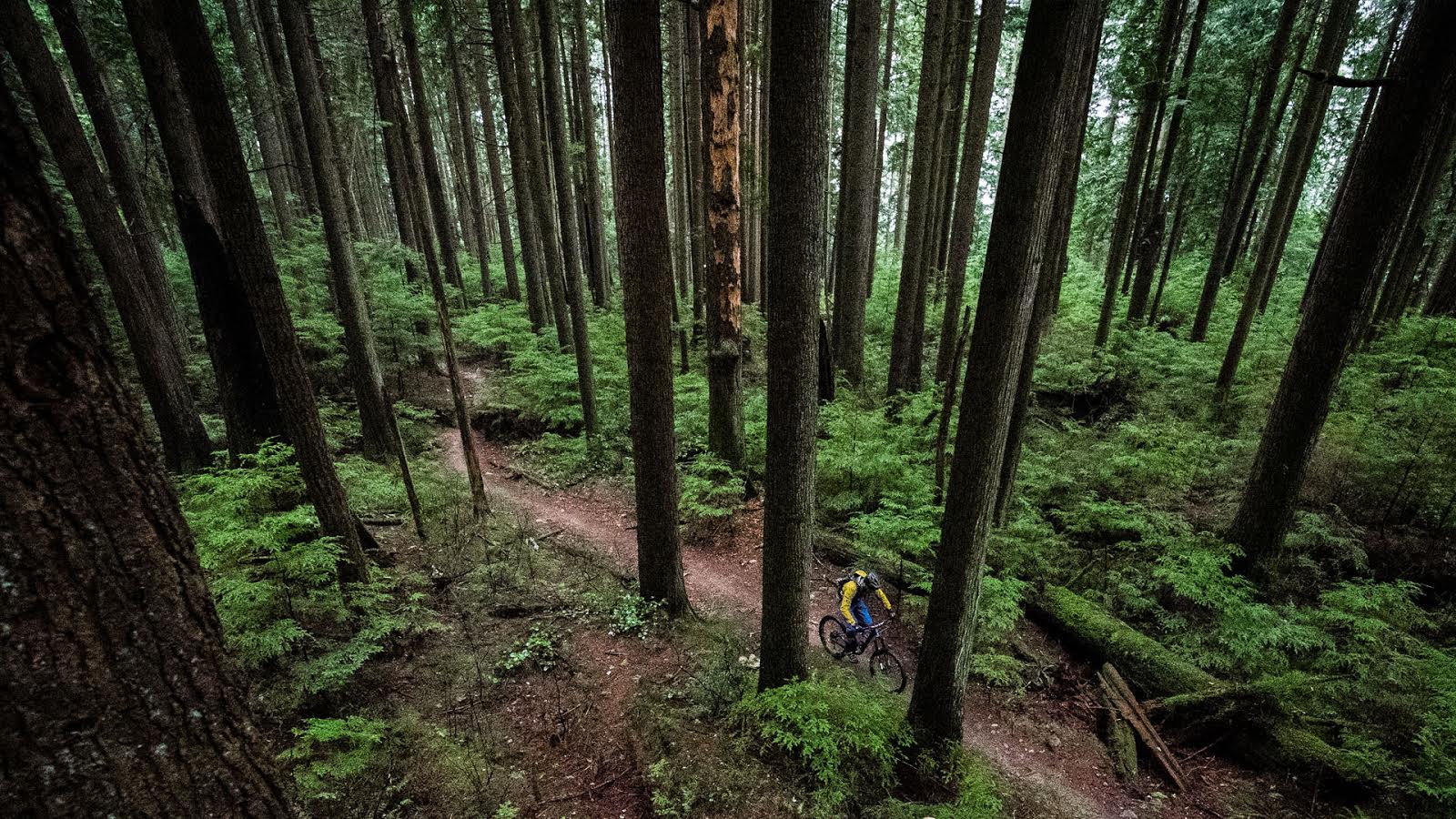 An Unholy Trinity: The 4Kings
When the 4Jacks race was announced in the spring of 2009 no one really knew what to expect. All anyone knew was that the 4Jacks was going to be a four day stage race but very different in character to the usual lycra and 600mm bars events that keep the rollers turning for protein and endorphin fiends. Then when it became clear that this race was going to be a technicolor mash-up of every kind of mountain biking then people got rather excited. The 4Jacks special recipe was that all of the Whistler riding experience was going to be enjoyed, or endured. Riders had to partake in an XC sprint (that had the usual BC technical trail flavour), a top to bottom downhill lap of the Bike Park (starting at the top of Garbanzo no less), a lap of the dreaded Emerald No-Flow zone which included observed trials stages, and a mammoth day of suffering multiple blood breathing climbs and hellevator descents. 
Most people in Whistler enjoy all aspects of riding so this sparked huge interest. Now the pedal pushing fiends were going to go head-to-head with the downhillers. But then the catch that upended everyone and leveled the playing field was that all the stages had to be ridden on one bike, with the same tires and components.
Organizer Tony Horn wanted to challenge the town's folk and try to whittle out the best rider in the valley. What he probably didn't expect was that the whole bro-town community of recreational riders went into meltdown trying to figure out what would be the best tires for the job. For months leading up to the race friends and companions tried to get a handle on what rubber each other were thinking of running. Would it be best to run full casing DH tires so as not to pinch flat on the Garbo stage but then have to lug them around the vicious marathon stage on day three? What about going for fast rolling pinner cross country tires and DH tubes? As the race weekend approached many riders had to face the paranoid anxiety that they were about to make a huge mistake with their tire choice.
However, by Sunday afternoon as all the racers sat down as friends again with a beer in hand it was clear this race had taught people that an everyday approach was best. Local whippet Matt 'The Dingo' Ryan was crowned the overall winner because he averaged out as the fittest, most skilled and capable rider over the course of the four very different stages. Matt is a ripper on all terrain and he was on form that year so no one questioned that he had earned the crown as Whistler's top rider.
His tire choice? The same tires he rode everyday while enjoying the trails throughout the summer. There was nothing special about his set-up, no magic fixes, no special tricks, just what had worked everyday on Whistler's demanding trails.
Before the last of the beer had been drained that night people were looking towards next year and the 4Queens. Tony Horn had masterminded a race format that really gelled with the locals as both competition and enjoyment. It was fun and sociable but at the same time challenged riders to delve deep into their own personal pain cave and stare at true own self. It balanced out the ability to pedal furiously with the ability to overcome insanely technical terrain. In short, it was mountain biking in its truest form.

  Dylan Wolsky, winner of the 4Queens, clearly too fast for the camera. Photo ~ Matthew Mallory
The 4Queens followed in a similar fashion but this time there was no talk of tire choice beforehand but rather the gentle trash talking that accompanies companionable camaraderie. A few stages were tweaked and an extra was added to the race. The entrants knew what to expect and came in charging. Throughout the racing Dylan Wolsky and Chris Johnston were head-to-head but then on the last stage Wolsky edged ahead and took the title. Wolsky was on fire that year and again the champion represented the very best man in Whistler over all terrains.
In 2011, before the snow had even stopped falling in Whistler – which due to some weather wildness was some time around June – riders were gearing up for the finale: the 4Kings. But then Tony dropped the bomb that there would be no 4Kings. Riders heads dropped. It was a blow to many but everyone understood his reasoning, it didn't stop anyone from gently poking Tony to run the 4Kings sooner rather than later.
Two weeks ago Tony quietly dropped the bomb that the 4Kings would be held in 2012. He didn't tell anyone (in fact he was denying the existence of the 4Kings even days before) he just uploaded a cryptic logo-less picture onto his Facebook profile. The picture was of four kings: Elvis Presley, King Tubby, King Kong and Richard Petty. Anyone with a keen eye could spot what this means.
NSMB decided to track Tony Horn down to find out about his plans for the 4Kings, why he decided now was the time for it, and what devilish treatment does he have in store for racers this year.
---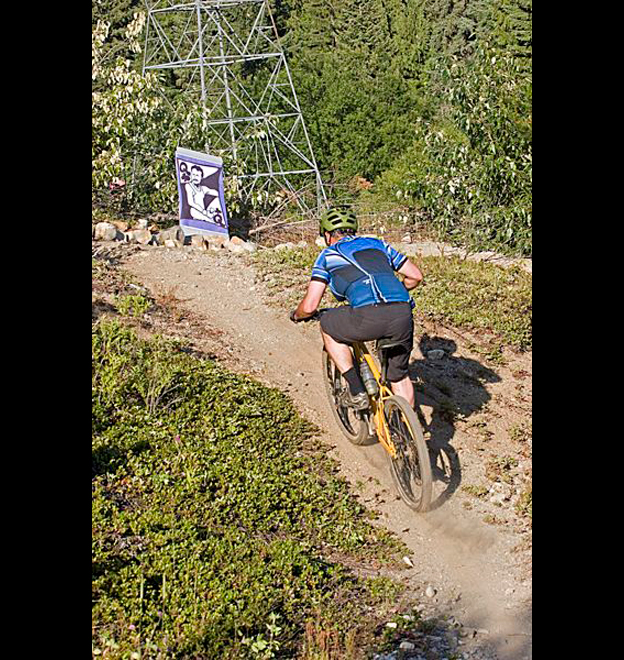 Pushing your limits in the Sea to Sky… Photo ~ Matthew Mallory
Seb: 4Kings is to be held this summer, true or false?
Tony: True.
Seb: Yes! When?
Tony: 7-9th September.
Seb: Only three days?
Tony: It is still undecided what exactly I will be doing this year but I wanted to separate the 4Kings from the Thursday night Loonie race this time. In the past we incorporated the Loonie into the first stage but it is a bit of a hassle to try and do both simultaneously so I might drop that stage. I'm still undecided but what I will probably do is have one stage on Friday, two on Saturday and then one on Sunday and just have four true stages.
Seb: Why September?
Tony: More time for people to get fit [laughter]. In the past having the event in midsummer assured us good weather and lots of hours of light for the long stages. Now having it in September might mean we are gambling on the weather and it could be wet and cold. Perhaps weather will be a factor in the racing. Who knows? It is a gamble at that time of the year, but we are all a pretty hardy bunch. It is also on the same day as the GranFondo but I don't think many riders will be conflicted as which to enter.
Seb: So how about giving me a head start and letting me know what the stages are going to be?
Tony: I haven't given it much thought.
Seb: Really?
Tony: I have some ideas, of course I have. That is why I knew the time was right to run it but I want to talk to people and get feedback and insight. I want to talk to the guys I trust and the guys who have raced the previous events so I can get the right idea for the race. I don't want to give too much away yet. It won't be longer or gnarlier but it will have moments of craziness that is assured.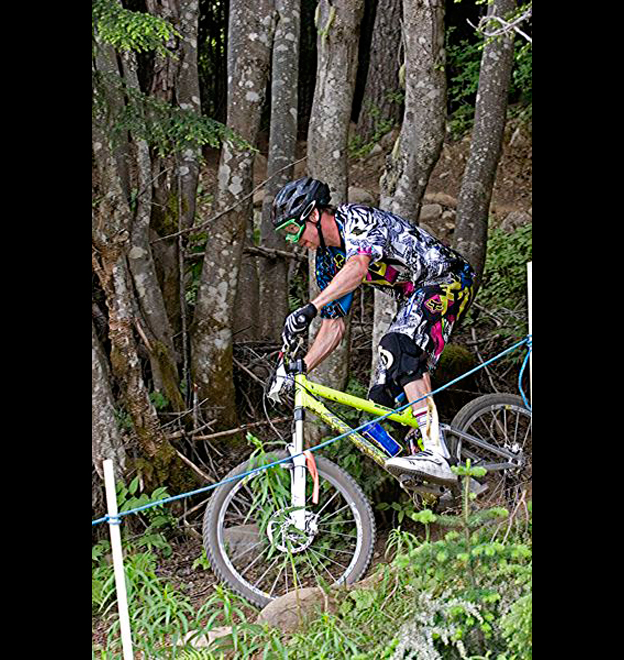 Pointing it downhill will only get you part of the way in the 4Kings. Photo ~ Matthew Mallory
Seb: Will there be the bike park stage again?
Tony: Yes, I think so. It is the truest downhill test. Some people have suggested doing a Khyber or even an RDS descent for the downhill stage but they are more all-mountain orientated. They are a different thing all together but the bike park is the best way to test the downhill skills of riders.
Seb: What about the Emerald stage?
Tony: I will probably work something in there. It is unlike anywhere else and it is suited to the observed trials sections that I want to integrate in their somewhere.
Seb: What about having a Pemberton stage like in the 4Queens?
Tony: No Pemberton probably. Pemberton would be good again but I'm thinking of keeping it all in Whistler this time. There is some cool trail opportunities that have appeared in Whistler over the last few years and I may look to incorporate them.
Seb: So why did you have the year break?
Tony: Firstly, there was the WORCA insurance problem. With hindsight we found out we weren't insured for the 4Jacks. I had organized the most gnarly race I could imagine but then we weren't covered. That really shook me up and it took some serious soul searching to find out if I really wanted to do this kind of thing again.
Seb: That was because the insurance broker that WORCA had been using had been taking the money WORCA was paying to him and just not actually setting up a insurance policy. Unbeknown to WORCA he was running off with the money correct?
Tony: Correct. The other reason for not doing the 4Kings last year were that I wanted to do something less gnarly so I did the Betty and Veronica race. It was more mellow and was a good thing to do for women's riding and racing. The 4Queens only got 12 women entered but this year I am doing another women's only race [Charlie's Angels] and the 4Kings so maybe we will see more ladies keen to try the 4Kings after doing Charlies Angels.
The other reason was that I didn't have the energy and idea of what the 4Kings would be. I wanted it to be the grand finale to what was always planned as a 3 part event series. But now I have an idea and I don't want to loose the guys that had already done the previous two. I want Dylan to be able to defend and I didn't want other challengers moving on before been given the last chance to claim the title.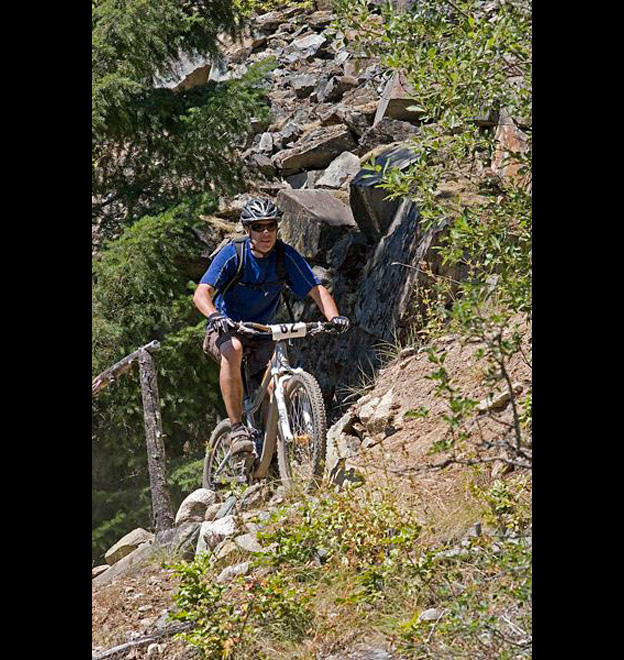 The best all around rider can claim to be the fastest in Whistler. Photo ~ Matthew Mallory
Seb: You have organized plenty of races in your time, all of them legendary in their own right, but what was original idea behind this trinity of unholy races?
Tony: Some races just time the downhill stages but my idea was to find the best rider. I combined all the stages – climbing, decending, technical riding – in order to find the very best all round rider. The stage race format I have developed was a reaction to the Downieville race, which has a DH and an XC.  Basically I wanted to Whistlerize that format.  It is not really an Enduro format but an All-Mountain format that attempts to find the best overall all mountain-ride anything well (and super fast) rider in the valley.  I think fitness is still a big part of it this way, maybe bigger than traditional Enduro.  We are blessed with insanely talented riders up here-Matty Ryan, Kevin Phelps, Dylan Wolsky, Sylvie Allen types that ride everything, don't dab on the tough stuff and do it at a very fast pace (not World Cup level but FAST!) that allow for this format to work.
The race isn't targeted at finding the fastest but rather the best rider. I want to see someone who can really ride everything well. It grew out of the Chromag Friday Rides really. The Chromag family aren't trying to win but just like to do things differently, they do everything and they go hard. The 4Kings is just a celebration of that kind of attitude and ability.
Seb: I agree that the two previous winners were simply the best riders. So when will we be able to sign up?
Tony: No idea for registration yet. Maybe those who entered the 4Queens will get preferential treatment and have an opportunity to enter earlier. I will still keep it small at 120 spots but maybe we will see it being even more competitive for spots this time. Perhaps some out of towners will want to sign up.
Seb: Anything more you can tell us?

Tony: I'm still getting the details formulated in my head. It is still going to be the same broad format of one bike and one set of tires.
Seb: Will it still be as closely policed?
Tony: We never really had to police it too much. People police themselves It will still be in the spirit that cheaters cheat themselves. What we found was that the top riders watch each other and keep each other in check. But we never had any problems in the past, it isn't too serious and people are fair.
Seb: Any more clues about the stages?
Tony: Maybe I'll do four really rubbish stages and people will never want me to do them again. [laughter] I can't wait for the chat about tires to commence.
---
Thanks to Tony for spending the time to chat to us. Expect NSMB to have all the details when they become clear. Until then, sit tight, and speak below…