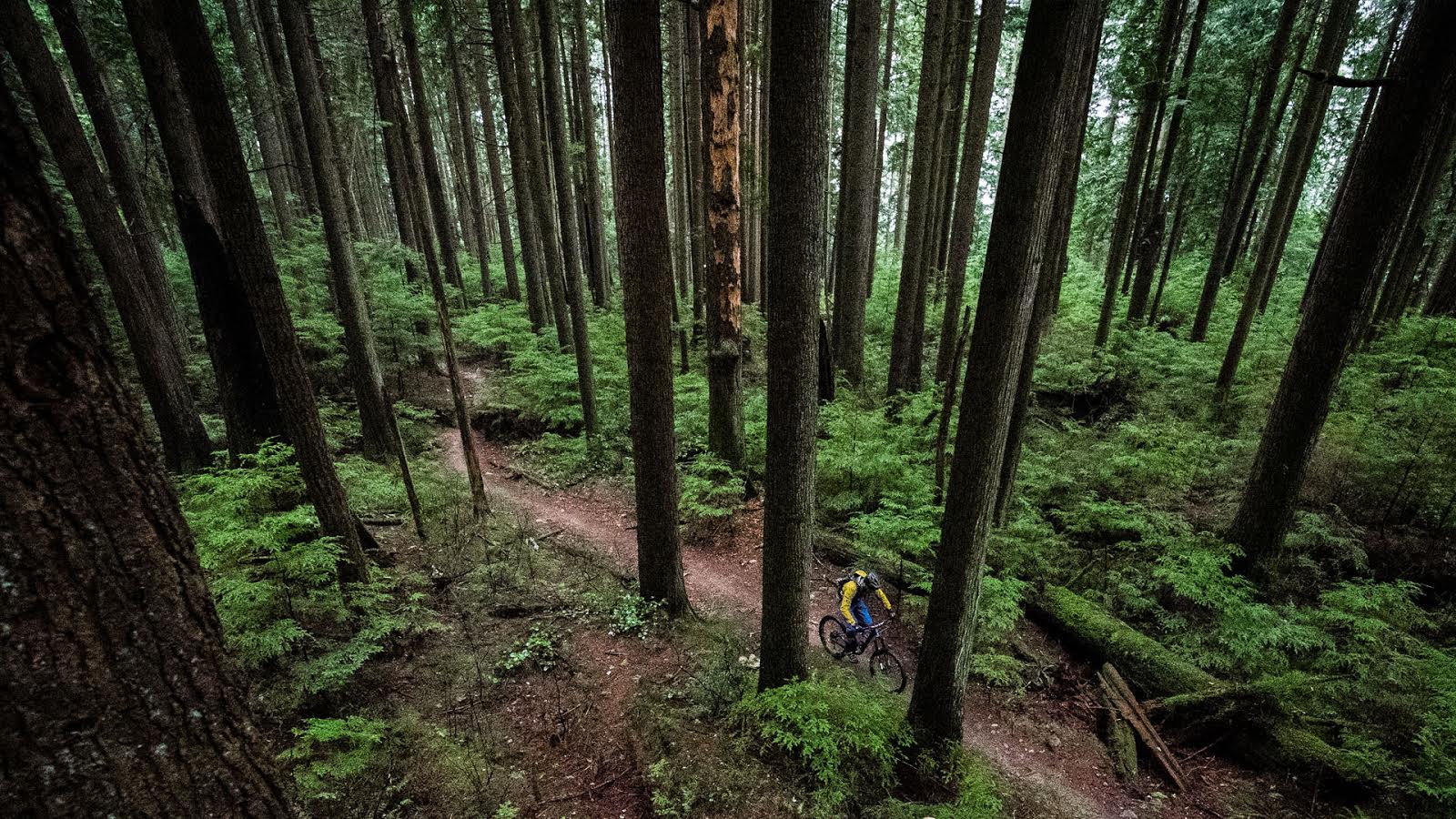 Reader's Ride: Blue Collar Enduro
Cameron Belisle-O'Donnell is an employee at North Vancouver's Obsession: Bikes. The Enduro stoke is high at Obsession, who have a large hand in organizing North Shore Bike Fest in June each year. This year's weekend of racing features a stage Enduro, and Cameron's built up a modest bike for this and other races, as well as his everyday riding on the North Shore.
---
A growing number of expert riders are choosing Trail bikes in favour of longer travel All-Mountain bikes for Shore riding. They're swapping their 36mm stanchions for 32mm, their 2.5" tires for 2.2"s, their hydration packs for water bottles – and some are even going to 29ers. The riders and their bikes are rapidly evolving and the scope of what one can do on a single bike is broadening. To these skilled riders, less is more – and the pros of running shorter travel bikes on All-Mountain style trails outweigh the cons. The question is: are these Trail bikes ideal for us mortal riders on All-Mountain style trails?

  Cameron may be a minority in choosing a longer travel bike for the up and down, but he was looking for a stout all-rounder. Photo ~ Morgan Taylor
Just as the trend seems to be moving away from riding Enduro style bikes on the Shore, an Enduro racing scene is burgeoning in North America. Unlike pedally, single-staged Super-D races, Enduros consist of several timed downhill stages over a single day or weekend. The participants have to get themselves from stage to stage and the lowest combined time of all the timed stages determines the winner. A growing number of people feel that the Enduro format captures the core of what we love about mountain biking: the camaraderie, the thrill of the descent, the love of outdoors, and the feeling of earning your post ride beer (root or otherwise). It's no surprise to me that the Enduro format resembles the average shop ride at Obsession: Bikes.

  Cameron is one of many bike shop employees who fell into the job for the love of the sport. Photo ~ Morgan Taylor
The crew at Obsession is excited to see a number of new Enduro and Super-D races within striking distance. This year, the Oregon Super-D series will become an Enduro series, and last year's marathon XC portion of the local North Shore Ripper will be replaced with a multi-stage Enduro. Between the various local toonie races, the Crankworx Canadian Open Enduro in August and the Four Kings race in September, we'll find ourselves with plenty of racing opportunities in this rapidly evolving format. 

  MOUSEOVER for a sequence of Cameron snaking through the ancient stumps. Photos ~ Morgan Taylor
As a blue collar worker with a modest budget who wants to participate in Enduro Racing, I will need a single bike to fulfill all my riding needs. This bike must ride exceptionally well downhill, yet it must also ride efficiently over long distances. Additionally, it must be durable enough to withstand a dozen days a season in the bike park and regular Cypress shuttles. After much deliberation, I chose to build up a new Specialized Enduro for it's 160mm of FSR travel, proven reliability, reasonable weight and dialed geometry.

  Declining to join the short-travel ranks, the Specialized Enduro is Cam's weapon of choice. Photo ~ Cameron Belisle-O'Donnell

The Enduro has short chain stays which make for a maneuverable rear end. Its low bottom bracket puts the rider in a stable position enhancing the bike's cornering ability. The slack(ish) 66.5 degree head angle will keep the bike feeling relaxed and the front suspension working effectively in steep terrain. In short, the Enduro slays.

  A mostly-XT build kit and Stan's Flow rims, this could be anybody's custom. Photos ~ Cameron Belisle-O'Donnell

For those unfamiliar with the RP23 rear shock, if features two on the fly settings: a firm setting and one of three compression settings (which are better adjusted while stopped). It also features a boost valve, which gives the shock a bottomless feel at the end of the stroke while still retaining pedaling efficiency. My shock is equipped with Autosag, which is found on the new Stumpjumper line. Autosag works quite well in that it determines similar air pressure settings as a conventional sag setup. I suspect they left it out of the Enduro line because the added girth of the shock crowds the water bottle area (which is unacceptable because water bottles are so in this season, right?).

  The trustworthy RP23 shock with Autosag. Photo ~ Cameron Belisle-O'Donnell

For my fork I used a Fox float 36 RLC 160mm. I chose it for it's light weight, reliability and compression settings which allow me to make the most of the fork's travel. Yes, the fork is Kashima coated. Kashima is the Japanese word for dark yellow (it's not really, I lied). After a short break in period, the fork feels exceptionally plush without "diving" or going through all of it's travel at once.

  A burly cockpit of Chromag and XT with a Fox 36 Talas. Photos ~ Cameron Belisle-O'Donnell

Shimano's XT group can be described as the workhorse in their line-up. It performs exceptionally well and provides exceptional value. I did splurge on two pieces of XTR kit: an XTR Shadow Plus rear derailleur for the clutch feature, which steadies the cage allowing me to go without a chain guide (I have yet to drop a chain) and XTR Trail pedals for their low profile, light weight and extra support.

  Mouseover for the next shot in the sequence. Cam puts his XT brakes to the test… Photo ~ Morgan Taylor
As for cranks, I was tempted by the simplicity and light weight of a 1×10 setup but I went with a 2×10 XT crank instead. I swallowed my pride and chose the easier 26-38t option and an 11-36 cassette for the climbs.

"Modulation is just another word for shitty brakes." – James Wilson. Photo ~ Morgan Taylor
I chose the new XT brakes though I must admit I was hesitant to switch from my Avid Elixirs. In the shop, the XTs seem to have less modulation and have a more on-off feel. On the trail though, my fingers modulate just fine. The new line of Shimano brakes are in a class of their own.

  Fromme riders have a nose for fresh cedar, and this day was no exception. Photo ~ Morgan Taylor
I went with a Chromag cockpit consisting of a 50mm ranger stem, the trusty Chromag Moon DT saddle off my old bike, and an OSX Handlebar (trimmed to just over 29 inches). I'm also running some ODI ruffian grips and a reliable Rock Shox Reverb post. I certainly could have chosen a lighter cockpit but my confidence in the reliability and performance of these parts overrode the advantages of losing weight in this area.

  Cameron's four-legged riding companion, Kelly, beats him through the Monster. Photo ~ Morgan Taylor
I'm only a weight weenie when it comes to the rotating weight of my wheels. I laced Stan's ZTR Flow rims to my existing DT 340 hubs. The Flow rims are un-eyeleted (to save weight) and are quite wide, which keeps my tubeless tires laterally supported while cornering. I further reduced weight by removing stickers from the rims and lacing the wheels with Sapim Laser spokes and aluminum nipples. I did not remove the labels from my DT hubs as a weight saving measure; they fell off from riding too fast. Don't hate. 

  Taking a cue from Kelly, Cameron likes to take the road less traveled when the opportunity presents itself. Photo ~ Morgan Taylor
For Winter tires, I'm using a Minion EXO 2.5 3C in the front and a 60a in the back. I'm running these tires tubeless though I'm a little apprehensive about the looser fit of the minion EXOs on the rims. For the Spring and Summer I plan to switch to a Specialized Butcher Control 2.3 on the front and a Purgatory Control 2.2 in the rear for most conditions.

  Kelly and Cameron take another run through the alternate line. Photo ~ Morgan Taylor
With this build, I tried to strike the balance between descending and pedaling capabilities desired for Enduro racing. In the end, it weighed in at 31 pounds with winter tires, pedals and a dropper post, which I think is reasonable for such a stout build. I'm so looking forward to hound dogging and Enduro racing aboard my one bike quiver.

  Cameron wanted to shout out to Jeff Bryson and his glove-condom analogy in his recent article. Cameron chooses to double up for extra protection. Photo ~ Morgan Taylor
---
What do you think of Cam's Specialized Enduro? Should he have opted for a shorter-travel option or even a 29er? Should goggles be worn with a half-lid?