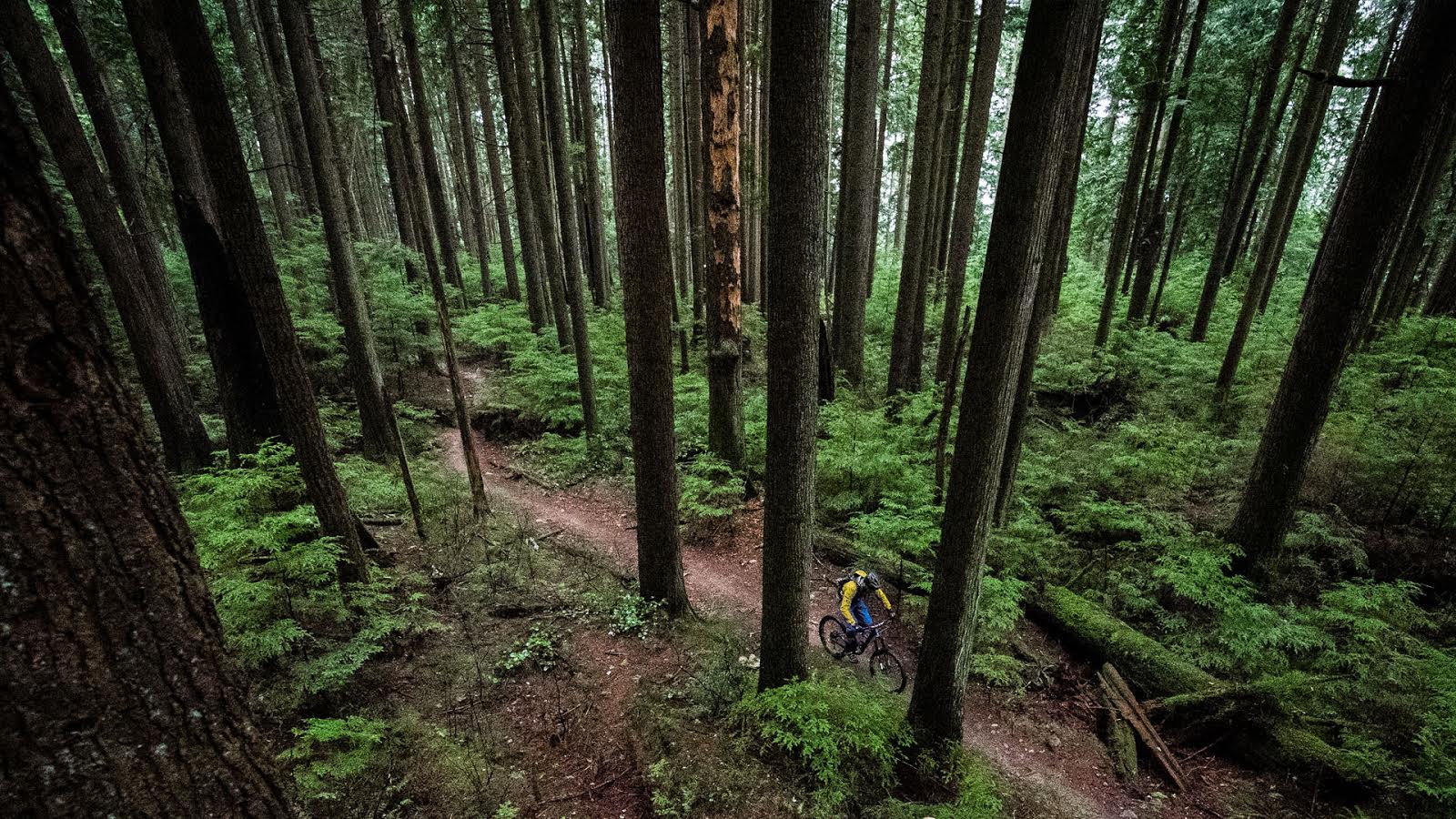 Wade's Wisdom – A Winner
I would like to thank all of those who replied, and stuck their necks out there if their bosses or loved ones were to read some of the replies – some incriminating stuff! As usual, we post our favorites for all to enjoy, and pick a winner to receive the swag. This rounds winner is Dave Hutton, who I'm sure is stoked to still have a job and discovered his boss ain't so bad!
Congratulations to the victor! You have scored a Wade's Wisdom sweet swag kit! I hope you enjoy the goods from Oakley, Bell and MTBTrails, and put them to good use; legitimate or not!

  The prize pack! New Oakley JawBone shades, Color Lemon Peel Fire Irid and Clear lenses, A Bell Sequence helmet (Matte Titanium Jimbo Phillips custom) and a Locals' Guide to North Shore Rides guide book.
---
Here's Wade's story and his request for stories, with Wade's favourite story submissions below.
A funny story comes to mind for me related to this. Years ago, early 2000's I think, the Digger, from the North Shore Extreme Series, called late one night super excited about a heli-trip coming together the next day = filming for his latest release. We were to fly up to Disney Land, a favourite local heli-drop on the way to Squamish. I was working at the Cove Bike Shop at the time and so was a young Thomas Vanderham. My memory is a bit fuzzy, but somehow Thomas ended up being on the flight the next day too; one of his first paid-for photo shoots. The day started early, as heli-film shoots do, and while city-folk were finishing their first coffee, we were assembled up high on a ridge overlooking the Georgia Strait with the early sun warming. Thomas looked at his watch, then glanced at me and politely asked to borrow my cell phone. A cell phone was a rare-commodity in this era. Apparently, he was scheduled that day at the shop, and had no time to phone anybody the night before. Needless to say, he was fired over the phone right there. It was a great ride. He knew how to follow his heart!
Frozen November single-track. For the kickoff of this years Wade's Wisdom, I want to hear stories of rides that were too good to be missed, and the alibis dreamed up to participate. I want to hear about sacrifices that had to be made in the name of good honest shredding. Conditions so good that another day/week in the doghouse is starts to feel like home.
---
Hey Wade!!
The following is a true story, only the names have been changed to protect the innocent – or are we guilty…..who can tell?
So before the Olympics came to Whistler, probably June of 2008, I was there for several months living in my truck and camper unit. Single, two bikes, no dog, nothing tying me down. Working and riding. Living the dream, so to speak. The work scene there was awesome for a Formwork Carpenter like me. Tons of hours and top dollar wages. I was working for Kiewit Construction building the bridges on the Sea to Sky Highway improvement project. Cool job, the cheques were awesome! Plus I got to work on the same crew as my old buddy Tim The Freak! (But that's another story….)
One gruelling Thursday afternoon in the sun, another MTB Porn Star buddy of mine, Lux Linkage called me while I was at work. His story was that the next day one of the infamous Chromag Crew Friday rides was happening, and that the target trail was none other than Disneyland in Brittania Beach! Visions of a sweet Heli-drop came instantly to mind and I started getting that old familiar twitch in my left eye! Gotta ride…Can't miss this! Problem was, we were working 6 days a week, 12 hours a day. That meant Friday and Saturday too. I knew that getting the day off wasn't really going to fly with the Utah Baptist Superintendent that I was working for. What does he know about Disneyland? He'd probably be thinking Mickey Mouse even if I explained it to him! Plus, I didn't really like the guy! Haha! I had a thousand excuses going through my mind to give him, but then Lux told me that we were pedaling up, no Heli involved!
I thought "wow!". A hellish long pedal up to a famous Heli trail with a crew of the hardest of the hardcore. Perfect weather, my sweet Chromag Gypsy waiting tuned and ready in my truck. It really was too much to pass up.
I waited until the end of the shift (see what a team player I am?) and approached Ol' Lonnie the Utah Super, smiled and said I needed to talk to him. "Sure!" he drawled, "What's up, Son?".  I told him right then and there that I was quitting, effective immediately. I was going to try to explain the whole Friday ride concept and Disneyland, but thought I'd save my breath and just left it at that. I guess it was kind of out of the blue and he didn't really expect it, but what was he to do? My mind was made up, and to tell you the truth, it felt pretty good to be rid of Lonnie, Kiewit and that bridge out by Function Junction! My only regret was leaving The Freak there to fend for himself, but I think he really didn't care either. Plus he's a mountain biker too and had been egging me on the whole time!
I was free! No job now, but free!
Lux Linkage was super pumped to hear that I was coming out! I got the address for the meet up spot and tried to get some shut eye for the big ride.
Friday came and the day was perfect. Cool and clear. I drove down to the meet up spot in Squamish which was, as always, at one of the Chromag Crew's house. Huge breakfast of eggs and bacon and toast etc. Crew kept rolling in and when we were all assembled there was 13 of us, 11 Chromags, two light duallies and a couple of dogs. A big crew for sure. I had never seen so many Chromags together before! We all grouped up in a few vehicles and headed down to Brittania. I wasn't sure what to expect of the climb, other than the boys pointing out the rock bluff that we were riding up to. Ouch. Big, big climb.
We headed out together up the paved road, which shortly turned to a locked off logging road. I could see from the start that the crew I was with meant business as we ground up and up. I thought the pace was pretty fast, but assumed we would slow up a bit as the klicks went by. Wrong! They were just getting warmed up! It's amazing how when you're riding with a tight group of fast riders, it becomes a bit of a competition/suffering/empathy dynamic. Just when I felt like I was burning, one of the bros would crack jokes or make barf sounds (real or not, who knows!) or egg everyone on and it just energized me! Up and up we went, I think it was at least 3 hours. Could have been more, I don't know. The road ended and we regrouped where the single track begins. I thought that was it for the climb, but no, the single track continued up. For me and a few others, it became hike-a-bike. Carrying it on my back actually because it was so steep. I couldn't believe the strength and finesse of a few of the Chromag boys who were cleaning the climb that I was struggling to hike up! Animals!! Aliens!!
We finally reached the top where the alpine begins. I was very grateful to have filled my flask with some single malt before the ride, so I busted that out and passed it around. Who needs a warm up now? We rested and chilled out at the top for a while and chewed some food down, anticipating all that was to come.

  A view part way down Disneyland, overlooking Howe Sound not far from Squamish B.C.
We dropped in one at a time and it was on! Such a sweet trail! It was like nothing I had ridden before. So many steep hard rock chutes and rollers, awesome section after awesome section! A tech bomb went off up there and leveled the place! Watching my compadres shred some of the optional lines that mere mortals like me back away from was amazing! The same feeling of rolling in such a tight group as on the climb, but downhill! Too good for words!
The ride took about six or seven hours in total, I was too blown out and dopamine charged to remember correctly. It was like five years of riding compressed into one day. Too much for me to describe, I'm only a carpenter, not a writer…I don't have the words. The burgers at Mountain Woman's school bus down by the highway tasted like food of the gods. That's what I felt like that day! Just to have survived intact after a ride like that automatically gives you Demi-godlike status! Haha!
That day was definitely one of the top three days of my entire 20 year riding career, I'm still waiting to hit Disneyland again, but this time I think I'll take a bird to get to the top. Don't get me wrong, I would climb it again, though!! And yes, it definitely was worth quitting my job to go!
Saludos!
Chuck D. Railer
***************
Yeah Chuck D,
Stick it to the man! I guess one has to have their ass covered when one pulls a move like that, but that is the ultimate ride sacrifice. Great tale. Disneyland, worth the price of admission flying or crying.
Get a job,
Wade
---
Hey Wade,
Great story that you posted on NSMB on 12/1. I thought a lot about the kind of sacrifices I've made to ride, and wanted to share with you a story about a sacrifice that someone else has made for me – my wife.
We met a little over two years ago, and she's said several times that she fell in love with me because of the way that I talked about my love of riding on our first date. She doesn't ride (though she was a gymnast as a teenager and could probably shred if she put her mind to it), but was happy to spend a few weeks with me in Whistler and on Deep Cove during our first summer together.

  Chuck Zangara getting ready for his order from the Dirt Merchant.

She has never complained about how much I ride, the injuries that I sometimes sustain, or the grumpiness that sets in when I'm off the trail for more than a few weeks. So, on the day that we got married in May of 2010, she smiled when I said I was going to get a few morning runs in at the local bike park (Diablo, in Vernon, NJ).  I had a blast, getting in a few fast and aggressive runs while I kept in the back of my mind that I would, later that day, marry the woman I'd been waiting for my whole life.
Later, during our reception, the wife of a riding buddy came up to my wife and said, only half-jokingly, "you're really setting a bad example for the rest of us by letting him ride on his wedding day." Liz, my wife, laughed, and said "it's his day too. I knew he would make it. Even if he was limping and wrapped in gauze."
And, she's right.
All the best,
Chuck Zangara
New Paltz, NY
***************
Hey Chuck,
It sounds like you found the right woman! I have a similar liberal marriage. I was with my wife a long time before we got married and she knew exactly what she was getting into. It's hard, I'm sure, to be married to somebody who is addicted to riding as much as us. I find that when I take so much – always late for dinner, springing trips on at the last minute – I really enjoy giving more in return. The delicate balance of take and give!
Ride on!
Wade
---
Yo Wade,
 
I am employed as a consultant by a major company to support their IT system. I work remotely and most of my responsibility occurs around Month end when they are preparing their results.
 
Last summer my buds arranged to ride on a classic summer afternoon right in the middle of the month end support period. I honestly didnt even think about work. It is almost as if my brain totally forgot that I actually have a job. I hadn't ridden for a couple days and when I got the call, I didn't hesitate. I was out the door in 5 minutes. We ride deep in the woods and there is no cell phone reception, but to be honest I dont even know if i carried my phone with me that day. Again, for some reason, I guess because conditions were so awesome and i was so hungry to shred…I didnt even think about anything other than bike stuff. The ride was awesome, we did two laps on our big bikes and conditions were the best ever.
 
Getting back to the cars, I was still in no rush and totally chill. We drank a couple beers and chilled and then mozied back into town with a nice buzz on.

  Dave Hutton along with Derby riding a trail near Seattle. Photo ~ Jesse Grissom

When we hit the interstate, I checked my phone and there were 15 missed calls and messages from various people including my manager. Oh cr@p! I returned his call and all he said was,
 
"I dont know where you've been but listen to me, you have just had a family emergency… now get to your computer" and put the phone down
 
He called back 5 minutes later and explained that the "sh1t was hitting the fan" and that he had covered my ass (and his) by making this excuse on my behalf… and told me I had better have a story to back it up. "Your kid was sick and you had to go to the hospital or your wife was in a car crash."
 
I got home (now totally sober) and worked for 6 hrs until 2am fixing the problem… it was totally worth it!
 
He never asked me where I was that day…but I am pretty sure he knows…
 
By lying on my behalf and saving my job, he bought my total loyalty and respect. I am now his best consultant and his go to guy for everything… so it all worked out in the end.
 
Adios
Dave 
*************** 
Dave,

Great story man! I like the fact that you didn't even know if you had your phone on you. It's rare these days when people are completely out of communicado, Your boss sounds like he's pretty cool! Classic how he gave you the option for the "family emergency"! Haha. I guess if you don't push the boundaries a little, you don't know if they can be pushed a lot.
Cheers,
Wade
---
Posted by *Pepe* at 02:25 PM on 12-01-2011
i was on a surf trip in costa rica and my vacation was about to end. i wanted to extend the trip so i called my assistant at work and told her i had an ear infection and the doctor said i couldn't fly for a week. when i got back it was obvious the excuse didn't work like a charm at all, but i didn't care and stuck to the story.

  *Pepe* sending it, not in Costa Rica, but in Hood River Oregon at the Post Canyon riding area. This drop is called The Barn Door.

***************
Pepe,
That's exactly the kind stuff I want to hear about! The way I look at it, you have already committed to the trip, so if things are going better than expected, why not stick your neck out there and see what happens?!
Surf's up!
Wade
---
Dave,
Congratulations, you are the winner of the Wade's Wisdom sweet swag kit! I hope you enjoy the goods from Oakley, Bell and MTBTrails, and put them to good use – legitimate or not! Stayed tuned for the next Wade's Wisdom segment.