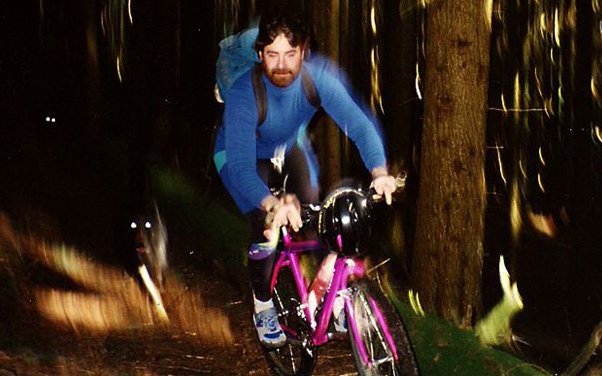 Digging up the Origins of the Shore
Digger: North Shore History X – Part I
Check out Part II here…
---
North Shore History X – Part I
"It's a long way to the top if you wanna rock & roll…"  ACDC blares from Digger's headphones as Bon Scott's whisky-roughened voice bleeds through the silence of the forest. The song couldn't be more appropriate.  Hard at it now for nearly three decades, he's been digging on the Shore longer than anyone.  Anyone. "Who ever thought to rock out the bag pipe?!" He bellows, talking way too loud, leaning back playing air guitar, no voice modulation with the music cranked in his ears.  His charms can be boisterous at times, but what would you expect of a man who's moved mountains and unquestionably more gold then any other man alive?
Digger's got a big smile on his face, clearly amped to be in the forest, to be building on Fromme once again.  Since first building Grannies over 20 years ago, he's been unstoppable.  More recently, a total revitalization of his cherished Ladies Only has taken him the last 18 months of blood, sweat and broken bones. He's been at it a very long time and thankfully doesn't look to be slowing down anytime soon.  Since passing the half-century mark, he may in fact be miraculously gaining momentum.
He got his first taste of dirt back in the early 70s.  Little Digger was a cub scout, helping build the Baden Powell trail.  Since then, his lust for building has been insatiable.  His calloused hands have shaped the land, building some of the very first bike trails in our west coast nirvana; ribbons of gold racing through the forest that today serve as our history, our connection back to the beginning.
We attempt to make a list of the countless trails he's built over the years, but he gets continually sidetracked by some long forgotten memory jarred loose at the mention of a trail's name, becoming lost in reminiscence.  Most of his tales culminate in carnage of some sort, his voice becoming more animated as the gore increases.  "What trail were we on again?"  It doesn't really matter Digger, we all know the list is inexhaustible, but we start over anyways.  This time he's too sharp, firing names at me so fast I can't keep up.  "Grannies, Rag Doll, the Howler-that was Dan's favourite, the Glove…" Now it's me who interrupts the process.  "The Glove?!"  I press for its whereabouts, the rider in me digging for nuggets.  "You need to look hard nowadays, the forest has taken it back mostly.  It eventually takes everything back if you leave it long enough."  He would know.
Back when it all began, there was much ado about nothing. Long before Dangerous Dan would propel big drops and raised skinnies to new heights, The Digger Bicycle Group was cruising the Shore's slopes with toe clips and canti's, looking for adventure. "Most of my friends thought it was a fad."  Digger got his first mountain bike in the early 80s, a Maruishi Mountain Ace. "The Cove was only open three days a week back then, just for the afternoons.  Even then they might not even be there!" Digger laughs "There may have been only 10 mountain bikes total on the Shore at the time.  We used to ride around on Fromme for hours and never see anyone. Ever."
While our American cousins were down South freewheeling fire roads in Marin County for bags of bud, Digger and his chumleys were snaking through the forests of the North Shore, quietly churning their tires through virgin loam, fully rigids bouncing across buried logs on turn of the century skidders. Trail options were severely limited at the time.  The few hiking trails were a scare to ride on these rigid machines with their steep head angles and fragile welds.  The Maruishi only withstood Digger's abuse for 3 weeks before it snapped.  "But it was a great three weeks!"  he howls.
Digger quickly realized the potential of getting off the beaten path.  "The first time I built anything was to bypass a straight down rocky section on St. Georges that was way too gnarly on a fully rigid.  When I took the boys down it they loved it."  This would be the humble beginning that would open the curtains and set the stage for the next two decades.
Riding trails built specifically for bikes was a completely different experience.  It was totally addictive.  Digger's shovel first struck gold on Cypress and soon after he moved to Fromme, building Grannies sometime in the late 80s. Ross Kirkwood was the only other active builder at the time.  Kirkwood had already built Griffin and was working on 7th Secret through to Kirkford at the time.  Shortly after Digger finished Grannies, Moreside and his crew began flagging Expresso, taking two years to complete the originally stuntless line.  To this day Expresso is one of the longest sustained descents on Fromme, named for the 'Expressway' chutes it meanders through.  It was the early 90s and things were just beginning to ramp up.
When Digger was confronted with a swampy section on one of his later builds, his construction background took over.  He created mountain biking's first slat bridge, splitting rungs of cedar, just like the shake makers he'd seen before.  "I first started building bridges to get over wet sections."  Although utilitarian in its beginning, this new technology would soon be utilized in other ways. It was this type of impromptu innovation that Digger should be recognized for.  He laid the foundation of knowledge for trail building long before any textbooks had been written on the subject.
With the mountains to themselves for so long and a growing contingent in the sport, trails were kept a guarded secret with concealed entrances and scant invitations for many years. Soon after that first ladder bridge was built, a newcomer had arrived on the scene, fearless and savage, single-handedly changing the outcome of what was to unfold.  Relentless and full of energy, he tagged along on every ride with Digger and his chumleys, doing anything anyone else wouldn't.  The first time Digger saw Dan Cowan ride, he looked at him sideways, bewildered. "You're dangerous!" he enviably told Cowan. It stuck.
Dangerous Dan began to experiment pulling up his front wheel off everything.  One day Cowan launched off the Digger log with a pedal kick, doing what may very well be the first on-trail wheelie drop, or at least the first anyone had seen in these parts.  "It was only about 3 feet, but we were all blown away!"  Digger recounts.  "Dan was riding a fully rigid, long hair down to his shoulders stuffed under a Styrofoam helmet with home made arm pads!  He looked wild!" Danger broke his ankle that day, but the pioneering move would echo through the eons.  Suddenly, everyone was trying it.
Original Shore shredders Mountain Bike Mike and Freddy Z, were nose-down, flat out billy-goat style at the time, pushing limits on the steep and gnarly.  Mike thought the whole 'airing' fad would be gone in a year or two.  Yet ride with Freddy Z today and you know he's embraced that 'fad'.  Hard to believe he's encroaching on 50, Fred shreds at a level that makes most men's guts turn, lofting off steep rock faces to sniper landings.  Although it may look a bit different today, Dan Cowan opened the realm of possibilities, showing the sport a new method of attack well ahead of its time.
Driven by Dan's riding and Digger's building, mountain biking would go through its first catharsis.  Things began to move rapidly now; the possibilities couldn't be contained.   In the early 90s, Digger began work on his beloved masterpiece, Ladies Only, completing the cutting edge trail in '92.  20 years old in 2012, it's a testament to Digger's vision that the trail feels anything but dated – it might as well have been built today.  With the creation of these trails, Ladies in particular, he was providing the new regime with the training grounds to push the limits.  Digger had unrolled the canvas on which a select handful of innovators would progress the sport.
In '91, another log was thrown on the fire.  Wade Simmons moved to the Shore.  Things would be changed forever more. Dropping by the Cove on his Klein Mantra to check out the local scene, Chaz drew Wade a map, "Check these trails out on your way home Bro."  On Bridle Path, Simmons bumped into local bike couriers Darryl Youngman and Steve Chalmers out for their religious weekend dirt ride.  Simmons began to join them on their sacred Saturday shreds.  "We'd ride all day! Meet up at 9, and drag my ass home at 4 with no gas left in the tank."  Simmons attacked the North Shore gnar, incorporating his repertoire of bmx skills; manuals, bunny hops, air time and speed. Things exploded like a powder keg.
Part I of Mark Wood's North Shore History X covered the foundations of the freeride movement here on the Shore. In Part II, we'll have a look at the explosion and see the completion of Digger's Monster coaster. Check out Part II here…
---
Where were you when the Digger Bicycle Group was roaming the Shore? Have you ridden any of the old classics lately? Drop your comment on the Dansition below…