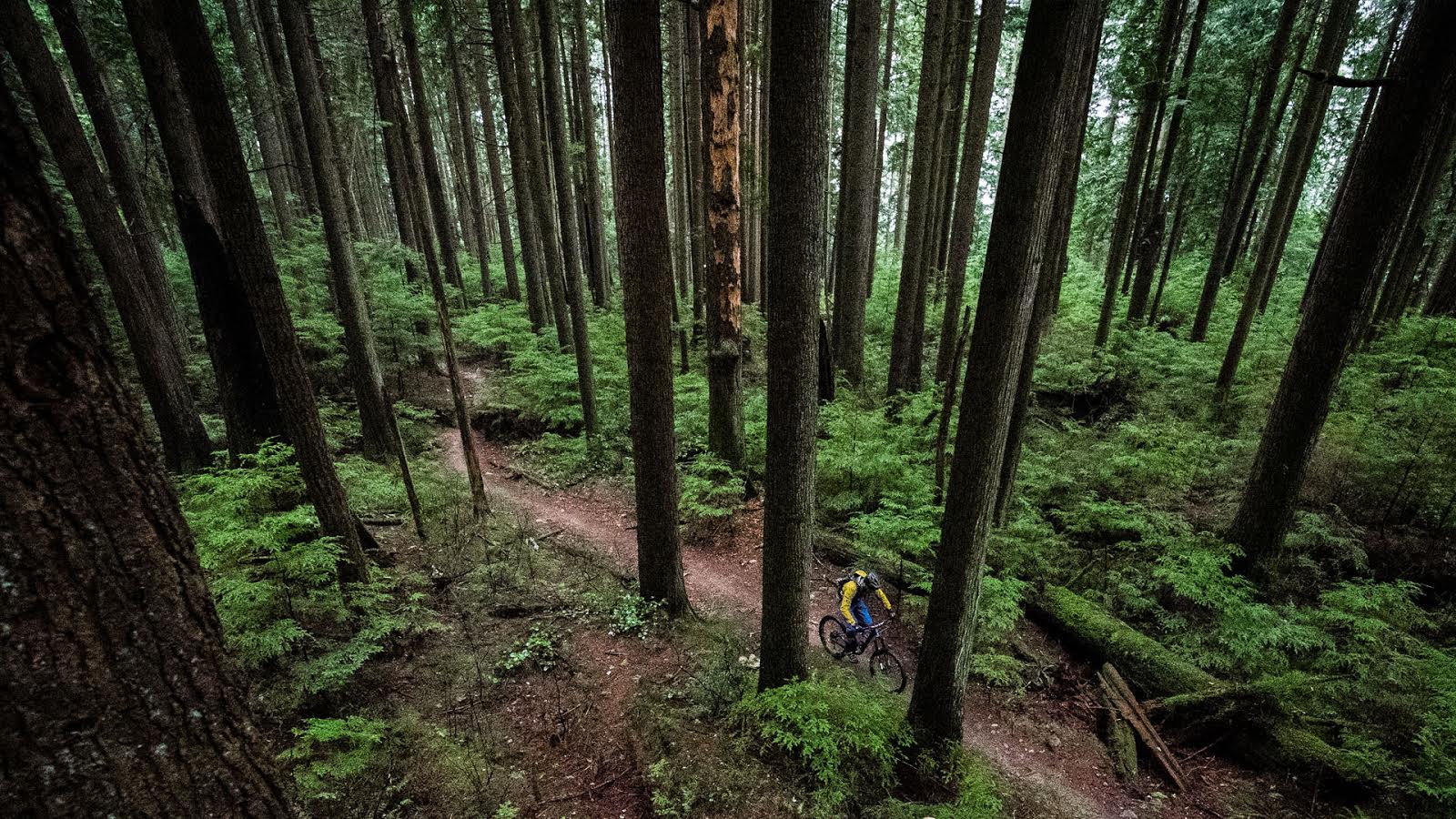 Long Term Review: WTB Bronson TCS Tires
Charles Bronson is a classic movie tough guy. He shot copious numbers of bad guys and gave Clint Eastwood a run for his money when it came to steely-eyed, squinty glares. He was one tough sumbitch. So, to name a tire after Bronson is a ballsy move (or a well-conceived marketing tactic).
WTB tires don't have the best reputation around these parts, in part because of some bad spec choices by bike manufacturers, but I've personally had good experiences with the WTB tires I've run. One of my all-time favourite AM tires was the WTB Stout, which is unfortunately no longer in production.
The Bronson was introduced in 2011 and takes over from the Stout as a multi-purpose, mid-weight, mid-width tire for bikes with four to six inches of travel. WTB pitches this as an all mountain / freeride / XC tire designed to be ridden on wet to try and loose to rough terrain. It's only available in a 2.3" width, but there are two casing options – the Race, which weighs in at 650g claimed and the TCS (Tubeless Compatible System – WTB's tubeless platform that is designed to meet UST / ETRTO standards) at 810g actual.


The WTB Bronson, fresh out of the package and ready for action. Directional centre knobs with small indents and larger outer knobs with a notch on the back side are designed to optimize traction and reduce rolling resistance.
Both versions use WTB's double dna rubber with 60a durometer rubber in the centre and 50a durometer on the side knobs, a lightweight casing and an aramid (Kevlar) bead. The knob pattern is designed for smooth rolling along the centre with lots of bite on from the side knobs when you're leaning over – pretty standard stuff, and what you'd expect from an AM tire. WTB marketing speak also says that the open tread pattern "makes quick work of muck".
I've recently made the switch to tubeless, and have been running the TCS Bronsons with Stan's sealant; added bonus – they can be run either tubeless or with tubes. This particular set of Bronsons has been mounted on both a set of XTR tubeless wheels and Easton Haven wheels.
Mounting the Bronsons on the XTR wheels was a straight-forward process. Slip the bead over, add two scoops of Stan's and use a plastic tire lever to get the last few inches of the second bead over the rim. There were no issues getting to the tire to hold air using a floor pump, but it did take a fair bit of pressure to get the bead fully seated.
There were a few snaps as I took the pressure up to 40 psi, but it was clear that the bead wasn't locked all the way around. I ended up going up to 60 psi – with a little trepidation – and walked away from the wheel to let it finish seating. It continued to pop for the next two or three minutes, scaring the crap out of me each time. Part way through the test, a set of Easton Haven tubeless wheels arrived so I switched the Bronsons over. The tires seated on the Easton rims with much less pressure, which made the whole installation process a little less scary. 

The Bronsons mounted one of the new XTR tubeless wheels. Inflating the Bronsons with a floor pump was a piece of cake, but they did require fairly high pressure to seat on the rims.
I've been riding the Bronsons for a few months now in a variety of different conditions, and have had generally good results. I've been using them on a 6" all-mountain bike and a 5" trail bike, mostly on Shore XC rides but I've also spent some time on dry, dusty trails as well. The first thing I noticed was that traction on the Bronsons was good going up, over and Shore roots, on steep dirt sections of trail and over rocks when trail conditions were anywhere from dry-but-not-dusty all the way to downright soggy.
The centre knobs gripped well and the side knobs hung on when I leaned the bike over (as much as one does when you're not a racer). Nothing squirmed, and the tires hooked up enough to keep me moving forward through just about everything my legs and handling skills were up to. Predictable handling from a tire is essential, and the Bronsons definitely delivered on that. The 2.3″ width was also enough to handle the rough stuff at speed without making me feel like an ice cube in a cocktail shaker.
Riding uphill on 810g tires might seem like a pain if you're used to 600g rubber but it isn't a big deal if you've spent any time riding 1,300g big bike tires. Combine that with a light(er) wheelset and you've got yourself a pretty solid set of wheels that get up to speed without a ton of work. 


The Bronsons worked very well on slightly wet rocky and rooty terrain, like some of the sections near the top of Pipeline.
Traction on the Bronsons is better than some other "stock" tires that get spec'd on new bikes (think Kenda Nevegals) in many situations. But they weren't as good in the wet as my favourite winter tire – 2.5″ double-ply Maxxis Minion Super Tacky – on wet boardwalks, skinnies or ladders. They also weren't as good as the Stouts in those situations. I found that I was checking my speed a bit more before I rolled onto the woodwork, because I didn't have quite as much confidence in the Bronsons in these situations. The Bronsons also tended to break away sooner than I would have liked on uphill woodwork, meaning you had to choose your gearing and pedalling opportunities carefully.
The Bronsons also came up a little short on the hard, dry and rocky trails of BC's Okanagan Valley, where they felt squirmy – especially at speed. The knobs that hooked up on the Shore moved around rather than biting in, and made a bike that I know well feel sketchy. The tires were manageable when I let them run on singletrack but I found myself checking my speed earlier as I came into most corners, and loose corners in particular.
WTB says that the Bronson tread pattern is designed to shed mud, and it does in some situations – but trails with clay or more dirt than loose organic material were a bit of a different story and the Bronsons held onto more than their fair share of dirt. Traction wasn't overly impacted as long as you stayed on dirt, but it didn't help things on woodwork. I could have done without the added weight, too.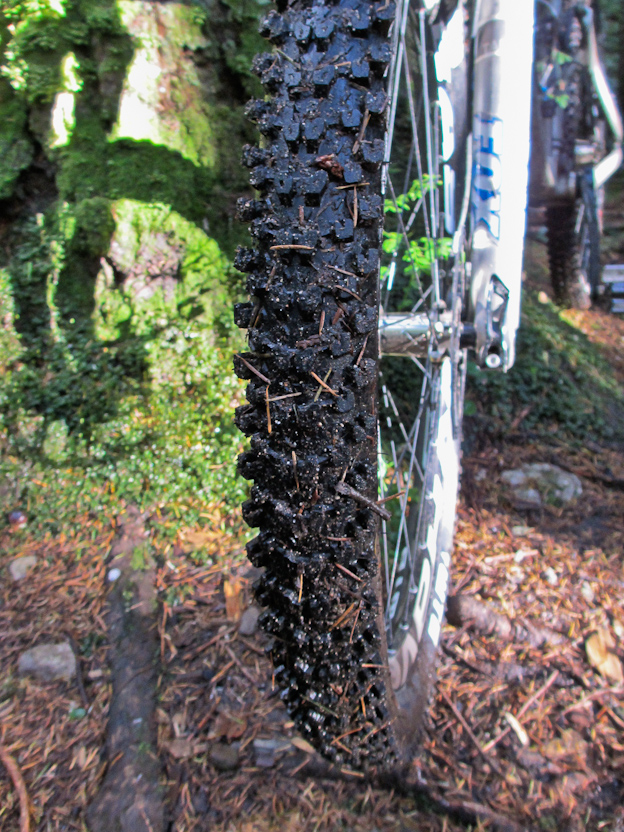 The Bronsons held onto bits of the trail most of the time. That's not a big deal when you're talking about pine needles, but it is when they're packed with clay.

Wear on the Bronsons has been good, likely due to the slightly harder rubber compound. After 20-odd rides, the siping on the centre knobs is still clearly visible and none of the side knobs have been ripped off. The tires seem to hold air at least as well as other tubeless tires I've used, but definitely need to be topped off if the bike has been collecting dust for a while.
As a big rider, I never find myself running tires with very low pressures and the Bronsons weren't any different. 230lbs of rider plus gear and bike means that I run somewhere between 32 and 40 psi, with lower pressures on wet days and higher pressure on dry days or XC trails. I didn't run into any issues with the Bronsons burping air at those pressures, but it might be a different story for riders who run them at sub-30 psi levels.
After a couple of months on the Bronsons, I know them pretty well. They're a good tire in some situations, and not great in others. Very few tires are winners in all riding conditions, though, just as very few bikes excel in all situations. The combination of tubeless compatability, acceptable weight (for the size and all-mountain tire category), good width, good tread pattern and predictable handling are all pros, as far as I'm concerned.
What would make the Bronsons better? Softer compound, for better traction on the really wet stuff. But then they would squirm even more on dry or rocky trails. Guess you can't have everything… and making the tire softer would certainly take away from the tough guy moniker. Bottom line: I like the Bronsons better than quite a few other AM tires out there, and I'll continue to run them until they're all used up. What happens then remains to be seen.
The WTB Bronsons retail for US$60 for the Race version and $75 for the TCS model. They're available in 26″ x 2.3″ and 29″ x 2.2″ sizes. Check with your Canadian retailer for Canuck prices.
---
Stuart exposed the Bronson and proved he might not be the tough guy the movies made him out to be. Check out Stuart's First Date with the Easton Haven wheels HERE – and leave your thoughts about Bronson below…
The Long Term Review is our full test period, generally lasting 4 months plus or a full season of abuse. In this period the product has been through a variety of trail conditions in various weather. Our testers ride regularly and hard. In the test period they have put the product through the limits of what any product can fairly be expected to deal with in its lifetime. By this stage in the review process, the tester has a very clear idea not only of the product's performance, but of its long term reliability – and more so, has perhaps uncovered experiences with the product that some consumers may be faced with, such as servicing procedures and customer service standards in the event of warranty claims. There is no stone left unturned in the Long Term Review.