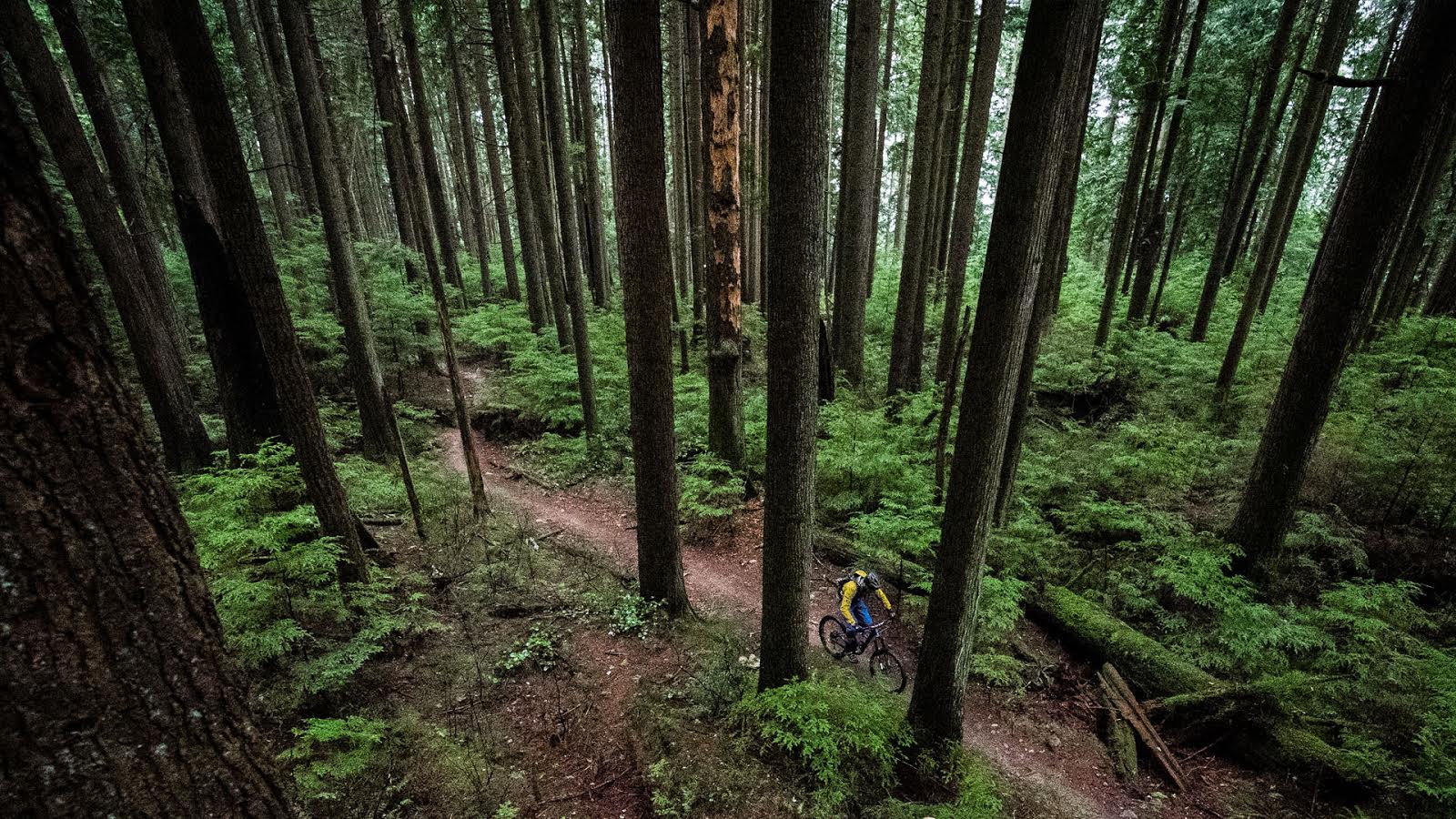 Hey Neighbour!
Here we are at the end of 2012 – time to look back on the good stuff. We started off Hey Neighbour from the confines of our own offices with the man in charge, Cam McRae – and we're stoked to continue digging up the history of the Shore.
---
Hey Neighbour!
The North Shore has always intrigued me. Why is it that this one place has had a huge influence on mountain biking? The need to explore this question led me to move to the North Shore recently. Hey Neighbour! is about discovering the people and places that characterize the North Shore. Each episode we meet someone who will take us on a literal adventure of the trails, whilst allowing us to explore and fathom why the North Shore is the way it is.
Arriving somewhere new is daunting and yet invigorating. Everything is new; every corner turned leads to new discoveries. This is amplified when you are graced with having the whole North Shore trail network laid out before you but not knowing which way is up or down. It's like knicker naughties with the lights out: lots of fun but requires some guesstimation.
It is my aim that with each episode we learn a little about someone's personal history with the Shore—and for them to explain a little about how they see the history of the Shore. This isn't just about pro athletes or celebrity faces; sometimes our subjects may be hidden heroes or the unnamed soldiers of the Shore. Each episode we will go on a short ride on a person's favourite routes to put some colour into the trail map.
Although it is my own need for answers, I hope that Hey Neighbour will help us all learn a little more about the North Shore—whether you live here already, have visited and left with the same questions as I, or if you have never set foot here but are still curious about the land of the big wet trails. If you have heard it all before then I apologize but everyone's personal experience and interpretation of history differs so there should be something new for everyone in here.
Hey Neighbour #1: Cam McRae

Cam McRae–the man behind it all.

So it makes total sense that we start with Cam McRae, who is one of the first people I met who lives on the Shore. Cam McRae is the captain of the good ship NSMB. Many of you will know of him, some of you would have ridden with him, but perhaps many more have no idea who the chap behind this site is. I have had the pleasure of getting to know him as a friend over the last few years, and he has helped me find my way around North Vancouver since moving here.
Cam McRae has a long history on the Shore. A long time Vancouver resident, Cam began mountain biking on the Shore—but as he says in the video, it was a baptism of fire and it took a while for him to feel comfortable here. Biking here on the Shore is more than just a fact of growing up and having his family here; he really appreciates the unique character of the trails here, and has a great respect for said trails, the community, and the legacy of the North Shore.

Seb chases Cam down Skull after a swift run down Ladies Only.
It was whilst teaching English in Italy between the fall of 1998 and early 1999 that the idea of NSMB came to him. He was so desperate to hear about what was happening back on the Shore, a place that was alight with activity as more and more riders were joining in the antics, building wilder and wilder trails — the Shore was starting to get a lot of attention, and not all of it good. It was a hotbed of activity, and Cam wanted to keep in touch with what was happening—yet he realized there was no way he could get any information about it. Information travelled slower back then, but the wide selection of print magazines had nothing about the North Shore anyway.
The original idea for NSMB was for Cam to start a magazine that focused on the North Shore but it was whilst speaking to a friend that he realized they could harness the internet. Websites were at the time very new to most—in fact many people didn't even have email accounts back then. NSMB was soft launched in 2000 and was one of the very first mountain bike websites to appear.
NSMB has always been about crafting original content that celebrated the lifestyle of mountain biking rather than just a consumer advice website. For years Cam has been documenting the North Shore scene and in doing so has attracted the attention of readers from 170 countries around the world these days. Cam helped bring the Shore to the world and bring the world to the Shore. Just like Cam's original intention, people can be living on the other side of the world and still feel engaged with what is happening on the North Shore.

Seb once again chasing Cam down Skull. This time down the self-explanatory rockface "Semi-retarded."
I've always been very impressed with Cam as a rider. He might not be showy and is always modest enough to let everyone go first but this hides the fact that Cam is a very accomplished rider. His technical skills and mastery of the bike on the most challenging lines is always impressive to watch. While we were filming this episode Cam showed me several lines off the side of Ladies Only that have become almost forgotten as the trail has found more flow over the years. Most of these lines are awkward, requiring brute force and finesse in equal measure and if you get them wrong you will be left sore and embarrassed for some time.  He also showed he how to ride over 'humper logs'. It requires a bit of trials skills and a sturdy chain ring or bash guard.
At the end of the day, with light fading fast, Cam showed us a cheeky line right at the bottom of the trail which leads to Dempsey called Rag Doll (another Digger line). As we approached he said there was a move coming up. Now if Cam says there is a move then this means there is one hell of a move coming up. Usually Cam doesn't talk people down a trail so I knew there was something ahead that I'd need to keep on my toes for. Matt set up his camera and Cam talked me through it, "Just try to step up wide and then get your front wheel on the far side of the huge root that runs downhill as you turn hard to the right."
I'm comfortable on my bike and figure that there isn't much I won't ride. Then as Matt gave the all clear sign and Cam rolled in, I stopped to see Cam come to a complete stop on the corner between two really meaty roots—and in one powerful move turn and push up, over and down the drop. I didn't move. It didn't look right and I have to admit to being intimidated enough by this one move that I walked up to it, shrugged and lifted my bike down. I could say that I wasn't feeling it that day but I have to be honest and admit to just plainly beaten by it because it looked like a move with consequences that I wasn't willing to deal with. Cam isn't a wild or a ballsy rider but with years of North Shore trail riding under his belt, he is comfortable on his bike in situations like this.

Although the same can't be said for Seb, this move was a piece of cake for Cam.
He wasn't showing off, he is just a seriously calculated and composed rider—which is exactly how he is in life. I've not met many people who are as calm and fair as Cam. He always sees the wider picture, is willing to give everyone an opportunity to shine and seems to be very balanced as a human and in his life. He is unselfish and willing to give praise where it is due—but this doesn't mean he is some even-mannered dullard; give Cam a beer and an opportunity to flare up and Damn McMenace comes to life.
So here we are at the first installment of Hey Neighbour. I hope you enjoy these looks at the people and places of the Shore. If you have any feedback, questions you want answered or recommendations for people to be profiled in future episodes then please leave a comment and I'll endeavour to heed your advice.
---
The first installment of Hey Neighbour sets the stage for a great series, and one that we're quite excited about. Please do accept Seb's invitation for feedback—we want to hear what you think! Say "Hey Neighbour!" below…