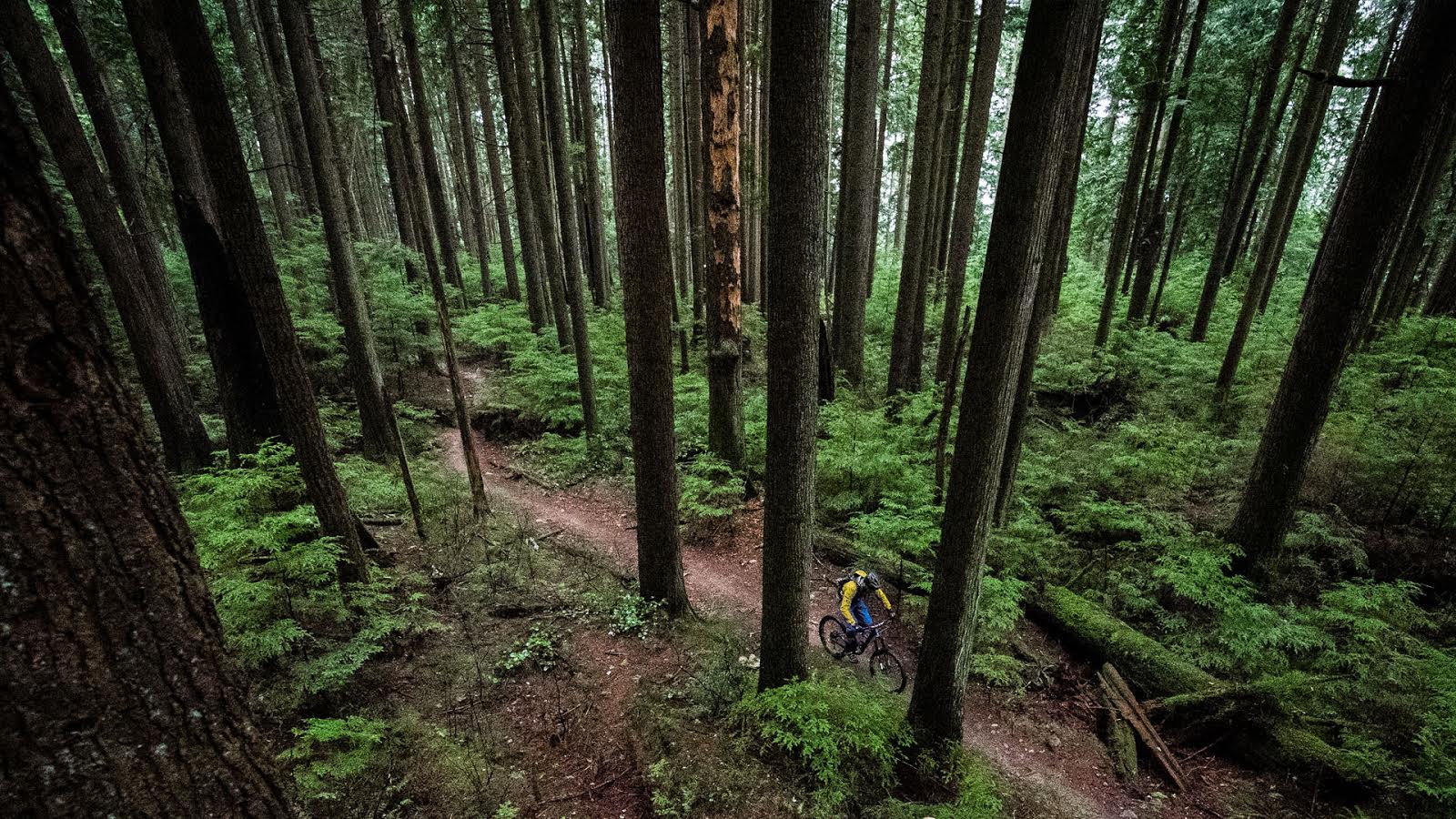 Exclusive Interview+Photos: Hopkins on Norco
Mike Hopkins is a rider that in many ways defines what the modern freerider is. Sure he rips on a bike, but what differentiates him from other riders is how he connects and communicates with his audience. He works tirelessly on producing original content for magazines, web, and film. He has a strong idea of what biking means to him and how to convey that to readers and viewers.
Mike recently signed to Vancouver bike brand, Norco Bikes, and whilst he was in town picking up bikes we managed to drag him for a quick lap of Bobsled on Fromme. Afterwards we asked him a few questions about sponsors, direction, his favorite seat-post diameter and what the word moist means to him.

  Hopkins came in for a mellow sesh on his dirt jumper and to chat about his next couple years.

S: Hello Mike Hopkins. So what's up with your website?
M: [laughter] Something happened on it and I lost all the content from the last three years. I decided to revamp the entire thing so I'm doing an overhaul. The front page is up but nothing works on it so I've gotta make a new one which might happen in the next month or so.
S: What's happening with bikes? Why are we here and what's happening with Norco?
M: I signed with Norco for two years. If anyone has seen Norco's new bikes they know that they have some strong years ahead of them. I'm fired up, the bikes are unreal and it will be a good couple of years.
S: It must be nice to have a two year contract so you can plan ahead rather than feeding hand to mouth for a season?
M: Yeah, it's real nice to have some security and it definitely gives you time to focus on what you want to do. Now I can concentrate on riding rather than hunting around thinking about what's next sponsor-wise. It's good to have the extra year for sure.

  The final touch on the build: Mike installs the longer pins in his DX flats.
S: What are the plans for the next year or two? Have you got a grand plan?
M: Yeah, the whole fall and right until the new year I've been in planning mode. I had a couple ideas I want to push through and I'm working on two really big projects with The North Face and Monster. I'm also going to be working with Sherpas Cinema and talking with the Coastal Crew boys to see what is happening with their new project. There's a lot on the plate and I'm fired up for this year because it's definitely going in a direction I really wanna see it go and it allows me to do my thing… I'm just psyched! [laughter]
S: You are very well known as a movie rider, you have been in some of the biggest movies to come out over the last few years and you work on a lot of web edits. Your emphasis on movie and content output has been why you shone and developed a strong rider profile, so what are the movie plans for this year?
M: Yeah, the movie thing has been great because it has totally allowed me to express myself and my style of riding. Filming comes with its ups and downs though. For example, I spent a bunch of months building a section for the new Inside Out movie which we didn't get to film because of weather conditions. That's frustrating, especially when you pour that much energy into something and it falls through—not because of anyone's fault but the weather. So of course there are hurdles but it allows me to do the kind of riding I like and to be creative in how I express that.
Then the web edits are more just for fun. You have little projects inside your head that you want to get out—to show people more silly stuff and not be so serious. It's a good way of doing that.
Between the Sherpas, Andre Nutini (who worked on Life Cycles), Dave Peacock and then there's The North Face and Monster and… well, it's all coming together. The future is looking good.

  Mike Hopkins is the mountain bike team for The North Face — a fact about which he is quite humble.
S: The North Face are really coming into the mountain bike scene and you are spearheading it…
M: Yeah, I'm their first athlete and it's an opportunity that came to me through ski connects. It has been amazing to work with a company that has such a mass amount of resources but has the right people in the right places. It is a very rider and athlete-driven brand; it's unbelievable how true that is. It was a definite eye opener for me to sit down with those guys and see what they are all about. It's been so refreshing.
They have a five year plan with mountain biking so it is going to be exciting to be a part of that.
S: So, we are coming into the year of Rampage again. You don't do many competitions but Rampage is one comp where there are demons that still need to be slain, right?
M: Oh, yes… Rampage… such good experiences [laughter]. Taking peaks and valleys to a whole new level. Rampage is really where everything comes together, how I like to see mountain biking, what goes on there, what the athletes are doing and the attention that it gets is merited. In 2008, my first year went super well and I didn't know much about it so I was happy about the way I rode, where I placed and happy with the whole experience.
Then there was 2010, what a fantastic year that was…[laughter]. 2010 was just one of those things. It's is the nature of the beast. On the first run everyone saw me take my boys for a little ride on my tire. [Check out the video here -Ed.] Then afterwards I had a massive crash which took me out for some time. It doesn't deter me in any way; I look at that competition and I'm just as excited to go back and be there again—to be part of the whole event.

  The hardtail is a little less big mountain than Mike prefers, but he still shredded it up on our little ride.
S: So have you been skiing much recently?
M: Yeah, obviously it's winter time now. I tried to bike as late as I could last year—after separating my shoulder in August I feel like I didn't got my fill of bikes so I just kept riding. But then the last month I've been skiing nonstop. In one month I'm off to Kyrgyzstan with Nicolas Teichrob, Anthony Bonello, and Lee Evans. It will be the first time skiing will be documented in that country. They had a revolution in April 2010 so it's going to be an interesting experience for sure.
S: OK, couple of funny ones for now…
M: I don't do funny man.

  Mike doesn't do funny. Nope.
S: What would you rather wear: One piece and race skis or blades and a bandana?
M: Well, blades and bandana is gonna be warmer. Then you have to calculate the shrinkage factor in the skin suit for being on the slopes. So, a little Venice beach action, put on the bandizzle, put on my blades go pump some iron and get a tan. Although I don't tan so well being a pasty red head.
S: Is there anything in skiing you would like to see cross over to mountain biking?
M: They are both pretty similar. Skiing is obviously much older as an industry so they have a good structure whilst mountain biking is still finding itself. Hmmm, I think as you mature as a rider your perspective changes. If you were to ask the younger slopestyle riders they might say that they want bigger contests perhaps.
For me I see people like the Sherpas Cinema who are doing these backcountry trips where they are isolating themselves, camping out there and accessing new terrain under their own power. We are actually planning a similar sort of trip with them for the coming year where we heli in to the middle of nowhere and camp out for two weeks exploring terrain. In my eyes that's what I want to see more of: the adventure and exploration.

  Mike's looking forward to doing more earn-your-turns riding on his 140mm Norco Sight; the single speed dirt jumper? Not so much…
S: OK, more funny questions. What is your favorite seat-post diameter?
M: Purple
S: Al-righty… favourite wheel size?
M: Err…[a pretty mountain biker girl cruises up and Mike engages her] Hey, what's your favorite wheel size?
Girl: Twenty-six because that's what my mountain bike has got.
M: OK, twenty-six is my answer.
S: What was your favorite teacher at school?
M: I had many good teachers but my math teacher builds my wheels for me. For the last three years Dr. Dave has been building my wheels because he has all these calculations about how to build wheels and he has played around with stringing them differently to handle the kinds of torque and punishment I'm putting on them.

  Just one type of punishment Mike puts on his wheels…
S: Who is your favorite Norco employee?
M: Man, that's not fair. I haven't got to know anyone yet but if I had to say then it would be… oh, man, that's rough question. You can't ask me that.
S: Favorite Norco team rider?
M: I went to Bolivia with Darcy so I'll pick her. She is smiley and fun. Good times.
S: Favorite Brett Tippie joke?
M: Oh man, Brett Tippie is a…
S: You were going to say Brett Tippie is a joke weren't you?
M: I was but not like it sounds. What I mean is everything he does is a joke and is funny.

  Digger's building on Lower Ladies? You don't say!
S: Favorite day of the week?
M: Every day of the week is a Saturday so I'll say Saturday.
S: What is your favorite acronym used in mountain bike marketing spiels?
M: O.T.B.
S: Favorite girls name?
M: Err…Shaniqua maybe.
S: Is that the name of your lady?
M: No, that's Jodi. So instead of Shaniqua I'll go with Jodi.
S: Man, how I am I going to figure out how to spell Shaniqua when I dictate these notes. Anyway, favorite girl in mountain biking?
M: What are these questions? I don't know…Dylan Dunkerton?

  Pumping the frontside of a tranny on Bobsled. Mouseover for the next shot in the sequence.

S: OK, time for the super fast word association round. What is the first thing that comes to mind when I say… Shore?
M: Sure.
S: Boobs?
M: Yeah.
S: Mike?
M: Bike.
S: Norco?
M: Sweet.
S: Moist?
M: Gross.
S: Fanny Pack?
M: Wrong!
S: Eight inches?
M: About right.
S: Pineapple?
M: Delicious.

  Tailgate party with Mike, Seb, and Khyber.
S: Finally, I am going to list special features of the range of Norco bikes and you have to decide which two aren't features of the Norco Aurum. Here we go: Post mount brakes, Clevis-Less Pivots, Hydroformed tubes, Arab Spring, Double Pass welding, Norglide Bearings and Gravity Tune. Which two are not features of the Norco Aurum?
M: Double Pass welding?
S: Wrong!
M: Oh man this is going to be horrible, I've been on the team for five days and I only got a bike this morning. I've got handbooks and stuff in my truck to learn about all this but I haven't had chance to read them yet. You are killing me.
Morgan (from across the street): Post mount brakes?
S: Nope, the answers are Arab Spring—which was the Facebook flash mob thingy in Arabshire—and Norglide bearings (they only appear on the 2012 Norco Phaser. Bonus info from www.norco.com: "Sourced from the largest composite bearing supplier in the world, Saint-Gobain, Norglide composite bearings are smooth, precise and incredibly light which is why you will find them on the 2012 Phaser. Specifically designed for pivoting applications, rather than rotation like ball bearings, the Norglide bearings weigh only 1.2 grams each and offer improved pivot performance while reducing weight.").

Mellow rippin' a few turns on the littlest of the little bikes.
M: Wow, thanks for that. I think we should nix this question. You will do that right?
S: Yes, of course. OK, let's talk about the Norco bikes you will be riding.
M: I'm going to be spending a lot of my time on the Norco Aurum obviously, then also the Norco Sight because I have some cool ideas for some cabin style backcountry missions and all mountaineering. Then there is a custom slopestyle bike for jumping about on and which are very rad bikes indeed. Then I have my Rampage hardtail which I was shredding the Shore on today. Interesting experience. I'll also be riding the Shinobi. A 29er. It's an aggressive 29er which is a pretty interesting looking bike and which I'm looking forward to.
Saying that, it's January 5th, I've been on the team five days and I've just got the bikes and need to build them up. But I know this year is going to be unreal so keep your eyes peeled everyone.
S: Cool, that should wrap it up.
M: Thanks to everyone, my sponsors and friends. I'm amped on the years ahead with Norco and looking forward to putting plans into action.

  Thanks Mike for taking the time to come ride with us. Here's to a great couple years!
---
So there we have it. Norco has tied down Mike Hopkins for the next two years, and he's got some sweet projects on the go for both snow and dirt. Anything to say to Mike or Shaniqua? Send it below…