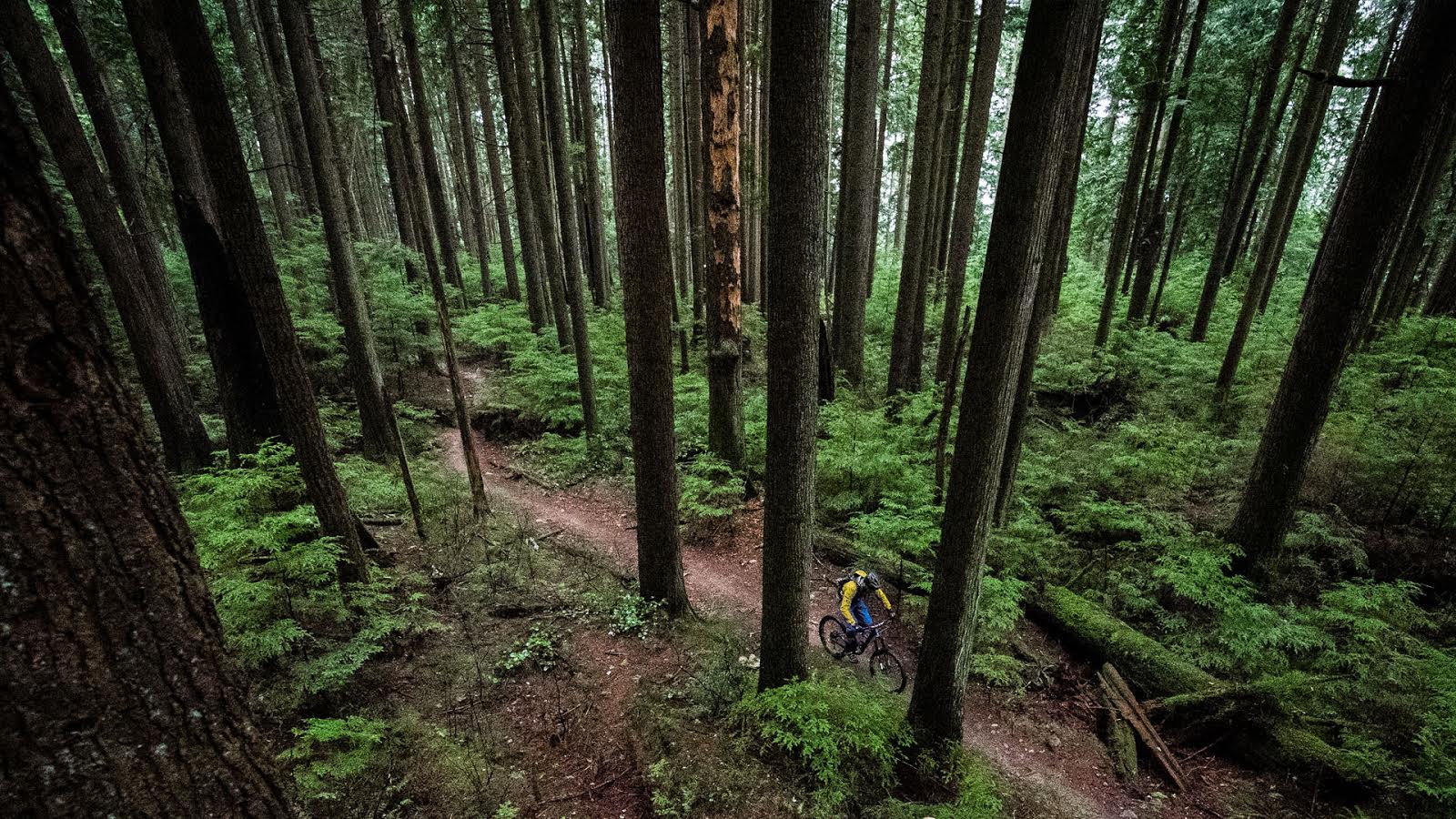 Mason in New Zealand Part I
I've done it again. Three years running, I've now defeated the shoulder season with a temporary disembarkation from the motherland.

  Welcome to New Zealand.
A month more than a year ago, Kelly McGarry and I were surfing in Central America, and he urged me to try and get down to New Zealand. Of course it has been on my list of places to go for quite some time, but I didn't foresee myself going this fall to be honest. I received the invite from a couple of my skier mates to fly down and capture some skiing at a spring camp that was being hosted by Cardrona, which is a small 'mom and pop' resort in between Wanaka and Queenstown. I decided it would be best to tack on a couple weeks to get my bike fix. Seeing as it's on the other side of the world, it seemed like an appropriate life choice.

  Justin Dorey of the Canadian Halfpipe team training for a serious impact on the scene this year.
I posted up with the Canadian Halfpipe and Slopestyle ski teams, and we were plagued with a slew of different intermittent weather conditions, which played havoc with our productivity. We would leave Wanaka at daybreak and it would be sunny and clear, but by the time we approached the parking lot at the resort, the fog bank would be waiting for us more often than not. Needless to say, we did manage to get some materials produced, but not to a quantity that would was satisfactory. If only shooting skiing wasn't so weather dependant. The difficulty with the terrain in New Zealand, for skiing, is the lack of trees, thus diminishing the possibility of shooting flat light. We scored one sunny morning on the last day of the camp, and managed to pull a couple nice shots off. Given that the weather wasn't so hot, we used our free time to explore the country side. We liked what we saw.

  Canyon exploration.

  New Zealand's West Coast – Rugged weather, just like ours.

  Single track trails at the Sticky Forest in Wanaka.

  Beauty water falls in the rain forests.
Thankfully however, I'd brought a mountain bike, and it would act as my saving grace for the trip. As many now know, New Zealand is quickly becoming the next major mountain biking destination. This trip would just skim the surface, as I only had a dozen days to get my hands dirty. I got in touch with an old mate Tom Hey whom I met in Whistler in 2005, and he offered up his couch for my short stay. Tom has been living in New Zealand for a few years now, and is heading up the growing Queenstown mountain bike club. Tom has skills both behind the bars and behind a shovel, so I think they have the right guy for the job. He was instrumental to making my NZ trip a success.

  Tom Hey – Certainly not afraid to get his hands dirty.
The scene is thriving in Queenstown, with trail centers strewn about the region, wicked XC loops, shuttle access down-hilling, and as of last year the Skyline Gondola has opened up lift access downhill riding. My weapon of choice for this trip was a Stump Jumper, so that I could get a little taste of it all while I was there. I may have been a bit under-gunned on a few downhill tracks, but my previous experience rallying small bikes had me holding the throttle wide open. If only the same could be said for my climbing. I know that next year a trail bike is a must have for the quiver.

  The Remarkables and Lake Wakitipu in a moody and glorious lighting arrangement.

  Iphone pano looking at The Ben Lomond.
Accessed off of the Skyline gondola, a track named the Ben Lomond strings its way into the alpine. The whole of this track isn't open to mountain biking at this point in time unfortunately. However, there is a stretch of track that rests above the beech and pine forests below. The scenery is nothing less than storybook. I met up with a French rider who I had met in Whistler, Florent Carreyon, and we were both keen to get out on the trails and snap some photos. Arriving on the scene just as the sun approached the tops of the mountain range, we quickly lapped a few photos in the direct sun. Even after the sun had faded off of the tussocks', a soft ambient glow off the surrounding peaks providing some interesting backlit situations for us to capture. Florent is an aspiring photographer himself, and working together we came up with some pretty cool images.

  Florent keeping a decent clip as the sun peers over the Ben Lomond.

  Flo preferring to stay pinned.

  Ben Lomond backlit.

  Sun was gone, but we weren't done yet.

   The last of the light as it touched the clouds above the Remarks.
Maxime Bruneau is another French rider who was doing a brief stint in New Zealand that I have known from seasons of riding in Whistler. Thinking about it now, it's amazing that the sense of community that a centrifugal community such as Whistler can provide, even if you're on the other side of the World. This could also be a function of the mountain biking community in general, so either way you look at it, it's a pretty tight knit. Max and I hooked up with a few locals, and his Swedish friend Jon, and headed to Skippers Canyon for a morning ride.

  Upper catchment of Skippers Canyon.

  Maxime on the approach.

  Max, buzzing the tower.
Skippers was found in the limelight as featured in Anthills segment with Gee and Stevie, however, it has been a staple trail among the locals for a decade plus. Originally an old mining trail, the history of its existence stretches back into early stages of the 20th century. I really enjoyed this track, as it's fast paced and grippy trail surface allow you to open it up on the small bike. We pedaled back up the road on our first lap, and dropped in again, only to be picked up at the bottom by one of the rafting company buses. It definitely pays to go with the locals.

  I dropped the bag and railed a corner quick while Max pressed the picture maker.

  Our ride out.
Mountain biking isn't the only attraction that Queenstown has to offer, and Tom's friends Fraser and Indri were stoked to line up a couple other activities for me to check out. Jet-Boating is fairly popular in QT, and when Fraser lined up a seat for me to go for a rip, I couldn't really pass it up. These boats are badass considering that they're equipped with 850 horse, V12 power houses. They go fast. Not only that, but they can skim along the surface in water no deeper than 3 inches. Railing up and down the local rivers, we were buzzing sand bars, cliffs, and ducking beneath overhanging trees as speeds upwards of 85 kph. Oh, and they do spins.

  Kuwarau Jet, pinned.

  Mid spin, riding shotgun.

  Checked out the underwater observatory and spotted a fresh water eel.
A quick stop at local favorite and world-renowned eatery the Ferg Burger/Baker, I stock up on gourmet pies to fuel me for my next adventure on wheels.

  Gourmet pies, best enjoyed with a ginger beer. So good.
---
If you missed it, check out this vid of Maxime Bruneau riding in Queenstown
New Zealand looks amazing through Mason's lens. Kiwi comments below.