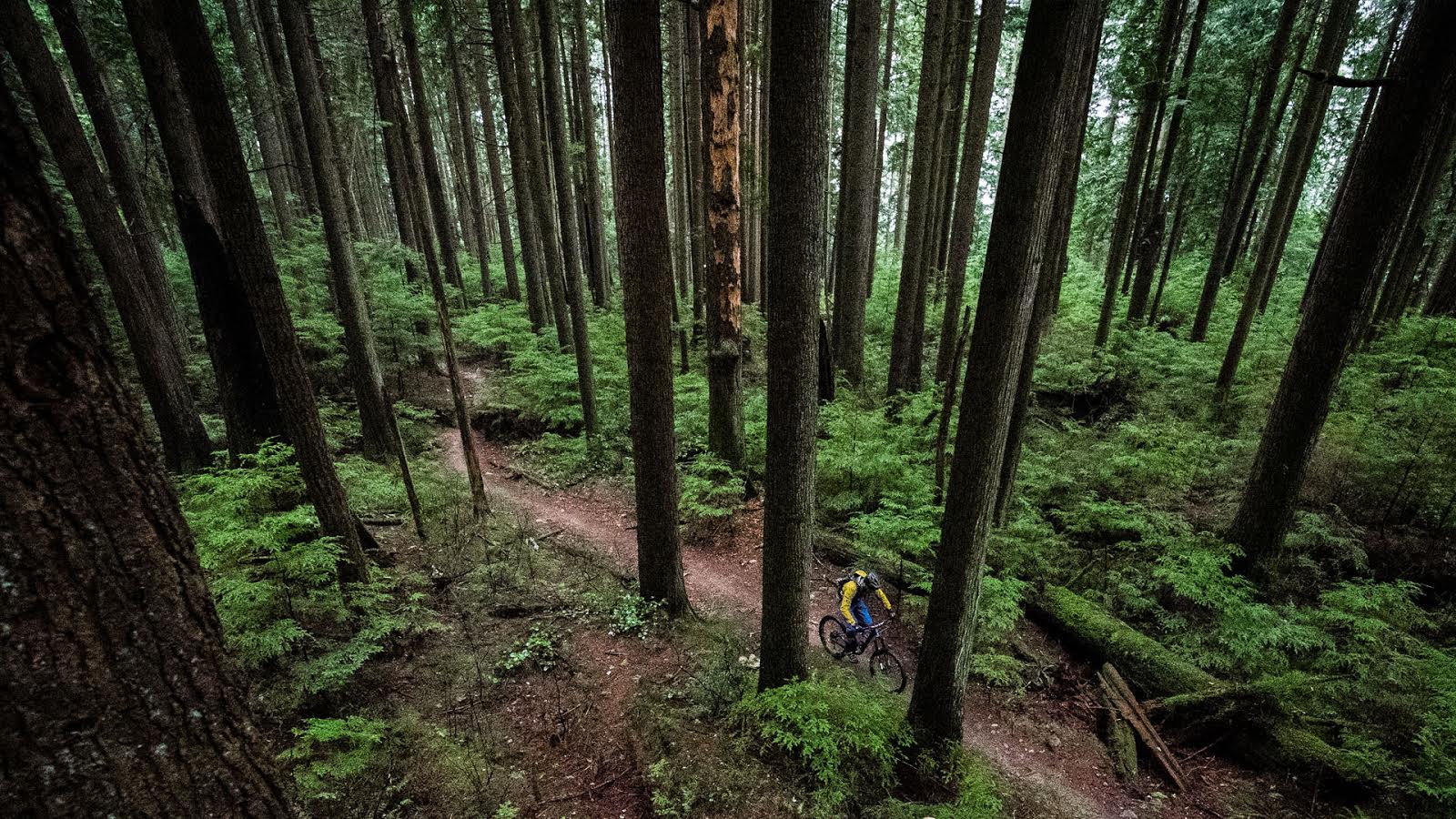 Flying By The Seat part III
We woke up in Retallack lodge two men down, with the departure of Taylor and Mathieu in the night. After a recovery sleep from a huge day in the alpine, three coffee drinking zombies and a tea drinking one emerged from their lairs to discuss where they would be flying to by the seat of their pants that day. Several servings of caffeine later, a decision was made. Being just a couple of hours away, and offering a plethora of five to six thousand foot descents, Nelson was a difficult destination to refuse. So we hit the road again, weaving our way through yet more stunning BC scenery, en route to even more top quality bicycle trails.
  Peter levitates over Newt sac
  High consequence rock roll overlooking the lake. 2 bike lengths to brake to avoid a 200ft drop to the road.
We lapped trails overlooking the lake at lower elevation, but the highlight of the day was undoubtedly the legendary Powerslave. We adventured high into the alpine, for what seemed like hours, until we finally reached the trail head.
  View from the top of the legendary powerslave
The trail which became infamous under the tires of Evan Schwartz and Riley McIntosh in Life Cycles turned out to be just as fast, flowy and fun as they had portrayed it to be. Getting faster and faster as each section flew beneath our tires, we threaded our way through more reminders of the mining industry that once consumed these hills.
  Paulo avoids getting shafted

I couldn't help but think what a contrast our experience was, compared to the guys who would have been working down those mine shafts. Spending all day in the dark, with minimal fresh air, chipping away at the rock to earn their keep, they probably couldn't wait for the day to end. We, on the other hand, had already found our silver, and were willing our journey down the mountain to just keep going!
  Just another perfect powerslave corner
  Paulo and Peter, roosting up a storm as the sun sets

Dropping down to the valley, we roosted up a dusty end to the descent as the sun set, and we had another one of BC's best trails checked off the list. This flying by the seat of our pants thing was working out alright! We bade farewell to Kevin after a much needed baby-sized burrito in Nelson, and we were on the road again.
  Back in the truck, heading home.
It was time to begin the journey back to Whistler, so we steered the truck Westwards, and began to make our way home, still not really knowing what day five would bring. We threw around a few ideas as we drove, and soon received a message from Graham Agassiz that he was at home in Kamloops, and was keen to ride! I don't need to tell you how hard this guy shreds, especially on home turf. It is amazing to watch someone with that much talent ride a bike. We stopped at the Bike Ranch, which has developed exponentially since Brad Stuart has got on the tools there, with much bigger jump lines, and even an outdoor foam pit. Then we were lucky enough to have the chance to check out and ride a line that Agassiz and Brad have built for his next Anthill segment. Needless to say we couldn't take photos or tell you where it is, but let's just say that the segment is going to be sick! Big, fast, flowy jumps with singletrack in between. Just add Graham Agassiz and the recipe for ultimate bike video entertainment is complete. A day in the sun riding dusty trails with Aggy was an awesome end to one of the best road trips ever. However, rolling back into Whistler, I got the same feeling that I always get when I have been away; it's never bad to be coming home when you live in the best place on earth.–
---