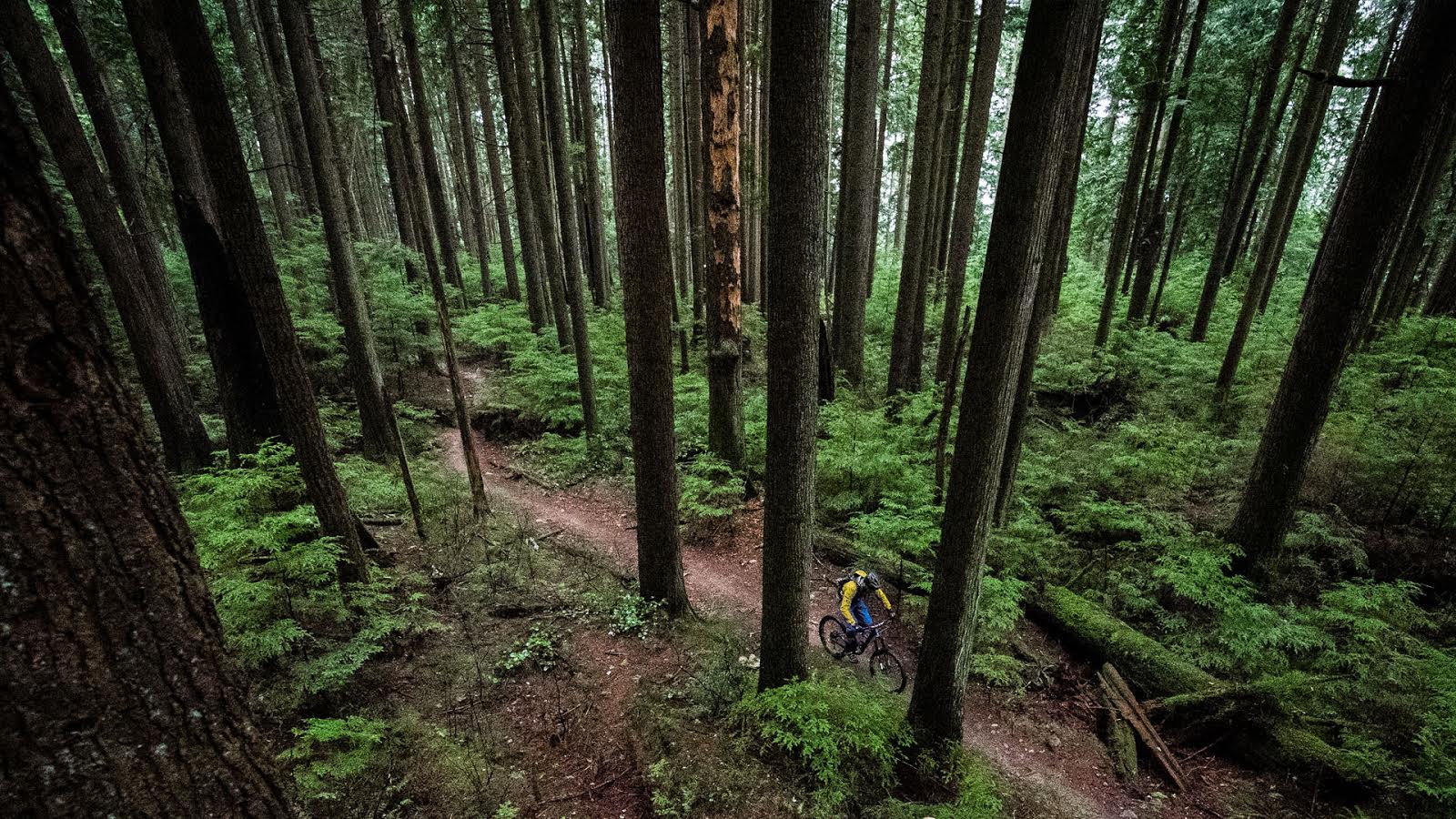 Shore XTC – New Old School?
Shore XC? Not much in these parts. Well, not by most people's standards anyway. Here on the Shore we have little that can be described as pure cross-country other than little bits and pieces scattered about. Certainly nothing that compares to Whistler's Lost Lake network, or Valleycliffe in Squamish, and most definitely nothing like the Nimby in Pemby. What we do have however are three peaks, each with their own distinctive character, and each with countless trails. If you know where to look these lines can be strung together into some incomparable epics. What's par for the course is the severity of terrain you can expect to encounter on any big 'XC' loop. Like Digger says, "Get ready for the mud & the crud & the bud & the blood." Many locals are desperately seeking, and finding, long days in the saddle. They are pushing their short travel bikes to the edge, mixing a helping of cross-country, all mountain, freeride and dh into every ride. Throw it all in a blender, add a shovel full of rocks, and you end up with a conglomerate that is greater than the sum of its parts. It's a unique combination that defines the Shore.  

  Our XC doesn't look like your XC. Jeff Bryson riding Lowe Ladies (generally rated double black – this trail has no easy options). Photo: Mark Wood
Traditionally, Shore riders have sworn by the overweight and overbuilt, for fear that anything less will fail when it counts most. Grinding a 45-pound tank up for an hour only to relish 10 minutes of steep, fall line chunder, has left many wanting more. With the advent of lighter, stronger and more capable machines, boundaries are being pushed. Sub 30-pounds, slack head angles, low BBs and short stays are the perfect recipe. Now that same climb takes half the time, and if you've got the skills to back up your fitness, these stealthy and responsive new age rigs offer arguably greater returns on the descent. With less travel and dialled geometry, these short travel bikes are proving more capable than anyone imagined, opening a mountain of possibilities. Or, to be more precise, 3 mountains of possibilities.

  Sampling IMBA's recent work, Gaillot slices through a burned out log. Who knew sustainability could feel so good. Rider: Arthur Gaillot. Photo: Mark Wood
Little bikes pedal better than big bikes (this just in…)
"I couldn't understand it, Grant would drop me on the climbs every time, but he wouldn't be far behind on the descents." Jeff Bryson, a Canada Cup DH racer who hopes to make it to Quebec for World Champ's next year, explains what spurred him on to drop his 6-inch travel Enduro for a 5-inch travel Stumpjumper EVO. It's seems like a Trump-worthy transaction. You can climb far better on a short travel bike, with little handicap on the descent. Bryson pushes that little bike to its limits, smashing through the chunder on Fromme, counter steering sideways into Digger's berms, even getting the long double at the end of Ladies. He's proving you don't need a big bike to handle the Shore anymore. Well, some of it anyways. What helps is having the skills to pull it off. 
"Its all there, you just need to get creative." Arthur Gaillot seeks out unique training loops to get him conditioned for the All Mountain race circuit. Not always able to head to the Sunshine Coast or Squamish for ideal XC training conditions, necessity has bred his inventive approach. Riding with a solid crew of pedal heads has helped. With decades of local knowledge, Andreas Hestler and Wade Simmons share an enviable combination of goat-like climbing skills and smooth, aggressive descending prowess, hammering steep and technical in both directions. 

  XC?  XTC Rider: Jeff Bryson. Photo: Mark Wood

"I ride Mystery DH on my XC bike," Wade declares. "Just because I'm going for a pedal doesn't mean I don't want to have fun." Today we're traversing from Fromme to Cypress. Simmons pulls ahead on a sub 25lb 5" travel carbon fibre Element. Dre is on a 2012 Element 29er and he circles back to check me for a pulse. "C'mon Woodsy!" I lag behind with my 30lb Mojo, a solid climber in its own right, which means my tardiness has more to do with the pilot. I drift into numb submission and watch them gradually pull away, a common occurrence when climbing with these elites. Few people know that Simmons began his pro career in XC. Wade figures my 2.35 tires are the culprit, causing unnecessary drag. I couldn't fathom anything less for the descents we are about to hit. 

  "5 inches is all it takes to get the job done," he insists. Photo: Mark Wood
The circuit today is to cross Cleveland Dam from Fromme, climb Millstream, up Cypress road, traverse across the top then hit 2000+ft of steep and technical vert. If that's not enough, we grind back up again on steep, loose baby heads for another half hour to get another 1500 feet of descent. The ride finishes off on an old freeride favourite, complete with rickety wood to wood stunts, and these guys hit every gap and platform drop, making you question what constitutes an 'XC' bike these days. "They've got the angles dialled on these bikes now!" Wade believes with the right geometry, impossible is nothing, it only depends on who's driving. Half lids, sans armour, they've been riding the Shore for a long time, where most would have full body armour and full face helmets. Two-hour hammerfests and they probably won't bring anything more than a waterbottle.  Double black sections in the middle of these blue circuits are expected, and welcomed. They've created a style that's not for the feint of heart, or lungs for that matter.

  Hestler has been hustling big loops on the Shore for a long time, and now with big hoops.  Good luck keeping up on the tech climbs, unless you're a goat. Rider: Andreas Hestler. Photo: Mark Wood
Unlike most other riding destinations, purpose built XC options are rare on the Shore. Sure there's Bridle Path and a small handful of offshoots, Richard Juryn loop and some short link ups in the Blair Range Project, but without some solid local knowledge to connect the dots, there's nothing that presents itself at first glance. And be forewarned, when you begin to link things up, loops usually start at Expert and go up from there. Big Shore loops threaten to snap light-weight XC frames, taco 400g rims, and chew through carbon. With a continued decade-long moratorium on new trail building, necessity continues to fuel inventiveness. It's called Environmental Determinism: the physical landscape determines the culture.

  Bottom bracket clearance can be an issue on Shore XTC rides. Unless of course you've got big wheels and an XL frame. Rider: Arthur Gaillot Photo: Mark Wood
Part of this redefinition is the skill set necessary to adapt and overcome. Many riders here started on big bikes, hucking and dropping their way through stunt filled trails. As trails change and stunts rot out, what we ride and the way we ride is changing as well. Looking back at videos from 10+ years ago, guys like Simmons and Shandro had already tuned into it, years ahead of the rest of us. "You've got to get your speed up and plane above the roots, otherwise you wallow in the holes," Wade explains. Many have brought those big bike skills along with them on this journey, although even those skills have morphed; yet they serve as part of the translation for this new attack strategy. We're riding faster, smoother, clipped in, staying light on the trail, and shralping corners with wide bars and short stems. Today it's more about jump & jive & boost & pop where it used to be plough & slam & grind & chop.

  Always ride with a buddy, preferably one who can keep up. Never XTC alone. Photo:Mark Wood

Have we changed or is it the Shore? Despite the vocal minority who insist the Shore is being dumbed down, there's still plenty of gnar around for everyone. In fact, its undoubtedly increased in our recent past, considering the bones are more exposed with every rainfall. Erosion continues to outpace our ability to keep up, exposing the boulder filled glacial till beneath the dirt. But TAP (the nsmbA's Trail Adoption Plan) is slowly changing that, reconstituting trails to their original state, ironically enough. Bringing us back to where we began, minus the drops to flat and with a new set of skills. The Shore may not have changed, but we have, and so have the bikes.

  Traversing lower Fromme for an early morning commute. Riders: Dave McInnis & Jeff Bryson. Photo: Mark Wood

Now that we're rolling into the wet season many riders hang up their big bikes and get their pedal on. Big bikes may not be collecting dust but our 'little bikes' seem more capable than they've ever been. No longer satisfied with just an hour in the saddle, we're hitting Ladies, cutting across the Baden to Lower Ladies, riding out Griffen, traversing Twin Bridges to Seymour, hitting Ridge Runner, a quick romp through Sticks & Stones on the way up to TNT, then Dale's and climb up to C Buster. This could hardly be considered an XC ride but you'll be hard pressed to complete that route on a 40lb bike before the sun goes down. 

  There is some XC, just not a lot of it. Rider: Brian McCurdy Photo: Mark Wood

Bikes seem to have caught up with our new style of riding. Or is our new style of riding morphing because of the introduction of lighter, stronger, more capable machines? I like that we are redefining how we ride the Shore, yet this new style is in fact eluding definition. There are few single-disciplined riders here. To ride the Shore requires a versatile skill set and these circuits are serious technical endeavours that require strong legs, big lungs and committed line choice.
Riders and trails are evolving together and, serendipitously, two-wheeled Darwinism has delivered the bikes to make it happen, at just the right time.
 
Shore XTC.
---
Do you ride this way? Have you been riding this way since the late 80s? Do you have a name for these kinds of rides? XXXC? X Country? (make an X with your forearms when you say that). Any routes you'd like to share?