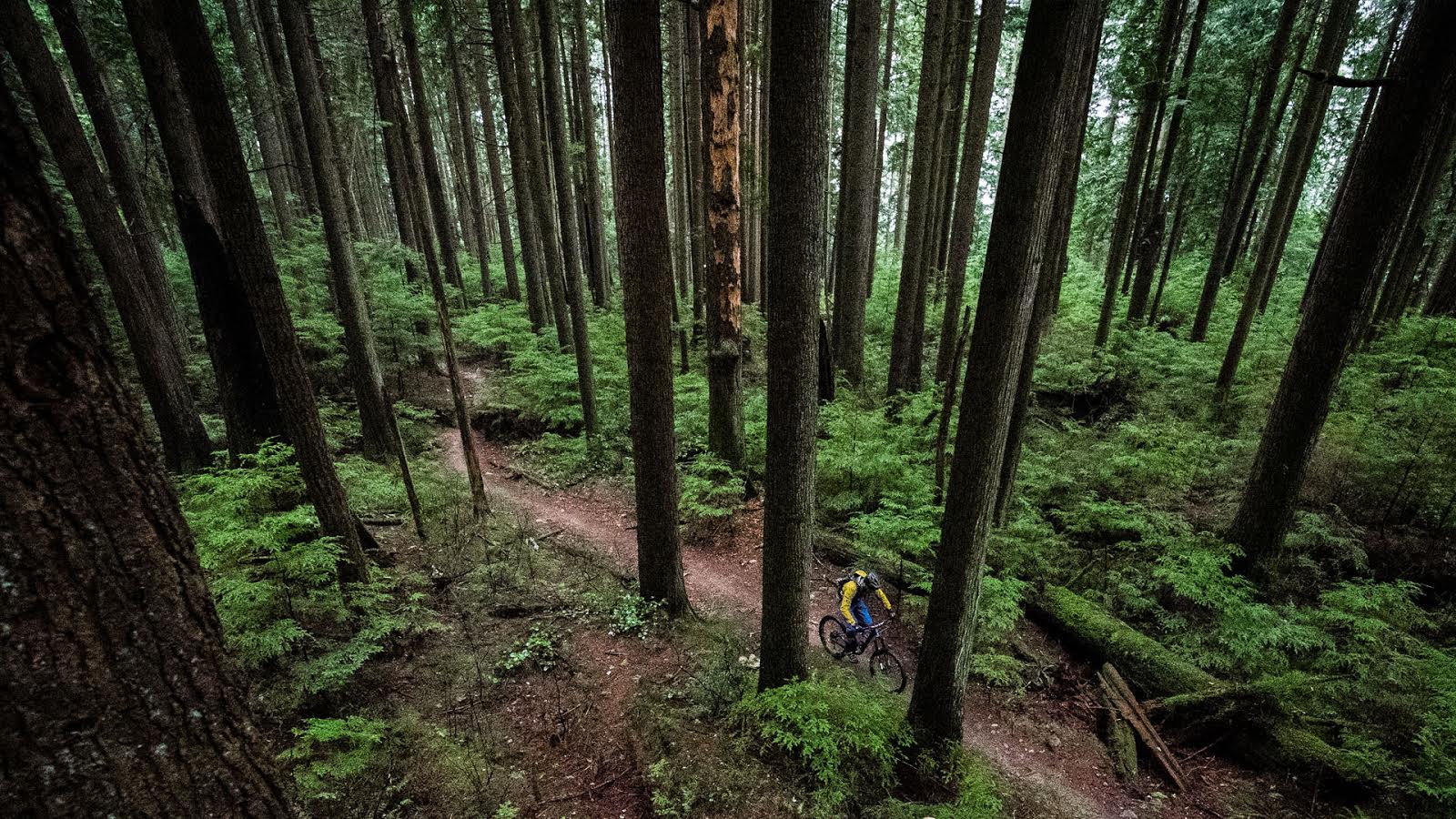 2012 Norco Aurum

Left: 1999 Norco VPS-1 in lime green. Right: 2012 Norco Aurum 1 in lemon pledge.
When I got into riding the Shore back in 1999 there were a few bikes I would have given my left member for, and Norco's bright green VPS 1 was at the top of the list. I never ended up with one but I admired riders like Ken Maude and the Hoodlums who were going huge on them. Soon after I got into Downhill racing and would follow the Norco Factory Team around B.C; guys like Mike Jones and LP showed me the ropes, as I would try to keep up to them and their VPSs. Over the years Norco's presence on the Canadian DH race scene diminished, along with their DH bike. Competition was fierce and other brands such as Cove and Giant stepped up with hot bikes and race teams. Fast forward to 2011 and we see Norco with an all-new race specific DH rig and a World Cup race team. Is Norco back in the game? Well if the Aurum is any indication of what's to come the answer is YES.

  Expect to see these flying in the Whistler Bike Park and local races
Last year we saw the Dirt Norco Team (co-sponsored by Dirt Magazine) pilot the prototype Aurum on the World Cup Circuit. It looked like everything we've hoped for but nothing like any Norco we've ever seen. It was low, slack and sexy. It shared elements from many of the current DH bikes yet it was uniquely Norco. On paper its numbers were spot on; 63.5 ° head angle, 14" bottom bracket, and 16.7" chain stays mated with tried and true FSR suspension. It has been 12 years since I dreamed of riding a Norco DH. Now it's become a reality, but is the Aurum truly dreamy?

  Seamless attention to detail from tip to tail.
The 2012 Norco Aurum is offered in three build options – each targeted for different users. I am really impressed with the entry level Aurum 2 for $3550 – it's extremely well spec'd and it's downhill race ready. This kind of value didn't exist a couple years ago. I am testing the mid level Aurum 1 covered in bright yellow. This build is really solid, well-balanced and priced at $5350. Finally for all the well-heeled privateers and gear whores there is the Aurum LE, a fully decked out World Cup ready racer. With a Cane Creek Double Barrel rear shock, Easton Havoc DH wheels, and a WC Boxxer, the LE weighs in at 34lbs with a price tag of $7450.

  Norco calls it Holloform, Trek calls it EVO, and I call it marketing.

Norco's attention to detail on the Aurum is on par with the best of them, and they have gone a step further showcasing some unique features and technology. While many brands are using thin oversized tubing, Norco has opted for smaller hydroformed tubing, which they say is shaped to precise tolerances and into efficient shapes. Norco claims this provides greater strength in certain areas of the frame. The Aurum uses smooth, double pass welding; this is done with two distinct weld passes to produce what is said to be an improved bead that better distributes loads in high stress areas like the headtube and pivots. I really like the look and feel of the frame – it feels robust and looks fast standing still.

 Just snapped your derailleur hanger off? Bolt it back on with that guy. The bolt you see threaded into the frame above.
Seamless integration is everywhere you look on the Aurum. Integrated fork bumpers ensure your frame and fork are protected and offer better turning radius. Adding to the clean look is the integrated seat post clamp – a secure system leaving nothing to catch your shorts on. Another cool feature is the Syntace Integrated Derailleur Hanger system (x-12), which is noticeably stiffer and less prone to breaking than conventional hangers. So far the shifting has been crisp and clean and in the event of an impact the hanger is designed to break off from the pinch bolt. The tweak is that there is a spare located in the frame by the bottom bracket – genius.

  This rear end is crazy stiff and surprisingly light thanks to some innovative fabrication.
Stiff rear ends are incredibly important for DH race bikes. The integrity in the rear determines the precision of your cornering, line tracking and braking. Norco has designed an all-new integrated system by combining axle retention, post mount brakes, rear suspension pivots, derailleur hanger attachment and frame gussets. They went a step further by eliminating the clevis (welded pivot point) on the chain stay; instead Norco mounts the pivot hardware directly into the tapered tube design. With fewer welds Norco says these pivots are stiffer, stronger and lighter, giving us a better ride.

  Sram XO 10 speed and Maxxis Minions are always welcome on the Shore.
The Aurum's 157mm-axled swingarm follows the same hydroformed look as its front triangle while offering maximum tire and shoe clearance. It's connected via sealed bearings with machined aluminum hardware and Norco's own Holloform linkarm. Norco tells us that this welded one-piece arm provides two significant benefits; providing lateral support to the seatstays, and improving square edge bump compliance. This refers to what happens when the rear wheel must absorb tall bumps that exert a rearward force in addition to a vertical force (example: Ned's on Mt. Seymour is littered with square edges). Increased stiffness will also improve your shock's performance and longevity.



  When you build a trail you can ride it whenever you want. (Note = this is Connor's theory -Ed.)
A downhill race bike wouldn't be complete without a handful of acronyms and marketing jargon. Let me try and explain Norco's as it relates to the Aurum. First is A.R.T (Advanced Ride Technology), which in reality covers 3 key components – Axle path, leverage Ratios, and Traction. Square edge bumps like those on Ned's literally grab your rear wheel almost sending you over the bars; however engineers and calculators have greatly reduced this reaction. The 2012 Aurum is said to extend the rearward axle path by 250% and this occurs deeper into travel than the 2011 platform by 14%.  The Aurum is designed to be extremely predicable and progressive as it moves though its travel with no mid stroke 'wallowing' or dead spots. This axle path coupled with refined FSR suspension and a super stiff post mount system combined for some controlled and powerful braking.

  The Aurum is confidence inspiring when you need it the most. 

Gravity Tune is a cool way of saying that each frame size is built with the size of the average target rider (per size) in mind. Bike companies save money by using identical swingarms for multiple sizes. The Aurum compensates for this by modifying the position of the bb in the front triangle. This allows Norco to offer a single single chain stay for all three sizes and reduce costs to the customer, while optimizing the effective chainstay length for each size. This is done in an effort to optimize front/rear weight distribution for riders of almost any size. At 6' 2" and 190lbs, I have always had a hard time finding a proper fit but I found the large Aurum to fit very well after a few adjustments. On a side note, many gravity riders disregard a proper fitting bicycle simply because they say they 'like a smaller bike for descending'. The so-called advantages of this are purely mythical.

 The 'Pro Time' setup dropping in on 5th.
My friend and elite racer Jamie Biluk gave me the 'Pro Time' setup on the Aurum. In the past racers slammed their front ends for better pedaling efficiency and body positioning. Today's tracks are gnarlier than ever before and bikes are more efficient so riders are running higher front ends with slightly more reach and wider bars. Jamie swapped the stock 29.5" Easton bar out for a 31" Answer Pro Taper, rolled forward, and he also moved the Easton direct mount stem forward to 55mm. To raise the front end without messing with the bike's angles, Jamie raised the top crown and stem to the top of the stanchions and moved the headset spacers below the crown. All of these adjustments made the cockpit feel roomier and more aggressive.

  The Aurum reigns king riding through rough chunder.
I am really impressed with the build on this Aurum. For the most part it's a high end build on a mid level model and it's easy to see how the price creeps up to $5350. The only potential weakness I've identified is the Rockshox Vivid Coil R2C. So far it feels pretty good but it's the reliability I'm concerned about. I would have rather seen it spec'd with a Fox DHX for the price but time will tell how the Vivid does. Up front the Rockshox BoXXer R2C2 feels great and has lots of adjustability. Suspension master James Downing says that it's the best BoXXer right now. I am a huge fan of the new Elixir 9's. They have great power, control, and on the fly adjustability. I was surprised to see the Aurum come stock with quality Black Spire low profile flat pedals. I'm sure they are really nice, if you like flats.

  For a race bike the Aurum is incredibly nimble in tight technical terrain.

Today's drivetrains are like transmissions; the bigger the number the better. No wonder the Aurum has a 10spd XO running an 11-28T and a 36T e*thirteen setup – all of which are rock solid. I'm glad to see the large spec'd with 170mm Decendant cranks – so far they feel extremely stiff and light. And finally we come to the wheels, which are labeled  'INFERNO 29'. No, the Aurum is not Norco's first 29" wheel DH bike. The number refers to the outside width of the rim, which is marketed as all mountain/freeride, so I have a feeling they are light. The wheels are mated to Sun Jumping Flea hubs with DT Swiss butted stainless spokes. So far the Aurum feels like a rock solid bike that's light and robust, weighing in at 38lbs.

  Slack angles and dialed suspension saved my arse after dropping in hot on this line.
Thanks to some great weather in November and early December I've gotten to see just how wicked the Aurum is. The first thing you'll notice on the Aurum is the bang on angles. It puts you in an aggressive body position ideal for crushing steep technical terrain. As you roll down the trail you notice how well everything is balanced. Could that be the Gravity Tune technology? The Aurum really begins to shine when you lay off the brakes and lay into the corners. At speed you can feel it tracking the terrain and holding a line with little input. Traction is top notch thanks to stock Maxxis Minion fronts and dialed FSR suspension.

  Epic winter conditions followed by golden hour, thank you North Shore.
So far I am blown away with the performance of the Aurum, especially in its first year of production. Its evident that Norco have done their homework on this one. Something tells me the Dirt Norco Team had some input for the design and engineering team. The Aurum feels like a concept bike with all its features, except you can own one for as low as $3550. I'm Glad to see a local company as influential as Norco back in the gravity game in a big way.  Stay tuned for part 2 of the Aurum Review with visuals from Derek Dix and Matt Dennison.
Frameset
Frame                  Aurum DH race frame, 200 mm travel, hydroformed 6061 aluminum
Fork                     Rockshox Boxxer R2C2 CL 200 mm
Rear Shock           Rockshox Vivid Coil R2C
Wheels
Rims                    Sun Inferno 29 welded rim
Tires                    Maxxis Minion DHF 26 x 2.50
Front Hub             Sun Jumping Flea, 20 mm
Rear Hub              Sun Jumping Flea 157 x 12, Syntace axle
Spokes                 DT Comp butted stainless spokes  
Drivetrain
Shifter Rear          Sram X 9 rear 10 speed shifter 
Rear Derailleur      Sram XO DH short cage
Cassette               Sram PG-1070 Cassette 10 speed 11-28T
Bottom Bracket     Truvativ 83mm shell
Crankset               Truvativ Decendant DH single 36T 83 mm shell
Pedals                  Black Spire low profile flat pedal  
Chain                   Sram PC 1051 10-speed chain
Components
Seat Post             Norco Lite two bolt seat post  
Saddle                 WTB Silverado Race SL  
Headset               FSA #57E-1 1.5″ to 1-1/8″ w/ 1-1/8″ crown race and low 5.3 mm top cover
Stem                   Easton Havoc bolt on direct mount  
Handlebar            Easton Havoc DH bar 760 mm  
Grips                   Norco lock on grips  
Front Brake          Avid Elixir 9 disc with 200 mm rotor
Rear Brake           Avid Elixir 9 disc with 200 mm rotor
Colour                  Yellow/Blue/Black
Sizes Available      S, M, L
Bike Weight          38.20 lbs, 17.36 kgs (size L)

  Climbing up to do it one more time.
---
Does the Aurum make your short list for 2012? What bikes is it up against for you?