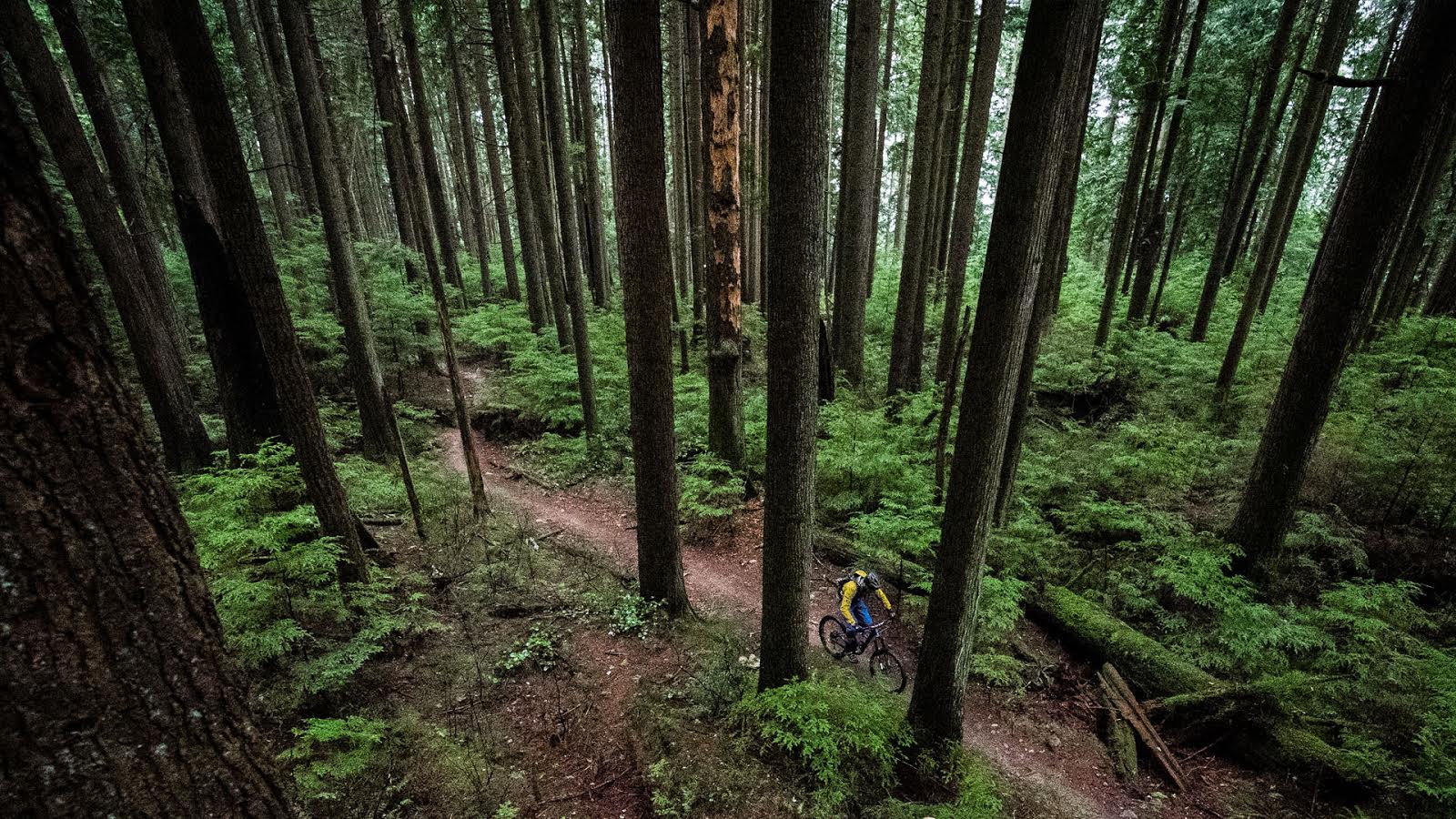 Ryan Leech Interviews Seb Kemp
Ryan: Seb, lets see where this interview takes us shall we! You + Yoga, how did that come about?

  Ryan filming with Bjørn Enga for Kranked – right here in North Vancouver. Photo ~ Ian Hylands
Seb: Yoga, like handbags and 29ers, is something I've danced around for a very long time before actually trying.
Back when I was a hippy child smelling runes, listening to auras and smoking vibrations I was very interested in the teachings of Tibetan Buddhism and eastern philosophy. I read a lot about yoga but I never actually got into anything resembling downward dog. It was simply seeking an intellectual understanding of everything and anything. Yoga being one.
Anyway, fast forward years later and I've forgotten humility and compassion and instead rely on kicking ass and taking no prisoners as my motto. Ok, that's not strictly true but I wasn't thinking much about yoga to be true. I was just riding my bike endlessly and that was enough physical, mental and spiritual exercise I thought I needed.
When I hit 30 years old—and you must have noticed this too Ryan—women look at you differently. They expect more than just tough, chiseled love machines. They want a man with things like thoughts, passion, emotions and the ability to cry and not laugh when a little kitten gets squished under a truck. I also figured that women love a bendy guy in tight fitting attire. I'm not going to do what Dan Gronross did and become a full blown roadie (love you Dan, just a joke) nor was I willing to take ballet classes.
I've been wanting to bend my way into a yoga class for some time but I was too shy to try it because I figured everyone was going to be as pliable as a piece of wet spaghetti and not have time for a beginner. I didn't know how the classes worked and I never found a "beginners introduction to Yoga class".
I've also been living on the road for the last few years, which is a hard place to lay out a plan of physical therapy. And a yoga mat. Ouch!
Then in November I moved to the Shore and I have been embarking on a program of physical strengthening and tuning. Part of that I'm pleased to announce (to all the ladies) is yoga. I've only being doing it for a very short time but I've noticed the benefits.

  Ryan teaching a full class. Lululemon attire is not required. Feel free to wear board shorts and a t shirt.
Ryan: On the road yoga, yup, I've sniffed some rank hotel carpets in chattaranga over the years…So glad the conditions have come together for your arrival at the mat, welcome Seb! So since it came up a couple times, let's use women as the context for the next question  Besides them seeing you at the studio, what are the benefits you have derived from yoga that they may pick up on outside of the studio?
Seb: Have you seen this video?
Well Ryan, lets say that yoga leaves me feeling highly charged. I don't mean I leave the mat in a frenzy of rutting and snorting but it does help me clear my body and mind. I feel unwound and calmly electrified. Guys, you know what I'm talking about, you see a yoga girl and they have a glow about them that is highly appealing and settling all at once? Like they have the ability to tame a lion and start a riot at the same time? Well that's what I feel like sometimes now.
On the outside I have already started to strengthen the core of my body and fine tune the muscle around joints. These are essential things for biking. You don't often engage your core when you are biking (slumped over it isn't going to engage it) but if you have a stronger core you can really feel the difference when it comes to moving your bike underneath you and not being moved by it. Likewise with fine muscle in joints, you have to protect your assets.
Anyway, back to girls. The first time I walked into Yoga is was like walking through a cell block as the new inmate. All these eyes looking you up and down. Tell me one other place where women do that to men? I should add that my lady and I go to yoga together so it's not like I'm going there to pick up.
Ryan: Lions and riots, best description of the yoga glow I've heard yet. Hadn't seen that vid yet, thanks, it wouldn't be so funny if it wasn't the truth eh! Stereotypes and truth, so what is a stereotype about yoga that actually no longer rings true now that you have begun taking classes?
Seb: That it is just a past time for light footed fairies. There are some seriously strong people in some of the classes I've been to. They might not be strong in the bench press double their body weight kind of way but they can do far more impressive subtle strength exercises. If you don't believe me then wrap yourself inside out and hold that pose for a while. There is a sort of discipline in it. You speak to every little muscle and have a conversation with them. Even when they are screaming you have to maintain focus on them to strengthen them.
Yoga is about listening to your own body more. So when you are in a position you should be listening and really understanding your own body. If it hurts then back off, but if it burns maybe that's want you want. If you aren't feeling anything then try subtle adjustments in your body position to get the desired affect.
I think this is true? Correct me if I'm wrong.
Anyway, back to stereotypes. I thought it was just stretching and breathing and meditating. Perhaps it is for some people but different people in the same class can get something different from it. I've been trying lots of different types of yoga and found that some classes are about gentle stimulation and others can be a really good physical workout. Not quite like riding up Mountain Highway in big ring but do a few yoga classes and you might find yourself enjoying the Mountain Highway pedal more.
Ryan: Spot on Seb, these are some rich answers. I like that you've linked yoga to greater enjoyment of your riding, that's my experience too. Hard to believe riding can get any better, can share how it has for you by sharing and describing a specific experience.
Seb: Well I just got a place to next September's Trans-Provence race in France and I want to not get my arse handed to me on a plate. In fact, I want to kick some butt, stand on top of the podium grabbing myself as I scream "how you like them apples?" Obviously I'll do it in French or something then it will seem really classy and not at all a total dick move.
Anyway, for that event it means being strong for the timed stages, but having fitness for the each days riding between stages and then endurance for the whole week. I hope yoga is going to help me get stronger yet allow me to keep weight down. I don't think carrying around extra bulk is going to be the key, instead keeping weight down but make every muscle Bruce Lee tough.
Oh yeah, and I think it's going to help me totally chill out so I don't do something stupid like make wild claims about how well I'm going to do at the Trans-Provence. Oh wait…
More specifically, knowing there is strength in your joints, core and other neglected parts of the body (biking only uses a few muscles) means I have a greater mental edge. I know I have energy stored that I can access when I need it, or I know that it gives me greater strength and flexibility for when attacking a gnarly rock section on the Shore. You can't stand like a statue on your bike, you have to be moving that bike around and working the terrain. Yoga gives me a help to have the strength and flexibility to do so.
Ryan: You heard it here first, Seb is going to give the Trans Provence a yogic crushing! Do you have a favourite yoga posture or pose for bringing bike body balance?
Seb: Warrior is something I just love the feel off. Open hips, stretching legs, strong core and chin up.
Ryan: Well, you certainly killed this interview like a warrior. I'll sign off now with a huge thank you, and allow you share any final words that may be lingering on your tongue…High Fives Seb!
Seb: Thanks Ryan. I can't wait for Sunday. Look forward to seeing you and hope to see everyone else there.
---
This Sunday, Dec. 11th Ryan will be teaching at the Anne MacDonald Studio beside the Presentation House Theatre here in North Van (map below) from 1:45-3:00pm. This will be a regular class throughout the winter. Everyone is welcome and no previous experience with yoga is required. It's also a bargain. Prices below.
$10 drop-in
Punch Pass:
5 Class Card: $40
10 Class Card: $75
Any class, any location, no expiration
One last thing though, if I had one Christmas wish it would be for a Ryan Leech to swear. Just once. Do you think Santa Claus will bring me this one wish Ryan?
Ryan Leech
Professional Integral Coach™ | Pro Mtn. Biker | Certified Yoga Instructor
ryanleech.com
facebook.com
twitter.com/rleech
For more on Ryan and his yoga experience click here for our interview with Ryan.
Or to hear Ryan talk about yoga on his web site click here…

---
---
Who gives better interview than Seb? Want to come see Seb in his Lululemon leotard on Sunday?