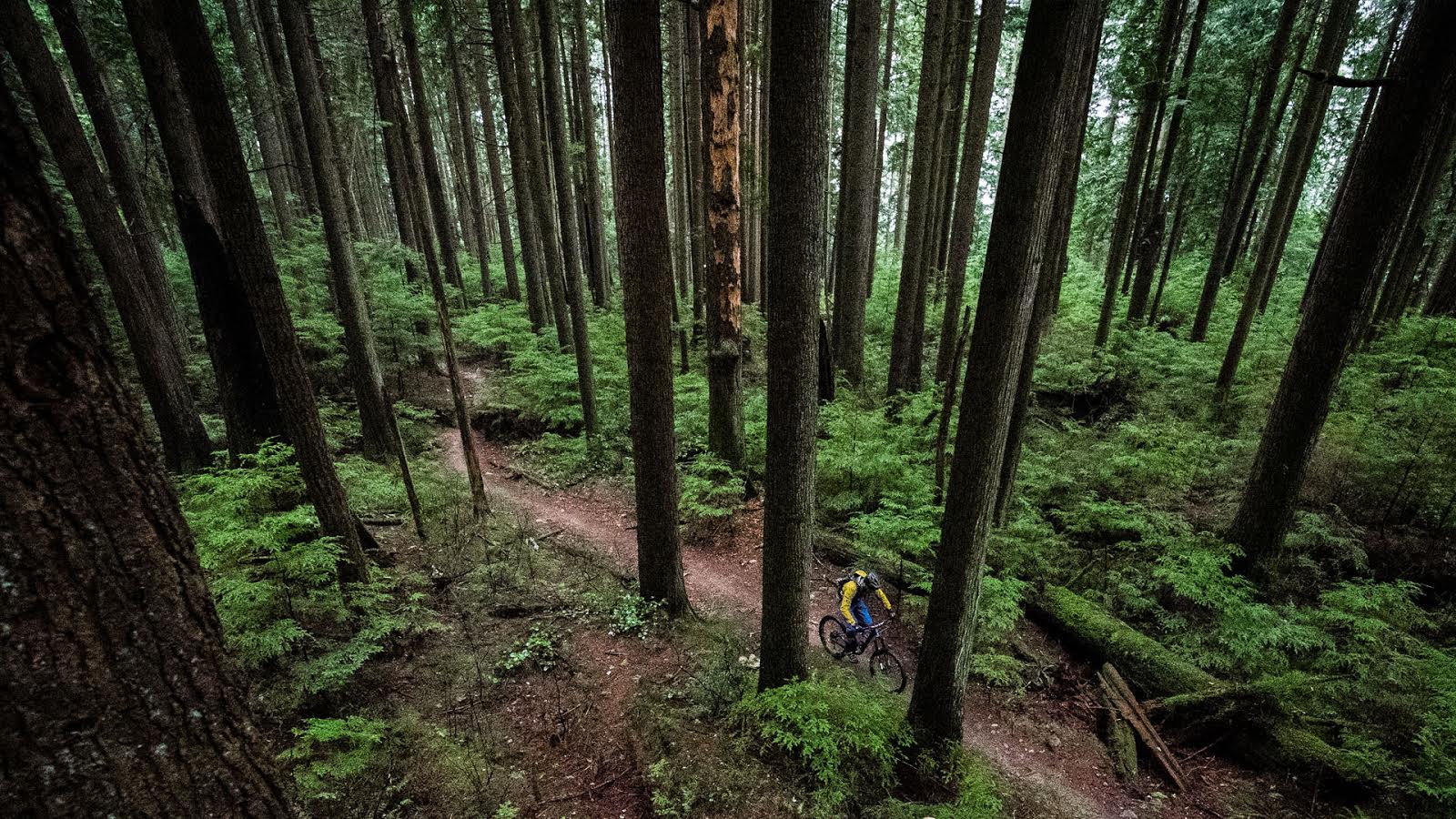 2012 Santa Cruz Blur TRc
Can less really be more? Can a sub 25.25lb, 125 mm rear travel carbon fiber crotch rocket be Shore capable with the right geometry? As soon as I read Mike Ferrentino's artful pitch for the latest Blur – the TRc – I was intrigued. In particular when he stated it was "the kind of trail bike a hucker could love" he had me (a recovering hucker). The designation 'Trail' isn't heard much on the Shore, sitting somewhere between XC and the murkiest classification of all; ALL MOUNTAIN. Many AM rigs now have 6" of travel – or slightly more at 160mm – 170mm (6.3"-6.9") and they often have as much or more up front. Santa Cruz's AM bikes – the Butcher, Heckler and Nomad have 149, 152 and 160mm respectively.  So the TRc has XC travel but AM geometry? The Blur LT has a little more travel at 140mm but it's not as long and sits higher—with a 13.8" BB height compared to the TRc's 13.1". The seattube on the TRc is also a degree steeper—which I have come to appreciate quite quickly.

  The Blur absorbing some sun before its first ride.

These differences may seem minor but it all adds up to what Santa Cruz is calling a lighter version of the late and much-loved (by some) Blur 4X. What I didn't know was whether it would suit much of the riding we do here on the North Shore and in the Sea to Sky corridor.
If you are a fan of details, fine engineering and artful finish work the TRc will give you much to appreciate. From the grease ports to the beautifully rounded edges and curves, there doesn't seem to be an afterthought anywhere. The entire swingarm – including the disc tabs (aluminum faced) and dropouts – is made of carbon as is the compression molded upper link. The titanium pivot bolts are all squeak-free after significant use despite no maintenance from me. There's an integrated chainstay protector and metal strike plate keep the business side of the rear end looking good. Cable/hose guides for a remote adjustable post, a must on a bike like this, are a welcome sight as well. 
  Carbon and titanium all over the place. Photo courtesy Santa Cruz Bikes

I whistled like a 10-year old seeing his first Ferrari when I pulled the frame from the box. Great lines and just enough flash make the frame easier to look at than just about anything on the market. It's been proven by science; beautiful bikes are more fun to ride. I'd probably saddle up Newt Gingrich if he made me shred like the Coastal Crew, but who doesn't like a pretty bike on the trail or in the garage? There is no weight penalty for winsomeness either. When everything is tallied the large frame we were sent, with a Kashima Coat Fox RP23 Boost Valve shock, weighed 4.96 lbs or 2250 grams.

  This is a small bike that is happy with the saddle down. If you are getting a bike like this purchase a remote adjutable post. You can thank me later.

My first duallie was an orange Santa Cruz Bullit. I recall building it to about 30lbs with parts swapped straight over from my crumpled Dekerf Team. It had a 4" travel Marzocchi Z1 up front and a Fox coil (Vanilla?) in the rear. It climbed well enough to make it up the Warden's cut-off that bypasses the fourth switch on Fromme, but was adept at handling the 6 footers to flat that we liked so much back then. This was an early generation Bullit and both ends eventually broke, but were promptly replaced by Santa Cruz.  I rode the new ends for several years without drama and the bike got a dual crown fork, burlier wheels and sandwich-style chain retention device before it was passed on.  It was a do-everything machine and I loved it.

  Circa 2000 on Cypress. Photo ~ Pedro Chambré
The Blur TRc is nothing like that, except for the orange accents, but it has an updated do-it-all sensibility. No 6-footers to flat (although it would likely handle them under a rider with finesse) and I wouldn't rush to bring it down Goat's Gully at Whistler—but it seems game for most of the trails on the Shore because of the aggressive geometry and the pleasing action the rear travel provides. It also happens to climb—particularly in the larger of the two rings—like an un-burdened Sherpa at sea level.
Back in July when the bike was first built I grabbed it and headed to the B.C. interior. I know of two trail options near Scotch Creek B.C.; one is an XC rip with some technical options and the other is a short, steep, shaley descent worthy of a DH rig. Because there was too much air in the tires and suspension I chose the latter. I wanted to find out right away if the bike could handle the steep and rowdy—otherwise it would be no use on the Shore. 

  The well-named Rock Shox Revelation World Cup is a lot of fork without much mass. It has a one-piece carbon crown and steerer, the ability to reduce travel for the climb, solid performance with up to 150mm of travel (I'm running it at 140) and it only weighs 3.47lbs (1575g).
The TRc relished the task. Without having proper bounce set up, the geometry had to do all the work and the bike pushed me to shred hard and go into sections fast. It didn't take long to realize that this was a bike that liked to be ridden aggressively. The more I got low and over the front of the bike the better it felt. Riding a light and nimble bike hard felt strange at first. The TRc revealed itself to be a little bike that you could ride like a big bike. I'm not saying it can handle the same speed through rough stuff, but like a big bike the Blur TRc responds well to dynamic inputs, particularly in the corners. I was beginning to think we might get along.
For ride two I rode the XC option and the TRc was just as sparkly. It accelerated out of corners, dug in nicely on loose climbs and, despite the relatively slack head angle, front wheel wander was not an issue. Although since the emergence of wider bars, I haven't run into that problem. A shorter stem helps as well. Actually the TRc I have been riding doesn't measure very slack considering the market for the bike. With a Rock Shox Revelation World Cup fork set at 140mm (521mm axle to crown) my build measures 68°, but it feels slacker than that on the trail. Santa Cruz says the Blur should measure 68° with a 501mm axle to crown fork.

  The TRc loves to go up, but it does a better job getting power to the dirt in the larger ring. Photo ~ Daen Campbell

Since the summer the Blur has been ridden almost exclusively on the North Shore. At first I was a little timid, but slowly I gained confidence and began to challenge more difficult terrain. The TRc likes steeps much more than I expected. A low BB certainly helps when the earth tips you onto your front wheel, but with only 140mm up front and 68° I was expecting trouble. I've ridden several 150 and 160mm travel bikes that are less capable on trails like Lower Skull and Lower Ladies.
Santa Cruz's VPP platform has come a long way since the original VPFree. While capable, that bike felt lashed to the ground to me and playful like a prison guard. The Blur TRc is about as snappy and agile as the Free was stodgy. It's happy to bunny hop (which I found impossible on the VPFree) and for the first time I found myself over-jumping the table and gaps on Bobsled, the Shore's answer to Aline.  

   Happy everywhere. Happiest in the turny bits. Photo ~ Daen Campbell
To me it feels like the rear end of the TRc is doing its job without much fanfare. This is a bike that feels quite firm as it allows you to slay rough terrain. With the custom-tuned Fox Kashima RP23 I noticed no mid stroke wallow to speak of, and the action felt more linear than I expected. I generally left the Pro Pedal off most of the time.
I built the TRc with a SRAM XX group, including a 2 x 10 drivetrain, a Rock Shox Reverb post, a pair of DT Swiss 1750 Wheels and the aforementioned 140mm Rock Shox Revelation World Cup fork (with a ruling 20mm axle). Up front I have a 70mm Race Face Turbine stem and a 730mm Syncros carbon bar. A couple of months ago I swapped in a pair of Easton Haven Carbon wheels and they have made a very good bike even better. On top of ditching 300 grams, the Havens have further stiffened an already robust chassis. The bike feels more accurate and more comfortable at the limit with the new hoops. Specialized Purgatory 2.2 tires have been on the bike since the summer and I have really been pleased with them. I normally run Maxxis Minion 2.35 kevlars for an application like this and the Purgatorys compare very nicely and considering their girth (a Specialized 2.2 measures like a Maxxis 2.4 or so) they are a decent weight at 670 grams. 

  In case you were wondering, yes, the carpet matches the drapes. XX, Reverb post, and more carbon in the cockpit. Photo ~ Daen Campbell
The TRc I rode at Interbike had a longer stem, perhaps a 90 or 100mm, and it felt awful to me. The longish top tube and the required aggressive riding position would make anything longer than a 70 a real mistake in my humble opinion. The bike also likes a wide bar, which naturally brings your torso toward the front wheel. The only part of the spec that doesn't suit the bike is the Truvativ XX 2 x 10 crank. The smallest large ring it accepts is a 39 which has put me in the granny more than I would like on technical climbs, or when I'm tuckered out. The TRc climbs very well in the larger of the two rings, but it's not as happy in the granny. Out of the saddle bursts in the 26-tooth ring aren't recommended. While I can feel more pedal-induced bob than I would like in granny, I'm aware that the gearing choice and the challenging technical climbs here turn a non-issue into an annoyance (more vigilant use of Pro Pedal would help as well). With a 32 up front you could quite happily do without a granny on this bike, but the 39 has me dropping down often. With a 3-by and bash mated to a 32, 33 or 34-tooth ring you'll likely be blissfully unaware. If the granny was a last resort here I'd stick with the current setup. If you are considering a TRc and a 1-by 9 or 10 drivetrain, be aware that there are no ISCG tabs on this bike. A small oversight on a bike that does so many things right.

  I didn't find a dedicated 2 by 10 set up, with a 39 tooth big ring, to be the ideal set up for the TRc in our unique part of the world.

The TRc is happiest with the side knobs straining and the bar dipped. The low bb means it loves to corner. It's balanced and stable, which encourages you to turn the dial up a notch. I've heard some riders complain about the low bb causing pedal strikes on rough terrain but this hasn't been a problem for me. Like judging tree spacing after switching to a wider bar, once you get used to the platform you compensate accordingly.
The Blur TRc would be a fantastic machine for a Chilcotin adventure, to take to Moab, Colorado or the Okanagan, just as it is for many routes on the Shore. If forced at gunpoint to mate with for life with one bike I would choose the Blurter Carbon for just about anywhere. For Squamish, Pemberton or Whistler, I could be happily faithful to this lithe beauty. Here on the Shore I'd lean toward a sturdier lass, slightly burlier, slacker and with more bounce. The TRc isn't happiest on some of the slower, choppy, root-strewn trails we still have in abundance and, despite being highly capable, it lacks the insurance a well-designed 160mm bike provides for hacks like me. But as a spirited secret weapon in your quiver, this bike is a no-brainer.
For more impressions of the Blur TRc as well as a short video on the bike click here. For Mike Ferrentino's anti-marketing description and some nicer images click here.
---
Could you see yourself with the Blur TR Carbon long term? Maybe a fling? Not your type? Tell us below.