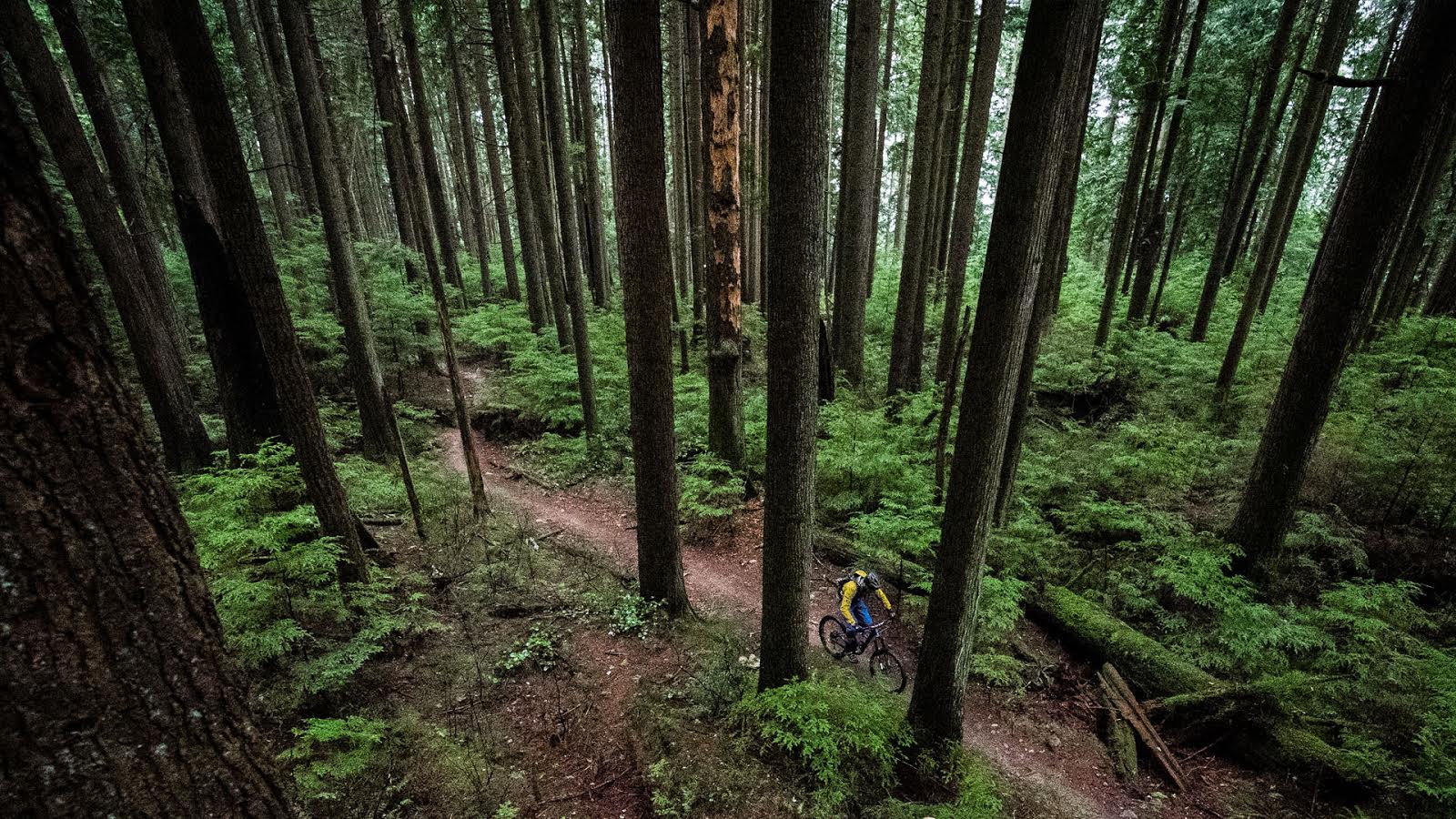 Gee Atherton Interview
Yes – the 2011 season is done and gone and the year itself is even waning. But we've been sitting on this little interview with Gee Atherton from Crankworx this past summer. Considering we should soon hear about his new sponsor we figured we should unearth this and give you some of Gee in his own words.
---
During Gee Atherton's visit to Crankworx this year I had a chance to ask him about the previous season. The UCI World Cup Champ, 2nd place at Rampage and the King of Crankworx had this to say.
1) So Gee 2010 was your year I'd say; UCI World Champ, Crankworx King of Gravity and 2nd @ Red Bull Rampage. What are some highlights from your perspective?
Well every race I did well at was a highlight for me. Winning the final round in Windham was huge. Also Redbull Rampage was such a cool event because it was so different to what I had done all year

  Racing to third place in the Crankworx Air DH. Photo ~ Malcolm Mclaws
2) Gee you beat Greg Minnaar by 0.37 sec to win the UCI World Cup title @ Windham. Were you amazed it came down to that small time difference to take the title?
Not really. I knew it would we had been battling all year, and very rarely seperated by more than half a second, it is the best way for the racing to be

  Emmeline Ragot and Gee Atherton, Queen and King of Crankworx 2010. Photo ~ Malcolm Mclaws
3) You are the middle sibling of the Atherton family. Have you always competed against each other? Who usually wins?
Yeah we have always been competitive. Me and Dan have always been pushing each other and trying to outdo each other. It has made us what we are today

  Racing the dual slalom. Photo ~ Malcolm Mclaws
4) Gee what was your best Mtn bike memory from 2010 and what was your worst ?
Winning the World Cup Championship was the best and seeing my bro and sis injured was the worst.

  Gee has used Crankworx to prove that he can handle a little bike as well. Photo ~ Malcolm Mclaws
5) In February you headed down to Queenstown, New Zealand to film with Anthill Films and Canadian Steve Smith. What was that film shoot like and is our Canuck Kid fast? Should you be worried in the future?
The shoot was awesome, so much good riding and the footage the Anthill guys got was incredible. They were great to work with. Steve is fast when he can stay on his bike.

  Gee and Rachel. Photo ~ Malcolm Mclaws
6) Gee last year at Crankworx you were crowned King of Gravity along with Queen Emmeline Ragot based on your wins/results. How does it feel to be a Royal? Did you get to keep the crown?
Yeah I loved winning that title! It's always so much fun at Crankworx. I took the crown home, but it weighed so much, I got stung with some heavy baggage fines

  Racing Mitch Ropelato. Photo ~ Malcolm Mclaws
7) Gee you won the Dual Slalom and Canadian DH @ Whistler in 2010. What do you enjoy about coming to Whistler?
Just the atmosphere, so much fun and so much riding… It's pretty relaxed compared to the hectic World Cup scene.

  Photo ~ Malcolm Mclaws
8) You were back at Rampage again 2010, finishing 2nd. You crashed out in 2008 and came 2nd in 2004. How do you see yourself as a DH guy becoming a 'freerider' at these events?
Well I just ride the same as a race, and approach it in the same way. I think if you can ride on the World Cup circuit, you can ride anything.

  Gee was a little surpised to win the dual slalom. Photo ~ Malcolm Mclaws
 
9) You were the only rider to nail the step down gap wall ride during Rampage. After seeing Romaniuk crash out did you have second thoughts about hitting it up?
I was pretty nervous, but that's what Rampage is about. Having the courage to ride what you know you can, and believing in your self.

  This huge, nasty move made Gee a podium shoe-in at Rampage 2010. Photo ~ Malcolm Mclaws
10) You went to Fort William and raced World Enduro Champ, David Knight who rides a 500cc KTM and beat him down the course on time. Your time was 4:51 and David's was 4:56. Were you surprised by the win?
Yeah I was suprised by the win. He was so fast all the way down I was sure he would get it. It was nuts to watch him ride so well. He's pinned.
    


  The Rampage podium. Photo ~ Malcolm Mclaws
Gee, thanks for spending sometime with us @ NSMB and good luck in 2012
---
Where will the Atherton's end up in 2012? Will they stay together? Feed the mill below.