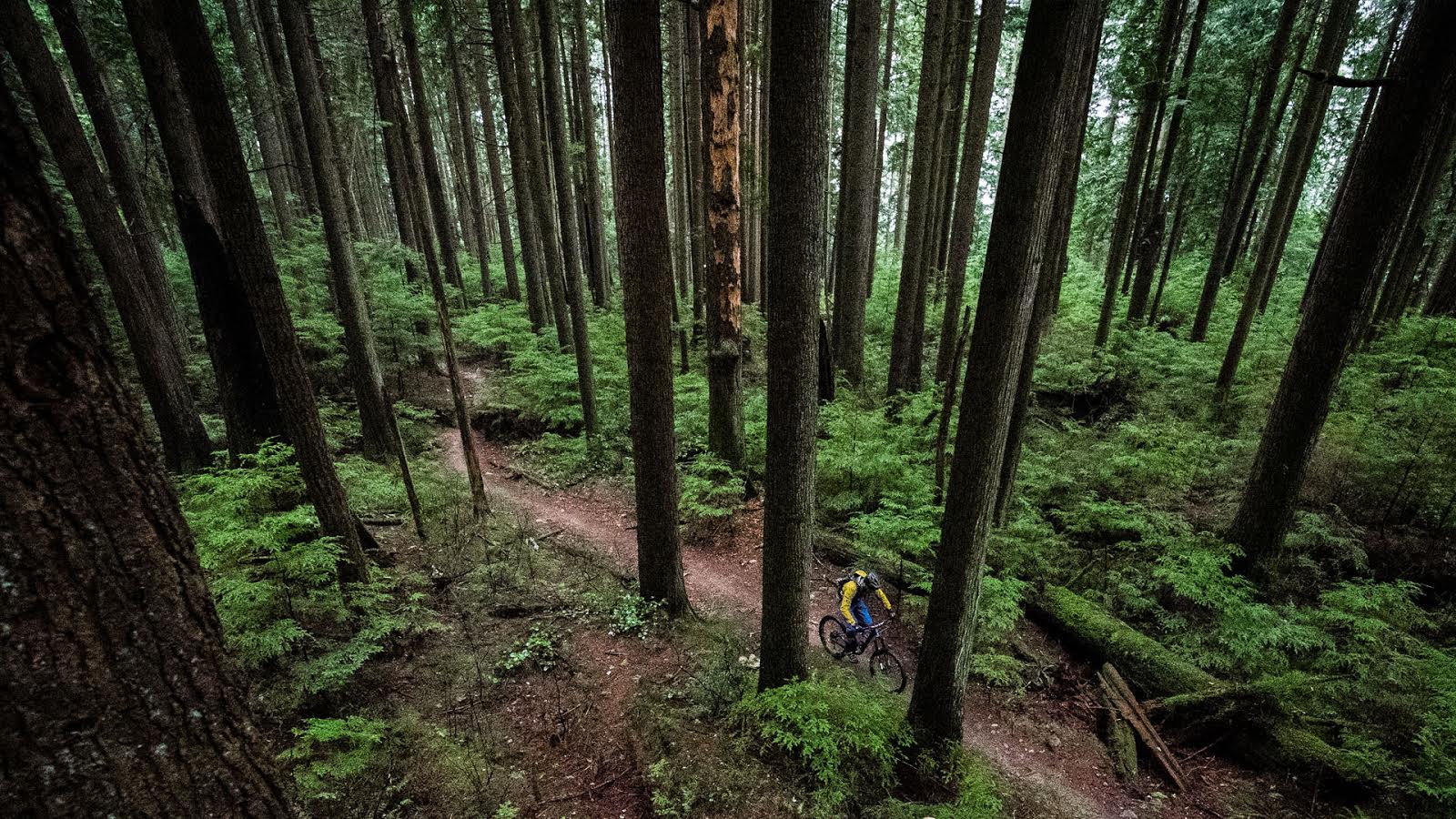 52 Winter Trails
I usually ride more in the off season. During the warm months the bike business gets pretty busy. I get out, but not as often as I like and maybe not on always on trails or bikes of my choosing. I feel pretty lucky to live where riding year round is often the norm. There are some times when our trails are closed by snowfall but we can often get up there in January. What's better than riding during an inversion, like we had for the first week of the Olympics, when it's warm and dry on the trails, and foggy and cold in the city? When the ground is frozen the grip can be as good as Moab slickrock.

When there is snow up high there is some pretty good riding along the creeks in North Van. Photo ~ Cam McRae

Sadly you'll find wet trails nine days out of ten this time of year. That doesn't mean no riding at all – but trail selection becomes key. Some trails are either mature enough to withstand deep knobs or built with four seasons in mind – but others get shredded beyond repair in the wet season. Obviously loam trails should be off limits this time of year – and anything that is relatively soft. It doesn't take many riders to completely ruin a loamy trail this time of year. Once that soft undulating goodness is gone it's sometimes gone forever if it becomes a water way.

  Armoured trails aren't everyone's cup of tea – but they stand up to winter very well. Photo ~ Morgan Taylor
Recently the topic of voluntary closures was raised on our bulletin board. This is a controversial stance – mostly because of our nature as mountain bikers. Some of our ilk are what you might call free-spirited. The type of rugged individualists who tamed the west and who tend do whatever they damn well please. Montana anyone? This individualistic attitude has its place – and it's likely a critical character trait for trailbuilders – but it's not ideal for improving our access nor for getting funding for trail building and maintenance ventures. And it can be terrible for the trails themselves

This stream is part of a trail – but it's only a stream at certain times.  Am I a bad man for riding it when it's flowing? Photo ~ Cam McRae

I had the opportunity to speak to Mark Wood of the nsmbA about this issue. Right now the idea of having a list of trails and placing signs for voluntary closures is under discussion. Mark feels there is a new consensus arising that accounts for a more sensible approach to our trail resource. And one that  that takes the community as a whole into consideration rather than individual desires/needs.

  The forest can reach peak beauty when the weather is crap. Photo ~ Morgan Taylor

I asked Wade Simmons (co-author of the Locals' Guide to North Shore Rides) for a couple of winter ride suggestions and he came up witha  couple of beauties.
Wade Ride 1 – Fromme: Longer ride 1.5-2.5hrs.  Park at or ride to Dempsey/Braemar
Climb Dempsey, go right on Baden Powell (BP) to Mtn Hyw, left up to yellow gate, dive into Road Side Attraction on right and climb to first switchback, back on road, climb to Leppard trail access on right side of road past fifth switchback and just before Expresso on left. Ride Leppard exiting out on fifth switchback as the trail turns into Crinkum Crankum (do not ride into Crinkum Crankum), climb up Mtn Hyw to Pipeline, descend Pipeline to BP and turn right, ride BP to Dempsey trail and turn left, descend Dempsey and turn right on to Penzoil, descend Penzoil keeping left at intersection at bottom and exit onto Breamar climbing left back to parking.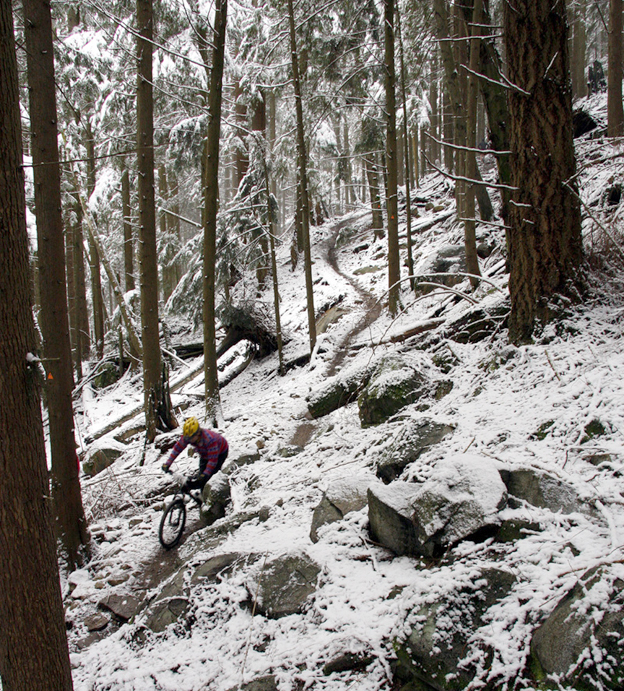 Sometimes riding in snow is worse that riding in the rain. If a trench develops before a melt, because of tire traffic, it is the lowest point. This means it becomes a creek. Some trails (like the Baden Powell above) can handle it, but anything with loam or soft earth (like the new Executioner) should not be ridden in most snowy conditions. Photo ~ Danielle Baker.
Wade Ride 2 – Seymour: Medium ride 1-2hrs. Park or ride to Berkley/Hyannis, BlueRidge Seymour
At end of Hyannis Drive take Hyannis trail and turn right onto Wills Way climbing to Bridle Path (BdlPth), turn right and ride BdlPth to Sticks and Stones (SnS) on right just before Cardiac Bypass on left, descend/ride SnS coming back onto BdlPth and turn right staying straight at bottom onto Blair Range access trail, keep riding main trail ignoring any right descents and left climbs, and after crossing 3rd creek look for immediate right and climb beside the golf course, once trail meets BdlPth, turn left and ride this until Cardiac Bypass, found on right after Severed Dick exit and creek crossing, take Cardiac Bypass back onto BdlPth, turn right and follow all way to Hyannis trail, turn right and follow to powerlines going left crossing bridge and then immediate right climbing up to Ned's Atomic Dustbin, there turn left descending, then right up old trail climbing to top of small hill and the RidgeRunner/Bottle Top trailheads, descend left on RidgeRunner to powerlines, climb left up powerlines back to bridge crossing and go right following Hyannis trail back out to parking.

Old school rain riding. Photo Noel Hendrickson
The Fromme ride ascends higher than the Seymour ride and may be closed due to snow for some of the winter. The Seymour ride utilizes the great lower mountain network and should be open most of the season. These trails are old and well established but in real-adverse winter conditions you will experience the inevitable puddle.
Sharon Bader sent me her recommendations for trails that can generally stand up to winter and wet weather traffic. "My personal favourite wet weather trails: 7th, Crinkum Crankum, Kirkford, Griffen, Pipeline. On Seymour: Severed and the lower Seymour trails – Bridle, hyannis, WW, bottletop loops."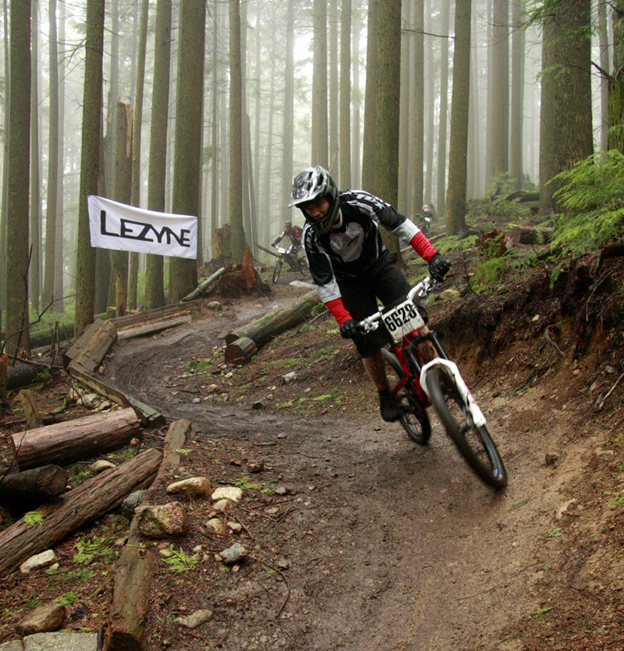 Jason Bond followed by Pete Roggeman on Salvation during a soggy North Shore Ripper.
Going through the Locals' Guide for a complete list we recommended. Based on their ability to take traffic when wet or the fact that they are treacherous when wet.
| | | |
| --- | --- | --- |
| Seymour Suggestions | Sticks and Stone | Severed Dick |
| Bridle | Neds | Pangor |
| Wills Way | Corkscrew | Boogie Man |
| Bottle Top | Salvation | Empress |
| Fishermans | Cabin | Empress Bypass |
| Hyannis | Pingu | RJ System |
| | | |
| | | |
| --- | --- | --- |
| Fromme Suggestions | Natural High | Upper Oilcan |
| Fromme | Floppy Bunny | 7th Secret |
| Kirkford | Bobsled | Crinkum Crankum |
| Cedar | Pipeline | Leppard |
| Griffen | Lower Oilcan |  Lower Crippler |
| Road Side Attraction | Dreamweaver |  Dempsey |
| King of the Shore | Pile of Rocks |  Quarry |
| | | |
| --- | --- | --- |
| Cypress Suggesions | | |
| Millstream | Fern Trail | BLT |
| Wild Cherry | Reaper | Slippery Canoe |
| Roach CLip | Sex Boy | Lower Paul Hogan |
| Roach HIt | Mystery | Stupid Grouse |
| Single Lane Traffic | Paul Hogan | Firehose (added by CM) |
I'm generally preaching to the converted with our audience. Most of the riders who visit our site are responsible trail users who use good judgement. What you can do is spread the word so the community as a whole starts to make better winter trail choices.
---
If you have anything to add or subtract from the list above, or any comments about the suggestions point them below. And if you have a winter Shore route to share please enlighten us about that as well.