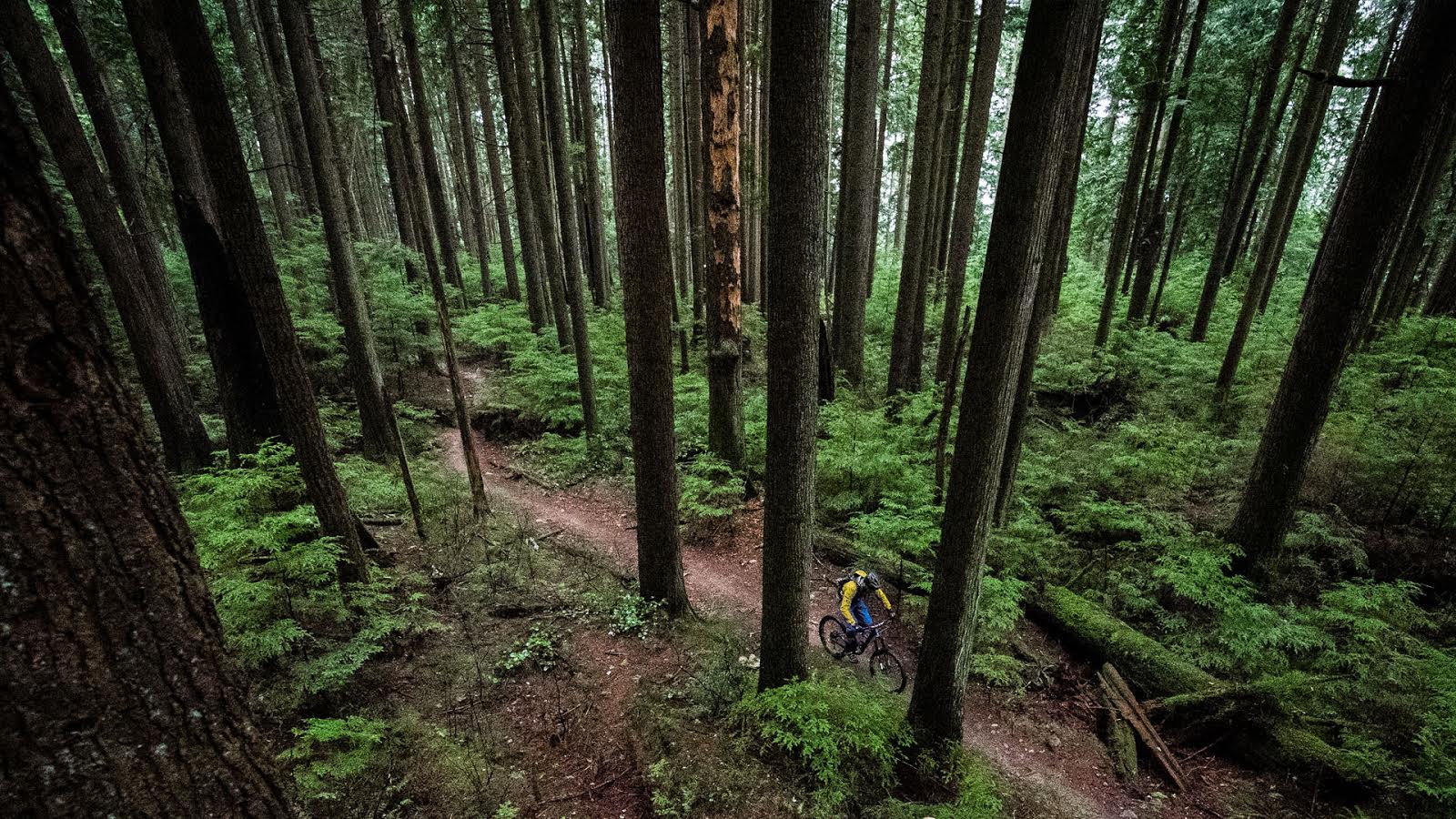 Ride Retallack II
There have been murmurs about Retallack this year. I caught wind, and listened in. It was Riley McIntosh whispering to me from Neldor a year ago, advising me, " to come out next season and ride in Nelson" that really got my mind ticking on the subject.  

A sweet pair of rigs in the back of Mason's chariot.


Callum ducks this fallen tree on this fun section of Sitkum.

Kris McMechan floats over a fresh loamy section on 'Escobaricorn'.
When an offer of a trip came up I immediately agreed that this was a splendid idea. When the time came early in the summer, Cal Jelley and I loaded up my truck, and set forth on our very first Nelson mountain biking adventure. With obvious predispositions to Nelsons reputation as a world class riding destination, my level of anticipation was redlining.
Toppin up the chainsaw.
Hacking up a fresh wind throw for some bridge work.
We rolled up in the middle of the night meeting Riley at his place in Kokanee Landing after our 12 hour drive. Over a couple glasses of scotch, we discussed the plan for our short visit. We didn't have much time, so we aimed to maximize our experience and document as best we could what Riley had been up to in the depths of Neldor for the past few years.

The innards.


Trails made by hand are inherently the best.


Riley leans into the fruits of his labour, with a slight chance of roost.
So for those who may have not heard, Riley is leading the charge with Retallack Resort's involvement in mountain biking. You may think it's as easy as just building some trails, and hiring guides to take people down those trails and the existing ones in the area, but let me be the first to assure you, this has been a long and arduous process for Riley and Retallack. It has taken years of involvement with the community, as well as several years working with the respective ministries within B.C. to get the proper permission to build and guide mountain bike tours on crown land. Three years in the making, Riley's hard work and dedication to a dream idea has now landed him at the forefront of a new tenure specific to mountain biking. The first of its kind.
Kris with 100% chance of roost.

Riley making sure that the corners link up properly.

You can see his dedication to the trails. Powerslave for example is designed with the intermediate rider in terms of ride difficulty, but on the other hand, for those of us with a higher shred factor in mind, these trails of his certainly put out. There are little secrets hidden into rhythms, and as long as you keep your head up, you won't miss a beat. Riding trails for the first time is one of the bet parts of traveling to new places with your bike, when you add into the mix Rileys huge dedication and ample skills on a bike, you get a whole bowl full of awesome.
  An interesting mix of weather we had while we were there.

  Heavy dirt spray from the wheels of Callum Jelley.
We spent the better part of three days with Riley and his associate trail builder Kris McMechan, riding together, shooting photos, and capturing video on their respective home turf. We started pretty casually with a few laps on an older trail called Sitkum. We all dropped in together at the top, and immediately we were white knuckling as we drift navigated our way down a loose chute in the trees. It was steep enough that when Cal spilled on the middle of the trail, he JUST narrowly escaped the wrath of my wheels as I careened down behind him, just about retaining control.  The bottom section isn't nearly as hairy, but it was nice to get the blood going with a warm up like that. The remainder of the trail is a perfect grade of fun, loamy single track, with plently of flow to be had and many an interprative line to be taken.  We decided that this trail had some appropriate elements that we'd like to film. We set up our first shot, and then I accidently trashed my rim getting loose and drifty, so I had to call it quits and just position myself behind the lens for the day. Riley and Kris took over on the riding for that afternoon, and Cal and I reserved ourselves for the following day. Much to my dismay, the rim was irreplaceable under short notice, so a local friend named 'Dude', spotted me a spare for the remainder of the trip. Thanks Dude!
Our next day was short on sunshine, and heavy on rain. Dark, damp and dank, we bumped the ISO, and continued to get out shred on. Cal and I paired up this time while Riley and Kris manned the cameras. I can't say it wasn't a sweet match up working with those guys, the workflow was light hearted and we managed to get lots done, while thoroughly enjoying the trails they showed us.
At the time they were working on one of their latest projects 'Escobaricorn' (imagine Pablo Escobar crossed with a unicorn). We drove up to the trail and hiked in to see what they had going on. The boys buckin' trees and building some wood rollers, and putting in a few new turns. Kris and Riley know their way around a foot cycle, so we cut to the chase and started to dissect some fresh and soft berms. Thick and heavy roosts, coupled with infinite traction made for a good time. The boys lit it up for me in this one particular turn that I really quite enjoyed shooting. Intermittent rain spells mixed with hail didn't hold us back. We managed to bag some pretty cool photos, before light faded away. We retreated to the trucks, and snagged this wicked sunset through the rain clouds.
We returned to the same locale the next morning to grab a couple more shots with brighter light, and managed to snag a couple beauties. I had the boys rally this sick right-hander that had a puddle on the inside. It turned out awesome.
Before.

After.
The Lodge.

Lodge life.

After a couple shred laps, we jumped in our trucks and headed up to the lodge for a wicked meal courtesy of Retallack's all-star chef, Yves. Just like that, we wrapped up our meal and hit the dusty trail en route to the perfect midway destination; Vernon.
An incredibly tasty lunch.
Kal Cliffs never disappoint.
Josh Stack knows how to throw down.
Vernon is where I grew up, so it only makes sense to stop and say hello to friends on the way through. On this particular occasion, we met up with a close friend, Josh Stack. Josh is one of the most multi-talented athletes I've ever crossed paths with, so we didn't hesitate to hit up my favourite swimming hole in the world at Kalamalka Lake Provincial Park. Josh threw down a couple sweet moves with his brother Justin, and it's no wonder that the talent runs thick in this family. For more action with of Josh, check out his segment in the latest Voleurz movie.
  Mini barrel.

  Cal assumes the role of human ballast.

After a quick session and a lake shower, we cruised over to Okanagan Lake to meet up with my childhood friends the Danchuk's and a few of there pals for a sunset wakesurf. We hopped in their boat, and topped up the fatsacs. Surf's up. Hundreds of pounds of ballast, a boatload of people, and a hydraulic wedge make this boat kick up one of the meanest wake surf waves in the Okanagan. Our session went off before we retired back to the house for a BBQ and some bevies. I couldn't think of a better way to wrap up the last day of our road trip before we headed home to Whistler.
---
Did any one else have a road trip as epic as Mase and Cal's? Story tell below…