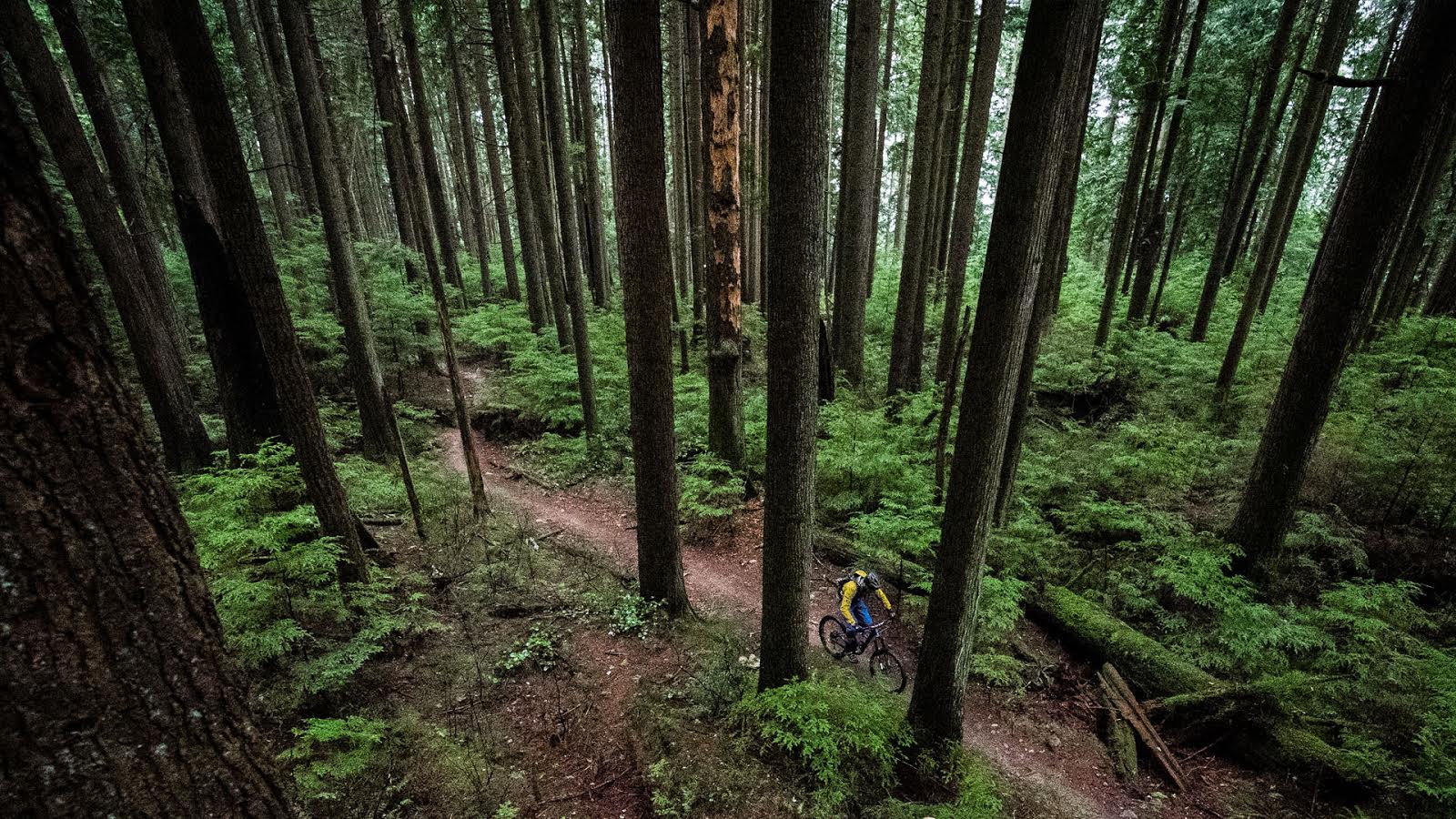 Interview – Arthur Says
Arthur is the nicest guy who will ever beat you to a pulp. He won't do it on purpose, but if you try to follow him on any trail, up or down, prepare for the worst. To rub a little extra dirt in your wounds, with that gentle smile of his, Arthur will outshred you on just about any descent riding a glorified XC bike with 29″ wheels.
In recent years Arthur has been working with James Downing at Suspensionwerx here on the North Shore. When he wasn't fixing your fork or shock Arthur would spend some time getting your suspension set up properly. In fact Arthur got so good at this that he decided to branch out on his own and set up duallies full time. This new venture, Suspension Therapy, will be opening shortly.
This is part one of our interview, which talks mostly about the way Arthur lives and breathes mountain bikes. Part II, which will also unveil a new Matt Dennison video of Arthur riding the Shore, will be Arthur giving away all his set up secrets. Stay tuned.

---
Where did you start mountain biking and when? Who got you into the sport?
I grew up in too big a city – Paris, France – and started mountain biking in 1997-1998, when I was fourteen. Most of the riding I did was in the neighbouring forests, trying to get away from the smog and crowds. I was quite unfit at the time and did not lead the healthiest lifestyle. A cover page showing the Alpe D'Huez MegAvalanche mass start caught my eye at a newsstand. I was self-conscious of my lack of fitness and biking was the outlet I chose to improve myself. That summer I decided to race the same event that had enticed me to mountain bike only a few months past. I stood at the start, under-dressed, under-prepared and freezing. Someone offered me a shot of rum that I gladly accepted, not really knowing what it was. I was in the youngest participant category, finished fourth to last out of some 800 participants, with only DNFs behind me.  
  Arthur after a leisurely climb up the powerline on Seymour. I had to walk most of the way. I think I saw him wheelie most of it. Photo ~ Jerry Willows.

What attracted you initially?
It's hard to remember what attracted me initially to mountain biking. Being outdoors, closer to nature was probably the biggest draw. Seeing myself build endurance and slowly gain skill were strong motivators. Although for the longest time I had terrible skill and abysmal fitness, I was never a fair weather rider and ended up riding on my own when the weather was anything but perfect. I rode my bike most places, most of the time, rain or shine. 
    Good luck trying to find something too nasty for Arthur and his Tallboy. Photo ~ Jerry Willows.

Since mountain biking has fractured into dozens of little sub-categories, which of these categories do you enjoy?
I'd like to say that just being on my bike is enough, but it's not. I need to feel like I've been somewhere, hopefully a little out there, and back. Breaking a bit of a sweat is a minimum. The best rides involve ups, downs, challenges both ways, not much stopping, and a few other folks who share the same ideal. The racing I crave reflects this: longer than typical downhill races, more technically demanding than most cross-country races, the need for a balance of skill and fitness where less of one requires more of the other. Super D, Enduro, or any race where a trail bike is the best bike, are the ones I enjoy the most. That being said, cross-country racing does grow your mental and physical ability to deal with discomfort, while downhill racing builds a rider's ability to comfortably walk the line of controlled recklessness. I dabble in these two disciplines not by absolute enjoyment but more so because of how they make me grow.
If you had to choose one wheel size to ride for the rest of your days would it be 26″, 29″ or maybe 36″?
I don't want to be in a position where I have to pick! It would be like having to choose to ride one trail or loop forever, never being able to ride anything else. 29" wheels, under the right platform, eat up technical terrain and allow more people to ride lighter, quicker feeling bikes, on challenging trails. They are overall a solid cross-country tool, no matter where you live. You can't quite bury your bike into a corner on a twenty nine like you can on a twenty six however. 26" wheels will take successive corners faster and are still better suited to longer travel applications.

 Arthur even shuttles sometimes.  Arthur (top) shares the back of a pickup with (clockwise from AG) Steve Mitchell, Dave Norona and Joe Schwartz. 
Do you compete? If so what events have you participated in and what kind of results have you had?
I do compete. Competition makes me a better-skilled rider and a more experienced athlete. Had a good first year of focused efforts on Enduro style races, and rode a few select cross-country events. Had solid top 10 finishes at the Nimby Fifty XC and NS Bike Fest XC. Ashland Mountain Challenge went decently well with a 13th place at the Super D and 4th at the Chainless DH. I won the North Shore bike fest Super D, Wade's Excellent Adventure (as a team with Dylan Wolsky), the Fraser Valley series and Dirty Duo XC bike only. 

  I think this is Arthur back in the day. Photo ~ Stephen Wilde

Do you have any goals for 2012?
In 2011, I prepared for my season with a four-month strength-training program, followed by an eleven-week intensity program leading into the first events.  Starting this past October, Chris Johnston, Dylan Wolsky and I have started a sixteen-week strength program. Base training will begin early January, in conjunction with an on the bike intensity program, eleven weeks prior to our first of three A-level races. Being strong, correcting muscle imbalances, and increasing power is the priority.  We will be racing together and have put most popular Enduro type events on our calendar:  Ashland Mountain Challenge, Downieville Classic, Schnell's Tressle Park Colorado, Megavalanche and Trans-Provence. 
Off the bike, I am starting Suspension Therapy, and am committed to being easily accessible to my clientele, to constantly update my knowledge base and provide a thorough, informative, professional service, at a good value, to the mountain bike community.  

  Arhtur doesn't only ride downhill – but when he does, he does it very well. Photo ~ Stephen Wilde
Tell me about your stable of bikes – and what you like about each. Which bikes do you ride the most? (maybe a little about set up of each as well please)
This is going to be a short answer. I have a quiver of one. Not that I believe in the one-bike-can-do-it-all-well myth. It just so happens that a Santa Cruz Tallboy was my only bike this past year and a half. It went through a number of small metamorphoses: triple ring, long stem, narrowish bar, little tires, to slightly shorter stem, slightly wider bar, bigger tires, single ring. The commonalities were, among a few others, a Fox 32 Float, RP23 rear shock and up and down post (Reverb). Not one set-up is better than the other; they simply serve different purposes. It sure makes it easy picking which bike to ride: skill and fitness become the variables, not the bike. Downfall is keeping one 26lb bike running to high standards when it is being ridden in the Whistler Bike Park one day and in a cross country race the next.

   Arthur rides some lower Fromme gnarl with his training partner. Photo ~ Mark Wood
What is your favourite piece of gear you've started using in the last six months? (could be anything from tires to parts to a bike frame – whatever).
I have a short-list, not necessarily in this order: 
    •    Ergon GE1 grips (I have carpal tunnel syndrome in both hands, these greatly reduce numbness and hand fatigue)
    •    XTR Trail brakes
    •    Specialized Eskar Control tire (Although loving Specialized is like loving Microsoft, it is hard to find fault in the Eskar for all-mountain action on the big wheels)
    •    Kashima coating and SKF seals on Fox forks and shocks.
    •    CaneCreek Double Barrel coil shock, as it makes high-performance set-ups possible on quirky bikes
    •    Stan's tubeless set-up (I fought tubeless for so long, and now listen to me rave)
    •    Icebreaker Circuit Jersey (resists road rash a lot better than my skin does, stays warm when it has to, stays cool when it has to, and fits lanky people like me)
What do you think are the strengths of the main suspension brands?
    •    RockShox / Sram:  Well-priced complete component packages for OE (original equipment) customers, means decently spec'd affordable bikes for consumers.  Good performance to cost ratio in mid-range product.
    •    Fox Racing Shox:  High quality, high performance, easily upgradable to latest technology at marginal cost. 
    •    Elka Suspension:  High performance to cost ratio with Stage 5 shock.
    •    Cane Creek:  High quality, high performance, Double Barrel coil is hard to beat paired with the appropriate frameset.
    •    Marzocchi:  Requires less maintenance than competition, good value in high-end offerings.
---
Stay tuned to part II where we pick Arthur's brain about tuning suspensioin and dialling it in for the riding you do. Talk trash or blow rainbows at Arthur below (or just ask him some questons).