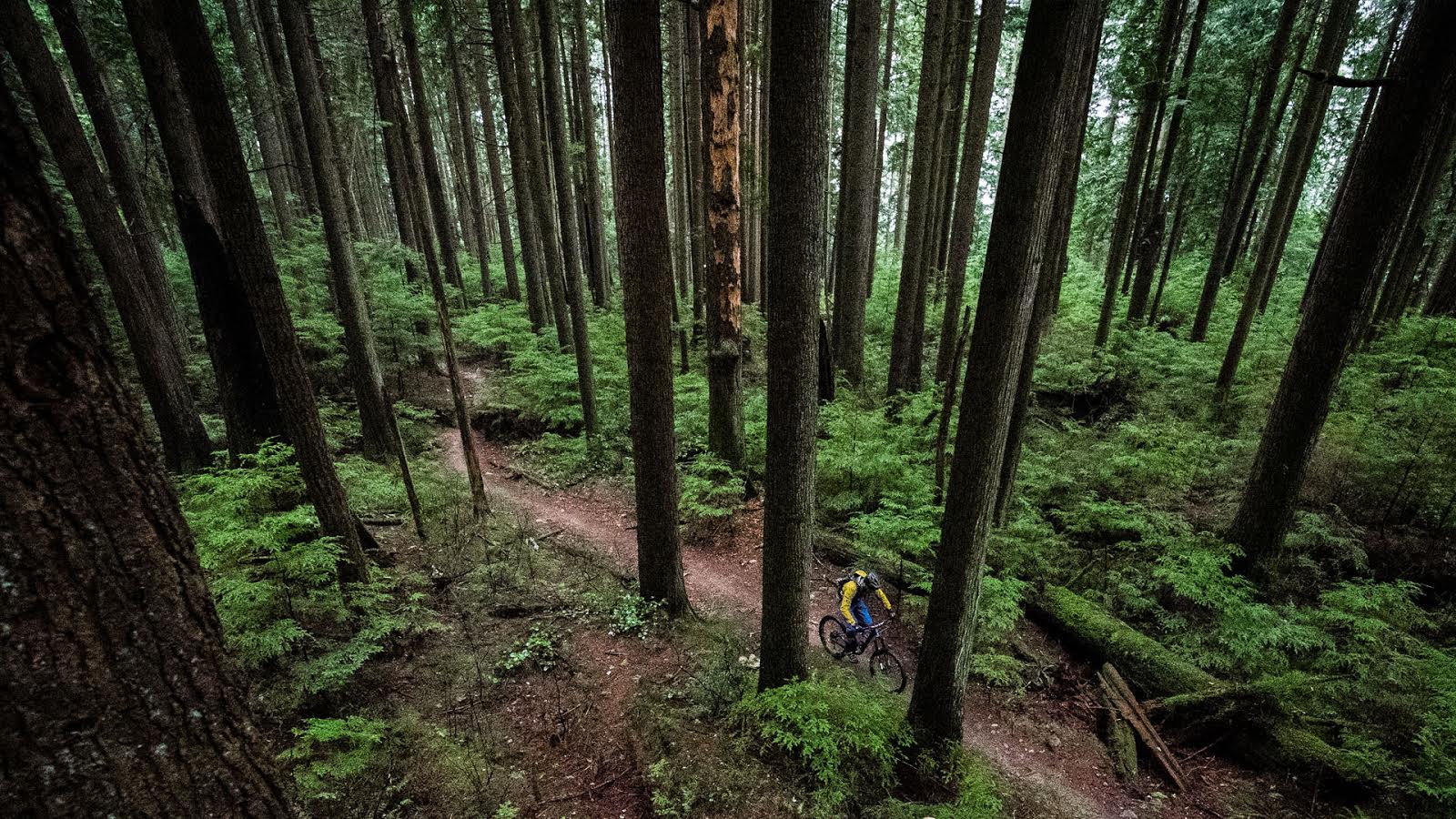 Long Term Scratch/Slash Preview
This year I had the opportunity to long-term test Trek's Scratch Air 9. With a 66-degree head angle, 170mm (6.7″) of travel and weighing 32 pounds the Scratch was an aggressive all mountain machine. It seemed like the perfect bike to explore British Columbia's endless single-track, but would it hold up? The Scratch Air has all the ingredients to go big and fast yet designed to pedal like an XC bike. After only a few rides I knew the Scratch was good but only time would tell how good. This review should answer any Scratch questions and compare it to the all-new Slash.  

  After a season of testing on BC's finest single-track, the Scratch looks as good as it rides.
It's evident that Trek is passionate about gravity mountain biking because they are listening to what riders and racers want. The Scratch is designed for riders that want to pedal up and shred down with confidence usually only found on a downhill or freeride bike. Trek has done a great job with their build kits. Right out of the box it sports a telescoping seat post, dual ring guide, and a Fox Talas fork. Having these essential parts added at the factory saves you time and money. Another nice touch is the colour matching Trek has worked on with Fox and SRAM/Truvativ/Avid.

  The 2012 Slash looks similar but sports new tubing, angles, internal routing, and rear shock.
Both the Scratch and Slash use a simple yet refined suspension system; the same design as its big brother the Session 88 downhill bike. Its 'Full Floater' system offers a progressive bottomless suspension feel when descending and contours to uneven terrain while climbing. The Slash replaces the RP23 with an all-new Trek exclusive DRCV (Dual Rate Control Valve) Shock with Kashima coating for a smooth durable finish. It gives you the efficiency of a small volume canister with the big hit control of a large volume shock. The DRCV seamlessly adjusts its air volume based on the terrain. The only manual adjustment is the pro-pedal switch (climb-ride-descend).

  You literally cannot build a custom trail bike better than the Slash.  
After a handful of rides aboard the Slash it's easy to feel the improvements over the Scratch. The DRVC shock feels incredibly stable over rough terrain, with superior big hit control and pedaling efficiency. Both the Fox fork and rear shock feel smoother thanks to a flashy coating of Kashima. The Slash is currently one of the only bikes with internal seatpost and cable routing. Have a closer look at the seamless Rockshox Reverb integration; it looks awesome and there is one fewer cable in the way trying to scratch your Slash, pun intended. The hydraulic switch comes mounted to the front brake via matchmaker for ergonomics and weight savings. Other frame details include a new integrated downtube and chainstay protector with a chain slap silencer and lastly bottle cage mounts.  

  Fox makes some of the finest suspension in the World, and Trek customizes it.
Trek has done an excellent job packaging the Slash with seamless frame and parts integration. It's hard to ignore the custom matched Kawasaki green Sram XO build kit and Fox 36. In fact during recent rides I have been asked – "you must have customized every part on that bike" and my response was, "actually I just built it out of the box last week".

  Attention to detail on every square inch of the Slash.
It all comes together on the trail, you feel everything working together as it should; controls are in the right places, suspension factory tuned, and its practically silent. Bikes like the Scratch and Slash allow you to focus on the trail rather than your bike, making down. After a handful of rides on the Slash I feel I am riding better, with more confidence and having more fun than the person behind me. Winning.

  Tired of the same old trails? The Scratch was the perfect bike to explore BC's finest backcountry.
This summer the Scratch saw a handful of days in the Whistler Bike Park, Sun Peaks Bike Park, Panorama Bike Park, Silver Star Bike Park, Harper Mountain, Pemberton single track, Chilcotins, Della Creek, Seven Summits in Rossland, Mt 7 Psychosis, Squamish epics, Sunshine Coast, and every rock and root on the North Shore. Not once did I feel like I had too much or too little bike. I just had fun and enjoyed all of BC's riding on one bike. Simply awesome.

First shot of the day, first 10 feet of trail. Della Creek BC. Brad Holmes photo.
My mechanical skills stop at a multi-tool and tire lever, so I have to have a reliable bike. I also get testy when I miss out on rides because my bike is in the stand. I always want my bike to work, without doing any work. Is that too much to ask? Apparently not, the Scratch (with one exception) proved to be the most reliable bike I have ever ridden. The frame is as tight and smooth as day one thanks to sealed bearings, quality hardware, and a refined design. Aesthetically the bike looks great, with little signs of wear and tear, despite everything it's seen. Trek's paint has really held up and it only looks weeks old.  

  Slashing corners aboard the Scratch like it's a Session.  
As discussed in part 1 Trek really nailed the build on the Scratch Air – a perfect balance of parts to go up and down the mountain. Nothing on the bike had to be replaced nor were there any major repairs. I had one broken spoke and I tensioned my rear wheel once. I was totally impressed with the DT Swiss wheel set; they stayed straight, tight, despite weighing under 2000 grams.

  The Scratch Air is hands down the most fun I have had on a bike, can you tell? Brad Holmes photo.
The Slash switches to SRAM XO, a light build more robust than some downhill bikes. Everything looks and feels sharp with the whole system integrated beautifully. The only carbon found on the Slash is its XO cranks and the wide 29.5" Bontrager Bar. The Slash replaces the Scratch's DT Swiss wheels with an even lighter tubeless ready Rhythm Elite wheelset. Other notable parts include a new lightweight Truvativ dual ring guide with a taco bash guard, Reverb seatpost, and new Bontrager XR4 team issue 2.35" rubber.

  The Scratch was the perfect bike to explore BC's backyard. 
Changing the tires on the Scratch made the biggest difference in ride characteristics. The stock 2.35" Bontrager XR4 Expert's surprised me; they were light, grippy and they lasted. For more aggressive terrain such as the Whistler Bike Park I put on Maxxis Minnions. This simple and easy change made the Scratch feel like its big brother the Session 88. For longer XC type riding I put on some 2.2" WTB's, reducing the rolling weight and resistance making epics that much nicer.

  Leave your truck at home, climb up and shred down on the Scratch.
The second simple swap out was the handlebar. After riding the Scratch with its stock Bontrager Rhythm bar for a few months I talked to Zach at Answer/Manitou. He suggested I try a different bar and see how it feels. We put on an Answer ProTaper, a lower, wider, and stiffer bar. I instantly felt more comfortable and liked the aggressive body positioning. Wide bars are the only bars in downhill racing thanks to greater control, power and cornering. We also swapped out the Bontrager grips in favor of some Answer Fall Line DH grips, which were slightly thicker and felt great in my hands. I was surprised at how much these two simple upgrades made to the overall ride and feel of the Scratch. So far I see no need to replace the Slash's 29.5" carbon bar.

  It's easy to see why BC was the birthplace of freeride with terrain like this. 
When I realized the Scratch came with a remote seat post I was stoked, despite of all the horror stories. Adding a remote adjustable seat post will change the way you ride period. The Scratch Air uses a Crank Brothers Joplin 4, with a cable-actuated remote. This post has always worked, some days better then others; however they are simple to maintain and it has never let me down, pun intended. The Scratch really benefits from having an 'uppy downy' post because of the extreme opposites its capable of. Nice to see Trek spec this, it's all about the whole package.'
  Disneyland is a trail everyone talks about, no doubt with views like this.
2011 marked the release of 10 speed drivetrains, and the Scratch exploited every one of those speeds. With a 24/36 chaining upfront and an 11-36 in the rear you had all the gears you needed while still running a dual ring guide like a pro. I broke a couple of chains over the course of testing and noticed that they are slightly more prone to breaking however; it really just comes down to proper maintenance and shifting habits. 

  Thanks nsmb.com and Rock Shox for all the hard work on Dales
I was really impressed with all of the Shimano drivetrain, the Shadow rear derailleur did an excellent job missing all the rocks and none of the shifts and the front derailleur was the best I've ever used – no more 'feathering' into position.  You'll notice the Scratch uses a direct mount front derailleur for better performance.   

The Slash feels right at home here on the North Shore.
I'm happy to see companies like Trek spec'ing premium models like the Scratch Air and Slash 9 with Fox Suspension. Fox continues to push the boundaries and make awesome products. For part two of the review I wanted to see what kind of magic James Downing at SuspensionWerx could put into the Fox 36 Talas. When you get your suspension back from James you feel like one of the Atherton's, every detail on that suspension has been custom tuned to your weight and style. James' work is instantly noticeable on the trail, the suspension was smoother, more responsive and less fatiguing on long descents.
 


  This bike saw more trails, jumps, hits and steeps than any other bike in BC, missing only a week to replace this chainstay.
While the Scratch was incredibly robust and reliable it did fail once. The chainstay broke on the drive side while riding in the Sun Peaks Bike Park. I wasn't completely surprised, after all it was my goal to see exactly how much the Scratch could handle. I am 6' 3", 190 lbs and like to ride fast technical trails, and am a good test of durability. Looking at the picture you can see it failed at the bend under a welded housing tab, on the other side were signs of tire rub from flexing. So it looks like it was a combination of factors that led to the frame's failure. The Slash has a redesigned chainstay that eliminates welded housing tabs for superior internal routing system and greater strength.

  If you're itching to give up nothing on the downhills, the Slash is for you.
Frames break and it's an inconvenience but what's important is that the company finds a solution in a fair and timely manner, and Trek did exactly that. My emails were replied to promptly and professionally, and Trek had a new chainstay sent out before the end of the week. The replacement chainstay showed up days later ready to be installed. I was totally impressed with how easy Trek was to deal with and how quickly they found a solution.

  The Slash comes with a full serving of confidence on moves like this on Dales.
The Scratch and Slash are to mountain biking what the Callaway Big Bertha is to Golf. Grip it and rip it. Trek gives you all the tools you need in a wicked package. Riders of all skill levels will love riding these bikes; rookies will love its confidence-inspiring ride and experts can continue pushing its boundaries.

  Outdoor playtime just got improved 110% with the Trek Slash. 
After 12 years of mountain biking the Scratch was the first piece of gear to change my outlook on mountain biking. As we grow up we have less time to ride and less appetite for risk. But we value our time spent riding more and more. The Scratch made every ride special because it could do everything effortlessly. If you want to go fast, climb for hours, shuttle or jump you can do all in the same ride, and have a wicked time.

  Explore the North Shore on Friday, shred the Bike Park Saturday.
After spending a season aboard the Scratch I realized how powerful a properly designed AM bike can be. Trek took a great product with the Scratch and made it even better with the Slash. If you are considering a new trail bike be sure to look at Trek, whether it's a deal on a new or used Scratch or one of the 3 new Slash models. These bikes are incredibly well designed and the proof is in the ride.

 Trek continues to set the bar in this ever-changing bike game. 
In the next few weeks I will have a compressive look at the all-new Slash and compare it to some of the other 2012 offerings such as the Rocky Mountain Slayer and Specialized Enduro. Riding is just getting interesting here on the North Shore as we move into winter, providing us the ultimate testing ground. Stay tuned for a Slash edit in the next couple weeks. 

  So far the Slash has exceeded all expectations and turned some heads along the way.
2011 Trek Scratch Quick Look
Pros
Cons
•    Extremely versatile and adjustable design
•    Stable and controlled suspension platform
•    Stiff and light
•    Excellent parts spec
•    Robust design
•    Fun to ride/confidence inspiring
•    Great company to deal with
•    Broke once
•    Some house branded parts could be improved
•    No bottle cage mount
•    Pricy  (MSRP $5039.99)

The Slash rails on Dales.
---
I wanted to make a video showcasing awesome BC riding on the Scratch. I wanted to shoot something new, that's both fun to ride and shoot.  My friend Brad Holmes suggested we try out Della Creek just outside of Lillooet B.C. The trail has shuttle access, which was great because we were carrying heavy camera bags. It drops almost 4000 vertical feet along a ridgeline overlooking the Fraser River. The trail is fast and flowy and could be ridden on any mountain bike; however, the Scratch was clearly the ideal bike. After shooting for 10 hours Brad and I arrived at the truck exhausted and ready to head home but the keys were missing. We had not seen anyone in the past 2 days and my truck was 4000 feet up the mountain.  The only answer was to ride up – a final test of the Scratch's pedaling ability. Despite the heat, lack of food, water and energy the Scratch was comfortable to pedal up the fire road and reached the top in 2 hours. Check out the video and check out Della Creek one day – just remember your keys!

Reviewing the shots after day one at Della. Brad Holmes photo.

Thanks
Derek Dix
Brad Holmes
James @ SuspensionWerks
Zac @ Answer/Manitou
Sombrio
---
Connor will be back soon with a more comprehensive look at the 2012 Trek Slash. Until then let us know what you thought about his words/riding, Derek's photos and the video shot with Brad Holmes below. You can also fire some questions for Connor.